The 7 Best Men's Fall Jackets for 2023 (and Beyond)
The weather is hard to predict in fall, which makes it hard to pick the right jacket. Some days are warm, others are cold or rainy. You need a jacket that's suitable for most occasions and that's easy to layer.
The best fall jackets for men are:
Denim jackets
Leather jackets
Bomber jackets
Field jackets
Chore coats
Trench coats
Pea coats
All these fall jackets are versatile, timeless and fashionable. You don't have to worry about these going out of style any time soon.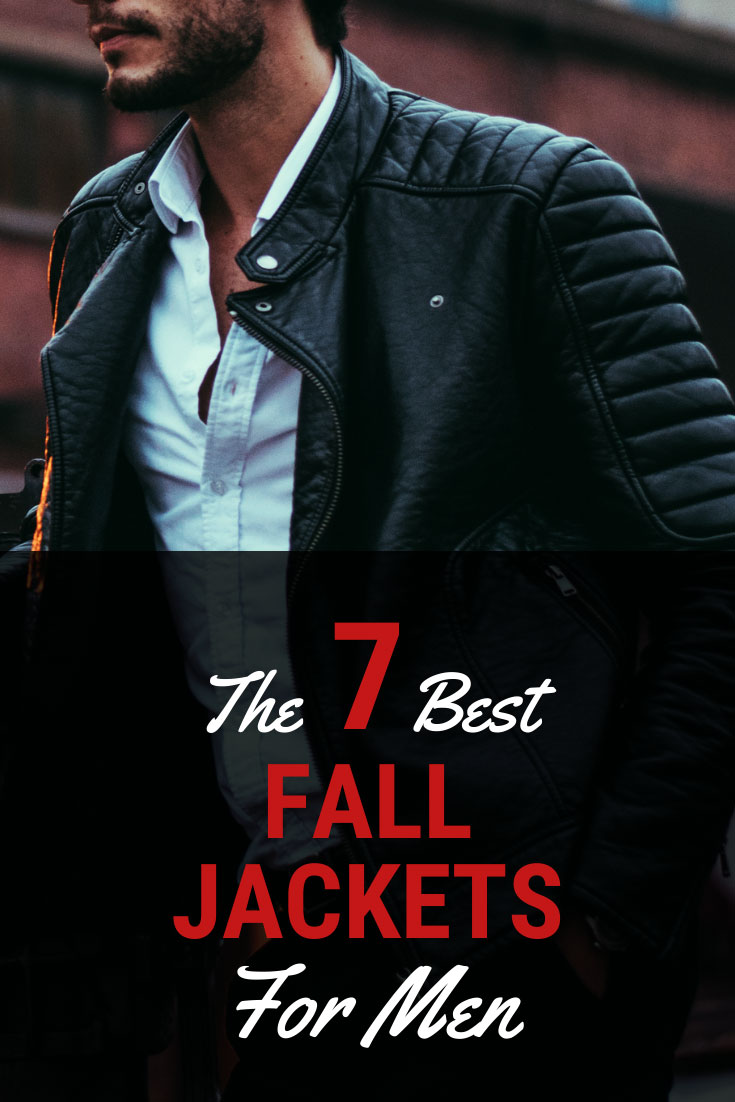 Read on to find out why these are the best, and to get specific recommendations for each type of jacket.
Note: This article may contain affiliate links. That means if you click a link and purchase something, I earn a small commission, at no additional cost to you. All opinions are my own.
1: Denim Jackets
The first on our list of men's fall jackets is the denim jacket. This is a great option for transition weather as it's neither too warm nor too cold. It's perfect for those days when you're not sure if you should wear a jacket or not.
Even better, once it gets colder, it can also work as a layering piece, pulling double duty.
This is obviously a casual jacket that you wouldn't want to wear with a suit and tie. This jacket looks great with a pair of chinos though.
When wearing this jacket with jeans, avoid the hillbilly tux look. It's no bueno. Whenever you're wearing too pieces of denim, make sure they're different in color or shade (e.g. a light denim jacket with dark denim jeans, or blue denim jacket with grey denim jeans.)
2: Leather Jackets
If you're looking for a jacket with attitude, look no further than the leather jacket.
This classic will up the cool factor of any man that puts it on, and it's a must-have in any stylish man's wardrobe.There's simply no jacket on the market that will make you look more masuline.
And it should be noted, the ladies love a guy in a leather jacket.
Honestly, if you don't already have one, what are you waiting for? There are plenty of different styles to choose from, from racer jackets to leather bombers and from biker jackets to flight jackets. You should be able to find a style that suits you.
I recommend investing in a quality piece instead of buying one cheap, as a quality leather jacket can last you a long time. But of course, if you don't have too much money to spare— talking to you, my college-bound readers — it's okay to go for a budget option.
3: Bomber Jackets
The men's bomber jacket (a.k.a flight jacket) was first worn by WW1 pilots, but after being picked up by celebrities and style icons after the war, it quickly became a menswear staple.
And you can see why. The bomber jacket, with its cropped length, elastic waist, cuffed sleeves accentuates the male torso and creates a rugged masculine silhouette.
Not only that. The jacket is suitable in many weather conditions. While (typically) not waterproof, it offers solid protection against rain and wind without adding too much bulk to your frame. They are often insulated, so they also protect you against the cold.
You could even use it as a mid-layer once the chill turns to actual frost and you need a heavier coat. This just goes to show how versatile the jacket is.
The original design is a classic, but you'll find many modern cuts and styles on the market today.
Go for a bomber jacket with a snug fit and light padding —nothing too puffy. Go for neutral colors like navy, black or olive green. And go for a jacket that's sleek and simple. Not too many bells and whistles.
4: Field Jackets
Another men's casual jacket with roots in the military (and not the last one on this list), the field jacket is an excellent option for guys going for a more casual, rugged look. It's a perfect jacket for the outdoorsy guy.
Designed for function and practicality, it's characterized by its two front pockets, two chest pockets and a zip-away hood that hides a roll-up hood for when it starts pouring.
Yes, this one can turn into a hooded jacket when you need it, and you can zip up the hood again when you don't.
These jackets are most often seen in khaki or army green, but you can look just as sharp on navy or another color.
If you want to go for authenticity, you might peruse a military surplus store for a vintage filed jacket. Otherwise, there are more modern options available as well — though they mostly stick close to the original design. That just goes to show how good they look, and how functional they still are.
5: Chore Coats
Like the field jacket, the chore coat was made with functionality in mind. It's probably not a coincidence they have a lot in common, particularly the front and chest pockets. (It's also why for the longest time, I thought they were one and the same.)
The notable difference between the field jacket and chore coat is the collar, which is turned down and doesn't hide a hood. It can be flipped up though and protect you against those cold autumn winds.
The chore coat was designed for laborers in the 1920's who needed a durable jacket that could withstand rough labor and rough weather. The fact that men are still wearing the jacket a century after its conception says enough.
It has survived the comings and goings of the ever-changing fashion world, and you wouldn't be embarrassed to still be wearing this classic 20, 30 or even 50 years in the future.
The original version was quite boxy, but modern iterations of this jacket will be more fitted, which is what you should be looking for.
Given that denim jeans were designed as the working man's pants and became popular for many of the same reasons, they make an excellent pair with this jacket. Flannel shirts and wool sweaters are also a great match.
6: Trench Coats
Ahh, the good ol' trench coat.
It might conjure images of the quintessential noir detective,cigarette in mouth, walking down a rainy street. Throw on one of these and you'll establish that same masculine aura that Humphrey Bogart was famous for.
This is the most versatile piece of outerwear on this list. You can literally wear it with anything, and for any occasion. You can wear it with the most casual T-hirt and jeans, or the stuffiest suit you have. In fact, it's one of the few pieces of outerwear that's suitable to wear with a suit jacket or blazer.
Yes, this coat also has roots in the military all the way back to WW1 (and further), and it was made to protect your clothes underneath against mud and rain. .
What can I say? The military has a good eye for functional and protective outerwear.
The trench coat is traditionally a three-quarter length coat, which is probably longer than you're used to wearing a coat, but shorter versions exist as well. Its length should fall somewhere between the top of your knee and the mid of your thigh. (You can get them shortened if necessary.)
The trench coat on its own doesn't typically provide that much protection against the cold, but its light weight makes it a great layering piece, and it offers solid protection against wind and rain.
If you're a traditional guy, go for the classic khaki look. If you have darker features, a navy or dark grey coat might complement you more. But either way, this dapper classic will make you look like one stylish gent.
7: Pea Coats
The last one on our list, and what a surprise, another coat adopted from the military — from the US navy, to be particular.
This is a timeless coat and one of my personal favorites. With its double-breasted design, it does an amazing job of accentuating the male form.
Typically made from wool or wool blends, this coat will keep you warm and cozy. It's great for fall in cooler climates, or for the later fall months when the temperature starts trending towards winter.
Its trademark oversized collar will protect you from those cold winds. You can turn it up when the weather is being extra harsh. (And I'm not gonna lie, the turned up collar looks cool too. You might wear it that way all the time.)
The pea coat is incredibly versatile, as you can wear it with your casual t-shirt and jeans or a suit and tie. (Though, be warned, pea coats usually have padding, which doesn't play well with the padding in suit jackets. You'll have to carry that with you separately.)
For this one, I suggest the classic navy pea coat, but dark grey is another excellent option.
Pick from These Men's Fall Jackets and Look Awesome
So these were my favorite fall jackets for men that are on the market today.
All these jackets provide a rugged look, while having a good degree of versatility so they can be worn with many different outfits.
Whether it's a denim jacket, a leather jacket, or a bomber jacket that you favor, any one of these will make a good option for you.
They all get the "Restart Your Style" sign of approval.
Did You Find That Useful? Then Check This Out…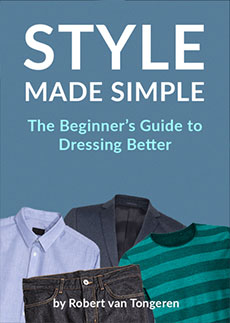 I wrote a men's style guide that simplifies the art of dressing well, focuses on what matters, and takes you through it one step at a time. Enter your e-mail below and you'll receive three free chapters, which will show you: