How to Wear a Denim Jacket: 53 Stylish Outfit Ideas for Men
The classic denim jacket is a wardrobe staple for good reason. Denim jackets — also known as jean jackets or trucker jackets — give your outfit a sense of ruggedness that almost no other jacket (save for a leather jacket) offer.
You should wear your denim jacket open and only as part of a casual look. They aren't the most appropriate if you're going for a smart casual style. Rather, wear them with casual menswear pieces like a white t-shirt and white sneakers, a flannel shirt or a hoodie.
Below, I'll tell you all the ins and out of how to wear a denim jacket with style. You'll discover the way to wear them with jeans and chinos, how to style them with a t-shirt or a shirt, and you'll get a ton of outfit ideas along the way.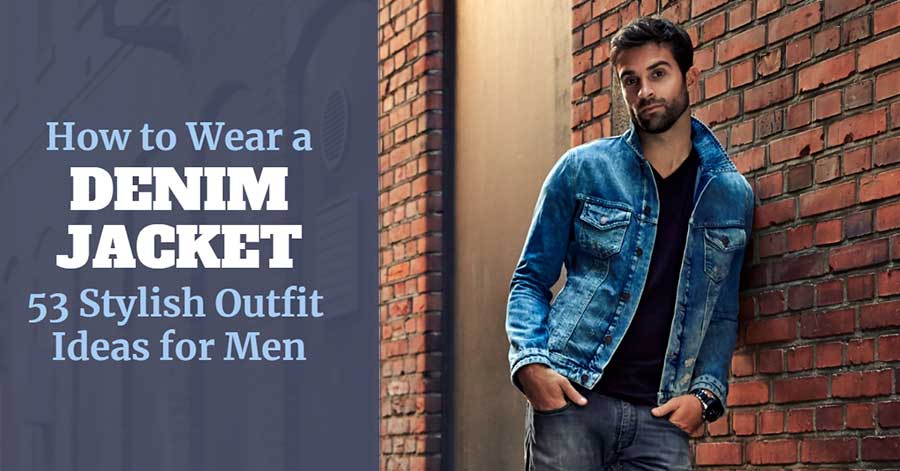 How to Wear a Denim Jacket with Jeans
An outfit that combines a denim jacket with jeans is called double denim. However, the double denim look also has more derogatory nicknames, such as the hillbilly tuxedo. These only apply if you wear double denim the wrong way though.
The trick to wearing a denim jacket with jeans is to ensure there's enough contrast between the jacket and the jeans colors. For example, you can wear a light denim jacket with dark wash jeans, or a blue denim jacket with black or grey jeans.
Below you'll find some examples:
Contrasted Blue Double Denim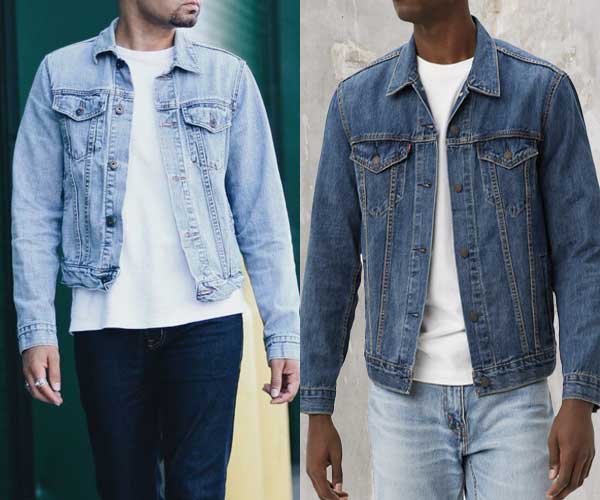 Blue Denim Jacket with Black Denim Jeans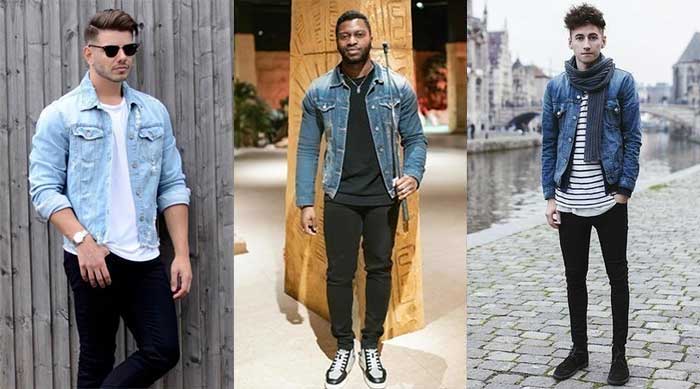 Blue Denim Jacket with Grey Denim Jeans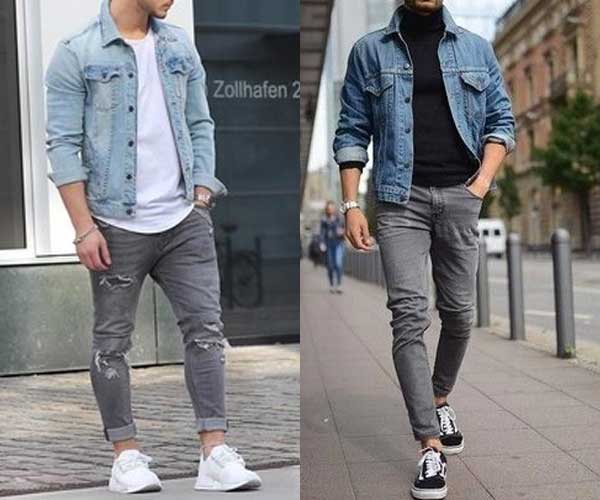 How to Style a Denim Jacket with Chinos
A denim jacket goes especially well with chino pants since they create a nice contrast in fabric to each other. It also helps that both chinos and a denim jacket are casual garments, making them easy to pair in any casual outfit.
In spring, you can wear the combination with a T-shirt and sneakers, and perhaps a summer scarf (worn loosely) to top it off. In fall, you can wear a jean jacket with chinos and a flannel shirt and boots. Then, as it gets colder, add a thick knit scarf and hat to keep yourself warm.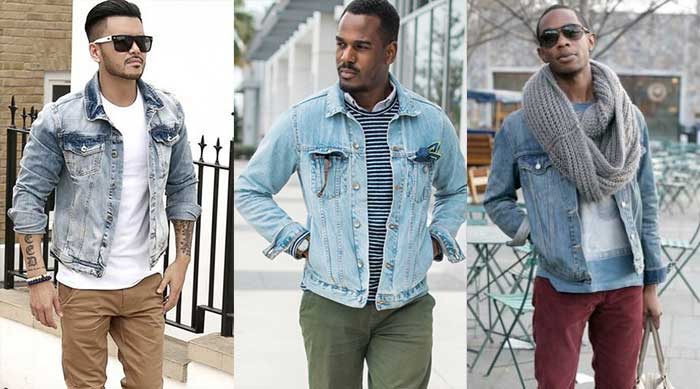 How to Wear a Denim Jacket with a T-Shirt
A denim jacket looks best with a casual T-shirt or Henley shirt, rather than a polo shirt. With a denim jacket, you're immediately dressing down your outfit, so you might as well lean into it.
As mentioned earlier, you can pair the combination with a contrasting pair of jeans or a pair of chinos. But don't stop there. Consider adding some cool accessories, such as a leather bracelet, a watch or a scarf.
A denim jacket pairs well with just about any kind of T-shirt — striped tees, solid tees or even graphic tees. With that said, there's no beating the classic combo of a blue denim jacket with a plain white t-shirt.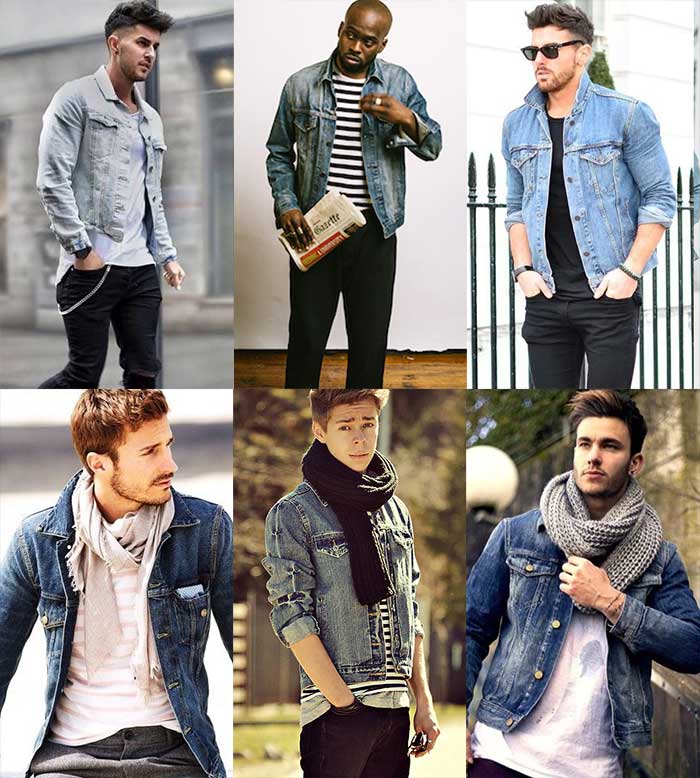 How to Wear a Denim Jacket with a Shirt
Denim jackets look good with casual shirts, such as a flannel shirt or an oxford shirt, rather than a stiff collared dress shirt. You should also avoid pairing a denim jacket with a denim shirt though (even if you contrast them).
Wearing a denim jacket outfit with a denim shirt has never been pulled off well. It's just too much denim.
You can wear your shirt tucked or untucked, and you also wear it unbuttoned to create a nice layered effect.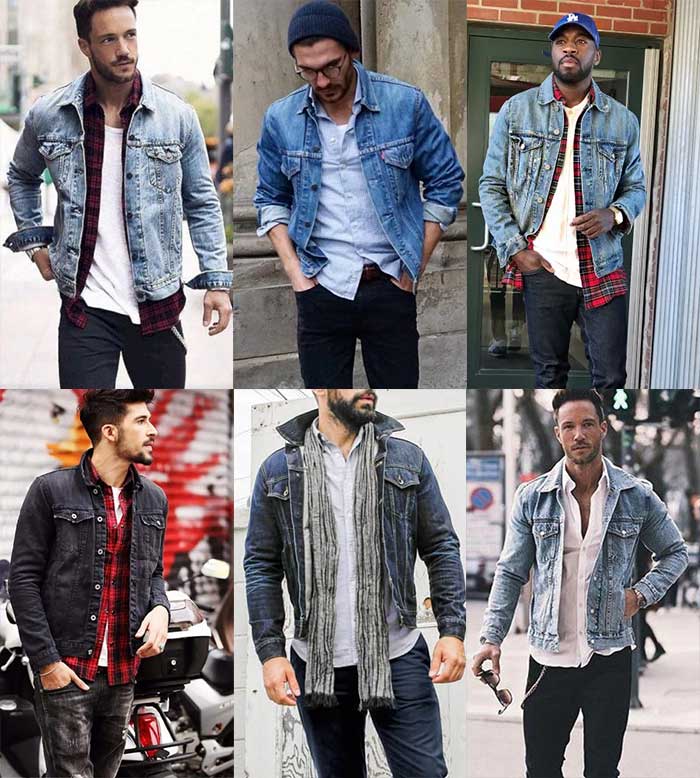 Can You Wear a Denim Jacket with a Dress Shirt?
Some fashion-forward individuals might pair a trucker jacket with a formal dress shirt and tie, but it makes for an awkward combination. What look are you going for there? Dressed-up trucker going to a business event?
If you want to pair a denim jacket outfit with a shirt and tie, I'd still suggest more casual options like an oxford or flannel shirt and a knit tie.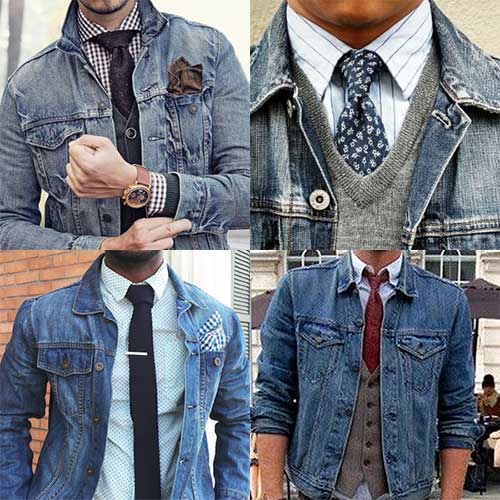 How to Wear a Denim Jacket with a Hoodie
Even though hoodies aren't my favorite men's garment — I don't mind them as long as you wear them in moderation — I can't deny they combine incredibly well with a denim jacket for a streetwear look.
Just wear a simple plain white T-shirt underneath, leave it unzipped and you're good to go. It's a fantastic layered combination for a casual look.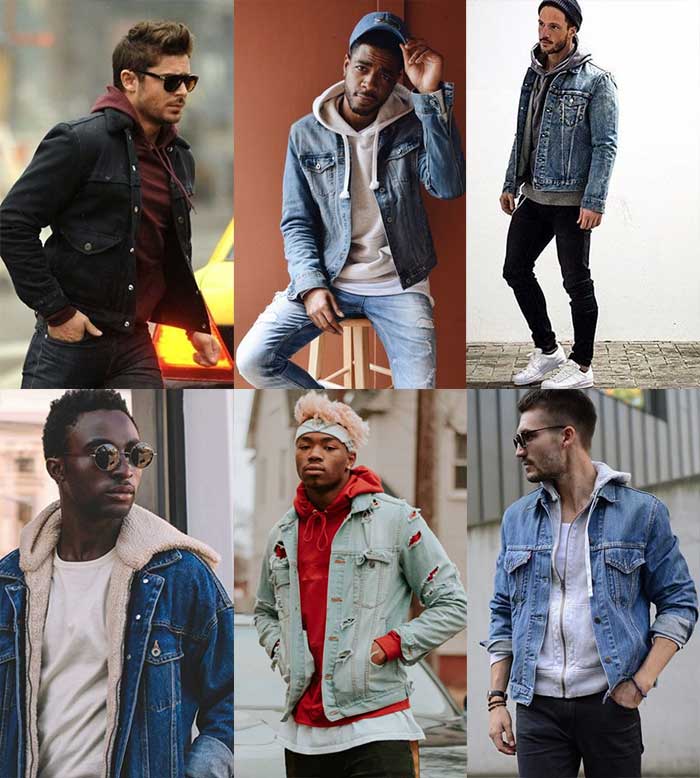 How Should a Denim Jacket Fit?
You want to avoid wearing an oversized denim jacket, so here are some basic guidelines to ensure your denim jacket fits properly: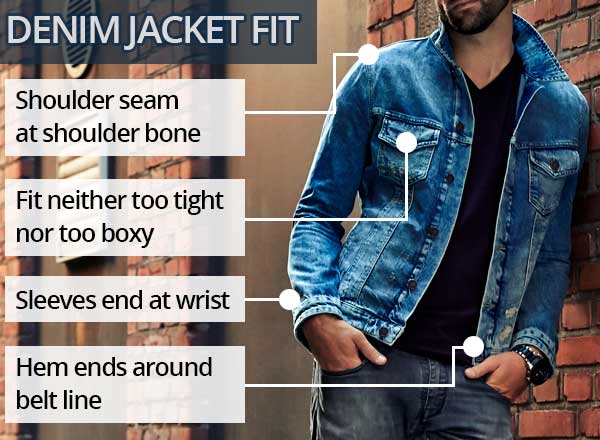 The shoulder seam should end at your shoulder. Going over your shoulder is the clearest sign your jacket is too large.
The sleeves should end at your wrists. If they go halfway down your hands, you know you're in trouble.
The hem should end around the belt. Don't go for cropped denim jackets that end higher than your belt.
The fit should neither be too tight or too boxy when buttoned up. Even though you typically wear a denim jacket open, the best way to get the fit perfect is to button it up.
How to Layer a Denim Jacket
When you add a denim jacket to your wardrobe, you open up a ton of cool layering options. You can find some ideas below that employ at least three layers:
Denim jacket, open flannel shirt, plain t-shirt
Denim jacket, open hoodie, plain t-shirt
Denim jacket, buttoned cardigan, oxford shirt
Denim jacket, sweater, oxford shirt
Denim jacket, waist coat, flannel shirt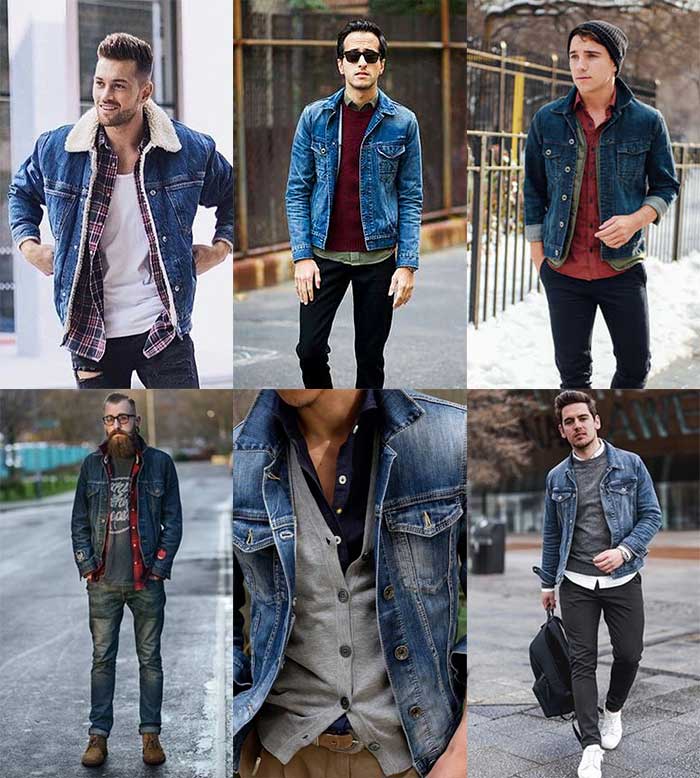 You can also use a denim jacket as a mid-layer, wearing it under an overcoat, parka or trench coat: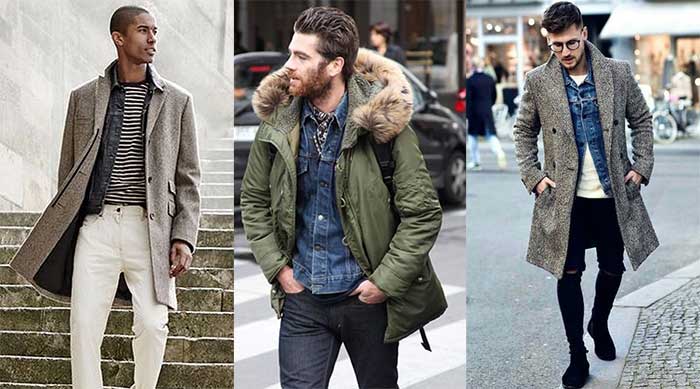 What to Wear with a Black Denim Jacket
A black denim jacket looks great with light blue jeans, grey jeans, or colored chinos. The black denim also makes an appealing contrast with a white t-shirt or white oxford shirt.
Black denim is also the only exception to the "don't match denims" rule, as you can wear a black denim jacket with black jeans. You could even go for the all-black outfit with a black t-shirt and black Chelsea boots.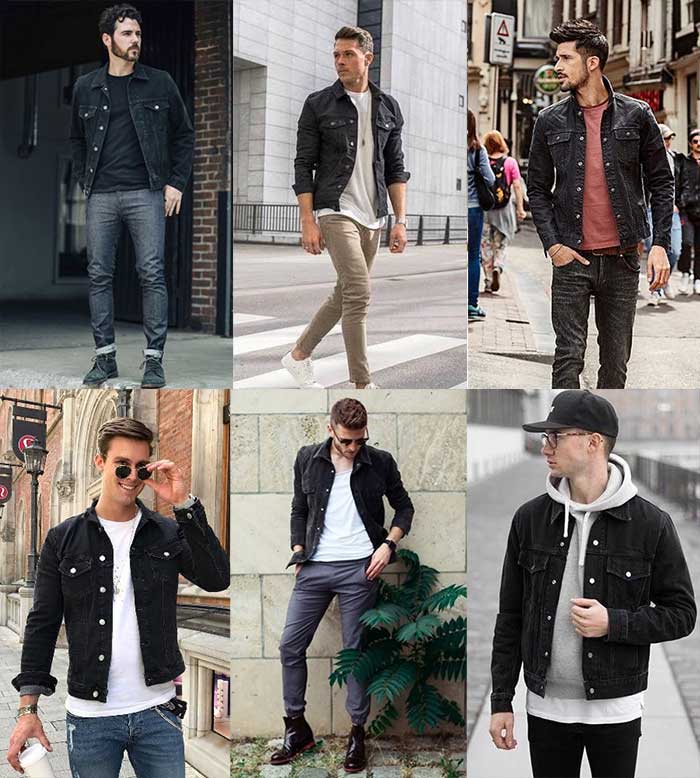 What to Wear with a White Denim Jacket
When I was a teenager, this was my favorite denim jacket. However, as an adult, I must admit this style is difficult to pull off without looking like you jumped out of a boy-band video.
Still, a white jean jacket looks good when paired with all-black clothing underneath, a white, light grey or striped t-shirt, or otherwise a light hoodie. Just avoid bold colors.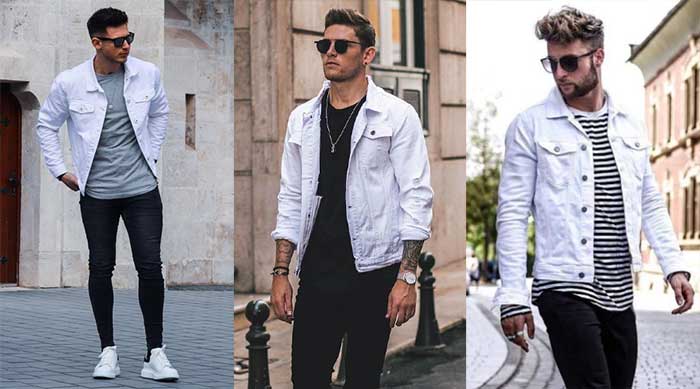 Best Stores for Denim Jackets
It should come as no surprise that the best jean jackets tend to come from jeans manufacturers like Levi Strauss. You're bound to find your favorite denim jacket in one of these stores:
Full disclosure: Some of these are affiliate links. That means if you click a link and purchase something, I earn a small commission, at no additional cost to you.
How to Style a Shearling Denim Jacket
A shearling denim jacket (or Sherpa denim jacket) is an excellent choice to wear during those transition periods between winter and spring, or fall and winter. The shearling collar adds a touch of warmth that a regular denim jacket style doesn't provide.
You can wear them the exact same way as regular blue jean jackets. See some examples below: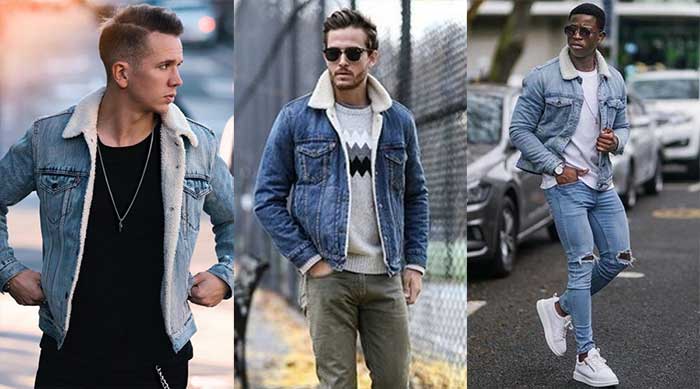 FAQ About Wearing Denim Jackets
Do Denim Jackets Go with Everything?
Denim jackets are versatile garments to wear in casual looks, but they don't pair that well with dressier clothes like a dress shirt or a silk tie. They look best with a casual shirt or T-shirt and chino pants or contrasting jeans.
Should You Wear a Denim Vest?
You should only wear a denim vest if you're going for a distinctive biker look.
Can You Wear a Denim Jacket with Dress Pants?
You can combine your denim jacket with dress pants or tailored trousers, but the combination tends to look off. A denim jacket looks much better with chino pants instead.
How Do You Wash a Denim Jacket?
You can wash a denim jacket by hand, or in the washing machine. It's recommended that you turn the jacket inside out first and use a gentle cycle with cold water. Note: They usually come with washing instructions on the label or when you buy them.
Now Rock Your Denim Jacket with Style
This article has given you numerous tips and examples on how to wear a denim jacket with style. You've learned how to nail the double denim look. You've learned how to wear denim jackets with chinos, t-shirt, hoodies and shirts. And you've gotten a ton of outfit ideas to rock your denim jacket.
They are fantastic jackets for men to wear in spring and fall and are a good option to give your casual look a bit of a rough edge. If you don't have one in your wardrobe already, what are you waiting for?
Did You Find That Useful? Then Check This Out…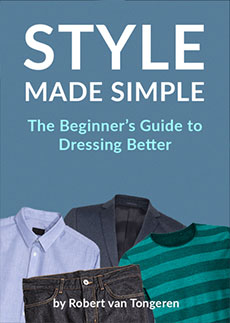 I wrote a men's style guide that simplifies the art of dressing well, focuses on what matters, and takes you through it one step at a time. Enter your e-mail below and you'll receive three free chapters, which will show you: