How to Wear Chinos with Style: 53 Outfit Ideas for Men
If you want to know how to wear chinos with style, you've come to the right place.
You can wear chinos with a casual T-shirt and sneakers or dress them up with a collared shirt, a blazer and dress shoes. They are versatile cotton pants that give you many options. The trick is to balance your chino outfit to the occasion, or the look you're going for.
This article explains how to wear chino pants with different types of clothing, how to style them for casual or business casual wear, how they should fit and how to match them.
But first: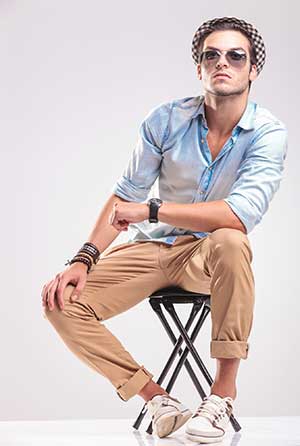 What Are Chino Pants?
Chino pants are made from a cotton twill fabric known as chino cloth, and they come in a variety of colors. They look dressier than jeans but more casual than dress pants. They're the perfect in-between pants for smart casual or business casual attire.
Men's chinos are sturdy trousers that nonetheless feel lightweight, which makes them an excellent legwear choice to wear year-round.
Chino Pants Vs Khaki Pants: What's the Difference?
Much of the argument about what the differences are between khakis and chinos are outdated, as the terms are often used interchangeably.
By modern standards, the main difference between chino pants and khaki pants is that "chino" refers to the cotton twill weave, while "khaki" specifies the color of the pants.
Historically, khaki pants are heavier and have a straight leg as opposed to the lighter weight and tapered cut of modern chinos. This is why khakis were considered more casual. This no longer describes our current situation though.
For the everyday guy, khaki pants are just chinos with a soft brown-yellow color.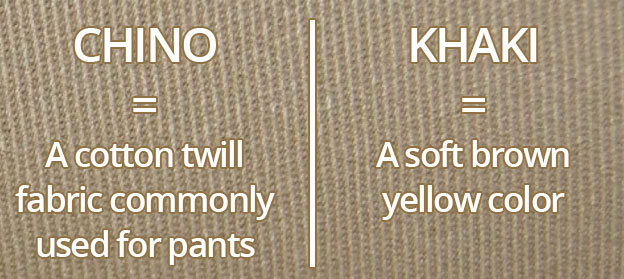 Check out: What Color Shoes Go with Khaki Pants?
What to Wear with Chino Pants
The beauty of chino pants is you can wear them with almost everything. You can wear them in a casual outfit with sneakers and a T-shirt, or dress them up with dress shoes and a blazer.
Below, I'll share some ideas to get your inspiration going…
How to Wear Chinos with a T-shirt
When you wear chino pants with a T-shirt, you're already going for a casual look, so you should go with a casual pair of shoes as well. A pair of sneakers works, but you can also go with a pair of suede or leather shoes. Just avoid overly formal shoes.
If you're wearing a simple combination, you can liven the outfit up with some accessories, such as a watch, bracelet, necklace, a light scarf or a hat.
If you're wearing bolder pants, keep the T-shirt basic. Let the pants do the talking.
Chinos also look great with a polo shirt.
What to avoid:
Wearing a busy T-shirt with patterned pants.
Wearing a bold colored T-shirt with bold colored pants.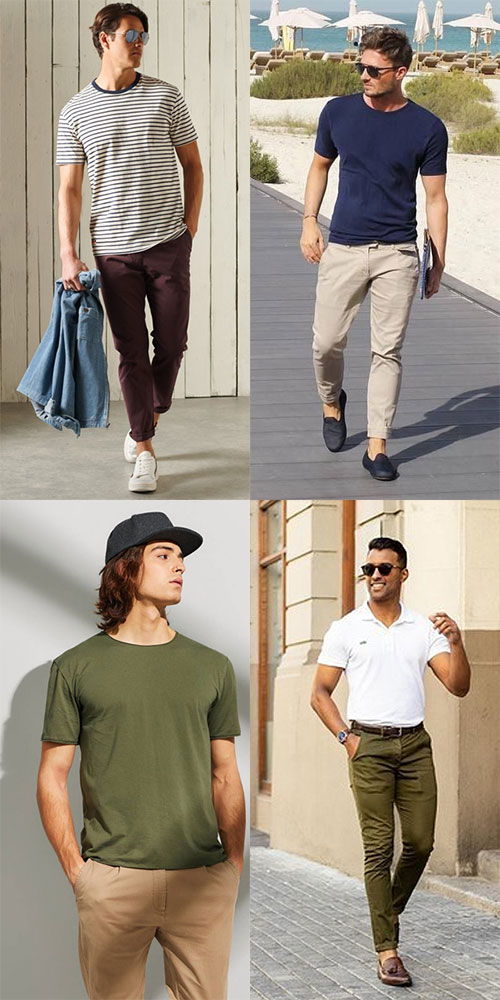 How to Wear Chinos with a Shirt
You can wear your chino pants casual with an flannel or oxford shirt, or wear your chinos business casual with a dress shirt. Everything goes!
They look great with:
Dress shirts
Oxford shirts
Flannel shirts
Denim shirts
Chambray shirts
Linen shirts
If you're wearing chinos with a casual shirt, leave it untucked. You can even wear your shirt unbuttoned over a T-shirt. This is a casual look, so keep your shoes relatively casual as well. Sneakers, chukka boots, loafers, brogues or Chelsea boots all make good matches.
If you're going for business casual attire, wear a dress shirt and tuck it into your trousers. Wear it with a pair or leather oxfords, derbies, monk straps or brogues, and make sure to match the belt.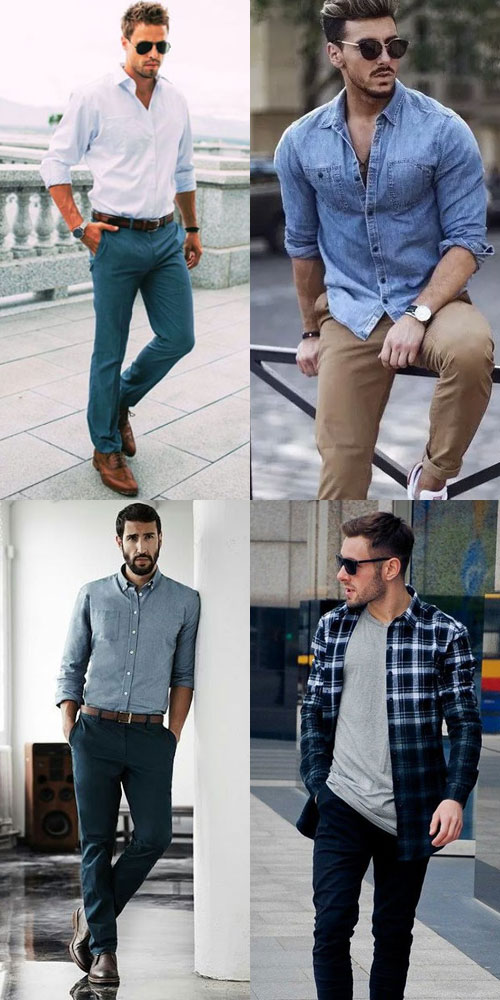 How to Wear Chinos with a Blazer or Sport Coat
You can enhance any of the looks mentioned above by adding a blazer to the outfit.
You can wear chino pants with a T-shirt and blazer for a smart casual look. Adding the blazer will take your casual clothes up a notch, but the T-shirt will always bring it back down to looking casual. That said, the blazer opens you up to pairing your chinos with dressier shoe options like monk straps or derbies.
For a cool layered outfit, you can wear your chinos with a T-shirt, an unbuttoned sport shirt and a sports jacket. sport shirts will look better with a sports jacket than a blazer, because they match in their casual natures.
Lastly, you can of course wear your blazer with a dress shirt and chinos as well for an even dressier version of the business casual look.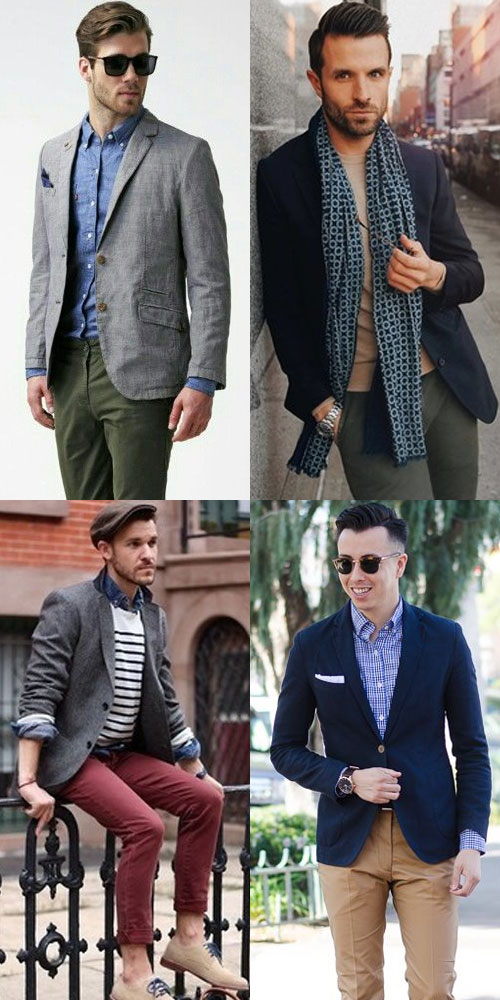 What Shoes to Wear with Chino Pants
You can wear chino pants with any style of sneaker and most types of dress shoe, which is part of why you can dress them up and down so easily. Only the most polished patent oxfords are too formal wear for chinos.
You do want to consider the pants that you wear, as some color pants will go better with different shoe colors than others.
For example:
Black chino pants go well with black shoes or sneakers, but don't look great with brown shoes.
Brown, tan or khaki pants look best with brown shoes of a different shade.
Colored chinos look great with white sneakers, brown or black dress shoes, but are harder to pair with colored sneakers.
How to Style Chinos for Casual Outfits
If you're dressing for a casual night out, a meet-up with friends, or a neighborhood barbecue, simply wear your chinos the same way you'd wear denim jeans.
You can wear your chinos with your favorite casual T-shirt and your favorite pair of sneakers, and you'll be ready to go.
If you're dressing for a date, you might replace the T-shirt with a casual oxford shirt, and pair it with a pair of suede Chelsea boots or chukka boots. Consider adding a blazer as well.
If you're dressing for an office with a casual dress code, understand that you're still expected to dress up a bit. You might wear your chinos with an oxford shirt and a pair of leather brogues.
How to Style Chinos for Business Casual
Chinos are a step down from formal trousers, so you should dress them up with formal wear if you're dressing business casual..
Your outfit should at least include a dress shirt and leather dress shoes, and a blazer is highly encouraged. Make sure that your belt matches your shoes, and consider adding a pocket square or tie.
For more relaxed workplaces, you may also wear chinos with a polo shirt in summer.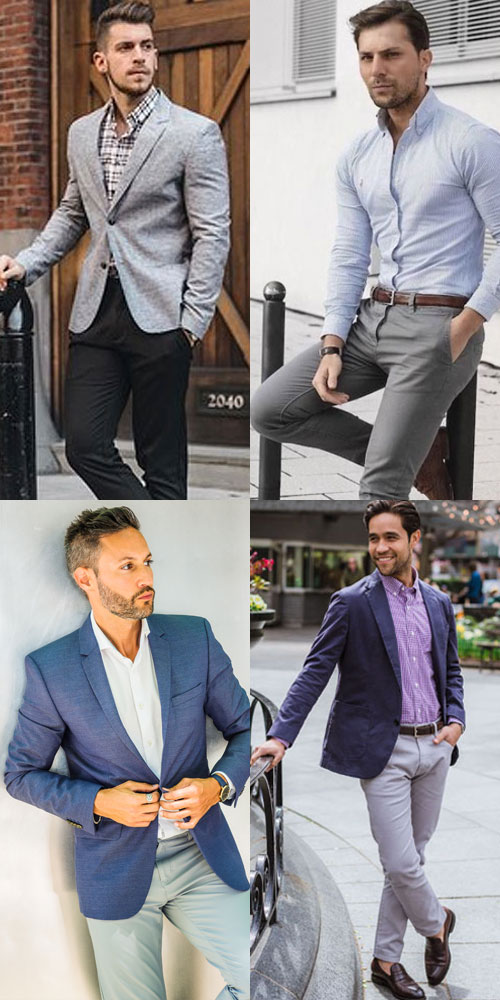 How Should Chinos Fit?
If you want to wear chinos with style, you must wear fitted chinos that follow the natural shape of your leg.
Below is a checklist to ensure a good chinos fit.
Your fitted chinos should feel comfortable around the waist. They should not fall down when you wear them without a belt, but they shouldn't be pinching your waist either.
The chino pant legs should reach your shoes. If they break slightly in the front, without the fabric pooling on top of itself, that's a good sign. They should reach somewhere between the top and middle of the heel of your shoe. The hems should never touch the ground.
The chinos should feel snug in the bottom and crotch, but not too tight. You should be able to walk and bend at the hips comfortably, but you should avoid "diaper butt".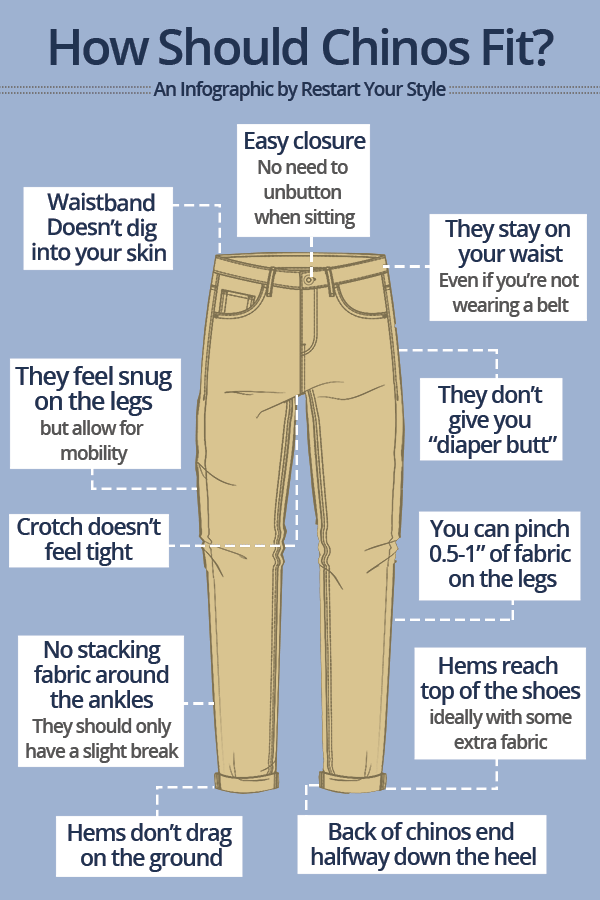 Most men of average build look best in slim fit chinos with tapered pant legs. If you don't like the slim fit look, you can also go with a straight leg cut.
Consider Stretch Chinos
Stretch chinos mix the cotton twill weave with elastic material to offer more stretch in the cloth. Many men find this material more comfy than 100% cotton, and the cloth provides a snug fit around the thighs.
Best Colors for Chino Pants
Men's chinos come in many different colors, which is why they can give your wardrobe a ton of variety by simply adding a few options.
The best colors for chinos are:
Khaki/camel
Grey
Olive green
Burgundy
Bold colors
If you're buying your first pair of chinos, I'd recommend starting with more neutral colors like khaki, grey or olive green.
How to Wear Khaki Chino Pants
Khaki is a neutral pant color so it won't look out of place worn with most colors, but some do work better with it than others.
Khaki chinos look especially great with:
Navy
Blue
Burgundy
White
Green
Black
You can wear khaki pants with black shoes, but brown shades like cognac tend to complement the color much better.
Note: These colors also work for tan, camel or beige chinos. You can apply these to any variation of light brown.
Outfit Ideas for Khaki Chinos: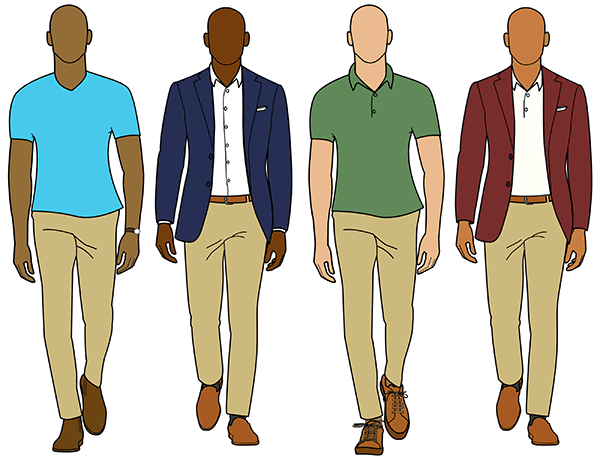 How to Wear Grey Chinos
Grey is arguably the most neutral color, so you can wear it with just about anything. Both light and dark grey pants will look best with light or bold colors though.
Wearing light grey pants with other light colors creates a soft palette in your outfit, while pairing dark grey with bold colors creates an appealing contrast.
Grey works best as a support color that can make other colors pop, but this effect is lessened with darker colors.
Outfit Ideas for Grey Chinos: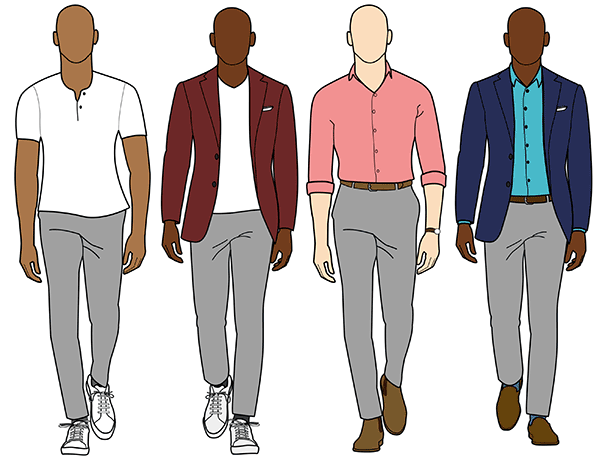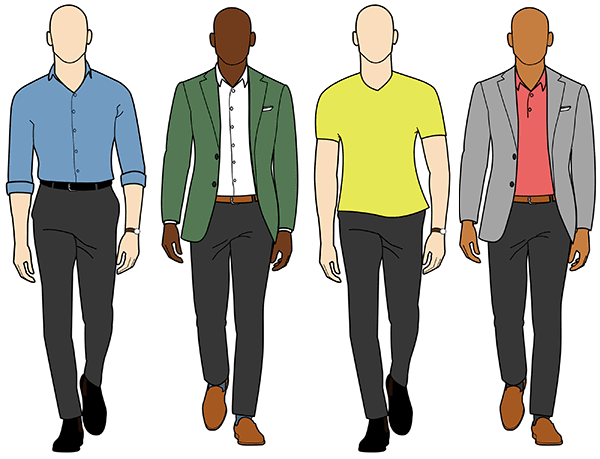 How to Wear Olive Green Chinos
Olive green (a.k.a. army green) is a muted color that is often considered a neutral in menswear because it doesn't feel obtrusive. That what makes olive green pants so versatile.
Olive chino pants look great with a pastel pink, white or light blue shirt. You can wear a brown or beige sports coat for an outdoorsy-looking ensemble. Bolder gents who can pull the color off can also opt for a yellow top.
Red and purple should be avoided at all costs. Red and olive feel too much like Christmas, while green and purple remind too much of the Joker. More experienced gents may pull these combos off, but most will look a bit silly wearing them.
Outfit Ideas for Olive Chinos: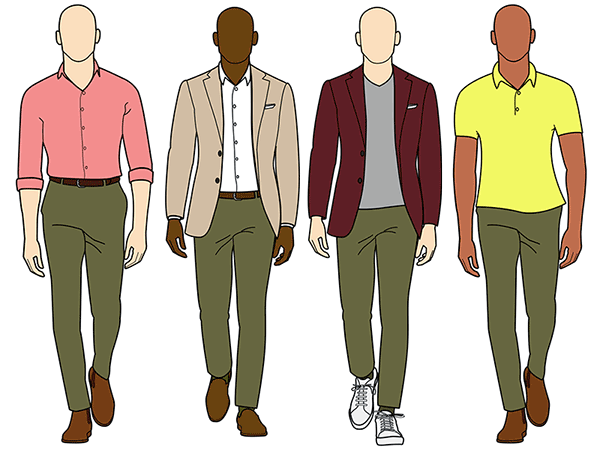 How to Wear Burgundy Chinos
If you'd like to add an additional chino color to your wardrobe, but fire-engine red feels a bit too much for your liking, burgundy is an excellent choice.
Burgundy is an underused but classic menswear color that pairs well with neutrals like white, gray, and light brown. It can look great when combined with light blues or with yellow accents, which both pop against the darker shade of red. Despite its inherent darkness, it also pairs surprisingly well with navy.
Outfit Ideas for Burgundy Chinos: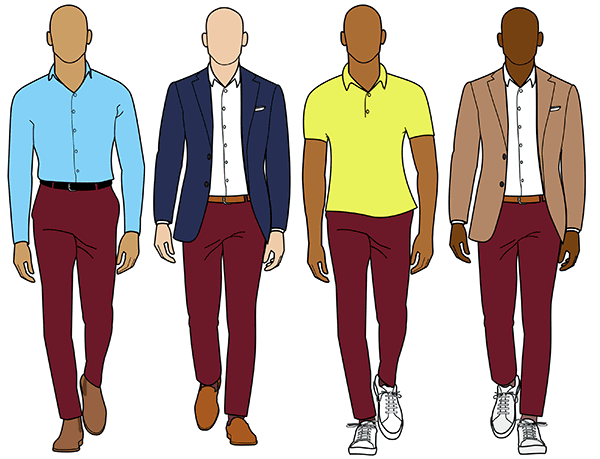 How to Wear Colored Chinos
If you want to make a statement with your outfit, wear a pair of bold colored pants. I'm talking fire-engine red, canary yellow, lime green, or tangerine orange.
The key to wearing these though is to tone down the rest of your outfit. Bold colored chinos are statement pieces, so you should pair them with supporting pieces. That means neutral colors like white, grey and black.
If you do pair them with other colors, you should understand what colors go together. Ensure at least one of the colors is properly muted. Two bold colors in one outfit creates a loud, over-the-top outfit.
Outfit Ideas for Colored Chinos: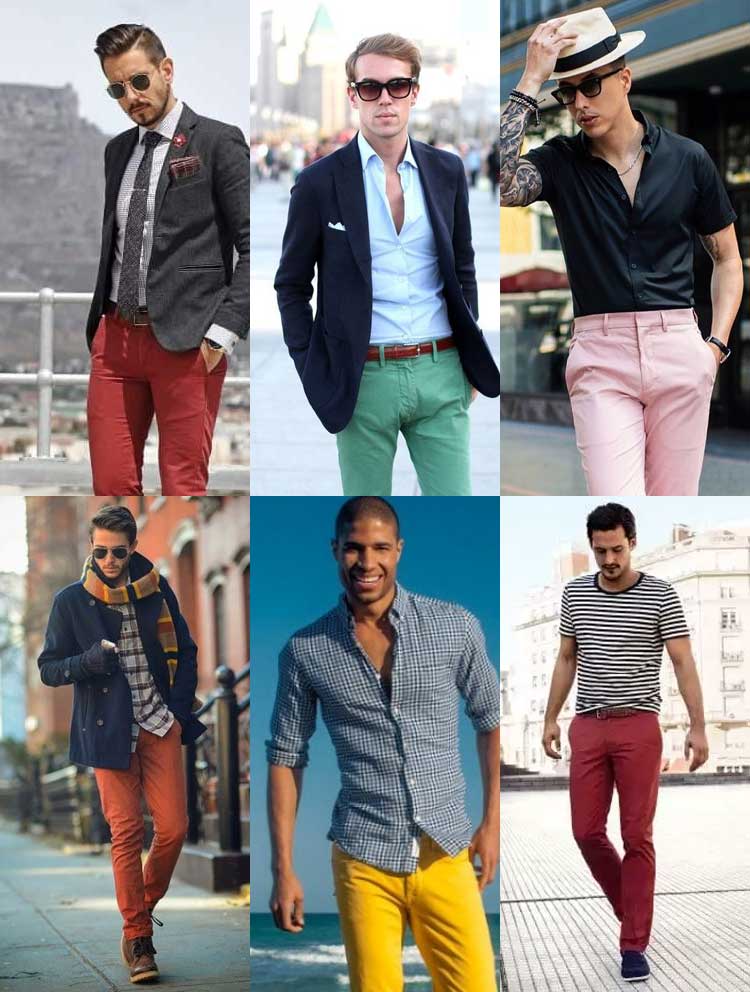 How to Wear Patterned Chinos
Like colored chinos, patterned chinos make a bold statement and let everyone know you're one confident dude. While they are growing in popularity, they are still not a common sight on the streets.
You can go for subtle patterns like windowpane or glen checks or jump right into bolder plaids and tartans.
Patterned chinos also work as statement pieces, so the easiest way to wear them is to pair them with clothes in solid colors. Bonus points if one of the colors in your chino's pattern is reflected in your shirt.
Outfit Ideas for Patterned Chinos: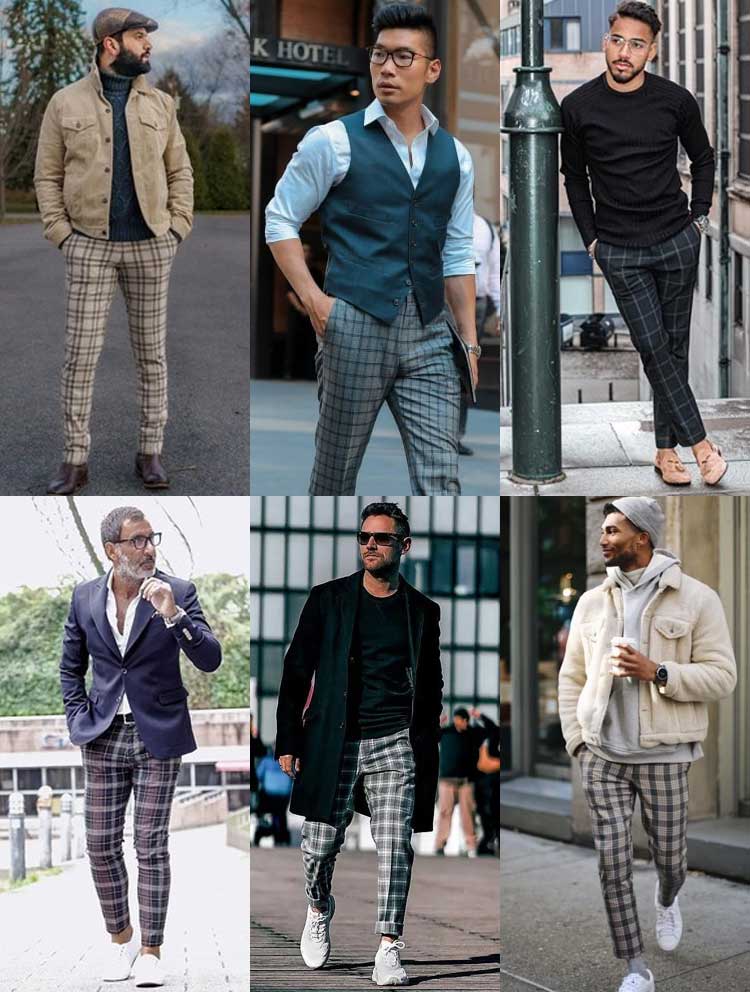 Best Stores to Buy Chinos for Men
You don't need to wear chinos from fancy brands like Ralph Lauren or Versace. You can find plenty of quality chinos at decent prices. Below you'll find some of my recommended stores for chinos.
Full disclosure: Some of these are affiliate links. That means if you click a link and purchase something, I earn a small commission, at no additional cost to you.
If you're on a tight budget, you may also check out Uniqlo or J.Crew Factory, which is the online outlet store for J. Crew.
FAQ About Chinos
What Season Do You Wear Chinos?
Chinos are versatile pants that you can wear all year round. You can wear them in summer with a polo shirt or in winter with a parka. You can pair them with a trench coat in fall or a denim jacket in spring.
You can also wear chino shorts in summer, which are shorts made from chino cloth. They are the go-to shorts for stylish men.
What's the Difference Between Slacks vs Chinos?
Slacks are formal dress trousers usually made from wool or a wool blend, while chinos are casual pants made from a cotton twill fabric.
Are Chinos Formal Wear?
No, chinos are casual pants and you shouldn't wear them on formal occasion. You can wear them for a business casual dress code, but nothing more formal than that. They are not appropriate for business professional attire.
Wear Your Chino Pants with Style
Now you know everything there is to know about how to wear chino pants with style. You have gotten a ton of outfit ideas, but don't stop with there. Chinos are versatile pants, so you should never stop experimenting with them in different outfits.
If you haven't already, add a few chinos to your wardrobe, and you'll have hundreds of new outfit options to explore.
Did You Find That Useful? Then Check This Out…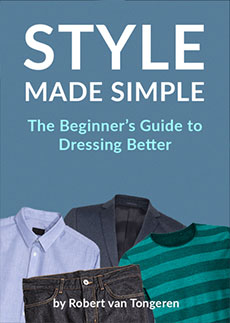 I wrote a men's style guide that simplifies the art of dressing well, focuses on what matters, and takes you through it one step at a time. Enter your e-mail below and you'll receive three free chapters, which will show you: