What Colors Go Together? The Best Clothing Combinations
Your clothes should not just flatter you, but each other as well. That's why it's paramount that you know which color combinations work and which don't.
This handy color combination chart shows you what colors that go together: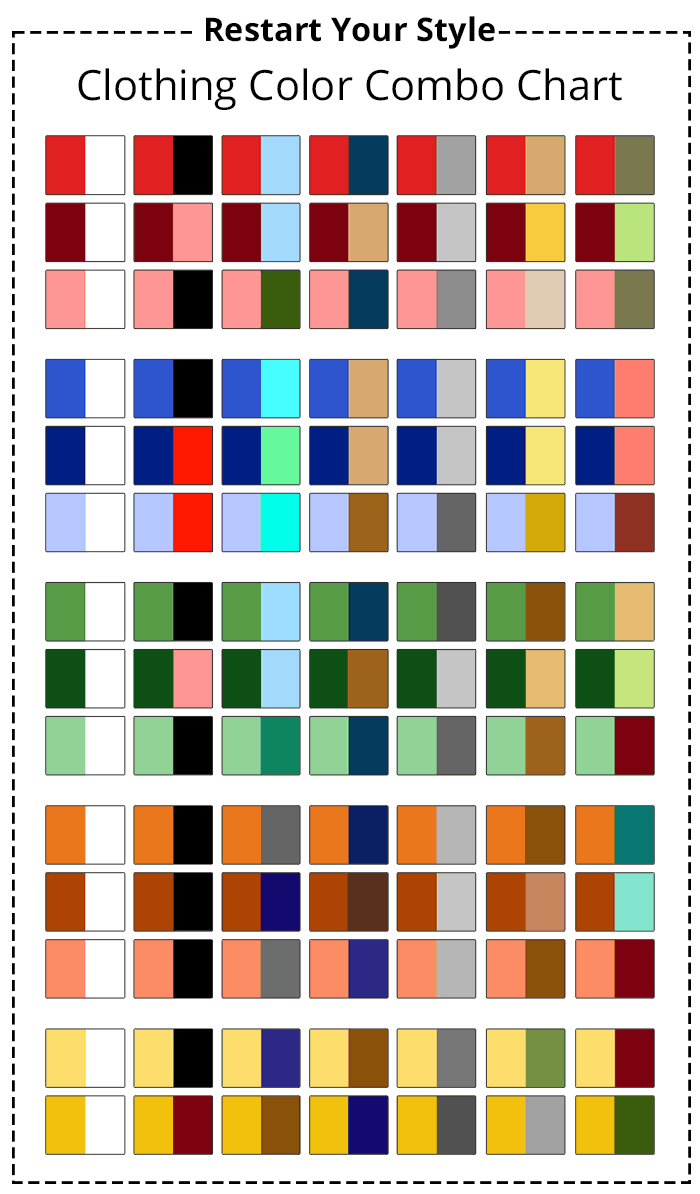 I've experimented relentlessly how the color theory I learned in design school applies to clothing. (Plus, I have 11 years experience guiding guys in the ways or personal style, so I know a thing or two.)
I'll share with you the basics of color coordination, give you the easiest color combinations to use, and go through each color on the spectrum to tell you which colors looks best with them.
But first, some of my personal favorites:
What Colors Go Together Well?
These are some of the best color combinations:
Navy blue and khaki
Black and white
Green and earthy browns
Burgundy and gray
Navy blue and pink
Olive green and beige
Red and mustard yellow
Gray and light pink
Dark brown and light blue
Blue and cyan
Dark green and pink
Beige and brown
Orange and gray
Bright red and army green
Red and light blue
Charcoal grey and light blue
Olive green and navy blue
Beige and maroon
Red and black
Navy and light blue
Burgundy and light brown
Gray and black
Khaki and pastel yellow
Red and gray
Navy blue and red
Blue and turquoise
Orange and brown
Red and earthy browns
Olive green and yellow
Yellow and brown
Beige and blue
Olive green and maroon
Burgundy and light blue
Dark green and tan
Navy blue and mustard yellow
Yellow and forest green
Navy and white
The Best Clothing Color Combinations for Men
When you learn how to match colors for clothes, the color wheel is a worthwhile tool. Familiarizing yourself with how it looks, and where different colors are placed on the wheel makes it easier for you to create good looking color combos.
The color wheel is a visual guide to the color spectrum. You can see how different colors relate to each other by how far apart they are on the wheel. Understanding the color wheel for clothes can help you create a balanced outfit as a beginner.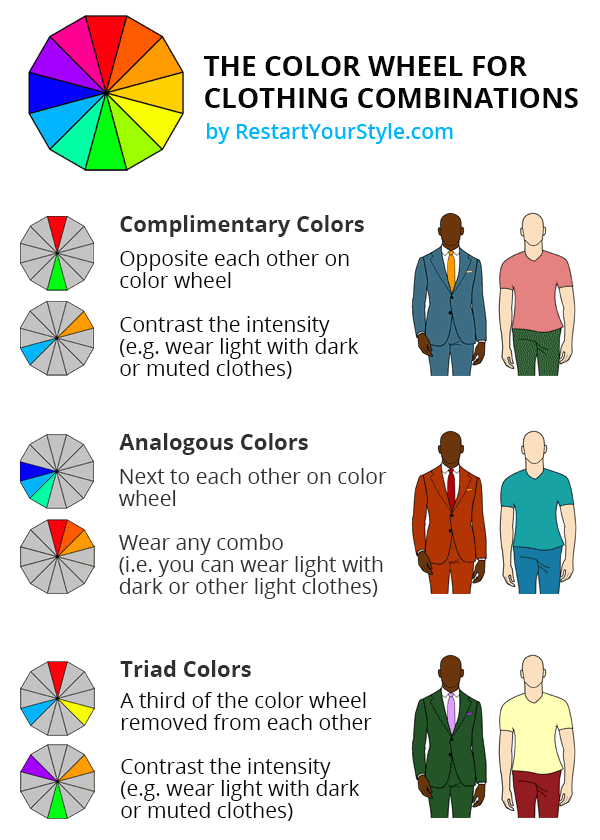 Basic Color Coordination Principles
First, you need to learn basic principles of color coordinations. You should familiarize with the following terms:
Hues are colors in their most pure, vivid form. They are colors at their fullest intensity. You might know them as bold colors.
Tints are hues that have been mixed with white. You'll know them as light colors or pastels.
Shades are hues that have been mixed with black. You'll know them as dark colors.
Tones are hues that have been mixed with white and black, creating gray undertones. These are also called muted colors.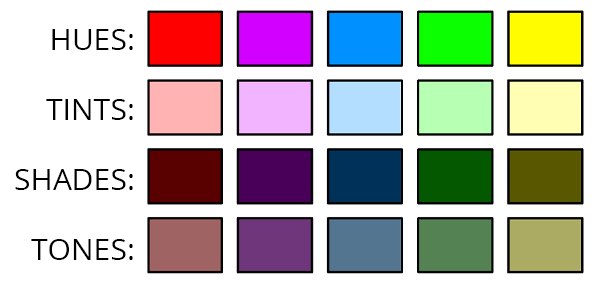 When combining colors in your clothes, you should always aim for a contrast in the intensity of your colors.
Analogous Color Combinations
Analogous colors are next to each other on the color wheel. You can easily recognize when colors are analogous, because they look the most alike. These colors are easiest to match because they're so closely related. Just make sure the colors don't match too closely, as it will create a mismatched look.
Two colors that have a subtle contrast look deliberately matched. Two colors that look almost the same look like an accident.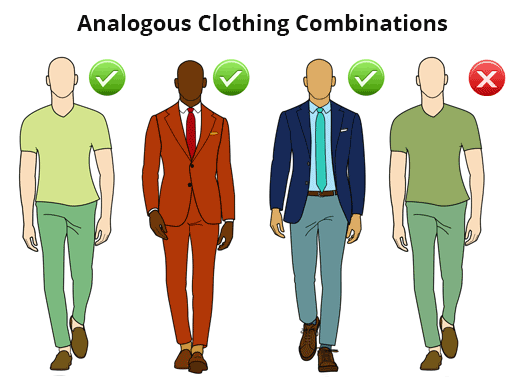 Complementary Color Combinations
Complementary colors are opposite each other on the color wheel. They have the strongest contrast between them.
Because complementary colors have such a strong contrast, they are the boldest combination you can make, which can create a color clash if you combine two at too high an intensity. The best way to combine complementary colors is to contrast their brightness. These colors look best together when one is darker or lighter or more muted than the other.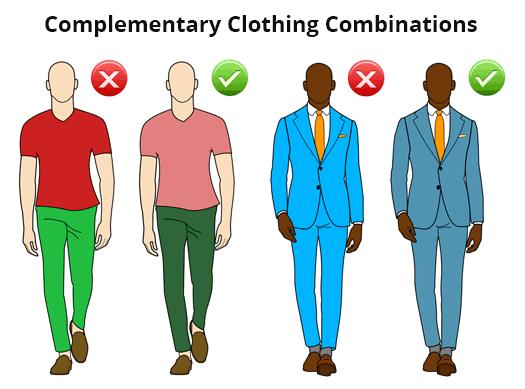 Split complementary is the close cousin of complementary color combos. This is when you combine one color with the color next to its opposite on the wheel, which creates a contrast that's a bit less intense.
Triadic Color Combinations
Triad colors are a combination of three colors equally distant from each other on the color wheel. Contrary to common perception though, you don't have to wear all three colors for this combination to work. You can pick two colors from a triad and wear them together.
In fact, beginners should stick to combining two triadic colors rather than attempting to wear all three, as it's more difficult to pull off and requires a trained eye.
For triad combos as well, make sure to apply some contrast in intensity. They work best when one color is lighter or darker than the other.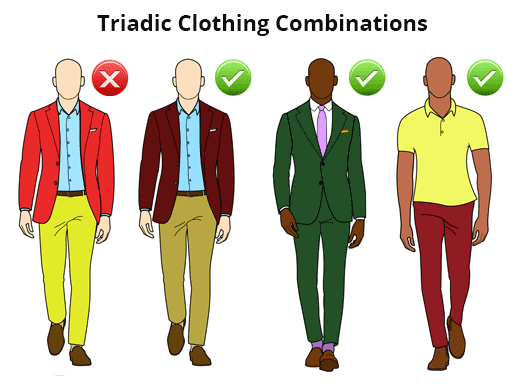 Monochromatic Color Combinations
You can also combine colors that all belong to the same hue, but differ in intensity. This creates a monochromatic outfit. For example, pairing light blue with dark blue, or a muted green with light green.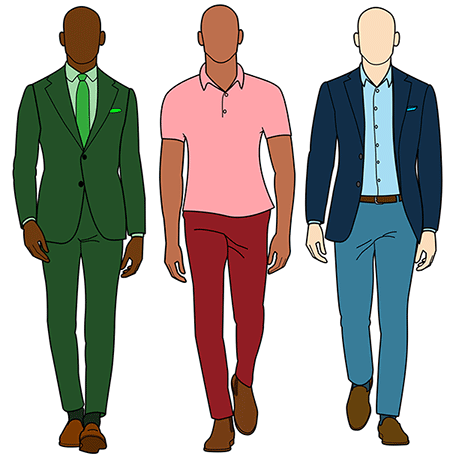 Psst.. If you never want to feel unsure about which clothes can go together, check out Effortless Outfits, my book on the art of matching clothes. I share everything I've learned about matching colors, patterns, shoes, accessories, layers and more. You can walk out the door every day looking great and feeling awesome!
What Colors Go with Everything?
Some of the best colors to combine in your outfit are not colors at all. They are called neutrals.
Neutral colors like white, gray, and black go with just about everything, because they are achromatic. In the world of fashion, navy, brown and khaki (and sometimes olive and light blue) are considered neutrals as well, because they also tend to blend with other colors well.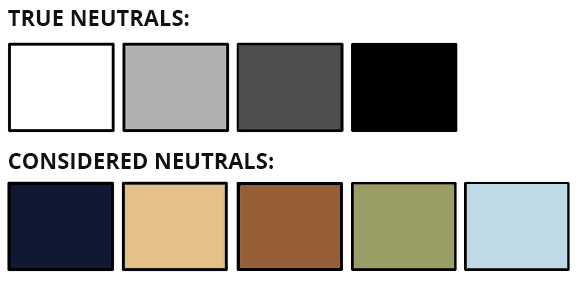 While all neutrals come with some caveats, as we'll cover further down, you can use them to create easy combinations with other colors.
What Colors Go with Red Clothes?
Red looks great when paired with neutrals like white, black, gray or navy, which make the bold color pop. It also looks great with earthy browns or with contrasting colors blue, yellow and green, as long as you contrast the intensity as well. Mustard yellow, army green and light blue make particularly fetching color combos for red.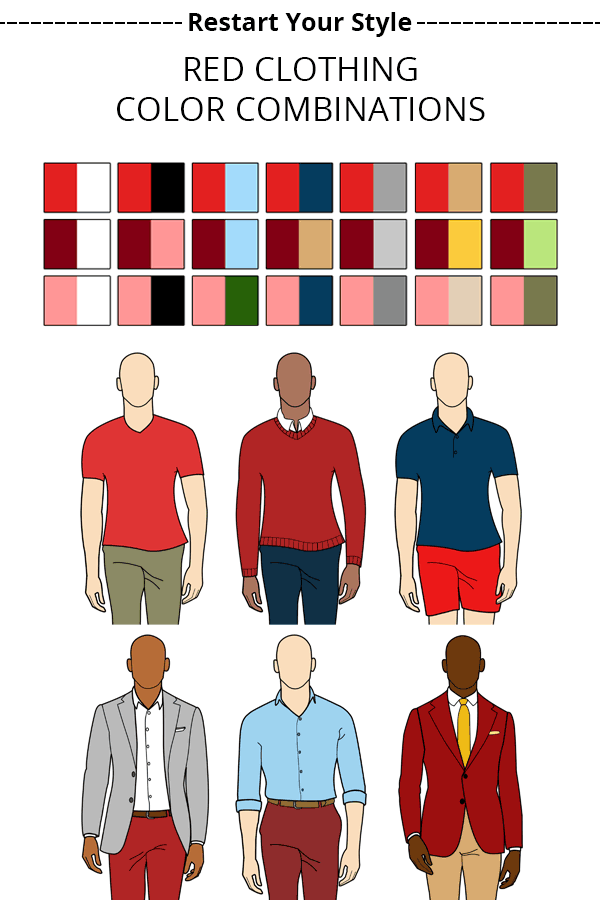 What Colors Go with Green Clothes?
Green is not a common color in a man's wardrobe, but can look great, especially when you choose dark green or olive tones, which look quite flattering on a man.
The easiest combinations for green are white and black, as you can hardly go wrong with those. Green combined with earthy browns creates a look that reminds of nature, and beige looks particularly good with green. Blue and yellow also pair well as its analogous colors, and complementary pink makes a fantastic accent color when paired with dark green.
(Check out my article on what to wear with green pants for more outfit ideas.)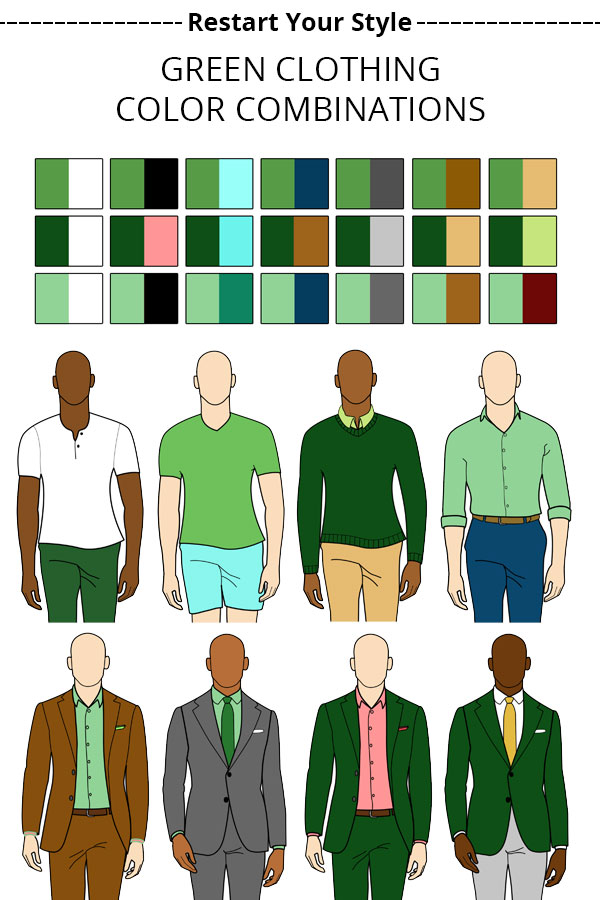 What Colors Go with Yellow Clothes?
Yellow is a color not frequently worn by men. It's a vibrant color that looks overwhelming on a man when worn in large quantities. It can also make your skin look washed out if you're not wearing the right kind of yellow, especially when you already have a pale skin tone. For these reasons, most men avoid it altogether.
You can make great color combinations with yellow though. It tends to serve best as an accent color used for accessories. Of course, if you're bold enough, you can opt for a yellow T-shirt, polo, shorts or even pants. You'll certainly make a statement. When doing so though, opt for neutral colors like white, brown, black or navy for the rest of your outfit.
Yellow pairs well with green and blue, and works great as an accent color to red or purple clothes (though not many men wear purple either).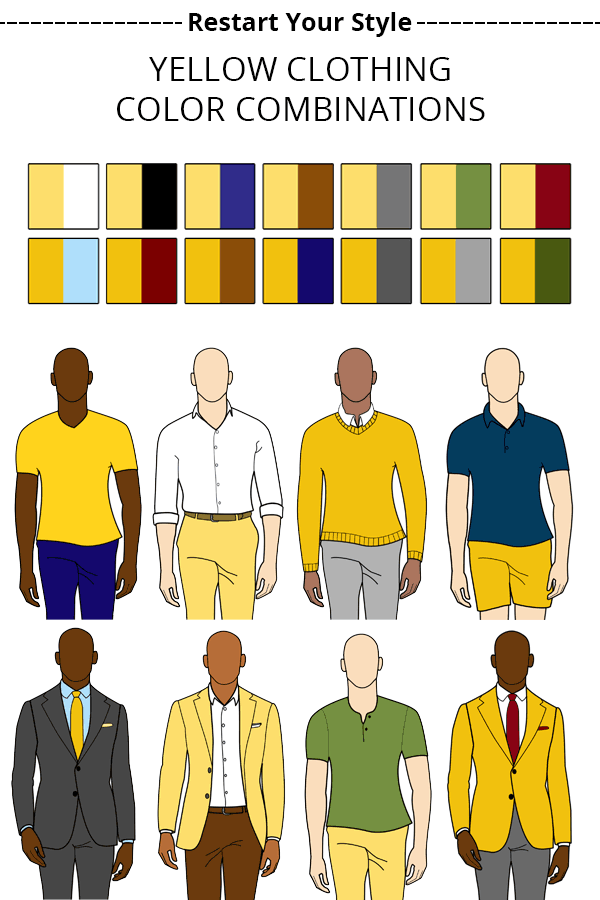 What Colors Go with Navy Clothes?
Navy clothes combine well with white and light brown colors like beige or camel. These colors provide an eye-pleasing contrast with the dark hue of navy. Pink, red and orange make fantastic complements to navy clothes and are great colors to use as accents in accessories. (The navy suit with a crisp white shirt and red tie will never go out of style.) Pairing the dark blue with lighter tints of blue creates a soft monochromatic look that's always a safe bet for men.
Navy is considered neutral because it pairs well with most colors, but the matches above are especially eye-pleasing. When wearing navy clothes, you shouldn't wear black in large quantities though.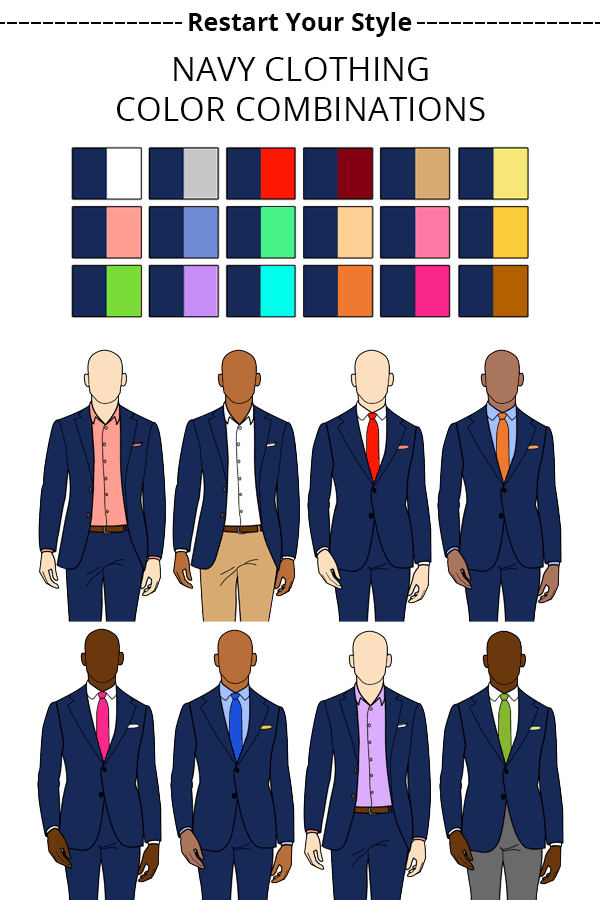 What Colors Go with Burgundy Clothes?
Burgundy is an underused but classic menswear color that pairs well with neutrals like white, gray, and light brown. It can look great when combined with light blues or with yellow accents, which both pop against the darker shade of red. Despite its inherent darkness, it also pairs surprisingly well with navy.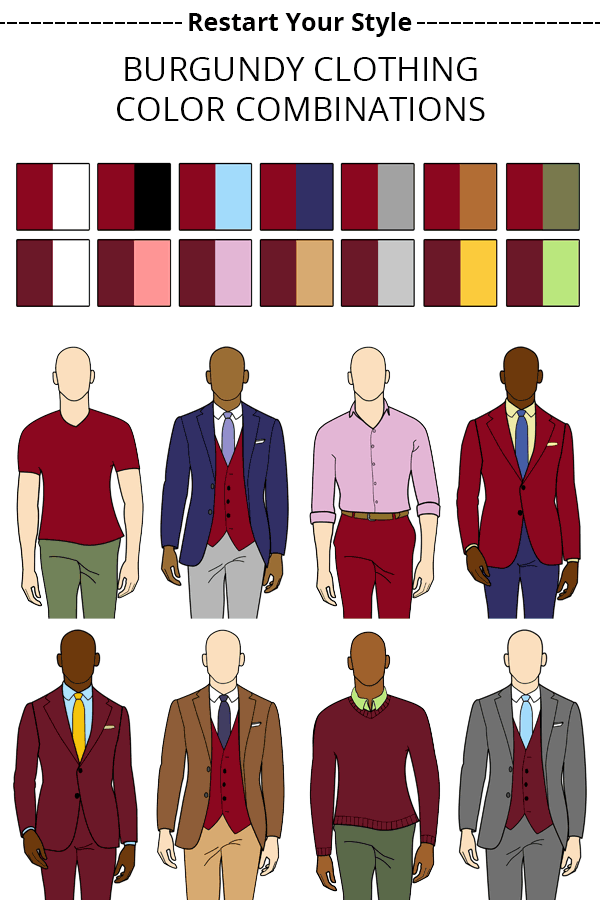 What Colors Go with Orange Clothes?
Orange is a color you don't see often in menswear, because it's not the easiest color to pair, and like yellow, doesn't look great on everyone. With that said, men often envision orange at its most vibrant hue and forget that even for orange, they can choose from a spectrum of shades. Rust orange looks great against paler skin-types, while coral can look amazing with darker skin.
Orange pairs extremely well with gray, brown, black and white. You might also wear it as an accent piece with navy, dark red or blue greens, or for the bolder gents, with blue-violet or yellow.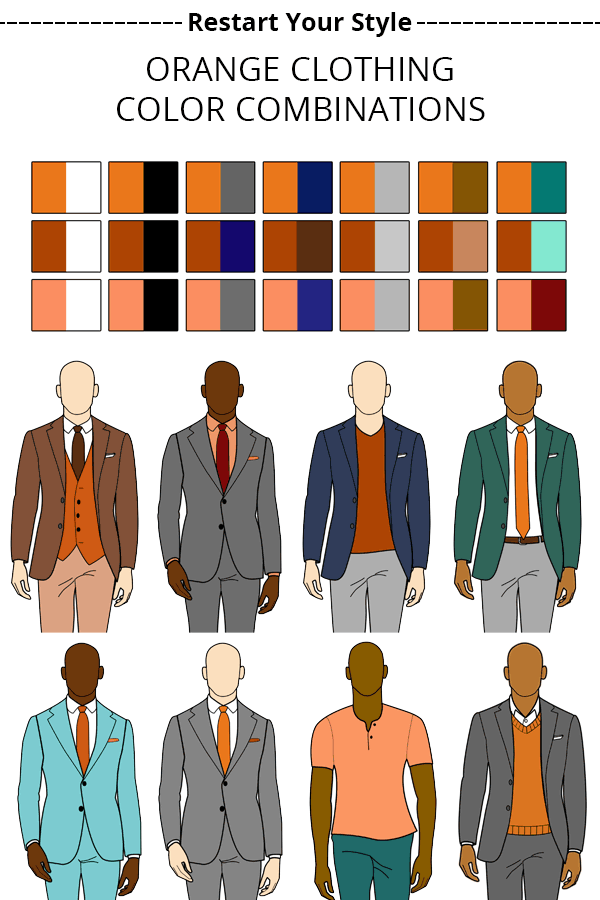 What Colors Go with Beige Clothes?
Beige is a neutral color that goes with any other color. It pairs well with other shades of brown, and looks great with green and blue. Beige is an excellent color to wear in summer when you combine it with white or other light hues like mint green or sky blue. If you're looking to create more contrast, beige also makes a great combo with navy, maroon or darker browns.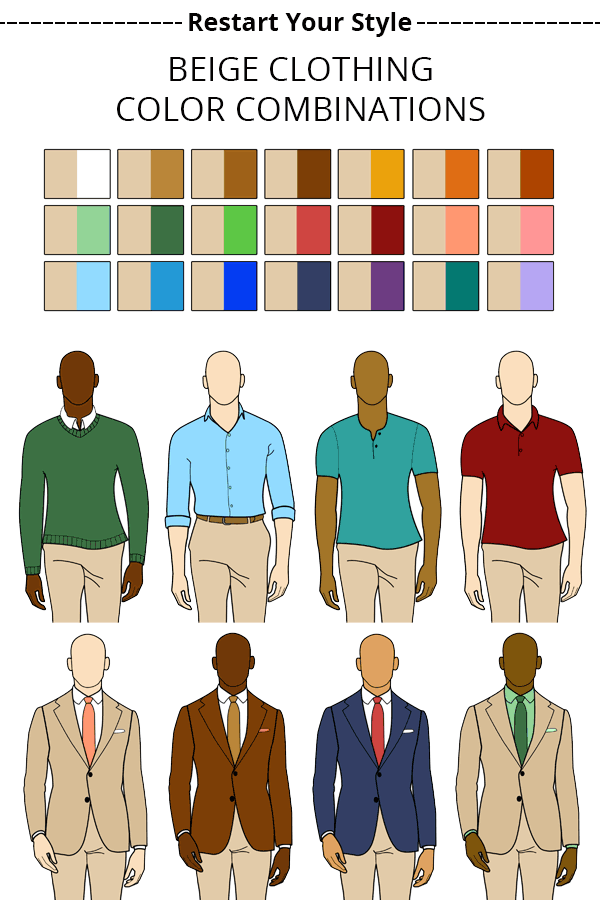 What Colors Go with Pink Clothes?
Many men still avoid wearing pink because of its reputation as a feminine color, but it can look amazing in perfectly masculine outfits. A pink shirt looks great with a navy suit or with jeans, for example. Just start with a subtle light pink shirt, if you want to wet your toes with this color first.
Light pink is easy to pair with other neutrals, like navy, black, white, beige and gray, and looks great when paired with dark green. The bolder individuals may combine a hot pink with blue violets or yellow greens.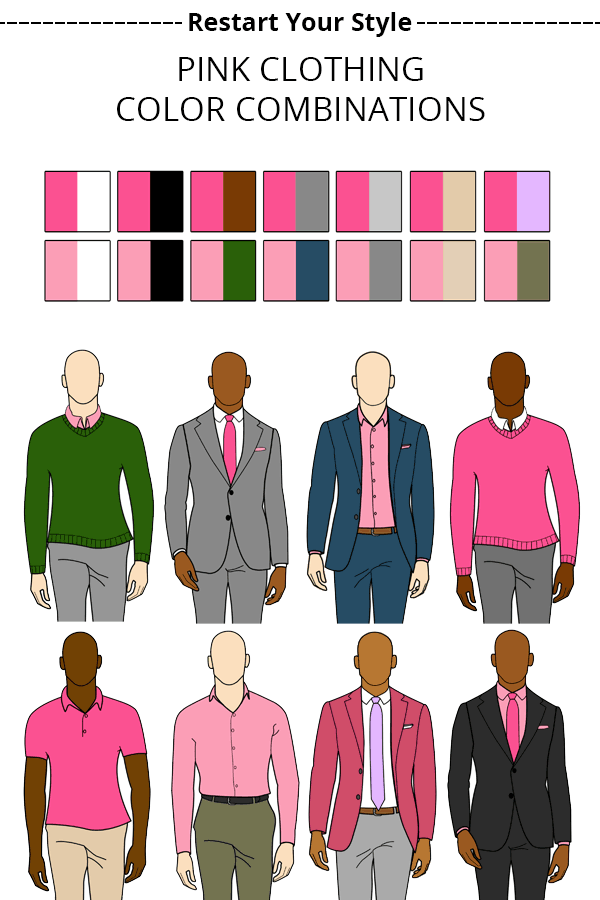 What Colors Go with Blue Clothes?
Blue is the quintessential color when it comes to menswear, as I guarantee everyone reading this has plenty of blue in their wardrobe already. Whether it's jeans, suits, sports coats or T-shirts, we tend to gravitate toward blue. It's an effortless color to wear. But what colors go well with blue?
You can wear blue with white, black and gray. It reminds of seas and beaches when paired with brown and makes easy pairing with analogous colors cyan, turquoise and green. Lastly, it provides fetching contrasts with yellow, brown, red and orange. You almost can't go wrong with blue.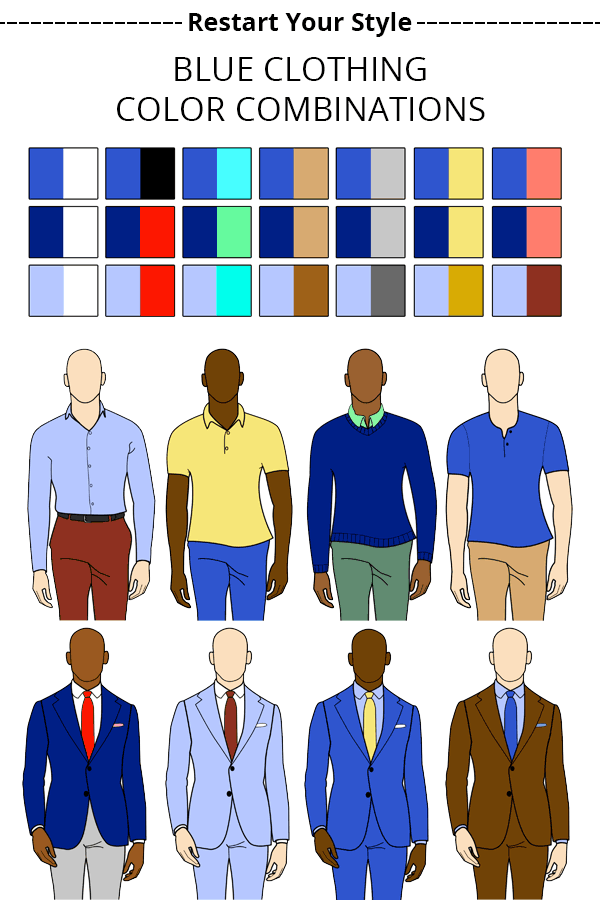 What Colors Go with Black Clothes?
People often say black goes with everything, but there are a few exceptions you should keep in mind when putting your outfit together. If you pair black with other colors that are almost as dark as black itself, it creates an off-putting, muddy appearance.
If you wear black clothes with other black clothes, you must make sure that they are the exact same shade, as otherwise, one garment will look washed out. For the same reason, you should avoid wearing grays that look almost black. Otherwise, black goes with any other color, but looks especially good when contrasted against light or bold, vibrant colors.
What Colors Go with White Clothes?
The only color you should avoid wearing with white is off-white, but otherwise, white goes with all colors — meaning, it goes with all hues, all shades, all tints and all tones. This is why white is the ultimate neutral and should have a prominent place in your wardrobe.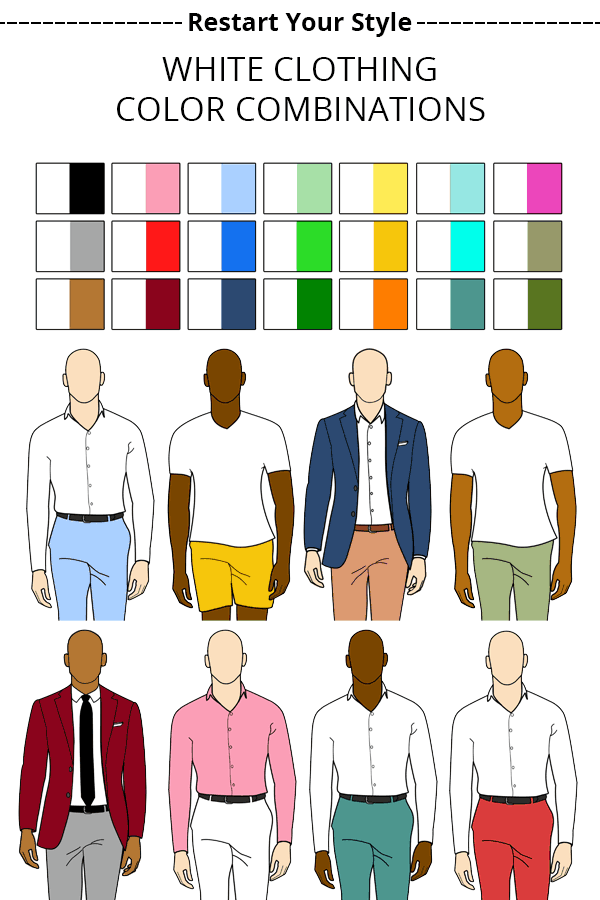 What Colors Go with Gray Clothes?
Gray clothes, whether they're light gray or dark gray, pair the best with lighter or brighter colors. Gray makes colors stand out against it, making it the ultimate support color. Whether it's red, green, blue or orange, gray makes all these colors pop. Avoid combining gray with other muted colors as it creates too muddy of an appearance.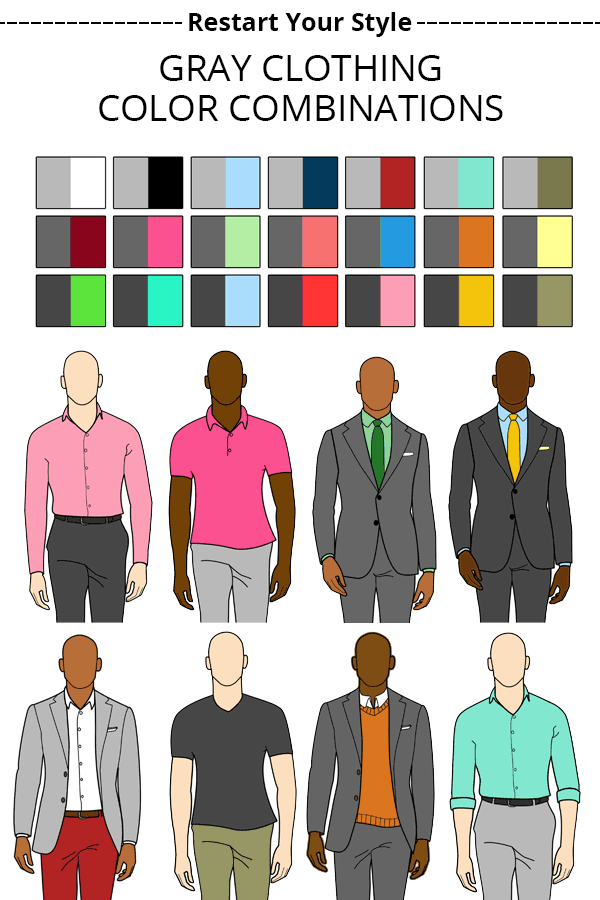 What Colors Go with Brown Clothes?
Brown is a safe color that can go with just about any other color, but goes especially well with white, blue and green. For a more daring look, you might wear brown with orange or yellow which both look fantastic against brown. You can also wear different shades of brown, as it creates a pleasant earthy appearance.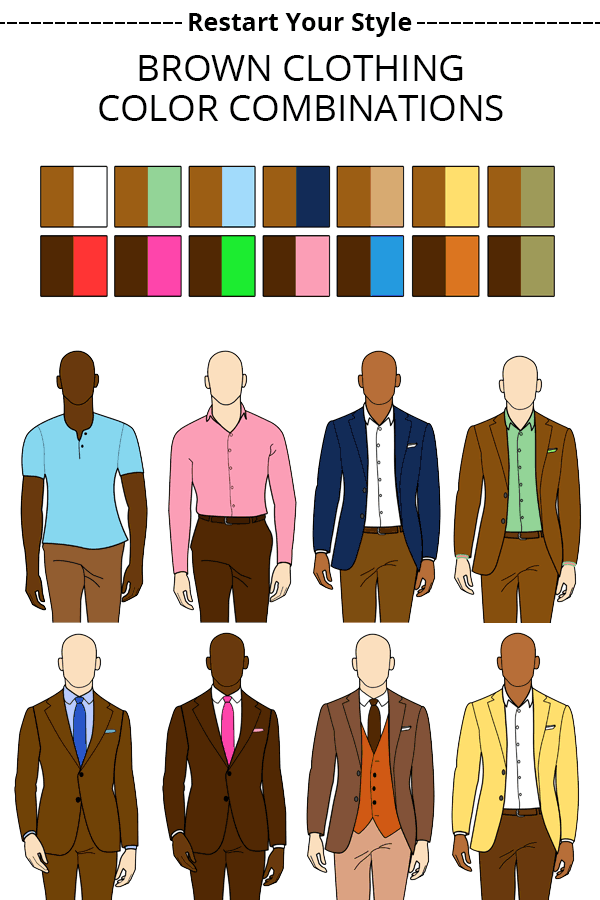 Now You Know Which Colors Go Together
With the color combinations charts in this article, you should never have to wonder what colors go together. You have an easy reference, no matter what color clothing you choose to wear.
Of course, you'd be even better off if you had no need for a cheat sheet in the first place — if you simply knew which clothing mathced and which didn't.
Imagine being in a clothing store and knowing how to pick matching clothes by instinct. Imagine opening your wardrobe and seeing a matrix of possible clothing combos. Imagine knowing exactly which shirt to pick with which pants, which shoes with which belt, or which tie with which jacket. Those are the lifeskills you get from reading Effortless Outfits.
Are you ready to master the art of matching clothes?
Did You Find That Useful? Then Check This Out…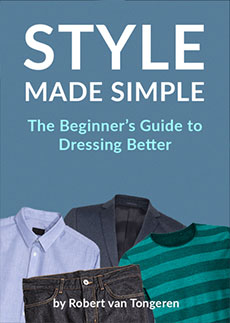 I wrote a men's style guide that simplifies the art of dressing well, focuses on what matters, and takes you through it one step at a time. Enter your e-mail below and you'll receive three free chapters, which will show you: