What Colors Go with Red Clothes? 21 Awesome Outfit Ideas
Red is a bold and warm color that makes a strong statement in your outfit.
But what other colors go with red clothes to make this vibrant color shine?
Here's a quick breakdown of colors that match with red:
Neutrals: Black, white, grey, brown, navy
Analogous colors: Orange, pink, magenta
Complementary color: Green
Triadic colors: Blue, yellow
But, some of these colors come with caveats, so keep reading to learn how to choose colors that best complement red clothing. We'll give you a ton of outfit ideas as well.
Further reading: What Colors Go Together for a complete overview of matching colors.
Red Clothes with Neutral Colors
Neutral colors like white, black, and gray are your safest color combination, especially if you're not sure how to match clothes. These colors provide a blank canvas that allows the red to shine. Navy and brown, also considered neutrals in the world of fashion, make great pairings for red clothing as well.
For example, you could wear:
a red sweater with khaki pants, a white shirt and black tie
a burgundy jacket with a white shirt, grey pants and brown shoes
a navy shirt with red chino pants and brown chelsea boots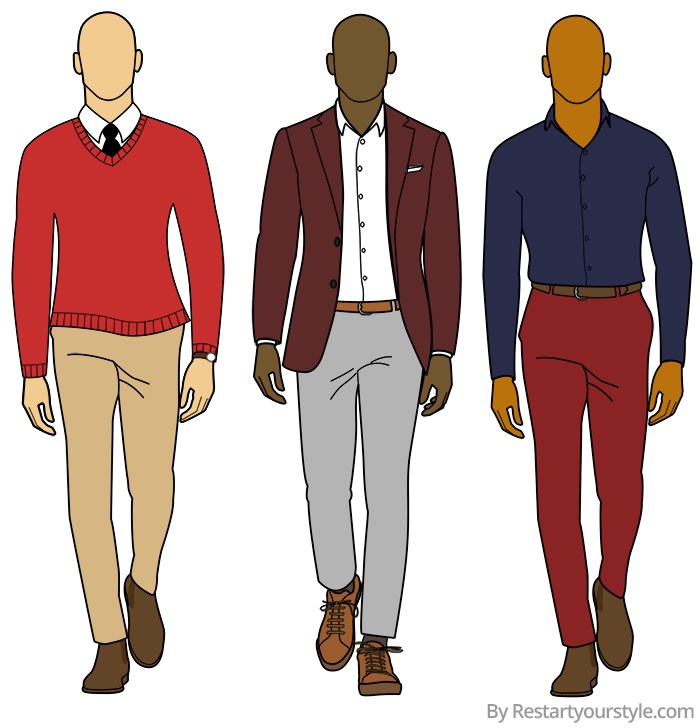 Monochromatic Color Scheme for Red Clothing
You can also go for a monochromatic look by wearing different shades of red (or wearing different shades along with neutrals). Just make sure to contrast the intensity to avoid a monotonous red outfit.
For example, you could pair a pink shirt with burgundy pants, dark red jacket with bright red pants, or muted red trousers with a red sweater and pink shirt.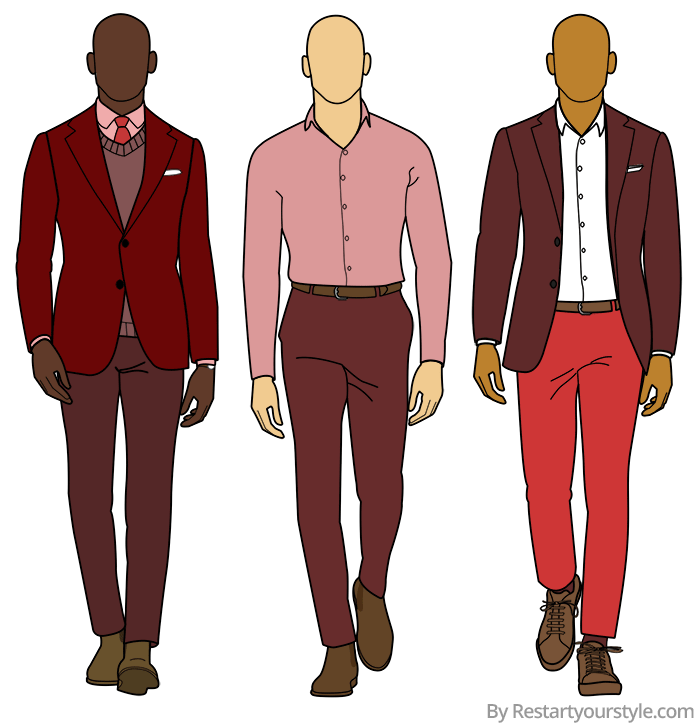 Analogous Color Matches for Red Clothes
Analogous colors are those next to each other on the color wheel. For red, this includes colors like orange and pink. However, since red is already such a vibrant color, you may want to anchor these combinations with other neutral clothes and save one of the colors for accessories like your pocket square or tie.
On the other hand, if you don't mind making a bold statement with your clothes, you could wear:
Red polo shirt with salmon shorts and white sneakers
Pink t-shirt with red chino pants and black shoes
Maroon suit with magenta shirt and salmon pocket square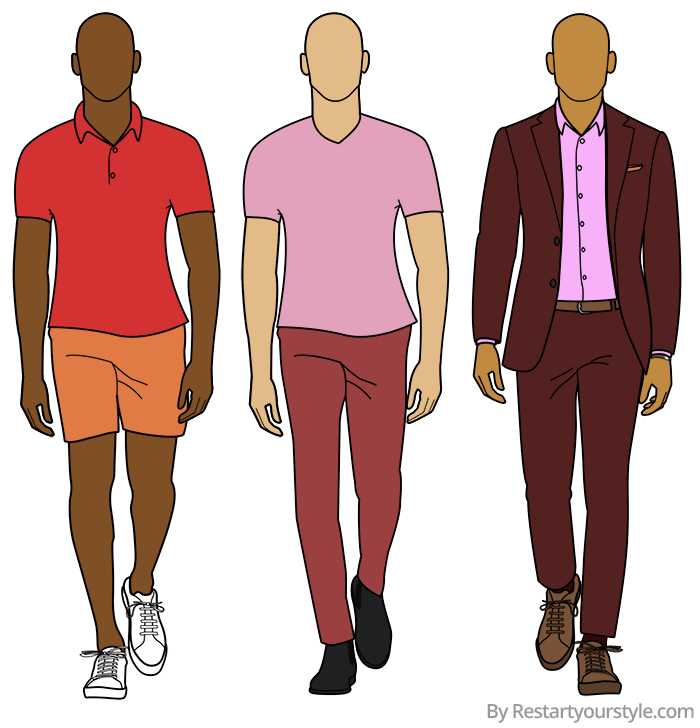 Complementary Color Matches for Red Clothes
The complementary color for red is green. This color combination can create a striking and eye-catching contrast, but can also be an eye-sore, when matched poorly.
When you wear red with green clothes, balance the intensity of both colors to avoid clashing. For example, you might pair a bold red tie with a dark green jacket, or a bright green t-shirt with muted red pants.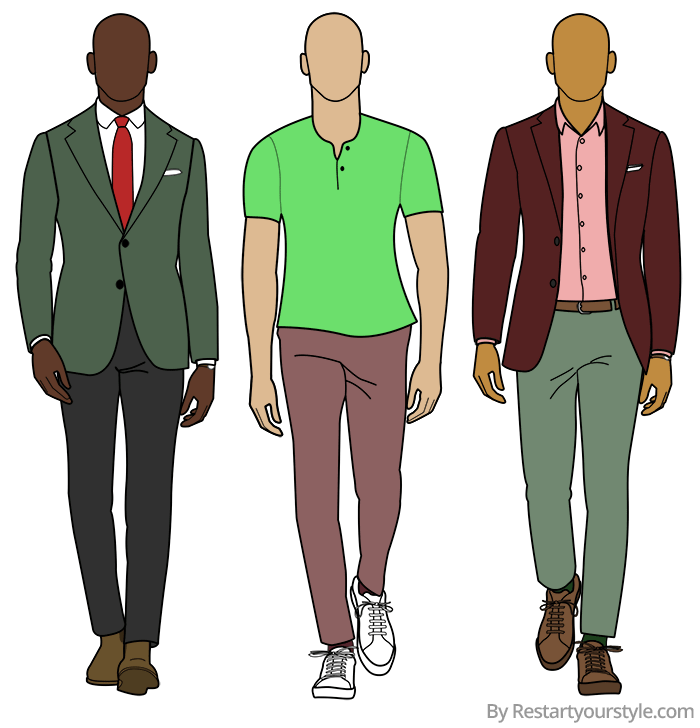 Triadic Color Matches for Red Clothes
Blue, yellow and red are equally spaced on the color wheel, and combining these primary colors can give your outift a harmonious look.
But just like with green, you want to balance the intensity and don't overdo it. Wear only one bold color, and keep the other colors muted or dark. For example, a bold red tie with a navy blue jacket and mustard yellow pants.
On the other hand, you don't need to use all three colors at the same time. For instance, you can also pair a yellow t-shirt with red pants or a burgundy jacket with blue jeans. These colors play off each other well.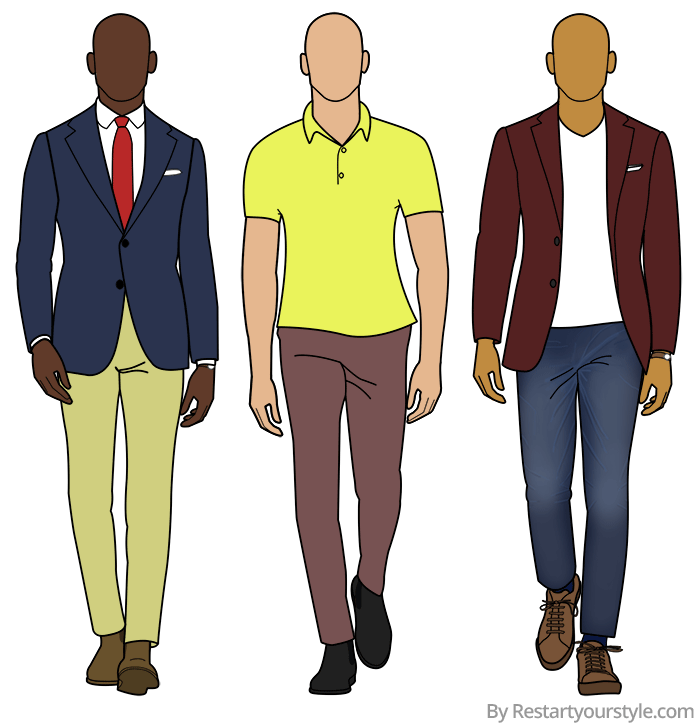 What Colors Go With Light Red Clothes?
Light red clothes (often seen as pink clothes) go well with lighter shades like light orange or light blue. Combine with white or khaki for a pastel summer look.
On the other hand, if you want to create contrast, you could wear pink with darker reds like burgundy or maroon, with neutrals like charcoal grey, or with contrasting colors like olive green, navy blue or mustard yellow.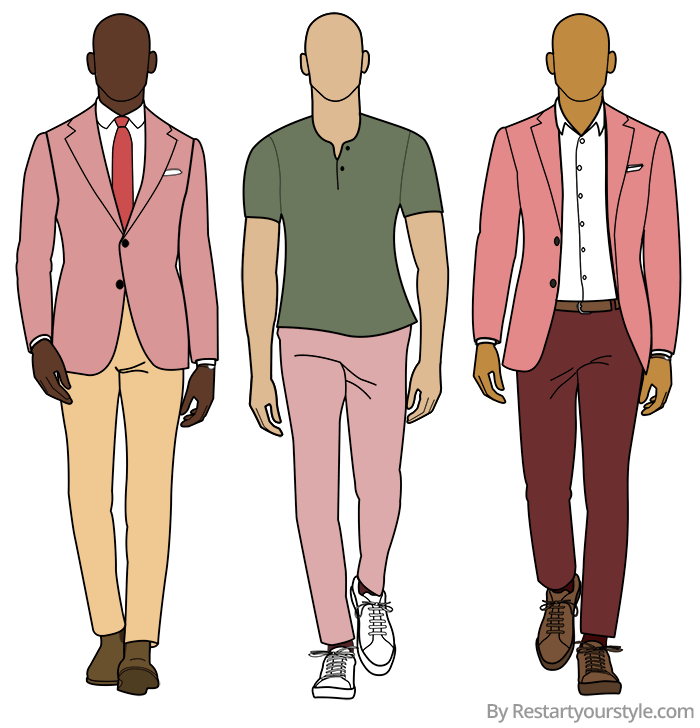 What Colors Go with Dark Red Clothes?
Dark red or burgundy pairs well with neutral colors like white, grey, light brown and navy. It also matches well with other red shades, or with light green and light blue clothes for a more fetching contrast.
For example:
a light blue tie with a maroon jacket and grey dress pants
a dark red shirt with mint green chino pants
a burgundy jacket with a white shrit and navy pants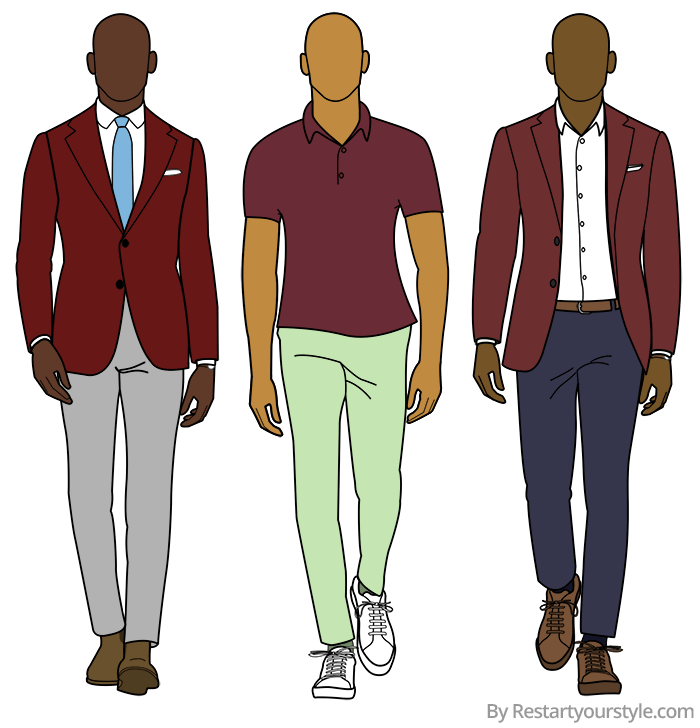 What Color Shoes Go with Red Clothing?
Red clothes go well with black or brown leather shoes, or with black or white sneakers. Combining them with colored shoes is always going to be trickier, so you should generally stick with neutrals. That means navy or grey shoes are also a decent option.
Now You Know All Colors That Go With Red Clothes
Understanding these color schemes will help you wear red clothes with confidence, so you'll stand out in a good way. Whether you go with a monochromatic, analogous, or complementary look, you now know the nuances that will make these outfit combinations work.
Did You Find That Useful? Then Check This Out…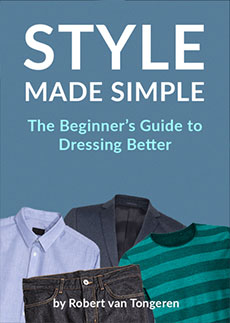 I wrote a men's style guide that simplifies the art of dressing well, focuses on what matters, and takes you through it one step at a time. Enter your e-mail below and you'll receive three free chapters, which will show you: