Balance in Fashion: How to Create a Balanced Outfit
This is a Guest Post by Nick Longsfeld of Midwest-Dressed.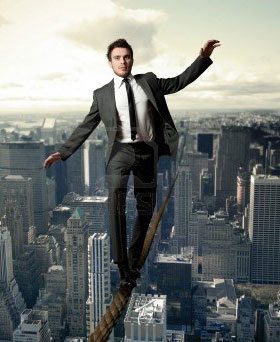 As you begin to revitalize your wardrobe, another important style aspect you'll want to master early on is balance.
Mastering the art of balance in fashion is essential because it can help you match your clothes properly and look good. Once you've got a firm grasp on the basics of balance, you can play around with different pieces to add extra visual interest to your outfit.
In style terms, balance is about using two differently styled pieces together in correct proportions to establish an even distribution among the whole outfit. When done correctly, you can take two different, even competing style pieces, and make them work together to compliment each other.
There are many different aspects of an outfit to consider balancing, and different clothes will vary on a high-low scale of each aspect. Consider these aspects to help learn the fundamentals of balancing an outfit:
Balance in Colors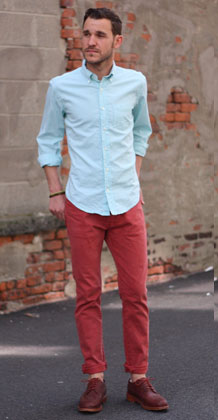 Colors abound in menswear, but so too do tones. The same color, say red for example, can come in something very light and pastel, or it can be very bright and vivid.
The key to balancing colors is to not overdo it in either direction.
Too many bright, vivid colors are distracting. They strain the eye and attract attention in a negative way.
If you choose to wear a bright piece, pair it with something that's toned down and neutral to balance the colors.
In the same way, wearing an entirely pastel outfit will appear "washed out," like you've spent the whole week being bleached by the sun. Pair a light-washed shirt or pant with a solid anchor of color.
Balance in Formality
Formality is a key consideration. Often what you wear is dictated by where you're going. A suit is no more appropriate at the gym than athletic shorts are at the office.
Clothes come in a range of levels of formality. A T-shirt would be most casual, while a suit or tuxedo would be most formal. You can generally determine a piece's level of formality based on where you'd commonly wear it.
Playing around with formality allows you to "dress down the middle." Clearly, an office requires the full-fledged formality of a suit. But that same suit jacket can be worn with a pair of jeans (which are more casual) to create a dressy look that's not overly stuffy. It's a sharp look that will fit well in nearly any environment.
Balance in Patterns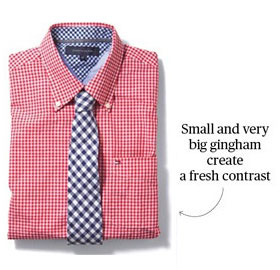 Examples of different pattern types include stripes, plaids, ginghams, prints, and of course, plain solids. The key to balancing patterns is to keep in mind the size of the pattern you're working with.
Avoid having two patterns of the same size. For example, a bold plaid shirt paired with a boldly striped tie is too much. The patterns compete for visual attention because they are the same size. They end up clashing with one another, and you end up looking like the stereotypical car salesman.
Let one pattern speak for itself, while the other subtly compliments it. A bold plaid shirt can be paired with a plain tie.
In the same vein, a large gingham tie can be paired with a micro-check shirt, or vice versa.
Don't be afraid to play with the same patterns, just balance their sizes, lest you end up camouflaging the two together. Remember, balance is about taking two different things and making them work together (not against each other)
Balance in Textures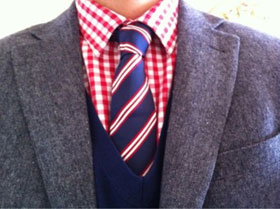 Texture varies from something as sleek and shiny as silk, to something as rough and rugged as flannel, and is affected by the yarn and weave of fabric.
Typically, smooth pieces are considered more formal (think of the silk ties and wool suits you'd typically see in a business setting), whereas more coarse pieces are informal.
Playing with texture is considered more stylistically advanced, usually because heavily textured pieces are less versatile. You'll want to buy them once your closet is already full of versatile options, and you can afford new pieces that you will wear less often. Nevertheless, the concept is not hard to grasp.
Mix a rough piece with something more smooth. I like the outfit pictured right, because each part varies in texture. From jacket to sweater to shirt to tie, each layer continually moves from rough to sleek. This is the kind of advanced style-play that most people don't consider, but it adds incredible visual interest to what you're wearing.
Experiment with Balance in Fashion
My best advice on mastering balance in fashion is to mess around with the options you have. Literally, experiment with different things. Lay out a shirt, then lay some ties on top and some pants underneath. Check out your options to see what works well and what doesn't. This method allows you to configure a multitude of outfit ideas. When the time comes to get dressed, you'll know what works and what doesn't, without wasting valuable time in front of the mirror.
Nick Longsfeld is the author of Midwest-Dressed. There are tons of menswear blogs out there, but many are overly technical, focusing on the high points of fashion and tailoring. Midwest-Dressed offers a stepping stone for young men looking to change what they wear. Be sure to check out his site for more, similar articles
Did You Find That Useful? Then Check This Out…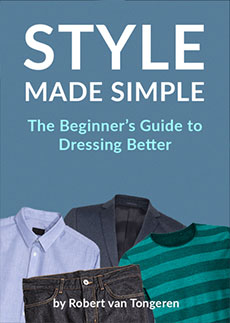 I wrote a men's style guide that simplifies the art of dressing well, focuses on what matters, and takes you through it one step at a time. Enter your e-mail below and you'll receive three free chapters, which will show you: