Does Business Casual Include a Tie?
Are you considering whether you should include a tie with business casual attire?
The business casual dress code doesn't require a tie — but you can include a tie if you're wearing more casual clothes than a suit, such as a collared shirt with a sport coat or sweater. 
The point of the dress code, after all, is to dress down from traditional business attire (i.e. a suit and tie).
This article will dive deeper into the dress code's guidelines around wearing ties. It will explain how to dress business casual with a tie and without one, and how to match your tie with your shirt.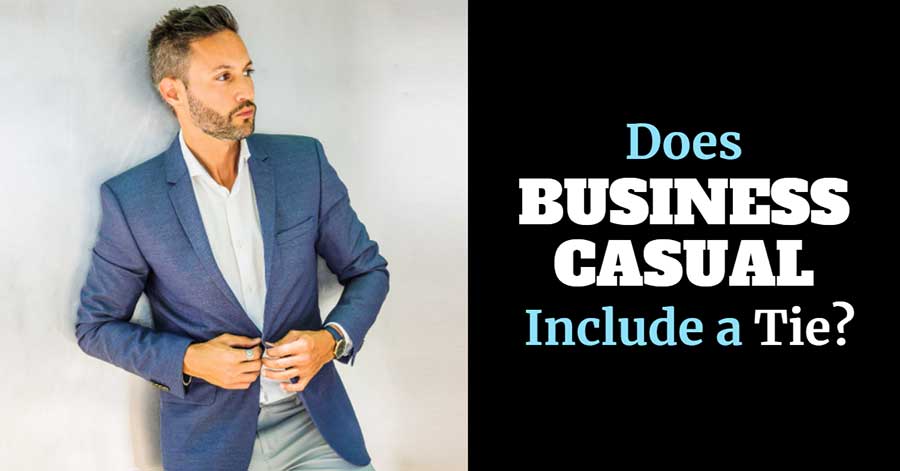 Why Business Casual Doesn't Require a Tie
Business casual doesn't require a tie because it's meant to be a more relaxed and comfortable dress code than business professional. It allows office employees to dress in a neat and professional way without needing to wear the most formal attire.
In fact, losing the tie and unbuttoning your top button is usually the first step to dressing business casual. (And in some workplaces, you wouldn't want to dress down further than that.)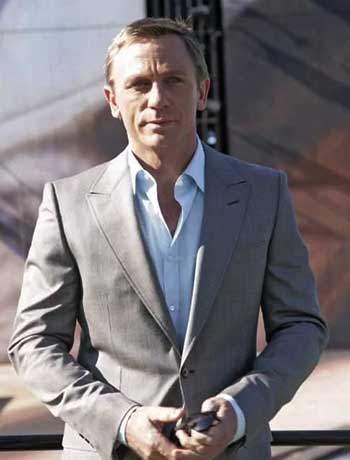 Why Business Casual Can Include a Tie
Even though a tie is not typically worn with business casual attire, it can be a stylish addition when you wear it with a sport coat, cardigan or sweater and a pair of dress slacks or chinos. Just don't wear it on its own with just a dress shirt, as it tends to make your outfit look incomplete.
At best, you'll look like you forgot to put your jacket on. At worst, you give the impression of an office drone.
If you're already wearing a suit, including a tie means you're technically wearing business professional attire. Now, there aren't any hard rules against wearing a suit and tie for a business casual outfit, but depending on the workplace, you may look out of place.
You might also like to know: Are Jeans Business Casual?
Why It's Smart to Have a Tie on Hand
Even if you decide to leave the tie off, you may consider bringing a tie to work anyway (or keeping one in your desk drawer).
Having a tie on hand in the office is a smart move because you never know when you may need to dress to impress. You may need to attend an unexpected meeting with an important client or give a spontaneous presentation.
Having a tie on hand ensures that you are always prepared to make a professional impression.
Consider a Knit Tie
If you do decide to add a tie to your business casual wardrobe, select one that isn't too formal. A shiny silk tie may look out of place with more casual shirts and other casual attire like sweaters or cardigans. 
Instead, go for a matte or textured tie. A knitted tie can be an excellent option to wear as part of men's business casual attire, especially when you pair it with more casual shirts.
While you're here, also check out: How to Dress Business Casual on a Budget
How to Dress Business Casual with a Tie
If you want to wear your tie business casual, just replace the suit with more casual attire.
For example, you might wear a tie with:
A sport coat with a dress shirt and chino pants
A dress shirt with a sweater (or cardigan) and dress pants
A blazer with a dress shirt and wool trousers
As a finishing touch, you may also include a pocket square to complement your tie. And of course, it's better to wear a business casual dress shoe rather than your beat-down sneakers.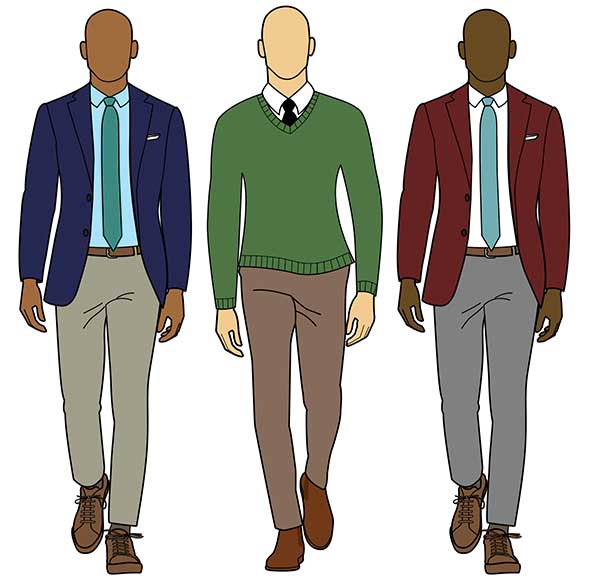 You can also make the tie appear more casual when you tie your tie with a looser knot — e.g. a four-in-hand knot instead of a full windsor — and unbuttoning the top button of your shirt.
How to Dress Business Casual without a Tie
If you opted not to wear your tie, you can wear the same outfits listed above, just without the tie. However, you can also opt to wear a suit with no tie, or just a dress shirt and dress slacks.
Some workplaces may even allow you to wear a polo shirt during summer months or for Casual Friday.
How to Match Your Tie with a Business Casual Shirt
Your shirt and tie combination should be the first building block of your outfit and you'll build the rest of your outfit around them. That's why it's important to know how to match these clothes.
1. Solid Shirt with Solid Tie
This is the easiest to pull off. If both your business casual shirt and tie are solid colors, just make sure the colors complement each other.
You can choose:
Different shades of the same color (e.g. light blue shirt with a dark blue tie)
Analogous colors (e.g. light blue shirt with blue-green tie)
Contrasting colors (e.g. light blue shirt with a red tie)
You should never wear a tie and shirt in the exact same (or very similar) shade and color.
2. Solid Shirt with Patterned Tie (Or Vice Versa)
Wearing a solid shirt with a patterned tie is easy as long as you follow one simple rule: Have at least one color in the tie pattern that matches the shirt.
(This works the other way around as well, i.e. when you're wearing a patterned shirt with a solid tie.)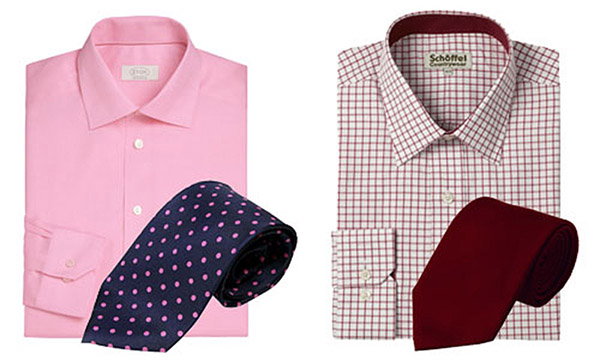 Some common tie patterns are:
Stripes
Checks
Paisley
Floral
Polka dots
So let's say you are wearing a light pink shirt, you could match it with a navy tie with pink polka dots. If you're wearing a light blue shirt, you could match it with a burgundy tie with a blue paisley pattern.
Site-note: You may also consider pairing one of your pattern colors with other accessories like a pocket square or your socks.
3. Patterned Shirt with Patterned Tie
Pairing a patterned tie with a patterned shirt is a bit more complicated and is difficult to pull off well. This is not for amateurs, so if you're not sure, stick to the previous options.
The main thing to watch out for is that the two patterns don't blend into each other, and the trick to do this is to make sure the patterns contrast in scale and/or density.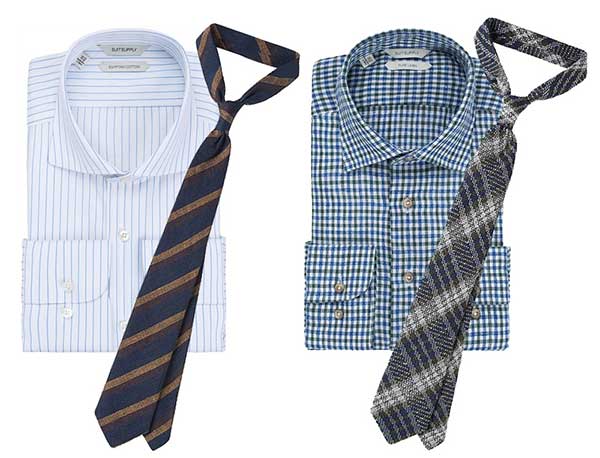 FAQ about Business Casual Ties
Can You Wear a Bow Tie with Business Casual?
If you're wondering whether you can wear bow ties to work, the real question is whether you should.
You can wear a bow tie with business casual, but I'd suggest you reserve them for more formal black tie or white tie events. Bow ties can come off as overly flashy and can be distracting to colleagues. Avoid wearing a bow tie to work unless you want to be known as the "bow tie guy."
Can You Wear a Tie with a Polo Shirt?
Pairing a tie with a polo shirt is a fashion sin that will send you straight to the deepest circles of sartorial hell. If you want to give the impression of having any taste at all, you will avoid this abominable combination.
Seriously though, combining a tie and polo shirt is a bad idea. The collar of a polo shirt is designed for comfort and casual wear, and it's too loose to complement a tie. It creates a distinctly unflattering look.
Can You Wear a Tie with the Smart Casual Dress Code?
Smart casual implies that you can dress down even further, but like with business casual wear, nothing prevents you from including a tie with your outfit. In fact, you can wear the same outfits as mentioned in this article.
You might also like: Business Casual VS. Smart Casual: What's the Difference?
Which Dress Codes Require a Tie and Which Don't?
Below you'll find the tie guideliness for wdifferent dress codes:
Casual / smart sasual: You may choose to wear a tie, but it's not required or expected.
Business professional / business formal: You are required to wear a tie.
Black tie: You are expected to wear a tuxedo with a black bow tie.
Black tie optional: You may wear a bow tie, but also opt to wear a dark suit with a regular neck tie.
White tie: You are required to wear a white bow tie.
Will You Wear a Business Casual Tie?
The choice to wear a tie with business casual is entirely up to you. It's not required, but if you like wearing ties, then go for it.
It'll show you have an eye for details and set you apart from your co-workers.
Plus, you can switch easier between looking more formal and more casual.
Did You Find That Useful? Then Check This Out…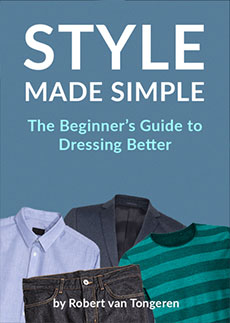 I wrote a men's style guide that simplifies the art of dressing well, focuses on what matters, and takes you through it one step at a time. Enter your e-mail below and you'll receive three free chapters, which will show you: