What Color Shoes Go with Grey Pants?
If you own a pair of grey pants, I'm sure you love the versatility they provide.
But what color shoe can you wear with grey pants?
Well, since grey is a neutral color, you can wear grey pants with any shoe color you wish.
For formal occasions, you should pair grey dress pants with brown or black dress shoes. If you want something less conventional, consider burgundy, navy or grey shoes.
For casual outfits, you could wear grey chino pants with white sneakers or colored plimsolls.
Want to know more?
I'll discuss all the best shoe color pairing with grey pants below, whether you're aiming to dress formally or casually.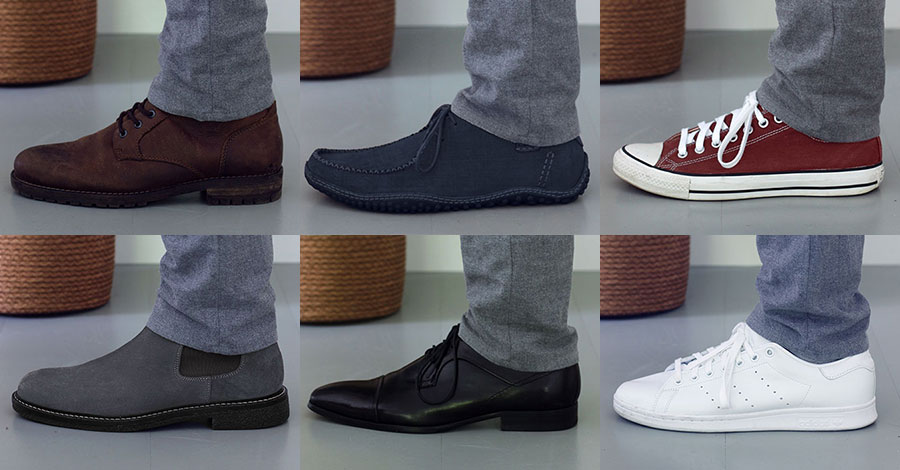 The Best Shoe Colors for Grey Dress Pants
First, we'll discuss the different shoe colors you can wear with grey dress pants for formal settings.
When you're dressing for work or for a formal event, you'll want to wear a pair of dress shoes, and you're more limited in the shoe colors that are appropriate. The shoe colors below will be a safe bet in most cases.
(Of course, each of these shoe color combinations work for casual wear as well.)
Brown Shoes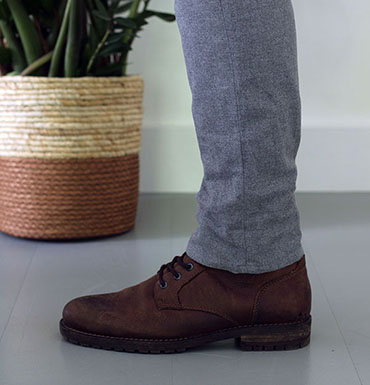 Brown shoes make for one dapper combination with grey dress trousers, and is my preferred choice for a more conservative look.
Don't get me wrong. Black shoes look great, but the warmth and richness of brown makes for a much more pleasing contrast against the ashy tones of grey.
For instance, you could wear:
Dark brown shoes with light grey pants
Cognac shoes with charcoal pants
Light brown shoes with medium grey pants
When to wear:
Business meetings and conferences
Weddings and other formal events
Cocktail parties and evening gatherings
Sock pairings:
Charcoal grey socks
Patterned or textured dress socks in complementary shades of grey and/or brown
Colored dress socks (blue, purple, orange) for a bolder contrast
Black Shoes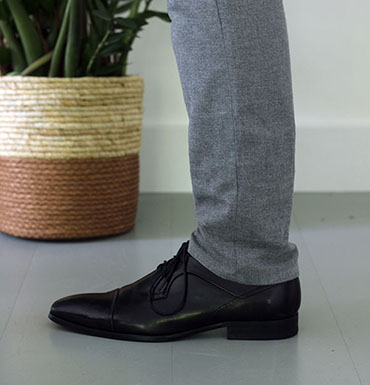 Black dress shoes make a clean and sharp combination with grey slacks.
Let's face it, you can't go wrong pairing grey and black, whether your pants are light grey, charcoal, or somewhere in between.
It's a sharp, timeless look that's suitable for any formal occasion (and looks simple and understated for casual occasions too).
When to wear:
Job interviews
Formal business events and presentations
Weddings and social events
Sock pairings:
Dark grey or black dress socks for dark grey pants
Medium to dark grey socks for light grey pants
Patterned or textured dress socks in shades of grey and/or blac
Burgundy Shoes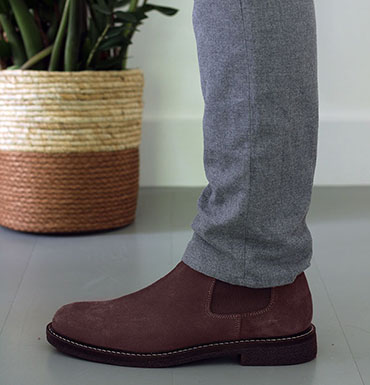 If you're looking for a different shoe color than the typical black or brown, burgundy shoes are a fetching alternative.
The rich, deep hue of burgundy looks refined and sophisticated against grey slacks, and will stand out in a sea of neutral footwear.
Go with burgundy if you want to give your outfit a more modern, fashionable edge. It's the one other shoe color that's still appropriate for most formal events (since it's so close to brown, anyway).
When to wear:
Regular office days
Networking events
Semi-formal weddings and receptions
Art exhibitions and cultural events
Sock pairings:
Grey dress socks in a slightly darker shade than your pants
Patterned or textured socks in shades of grey, or a combination of grey with red/burgundy
Patterned socks in complementary colors with burgundy accents
Navy Shoes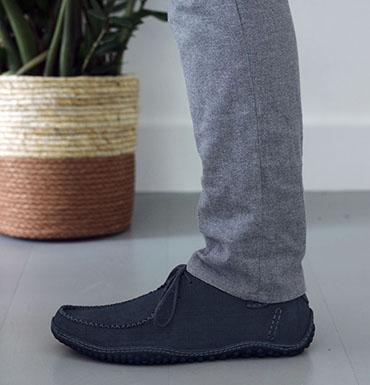 Navy dress shoes are less conventional, but make for a stylish option for less formal occasions.
Navy shoes look great with light grey pants, as the contrast adds visual interest and depth to your outfit. Yet, there's also a certain harmony between the cool tones, which creates a cool ensemble.
For more casual looks, you can go with navy loafers, or navy suede brogues.
When to wear:
Creative business environments and presentations
Daytime weddings and semi-formal events
Upscale social gatherings and cocktail parties
Sock pairings:
Medium to dark grey dress socks
Patterned or textured socks in coordinating colors, such as navy, grey, or blue
Contrasting socks with patterns that incorporate navy
Grey Shoes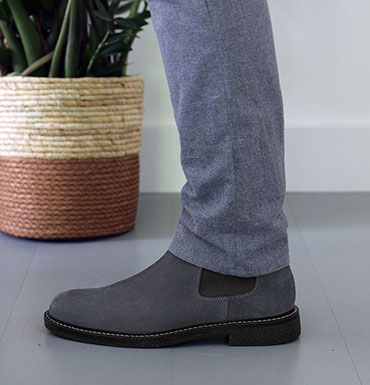 You don't see them everyday, but a pair of grey shoes make an easy monochromatic pairing with your grey trousers. Just don't wear them for more formal occasions.
Like the idea? I'd recommend going with grey suede brogues, monkstraps or Chelsea boots, as the texture will look striking with your grey wool pants.
To pull this off, you should ensure there's enough variation in shade between the shoe and the pants. For charcoal pants, you'd want to wear a slightly lighter grey, and for light to medium grey pants, go with shade darker.
This tonal approach is easy to pull off, but consider that the lighter the shoe, the more casual it looks. If you're wearing charcoal pants for a formal event, you may be better off with black shoes.
When to wear:
Business settings with a more relaxed dress code
Semi-formal gatherings and parties
Daytime events
Sock pairings:
Grey socks that are somewhere between your shoes and pants, or a shade darker than your pants
Patterned or textured socks in varying shades of grey
Bold colorful socks (such as red, purple, or pink) for a more eye-catching option
You may also like: What Colors Shoes to Wear with Khaki Pants
What Color Shoes Go with Grey Chino Pants?
Next, I'll cover a few additional shoe colors that you can wear with grey chino pants (or grey jeans) for more relaxed settings.
I should note again though: All of the aforementioned shoe colors will look great for casual wear as well as formal wear. So feel free to wear brown, black, burgundy or navy shoes for casual occassions.
White Sneakers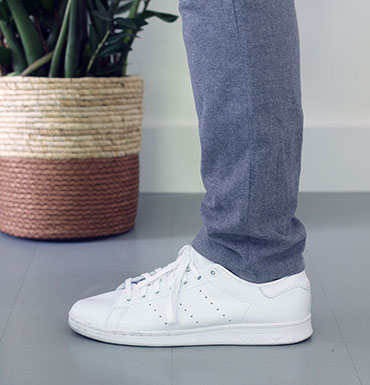 As I always say, you can rarely go wrong with a pair of white sneakers. You probably already own a pair — and if you don't, what's keeping you?
This neutral combination is an easy go-to, as you can pair it with any other clothes that you like.
When to wear:
Hanging out with friends
Weekend outings
Casual office environments
Traveling or sightseeing
Sock pairings:
No-show socks
For dark grey pants, go with a lighter shade of grey socks
For light grey pants, go with a slightly darker shade of grey socks.
Patterned grey socks with white accent color
Colorful socks
Colored Plimsolls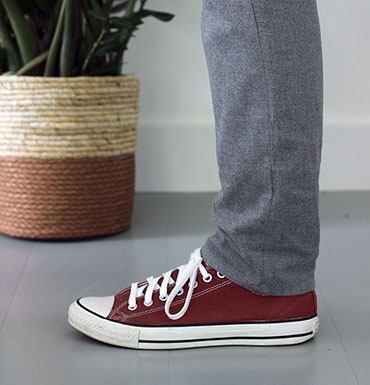 If you're a playful guy that likes colors in his outfit, you may also consider plimsolls in red, blue, purple, or any other color you wish.
Grey pants make a perfect neutral canvas to play around with colors, as long as you ensure the shoes coordinate with the rest of your outfit. (You don't want to look like Mr. Rainbow.)
The boldest colors may be a bit too much for anyone past his teenage years. Instead, I recommend going with understated colors that don't scream for attention too much.
When to wear:
Casual parties and social events
Outdoor gatherings, such as picnics or barbecues
Relaxed office environments or creative workplaces
Sock pairings:
No-show socks
Grey socks in a darker shade than your pants
Patterned socks that combine a shade of grey with a shade of your shoe's color
Any of These Shoe Colors Will Look Awesome with Grey Pants
Hopefully, you've gotten some ideas for shoe colors to wear with grey pants.
Let's be honest, the sky's the limit when you're wearing grey pants. It's a perfect neutral base to wear with other colors.
Just make sure the shoe color you choose coordinates with the rest of your outfit, and that you wear a pair of socks that matches with both your shoes and pants.
Did You Find That Useful? Then Check This Out…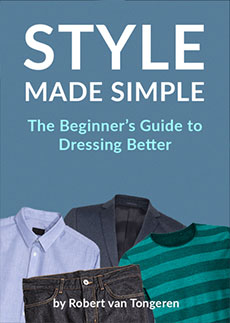 I wrote a men's style guide that simplifies the art of dressing well, focuses on what matters, and takes you through it one step at a time. Enter your e-mail below and you'll receive three free chapters, which will show you: