The Best Jeans for Short Men (Where to Buy + Fit Guide)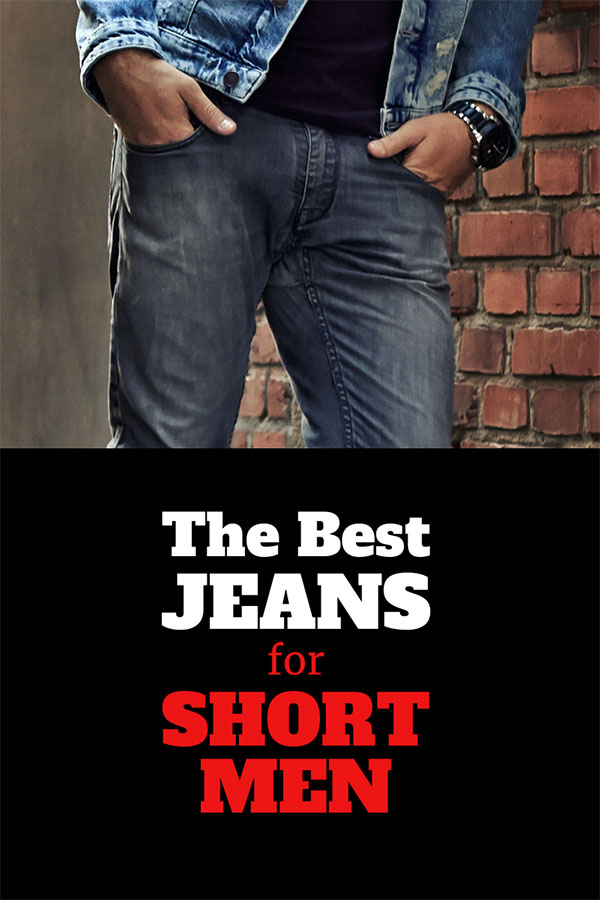 So, you're looking for the best jeans for short men?
I get it. When you're of shorter stature, finding well-fitting jeans is hard. Most stores only sell jeans that are made for men of average height and up, meaning, their jeans are too large for you.
The best jeans for short men have a shorter inseam (25″-29″, depending on your height) so the fabric doesn't bundle around the ankles. They should also fit snug around your waist and taper down from your thighs.
Keep reading to find the best stores for short inseam jeans and what to look for when buying jeans as a shorter guy.
Note: This article may contain affiliate links. That means if you click a link and purchase something, I earn a small commission, at no additional cost to you. All opinions are my own.
Where Can You Buy the Best Jeans for Short Men?
Below are listed some of the best stores I know that offer men's jeans for a short leg length; that is anything below a 30" inseam.
Some of them are stores who make different types of jeans specifically for shorter men, while others are renowned denim brands that offer jeans with shorter inseams.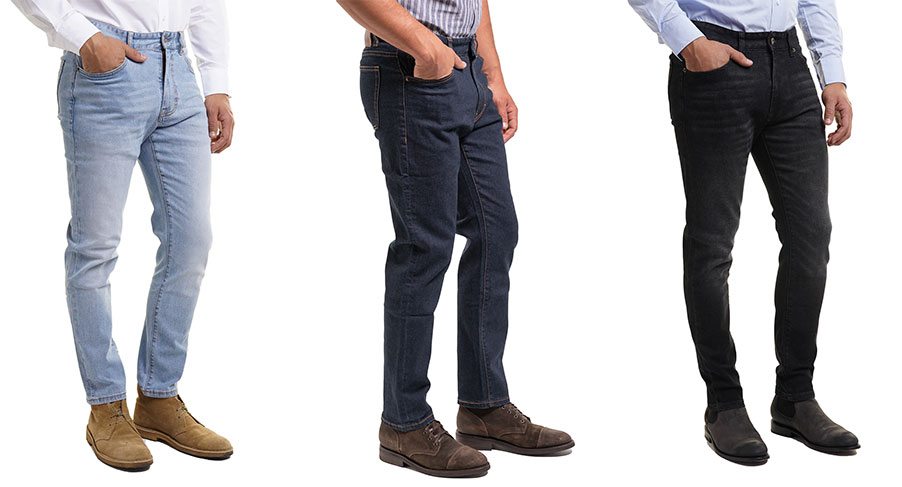 Peter Manning NYC specializes in manufacturing clothes for shorter men, and their reputation in the style community is beyond measure.
Their jeans are top-notch quality and will offers an excellent fit. Their jeans have shorter inseams, ranging from 25" inseam jeans to 29″. They also designed their jeans with a rise and leg openings that are proportionate to a shorter build so that you won't need to get any alterations.
You can use their fit guide to find the perfect pair of jeans for you. Their fit guide uses your height, weight and body type, and unlike many big-brand stores, is designed specifically with shorter men in mind.
Average Jeans Price: $100
Shortest Jeans Inseam: 25"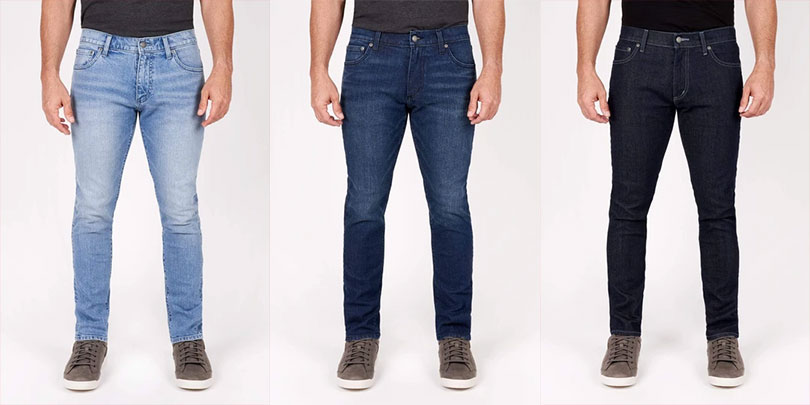 Ash & Erie is another great option for short men who are okay with splurging on a pair of jeans. This Shark Tank funded company creates high-end clothing for men of modest height. The downside is that their prices are also rather high-end, but if you can afford it, their short inseam men's jeans are worth the price.
They have a try before your buy option, which lets you try up to to 8 jeans across a 7-day period and only pay for what you keep.
Average Jeans Price: $158
Shortest Jeans Inseam: 25"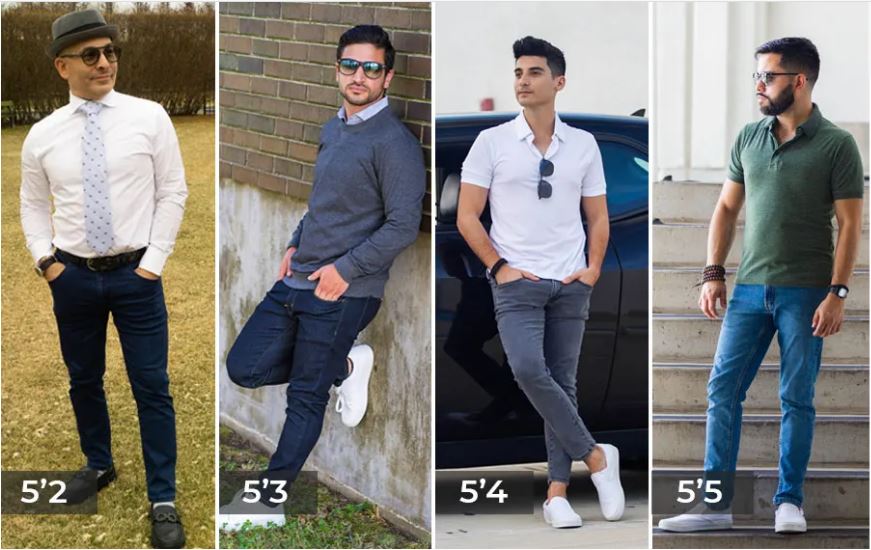 Under510 is the last store in our list that caters specifically to shorter men. They offer a more budget-friendly alternative to the previous shops and they make clothes that specifically fit guys who are under 5'10". (That means they design clothes to fit your body type. You might want to check the rest of their offerings as well. They even offer an option to shop by height.)
All their jeans come with a slim tapered look, and they have a good variation of inseams for men of shorter length, starting at a 26" inseam. The great thing though is that they also offer 27" inseam jeans and 29" inseam jeans, which are inseam lengths you don't commonly find in regular stores.
Their jeans are affordable at $60, but even better is that you get a discount if you buy more than one. You can get two jeans for $50/pair, and three jeans for $40/pair.
And if you're not satisfied, they offer free returns and exchanges. That means you can try different pairs until you find the one that is exactly right for you.
Average Jeans Price: $60-$40 (They get cheaper if you buy multiple at a time)
Shortest Jeans Inseam: 25"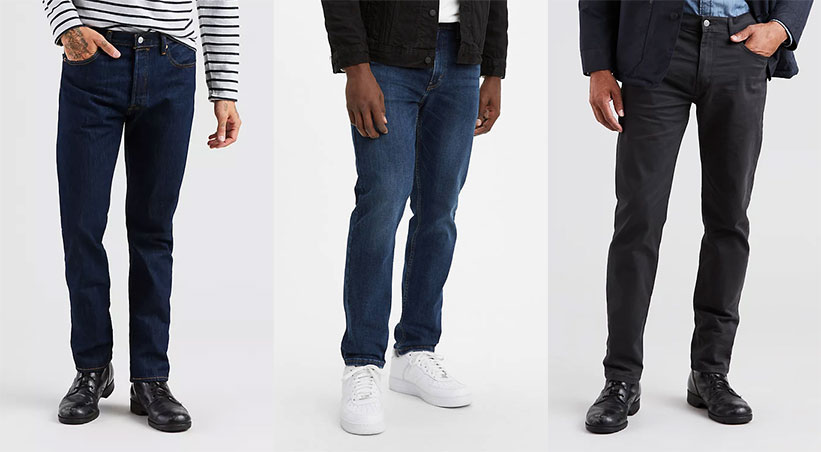 Levi's is perhaps the most well-known supplier of jeans throughout the world. They have been around for decades, and for good reason. Their jeans offer excellent quality for a reasonable price — especially considering their reputation for denim wear.
They stock jeans that have an inseam length down to 28", though they're probably the best option for guys looking for a 29″ inseam. In the left-hand sidebar on their online shop, you can filter their jeans by length, making them easy to find.
Levi's are my personal favorite denim brand. You can't beat the classics. They have earned their reputation and you'd be remiss not to give them a try.
Average Jeans Price: $70
Shortest Jeans Inseam: 28"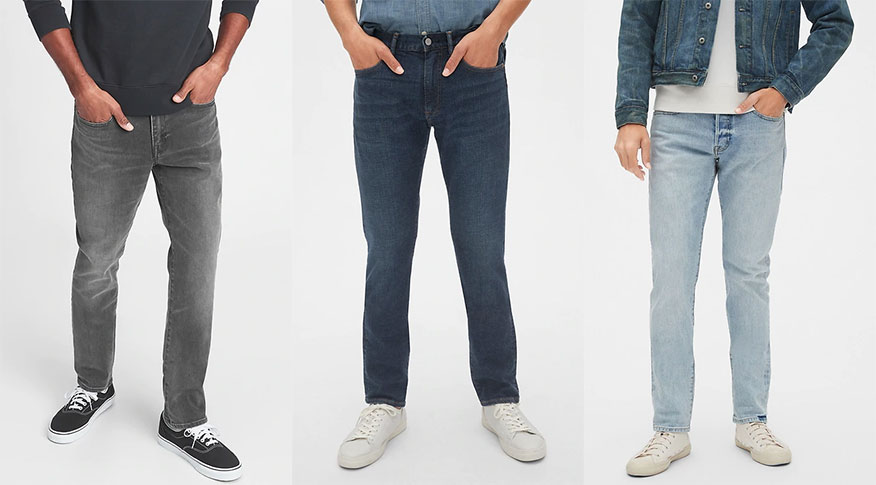 Gap is a store known for their affordable clothing that serves a wide audience. They're a great store for men on a budget.
How do they compare to other stores on this list though? Well, if you're looking for basic dark blue jeans, I'd still recommend Under 510 as a budget option. Not only are they cheaper, but the quality is better.
That said, if you want to browse different styles of jeans, Gap has a wider collection. You can find numerous styles and denim colors in their webshop.
Average Jeans Price: $75
Shortest Jeans Inseam: 28"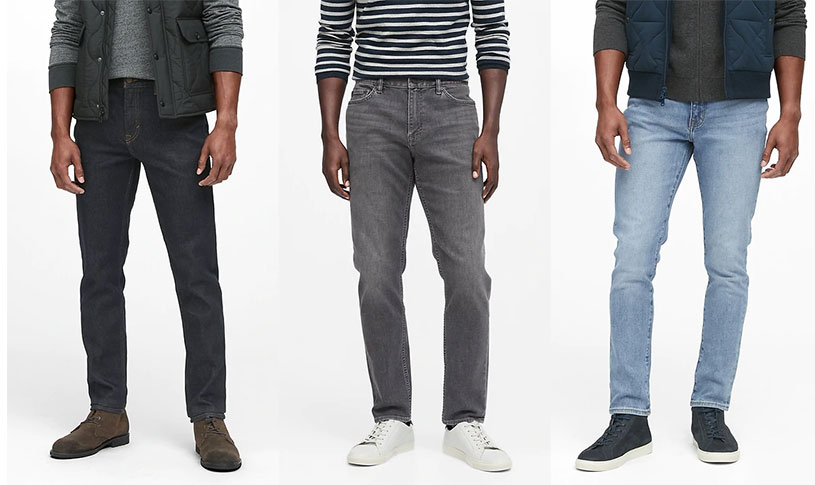 Banana Republic is a division of Gap. It's a step up in quality while remaining reasonably affordable.
Like Gap, they have a bunch of 28" inseam jeans in various styles and colors (though, not as much variety as Gap). Like I said, it's a step up in quality though, and they're worth checking out.
Average Jeans Price: $98
Shortest Jeans Inseam: 28"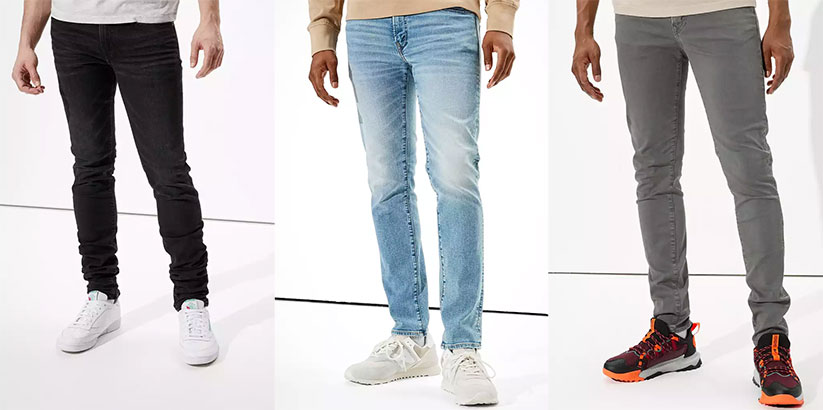 American Eagle is a brand focused on a younger demographic than the stores listed below, and many of their jeans are not my cup of tea — if you've been reading my blog for a while, you'll know I recommend against overly distressed or ripped jeans if you want a stylish look.
With that said, they do have a few goodlooking jeans in their collection — specially, a few colored jeans that didn't show up in the other stores. So again, it's worth looking around their offering if you're looking to add variety to your wardrobe.
One downside is all their 28" inseam jeans come with a 26" waist, so only slimmer gentlemen will be able to find fitting jeans here.
Average Jeans Price: $50
Shortest Jeans Inseam: 28"
2 Key Measurements You Need When Buying Jeans for Short Legs
As a short guy, you should familiarize yourself with two key measurements when it comes to buying jeans: waist and inseam.
Fortunately, you already should have some experience with these through years of buying jeans. Still, it's worth a read-through in case your understanding is slightly off. (I've been there.)
Let's start with the waist.
The Difference Between Waist and Waistband and How to Measure Your Waist.
On jeans, the waist number usually looks like this: 32W.
If you only see two numbers, like 32 x 30, then waist refers to the first number.
There are two ways to think of the waist. The first is your natural waist. Then there is the waistband of the jeans.
The natural waist is located between the top of your hip bones and your rib cage. Usually, it's at the same level as your belly button. There was a time that pants were worn around the natural waist, but that's no longer the case. The waistband of your jeans usually sits a bit lower.
Many sources will tell you to get your waist size, you need to measure the circumference of your natural waist by wrapping measuring tape around your natural waist.
However, this method is ineffective for most guys. If you actually wrap measuring tape around your waist, you'll find the waist size is likely higher than most of your jeans' waist size.
For example, my own waist circumference measures at 36″, but I wear 32W jeans. Big difference. I wouldn't be able to hold 36W jeans up.
What I recommend instead is to find a pair of jeans (or pants) that fit snugly around your waist and measure those.
You want to close the button and then measure the waist band from one side to the other. Then, multiply by 2.
So if you measure the waistband at 16″, that means the waist size is 32W. If you measure the waistband at 17″, that means the waist size is 34W. Etc.
If you don't have a pair of jeans that fits snug enough (and this may be the case. please review how to check the snugness of the waist below), I would recommend going to a store and trying different sizes of jeans until you find the right pair. The jeans will have the waist size on the label, so you won't have to do any measuring from there.
Let's look at the second key measurement that you have to know: the inseam.
What's An Inseam And How Do I Measure It?
For short men's jeans, the inseam is the most important measurement. It's the hidden reason why your jeans don't fit the way you expect them to even when your waist feels snazzy.
The tag on your jeans might look something like this: 33W 30L or 33 x 30. The inseam measurement refers to the second number of these pairs.
Now, jeans companies will tell you that the inseam is a measurement of the leg. But if you were to measure YOUR leg then you wouldn't get close to what you need.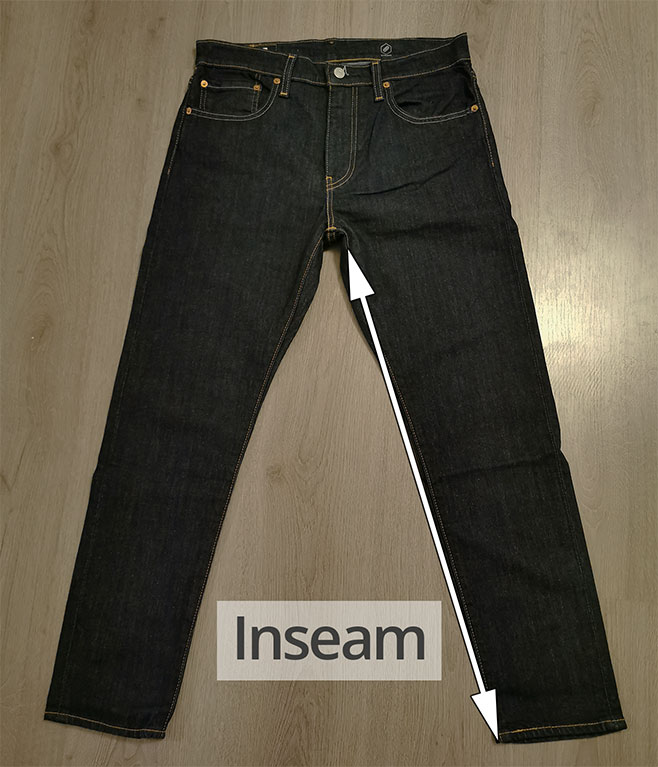 Here's what you should do:
Look at the inside edge of your jeans from your left leg to your right leg. This should look like an arch (or a U-shape if you're looking at it upside down).
The top of this arch or the base of the 'U' is called the crotch. That's where the two sides of the jeans meet.
Draw a straight line down from that point to the bottom edge of the jeans. This brings you to the hem (the part of the jeans that's been turned under itself and sewn).
Now, you can measure your inseam as follows:
Put on a pair of jeans that fit your waist but are a little long.
Roll up the hem of the legs so that they rest or just touch your footwear.
Slide the pants off gently. (You may want a pin or a paper clip at this point to bookmark the hem.)
Fold the legs on top of each other so it looks like you have one long leg.
Grab your measuring tape and measure a straight line from the crotch to the hem.
If you're a modestly sized man, I bet your measurement came in under 30 inches.
Herein lies the dirty little secret.
Most retailers only offer inseams down to 30 inches so you may have never seen jeans in a length that was right for you. Almost all jeans are too long off the rack for shorter men.
In the chart below, you'll see different heights paired up with the average jeans inseam length for that height. You'll notice that anyone 5'9" or below likely needs 29" inseam jeans or lower.
| | |
| --- | --- |
| Height | Average Jeans Inseam Length |
| Up to 5'4″ | 26" inseam jeans |
| 5'5" | 26" inseam jeans |
| 5'6″ | 27″ inseam jeans |
| 5'7″ | 27″ inseam jeans |
| 5'8" | 28" inseam jeans |
| 5'9" | 29" inseam jeans |
The problem with a chart like this is that our bodies don't all have the same general proportions. Two men who have the same height at 5'8" can have different leg lengths. One guy can have a longer upper body but shorter legs, while the other may have longer legs and a shorter upper body.
So don't rely on this chart. Your best option is to get the exact measurement for your inseam and verify it for yourself.
Shop Jeans by Inseam
Below you can find a curated list of jeans with inseams of 26″ to 29″.
Short Men's Jeans with 26"-27″ Inseam (And Up)
Short Men's Jeans with 28" Inseam
Short Men's Jeans with 29" Inseam
How Jeans Should Fit for Short Men: A Checklist
Now that you've got the two key measurements you want to know when shopping for jeans, let's look at how jeans should fit on a shorter body-type.
This is not about measurements, but about trying on the jeans and verifying with your own two eyes how the jeans fit on you.
1. Waist Size
You know how to measure your waist, and what waist size you should look for, but how should your jeans look and feel around your waist?
If your jeans fit around the waist, you should be able to walk around in them without a belt. If you feel it starting to drop, the jeans are not a good fit for you.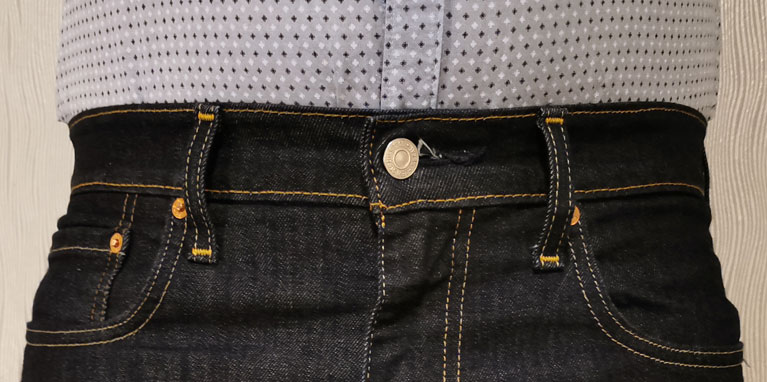 If your jeans are too loose and you need a belt to keep them up, the jeans will scrunch. They will develop folds around the waist, which make the jeans look like they're too big on you. Folds must be eliminated.
But you also don't want your jeans to be too tight. If you sit down and feel the jeans pushing into your stomach, they will not be comfortable to wear.
Finally, it's important to keep in mind that as the waist size increases, so too does the width of the leg.
Increasing the width of the leg can lead to baggier pants, which means folds.
Remember, folds are foes, not friends.
2. Length
You know what inseam you need now, but how can you check whether the length of a pair of jeans is right for you?
The important point to consider with length is that you reduce the folds at the base of the leg. You want the jeans to rest on your footwear while barely touching it. (More on this in a second.)
You can of course "cuff" your jeans, but this should be done for choice and not out of necessity. Cuffing your jeans is when you fold the leg back to achieve the optimal length.
This style can look quite effective when the cuff is around 1-2 inches in height.
3. Pants break
Most men never heard of pants break, but it's the best way to tell whether your jeans are the perfect length. It refers to the folding of denim around your ankle.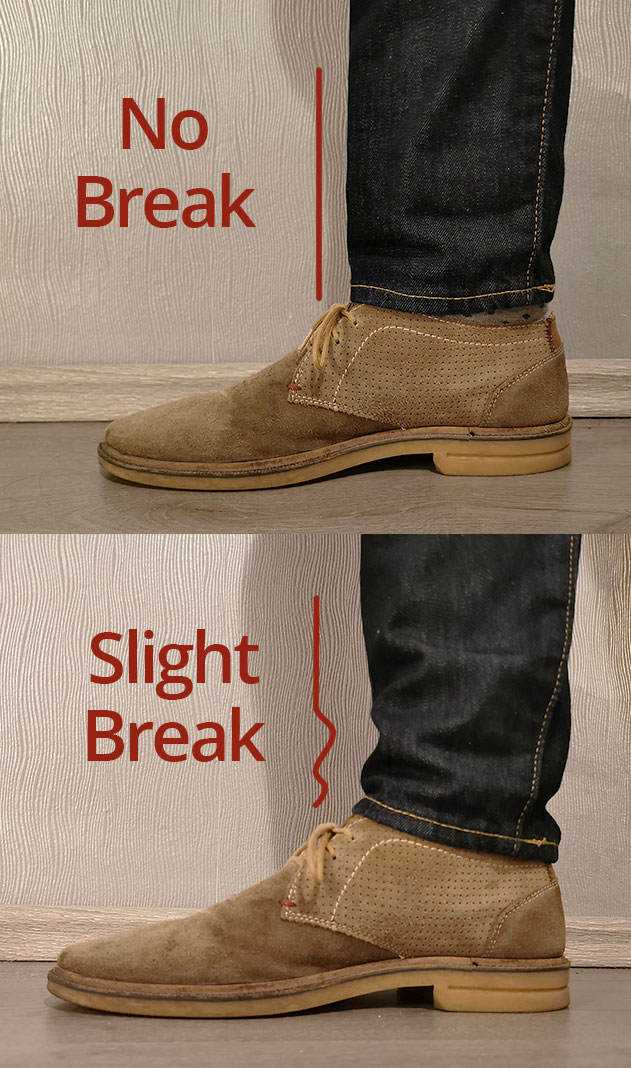 The more 'break' your pants have, the more folds the lower part of your jeans have.
If your pants are barely touching your footwear or there's a gap, then this refers to slight break or no break.
A slight break or no break is the ideal. That's because it eliminates folds (who are our foes, remember?).
Longer pants, like the ones you buy from retail stores, will have more break. You will see a lot of folds and creases around the ankles. These are the ones we're familiar with and usually need to take to the tailor to modify.
Shorter pants will have less of a break.
Your understanding of inseams should help you avoid too much break, but always check the ankle to see how much break your jeans have. Ideally, it should only have a slight crease or none at all.
4. Normal Rise
Next, let's look at the rise of your jeans.
The rise is the length between the lowest part of the crotch of the jeans and the top of the waistband.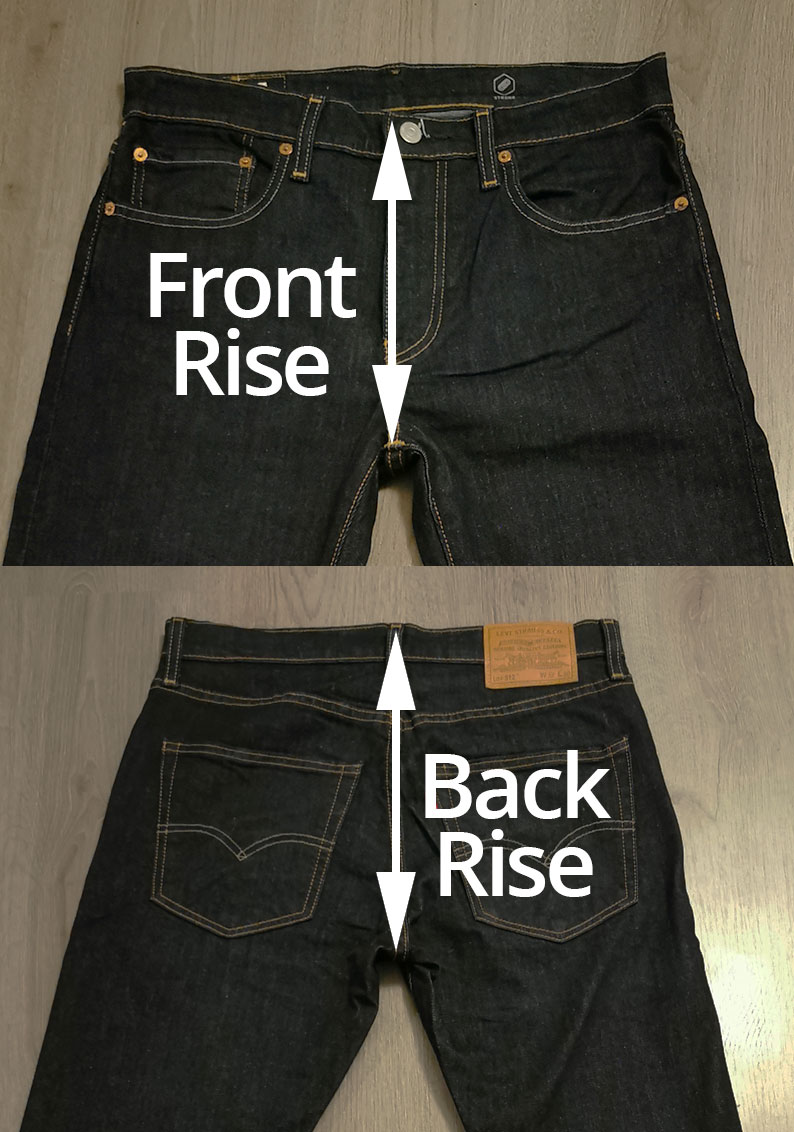 There are two types of rise measurements: the front rise and the back rise. They're measured, as the terms suggest, from the front or from the back.
Rise determines how high (or low) the waistband of your jeans sit on your body.
High rise jeans will rise all the way up to your belly-button, or sometimes even over.
Normal rise / Mid rise jeans sit at your natural waist; somewhere between your belly button and hips.
Low rise jeans sit below the natural waist, closer to the hips. They almost look like they'll fall off.
As a short guy, you don't want a rise that's too high or too low. You want your jeans to sit at your natural waist. In other words, a normal rise is your best option.
Note: ignore the trends. Low rise and high rise may come in and out of fashion. Don't aim to be on trend with your jeans. Aim to find a rise that fits your body best.
5. Hips, Thighs & Butt
Too many men walk around in jeans that give them "diaper butt".
The same general rule applies here as with the waist: Your jeans shouldn't be too tight or too loose. They should be snug and just right.
If the fabric is too loose, our foe of folds returns and makes our butt invisible. This creates the "diaper butt" effect; making you look like you have a diaper on underneath; a fully loaded one at that.
Here's what you should shoot for: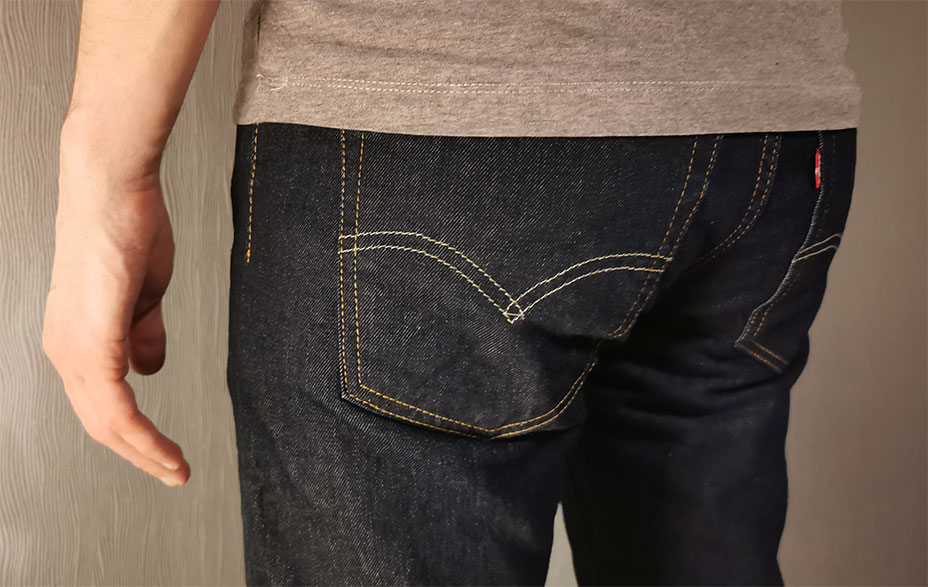 You want your jeans to hug your buttocks, but you don't want them too tight either.
When the fabric is too tight…
Well, have you ever heard a ripping sound when you've bent down for something? Yeah, don't risk being that guy who makes an unwanted design alteration.
To counter the risk of "blowout", find fabric that has some percentage of stretch in it.
That means that your jeans have a bit of give. They'll stretch and compress depending on the current configuration of your body and its movement.
Your jeans should fit snug around the buttocks and thighs, but not so snug that you couldn't squat down in them without ripping them apart.
6. Leg
You want your jeans to follow the silhouette of your legs. This is best achieved with skinny, straight or slim fit jeans.
Our legs are shaped a little like funnels. Larger at the top and they reduce or taper down in size as you move towards your feet.
This means you should look for jeans that taper down from the thigh to a narrower leg opening at the base of the jeans.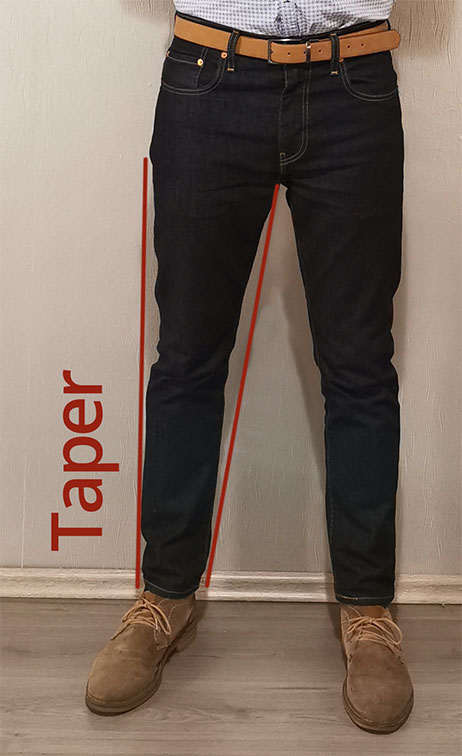 This is visually appealing and will make you look slimmer and taller.
Common Mistakes Short Men Make When Buying Jeans
Now that you know what to look for, let's talk about what to avoid.
Because let's be honest, few men out there wear jeans that are the right fit for them. And when it comes to shorter men, mistakes can make you look even smaller, which is not what you want.
So let's start with the first one…
1. Baggy Jeans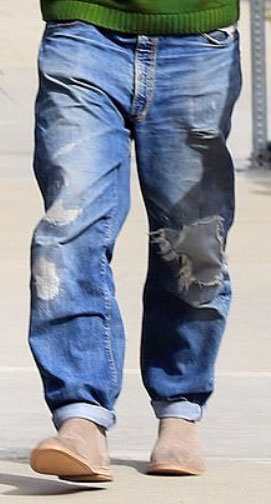 Since getting well-fitting jeans is hard for men with muscular legs, they often opt for baggy jeans because at least they provide enough room to move around in.
We've alluded to this throughout the article, but baggy jeans just don't flatter you and your body.
Baggy jeans on a shorter man look like you didn't buy them for yourself. To put it bluntly, they make you look like you're wearing hand-me-downs from a bigger older brother who could actually fill them out.
Having clothes that fit your body is essential for all guys. This is especially true for men under 5'10" because bad fit puts a spotlight on your small proportions.
Let's recap some of the tips mentioned before that will counter baggy jeans:
Buy jeans that fit your waist so that a belt is purely for style and not support.
Make sure the jeans fit snugly around the thighs and butt.
Look for tapered jeans to match your physique.
2. Low-Rise Jeans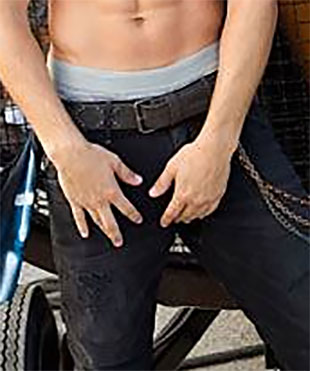 Ever seen those jeans that look like gravity will have its way with them at any moment, but they're somehow pinned to the person's hips?
That's a low-rise fit.
I can't say I've ever seen this look pulled off effectively (except for male models showing off their abs for a photo-shoot). It's one of those trends I just don't get. And low-rise jeans especially don't flatter the short man's body-type.
The problem is that low-rise jeans make you look stubbier. Or to put it bluntly: Short and thick.
Often, when men buy low-rise jeans, they have to keep hiking them up, and the result is an uncomfortably tight crotch area.
You'll need a belt to keep them where you want them as they'll want to return to your hips.
Remember, for most guys, normal rise (or mid-rise) jeans are the best option to create a well-balanced look.
And as a bonus, they're also comfier.
3. Longer-Inseam Jeans Off the Rack
As a shorter man, I have no doubt you have purchased jeans with too long an inseam.
You go in and try on a pair of jeans that fit your waist beautifully. They even taper to match your body type. But the base of the legs looks like an accordion.
Nothing to be embarrassed about. You may even salvage some of them.
Jeans purchased off the rack are designed for taller men than you. This is the "one size eventually fits all" approach. "If it fits a man of average height, it fits a short man as well", except not really.
If you've purchased a pair of jeans that are too long, you have a few options:
You can cuff 'em. That's just rolling up about 1-2 inches. But ideally, you only want to cuff if you choose to cuff and not because you have to cuff.
You can hem 'em. You get them 'taken up' by a tailor to the inseam length that's perfect for you. A good option for jeans you currently own that are too long. (Though, check the next mistake before you do.)
You can buy shorter inseam jeans from here on out. Know thy inseam length and choose this option. Scroll up and find stores with direct links to your inseam length.
Lastly, don't assume that you are a longer inseam than you actually are.
Under510 mentions that buyers of 29" length jeans often end up exchanging them for shorter inseams. Consider trying a few different inseams and compare them with the fit guide above to find your perfect choice. Remember, most online stores offer free returns.
Swallow that pride. The inseam that fits you is going to make you look great. Who cares what size that ends up being?
4. Jeans with Bad Proportions
Most brands design their proportions around the average height of 5'10" or above.
This equates to a 30+ inch inseam, which we know is going to be too long for short men's jeans.
As mentioned earlier, an option you have is to get the jeans modified by a tailor. Not only does this cost extra, but it can also throw off the proportions of the jeans.
For example, you might find the back-pockets sitting somewhere halfway down your thighs, or you might find that the slightly faded area that's supposed to be on your knees is on your shins.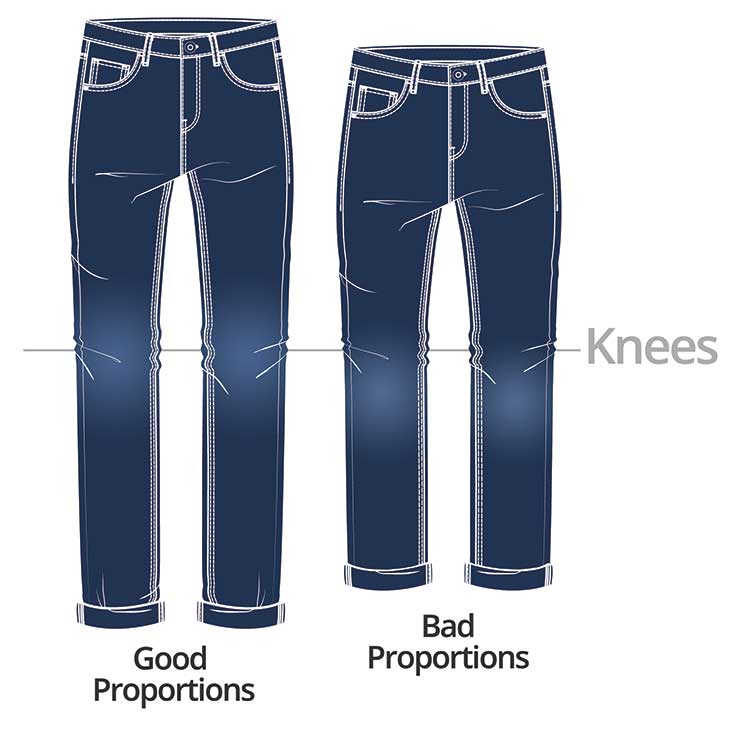 Before you go into your tailor's, check the proportions of your jeans and see if they're okay before you pay extra to get them modified.
5. Overly Distressed Jeans / Ripped Jeans
Lastly, i would recommend that you stay away from overly distressed jeans and ripped jeans in general.
A little fading is fine. But acid washed jeans, or jeans with giant holes in them aren't the most flattering on most men, but especially not on short men.
The most common style advice I give to short men is that you want to imagine a vertical line from the bottom of your shoes to the top of your head, You can downplay your perceived shortness by wearing as few interruptions on this vertical line as possible, and make those interruptions smooth.
Distressed and ripped jeans add interruptions to the vertical line and accentuate your shortness. They will make your legs look shorter. Avoid them.
Go Find the Perfect Pair of Jeans for YOU
We've all had some frustrating experiences buying jeans that resembles the experience of Goldilocks and the Three Bears.
Too tight. Too loose.
Too long. Too short.
Finding that 'just right' fit seems elusive.
But now you know not just where to look, but what to look for.
Just remember to take the two key measurements of waist and inseam. When you do, you'll be ahead of 90% of lads in the world.
Put on your existing jeans to get that extra detail right.
Then make it easy for yourself and visit the stores listed in this post who actually make the best jeans for short men.
You'll look fantastic. Guaranteed.
Did You Find That Useful? Then Check This Out…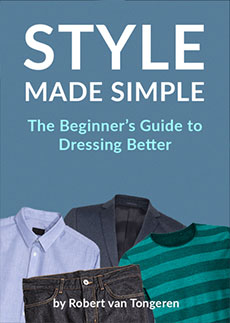 I wrote a men's style guide that simplifies the art of dressing well, focuses on what matters, and takes you through it one step at a time. Enter your e-mail below and you'll receive three free chapters, which will show you: