The 4 Best Colors of Jeans for Men (+ What to Wear with Them)
Jeans come in many colors these days, but which are the best colors for jeans?
The best colors for jeans are dark blue, light blue, grey, and black, because they go with almost everything. You can find jeans in other colors, like brown, maroon or white. But those colors work much better on chinos than on jeans.
Below, I'll tell you why these are the best jeans colors and how to wear them with style.
1. Dark Blue Jeans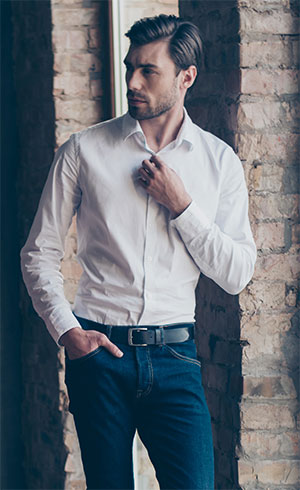 Dark blue jeans are a menswear staple, and for good reason. They are the wardrobe essential every man must have in his wardrobe.
Dark blue is the best shade of blue for jeans, because it's more versatile than medium or light blue jeans. You can dress your dark blue jeans up and down as you see fit.
You can go with raw denim, but dark-wash jeans are more likely to stay dark as they are fade-resistant. Raw denim will fade with each wash.
What to Wear with Dark Blue Jeans
You can wear dark denim casually with a T-shirt and sneakers, or dress them up with a blazer and a dress shirt. Always make sure that your jeans fit.
You can wear your jeans business casual if you work in a more relaxed office, and they're always a great option when you have a date.
Recommended colors to wear with dark blue jeans: Neutrals, lighter colors, yellow, blue, red, light-wash denim, brown, navy.
Dark Blue Jeans Outfit Examples




2. Light Blue Jeans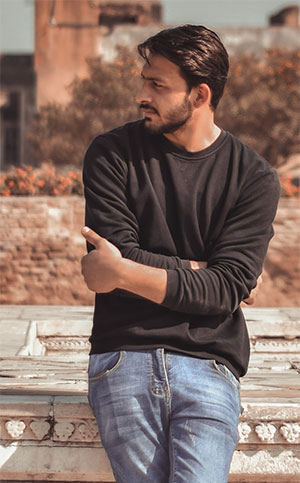 Light blue jeans are a great alternative for more casual occasions. They are an especially good option for spring (because dark jeans absorb more heat than light jeans).
What to Wear with Light Blue Jeans
Light-wash jeans are excellent jeans for casual weekend occasions like picnics and BBQs.
Wear them with a flannel shirt and/or T-shirt, or if you want to dress all the way down, a tank top. Complete the outfit with casual white sneakers or a pair of boots.
While you can dress up light-wash jeans with a blazer or overcoat as well, the end-result won't look as smart as with dark blue jeans. Hence, you shouldn't wear these out to the office.
Go ahead and wear them with a shirt and sports coat, but understand that your jeans dress these items down more than they are dressing the jeans up. You will look more smart casual than business casual.
Recommended colors to wear with light blue jeans: Dark colors, bright colors, white, black, dark grey, red, brown, navy.
Light Blue Jeans Outfit Examples




3. Grey Jeans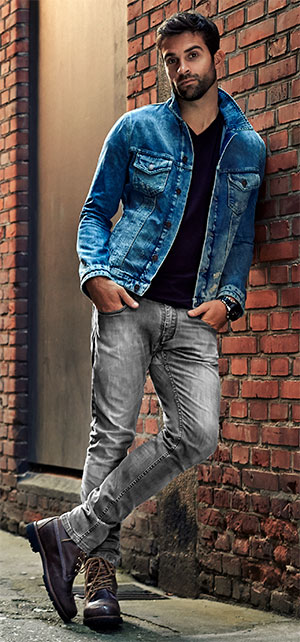 Grey jeans are underrated, but they are my favorite color for jeans after dark indigo blue.
Dark gray jeans are as versatile as dark blue jeans, while light gray jeans offer a more distinctive casual option than light blue jeans.
Light grey jeans give your outfit more of an edge. They are far less common than light blue jeans, which helps you stand out.
What to Wear with Grey Jeans
What makes grey jeans so versatile is their neutrality, which allows you to wear them with any other color. Bright reds, lemon yellow, mint green, everything goes with grey.
You can wear grey jeans casual style with a solid tee or polo shirt. You could wear them with a fitted sweater or dress them up with a blazer.
As for shoes, you can wear anything from black leather derbies, suede Chelsea boots, or white sneakers. Again, versatility! It all depends on how dressed up you want to appear.
Personally, I think grey jeans show off their cool-factor the most in simple outfits. Think: Grey jeans, a white tee, white sneakers, and a leather jacket.
Recommended colors to wear with grey jeans: Black, white, colors of any hue, blue or black denim, contrasting shades of grey.
Grey Jeans Outfit Examples




4. Black Jeans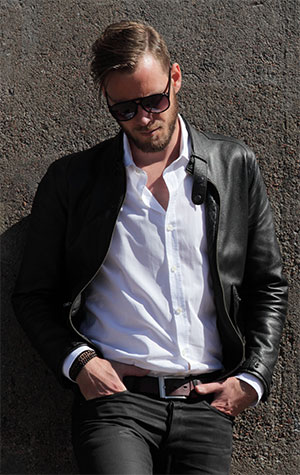 Black jeans are another great choice to add to your wardrobe, as they are timeless and they just look cool. There's a reason they are so well-loved by rockstars.
Like the other types of jeans on this list, they are versatile and will go with just about anything. That's why you can't go wrong with a pair of these.
What to Wear with Black Jeans
Wear faded black jeans with a black belt, black Chelsea boots and a white T-shirt for an understated rocker look. Add a black leather jacket to finish it off.
Black jeans are an easy way to give yourself some edge, but they look equally good with a smart jacket and shirt. They won't look out of place in the business casual office as they barely look different from black chinos.
Black is another neutral, which makes black jeans an awesome supporting piece for your more extravagant shirts or brightly colored tops.
Recommended colors to wear with black jeans: White, bright and light colors, black, light grey, camel
Black Jeans Outfit Examples




FAQ About Jeans Colors
Which color of jeans is best?
The best jeans color is dark indigo blue. This shade has a classic appeal and can be dressed up or down. It is the most versatile shade of jeans you can have in your wardrobe. Everyone needs at least one pair of dark blue jeans in his wardrobe.
Which color of jeans goes with everything?
Jeans colors that go with everything are dark blue, grey and black. Dark blue jeans never look out of place, while grey and black are neutral colors that are easy to match with other colors.
How many pairs of jeans should you own?
You don't need more than two pairs of jeans in your wardrobe, but you can add a third for variety's sake. You should go with dark blue and either light grey first, and then black as an optional third pair.
What Makes These the Best Jeans Colors?
What all these jeans colors have in common is versatility. You can add them to just about any outfit and look good wearing them.
Colored jeans are trickier to pull off, because you can only wear them with colors that go together with them. You can't just slip on some red jeans with anything. You can only wear matching colors.
Besides which, as I said at the start, colors look much classier on chinos than on jeans, so you're best sticking with these four options.
Because now you know that these are the best jeans colors you can get.
Did You Find That Useful? Then Check This Out…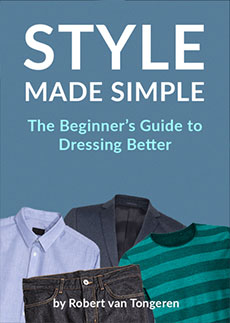 I wrote a men's style guide that simplifies the art of dressing well, focuses on what matters, and takes you through it one step at a time. Enter your e-mail below and you'll receive three free chapters, which will show you: