Are Jeans Business Casual? 4 Tips for Wearing Jeans to Work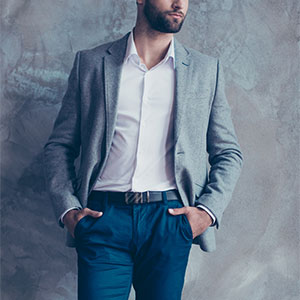 So you want to know if you can wear jeans with business casual?
Jeans are traditionally not considered business casual, but many modern offices allow them as partd of the dress code. Business casual jeans should look fitted, clean and undamaged. The best jeans for business casual are dark blue denim or black jeans. Avoid ripped, faded and/or frayed jeans.
In this article, we'll tell you whether you can dress business casual with jeans, whether you should, and how to style them to keep yourself work-appropriate.
What Is Business Casual?
The definition of business casual for men is open for interpretation. Traditionally, it meant you were allowed to dress down from your typical suit-and-tie office attire. But these days, many work-places use much looser definitions, which allow for more casual outfits, as long as you keep them neat and work-appropriate.
So, what exactly you can and cannot wear with business casual depends on your work-environment.
Are Jeans Business Casual?
Jeans are business casual if your office allows them and if you wear them appropriately. The goal with business casual is to maintain a work-appropriate appearance, which means your jeans should look clean and undamaged, without rips, holes, frays, bleaching or fading.
Jeans are casual attire, but if you pair them with dressier items like a dress shirt and/or a blazer, you'll present a more professional appearance.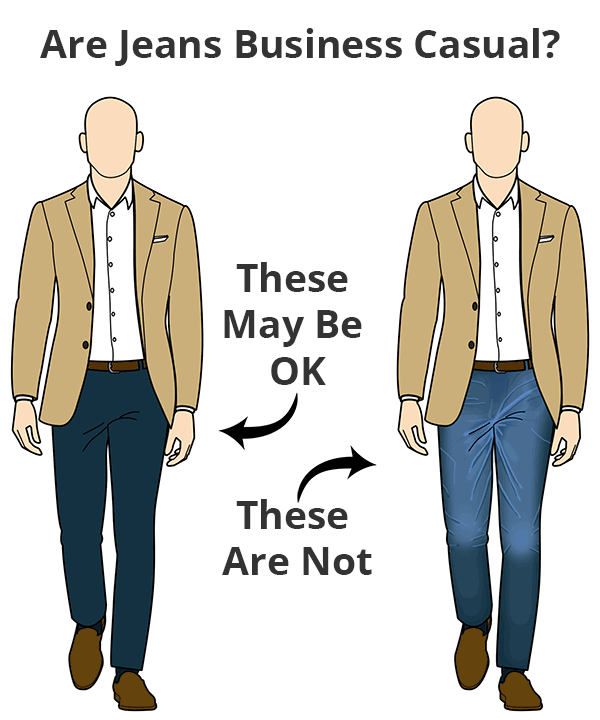 Should You Wear Jeans at Work?
Now, even if jeans are allowed in your business casual work-environment, another question is whether you should.
On the one hand, if wearing jeans makes you feel more like yourself, it can have an overall positive effect on your day-to-day happiness.
On the other hand, formal attire has many benefits of its own. You look more authoritative and credible, and it affects how your ideas are received. So why not wear a pair of dress pants, or even chino pants to work instead of jeans?
All else being equal, dressing sharp may also give you an edge over your co-workers when an opportunity for promotion comes. "Dress for the job you want" is an adage for a reason.
That said, it doesn't have to be one or the other. You could take a "dress for your day" approach. When you know you're going to spend the day at your desk, keep things casual with jeans. When you know you'll meet with an important client, or have a meeting with some higher-ups, dress it up.
Tip: Observe Your Co-Workers
The best way to determine whether wearing jeans at work is a good idea is to observe your co-workers. If they usually wear jeans, you can as well. (Although, I always recommend that you dress one notch up from how your co-workers dress to stand out in a positive way.)
You may also pay attention to how your boss typically dresses. If your boss usually wears jeans, they may consider you more relatable if you follow their example.
4 Simple Tips for Wearing Business Casual Jeans Without Looking Unprofessional
If you do decide to wear jeans with business casual, you want to make sure you follow a few ground-rules so you don't present a sloppy, unprofessional image. You still want to present yourself as someone who should be taken seriously.
#1: Wear Dark Jeans for Business Casual
Dark jeans are the best jeans you can wear for business casual. They look the most neat and are easiest to dress up with smarter clothes such as blazers and dress shirts. You should stick to dark indigo blue, gray or black jeans. These are the best jeans colors for business casual.
#2: Ensure Proper fit
If you want to present yourself well around the office, wear jeans that fit properly. Baggy jeans will make you look slouchy and jeans that are so skinny they ride up your buttcrack aren't work-appropriate.
Go for tapered fit jeans that fit snug around your waist and end around your ankles without too much creasing. Check out my article on how jeans should fit if you want to get this right.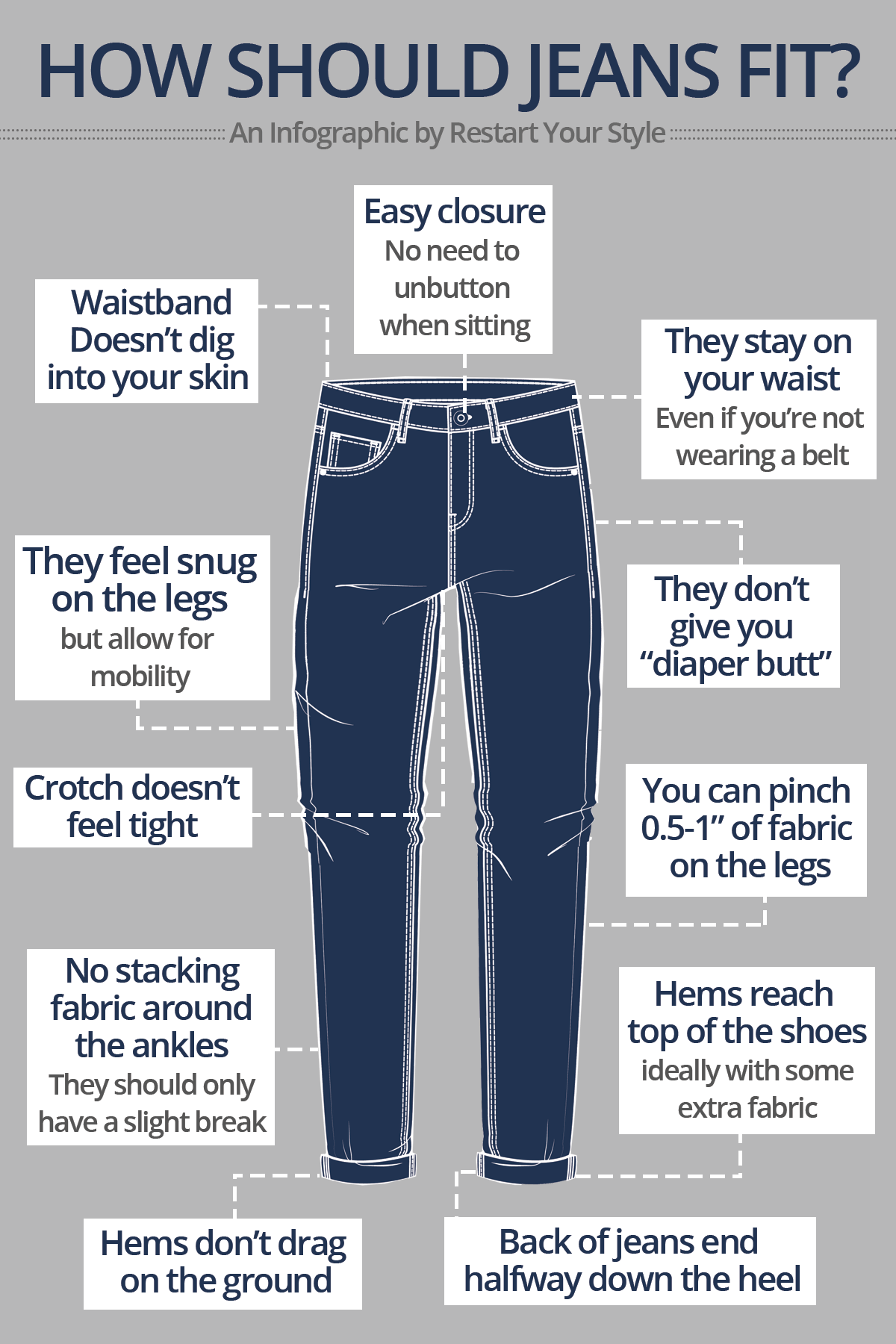 #3: No rips, bleach, fades, etc.
When you dress for the office, your jeans should look as clean as a pair of dress slacks. Leave the faded, ripped and/or acid-washed jeans at home.
#4: No giant logos or other embellishments
By that same logic, you shouldn't wear jeans with giant logos on your asscheeks, rhinestones, or other excessive embellishment.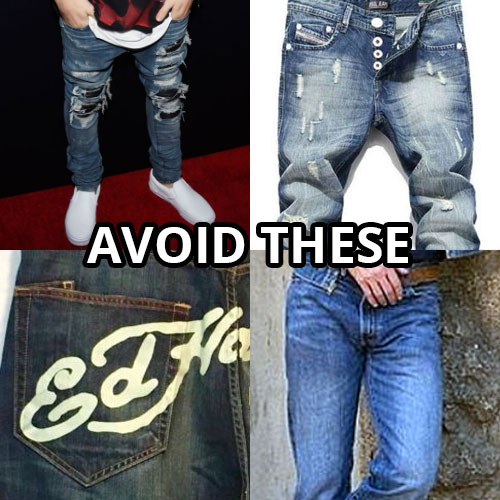 How to Dress Business Casual with Jeans
Now that you know which jeans to wear, let's talk about how you can dress them up to a business casual image. There's a clear gap between business casual and wearing a T-shirt or hoodie to work. So how can you dress business casual with jeans?
Dress Up, Not Down
There's a big difference between business casual and smart casual. The latter allows a lot more casual clothes, because it's a dress style meant for casual wear. For business casual, you want to maintain an office appropriate image, so you shouldn't dress down too much.
Since jeans are themselves a casual garment, you should dress them up with more formal attire. The original idea behind business casual was to dress down from a business professional outfit. Jeans are about the most dressed down legwear you can get (besides beach shorts), so you want to balance that out with more traditional business appropriate clothes.
Wear a Collared Shirt (Ideally a Dress Shirt)
Leave your t-shirt in your wardrobe and wear your business casual jeans with a button-up dress shirt. A collar just makes you look more serious because people associate it with office environments and serious figures.
Some work-places may allow a polo shirt as well, but even so you might want to restrict those to summer days and days where you don't have any important meetings scheduled.
In winter, you may also wear a sweater or cardigan over your shirt and have the collar pop out.
You might also like: Does Business Casual Include a Tie?
Tuck in Your Shirt
Don't leave your business casual shirt hanging out your jeans like you're a teenager going to a house party. Tucking in your shirt is an easy touch that instantly elevates your ensemble to look more professional.
Wear a Work-Appropriate Belt
Since you're tucking in your shirt, you should wear a belt that is office appropriate. Wear a simple black or brown leather belt with a modest buckle and that's not too wide.
Wear a Jacket
Wearing a blazer or sport coat is another instant hack to look more business-appropriate. You don't even have to keep it on all day while you sit at your desk, but it's always useful to have one on hand in case you need to put your best self forward.
Wear Office Shoes
Instead of your trusty pair of sneakers that you wear outside of the office, pair your jeans with some nice business casual shoes to dress up your outfit. Pair of brown brogues, black derbies or Chelsea boots will make you look much more mature and trustworthy than a pair of Nikes ever will. 
Examples of Business Casual Outfits with Jeans

Examples of business casual outfits you can wear with jeans include:
Black jeans with black dress shoes and belt, a white dress shirt and gray jacket
Dark blue jeans with a white dress shirt and brown suede Chelsea boots
Dark blue jeans with a brown blazer and light blue polo shirt
Dark blue jeans with a green sweater and a dress shirt
FAQ About Wearing Jeans With Business Casual
Can you wear jeans for a business casual interview?
You shouldn't wear jeans for a business casual job interview. You should wear a suit. Even if the company you're applying for has a business casual dress code, you will make a better first impression and show you take the interview seriously. It also shows that you'll have a suit ready for occasions where you might need one.
Can you wear jeans to a business casual meeting?
If you have an important meeting with a client or with the company's higher-ups, don't wear jeans. Wear more formal clothes like a two-piece suit or dress pants with a shirt and a blazer. If you have a regular meeting with your direct co-workers, it's okay to wear jeans.
Are blue jeans business casual?
Blue jeans can be worn in business casual attire,as long as they are not faded. You should go for dark blue jeans, as they present a cleaner image and are easier to dress up. Light blue jeans look more casual and won't be appropriate for many offices.
Are black jeans business casual?
Black jeans are a good option for business casual wear. Wear them with black dress shoes and a black belt and with a crisp white dress shirt. To top it off, you might also wear a light gray blazer.
Are white jeans business casual?
You should not wear white jeans in a business casual outfit as they look too casual. Another downside is that they tend to get dirty quickly which will make you look sloppy.
Are ripped jeans business casual?
You should absolutely avoid ripped jeans when dressing business casual. While they may look cool in casual settings, they are not appropriate for the work environment. The idea, after all, is not to look cool, but professional.
I wouldn't even recommend them even if your office had a casual dress code.
Can you wear jeans for business professional?
You can't wear jeans with a business professional dress code. The business professional dress code allows only formal business attire. You should wear a two-piece suit with a dress shirt and tie.
Did You Find That Useful? Then Check This Out…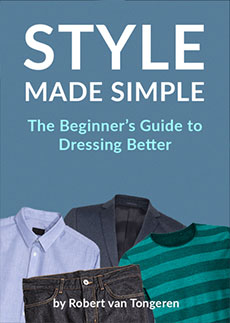 I wrote a men's style guide that simplifies the art of dressing well, focuses on what matters, and takes you through it one step at a time. Enter your e-mail below and you'll receive three free chapters, which will show you: