What Is Raw Denim? Everything You Should Know + Where to Buy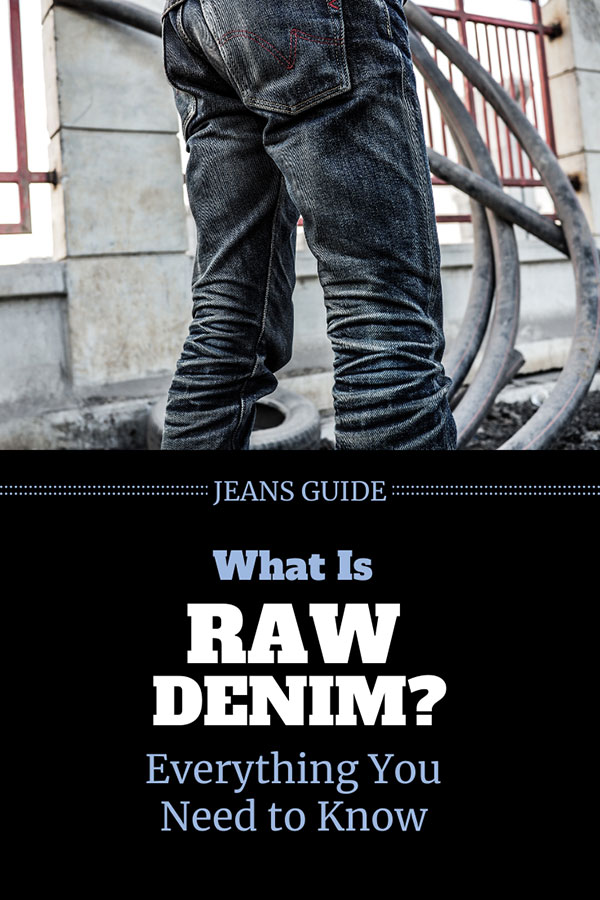 So, you've heard through the grapevine that raw denim is "the best denim" you can wear, and now you're curious.
It's currently one of the most popular trends in men's fashion and it seems that, somehow, suddenly, many of your friends have a pair of raw denim jeans in their wardrobe.
If you feel left out, you're in the right place. In this article I'll explain what is raw denim, and everything you should know before you consider a purchase.
Let's get down to it.
Note: This article may contain affiliate links. That means if you click a link and purchase something, I earn a small commission, at no additional cost to you. All opinions are my own.
What Is Raw Denim?
Raw denim is denim in its purest form; it's unwashed, un-dyed, un-shrunken denim, straight out of the mill. It's also called "dry denim" or "untreated denim". Raw denim fabric is stiff – it contains a starch-like substance that hardens it. Mills add this substance to the textile to make it easier to handle for jeans manufacturers.
Once the jeans are cut and sewn, the manufacturers typically wash, dye, shrink, stretch and distress them. This process makes the jeans softer and more comfortable and gives them a distinctive look.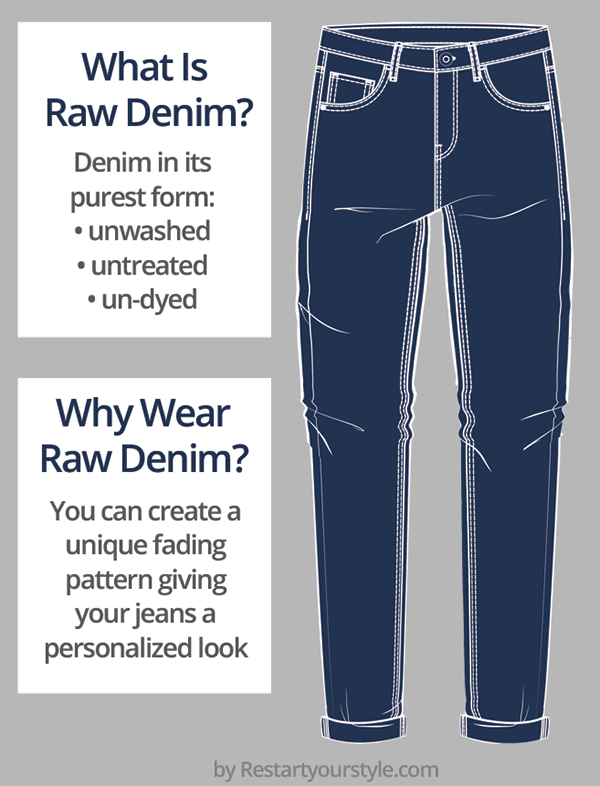 What Is the Point of Raw Denim?
The point of raw denim is to develop a unique pair of jeans that are personalized according to your lifestyle. A pair of raw jeans is like a blank canvas. It adapts to your body shape over time, becoming a great fit.
If you wear these types of jeans for a long time (a couple of months) before washing it, the folds and creases you leave in the fabric will fade, creating a unique, personalized look.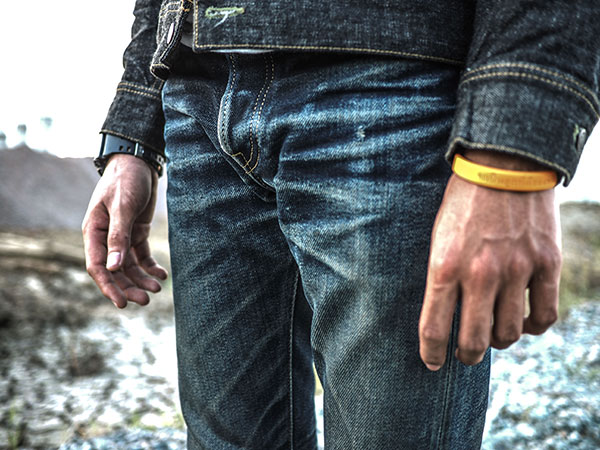 Raw denim is rope-dyed, which means the fabric has been dipped in the dye bath for a short time. This means it still has a white core, which will be revealed after washing. The rope dying process allows for a higher-contrast fade.
What Does Raw Denim Feel Like?
Raw denim feels uncomfortable at first. Before it's broken in, the fabric is stiff and crisp, which feels rough on the skin. If you're used to owning mass-produced jeans, getting your first pair of raw denim jeans will be a whole new experience. They aren't as comfortable as a normal pair of trousers to wear.
Buying raw denim jeans is like buying a pair of new hiking boots. You'll need time and patience to break them in. Some discomfort is normal.
It can take a few months of heavy use to get them to adjust to your body shape. But once you break them in, they are the perfect fit. And they will be totally unique.
Raw Denim Vs. Selvedge Denim: What's the Difference?
Many people mix up raw denim and selvedge denim. Many think they're synonyms. Let's dispel this myth.
Selvedge denim is usually considered high quality denim. It's woven on a shuttle loom, which passes one thread only, horizontally. This stops the jeans from fraying and makes them stronger and stiffer. The denser knit makes them last longer and crease better. They also offer a better fit.
Raw denim only means that the denim hasn't been processed through washing or dying.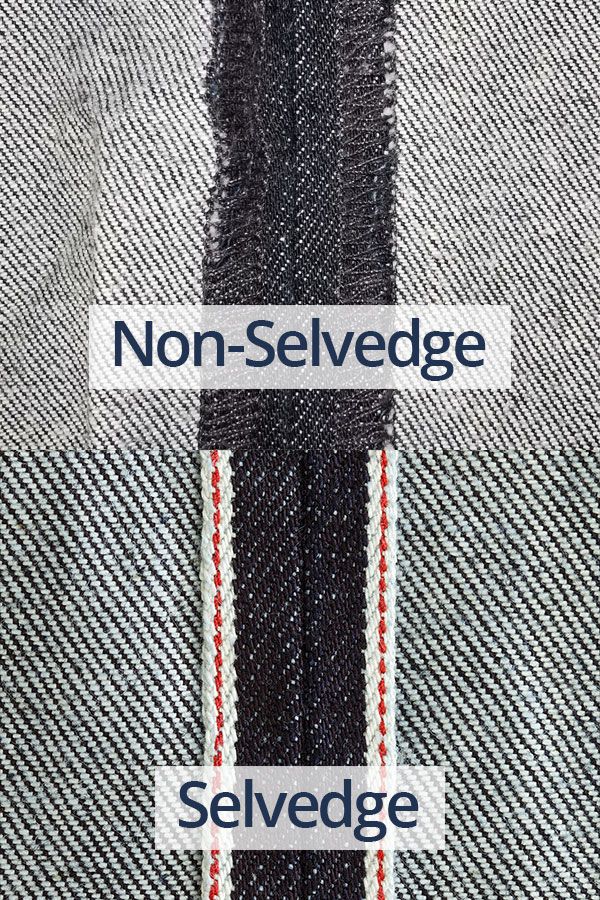 To spot a selvedge denim in the stores, check the insides of the legs. A selvedge denim features a tightly-woven band on the edges of the fabric. This completes the clean fishing look that gives the fabric its name – from "self-edge".
You'll also notice the outseam (the distance from the waistband to the bottom of the pant legs) has a 32" roll edge, rather than the standard 62", which is typical of low to average quality jeans. This is because selvedge jeans are made on a shuttle loom, which means the resulting fabric is narrower. If you wish, you can show the narrower outseam off by cuffing your jeans.
Shuttle looms are quite rare nowadays, so it's hard to find selvedge denim for sale. You can buy selvedge jeans that are pre-washed, or unwashed.
So you can buy a pair of selvedge washed jeans, or a pair of raw jeans with selvedge seams (a.k.a. raw selvedge denim).
Should You Buy Raw Denim Jeans?
If you have read this website for a while, you'll know that I'm not a big fan of jeans with too much fading. I think most men are far better off with dark wash jeans, but that's partly because I prefer a more classic look. I think that is more flattering on most men, especially those over 25.
If you're looking for a pair of dark jeans, raw denim isn't for you. You're better of just buying a pair of dark wash jeans.
If you want faded jeans, you should still consider the pros and cons: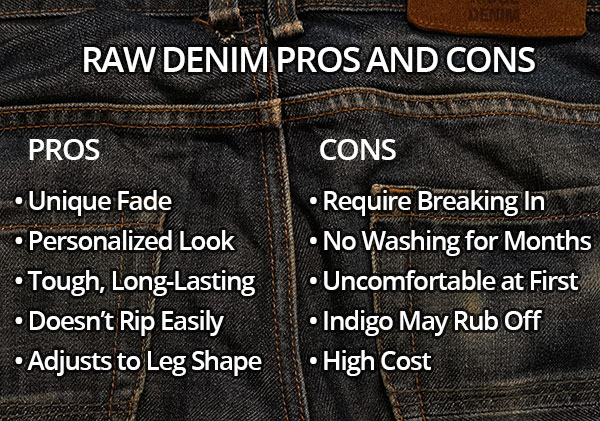 Raw denim might be for you if:
You want a distinctive pair of jeans to achieve a certain look
You need a tough, long-lasting pair of trousers that won't rip easily
You'd like to finally have a pair of jeans that fits you perfectly
But even if all of the above sound great to you, you should also consider the downsides of unwashed jeans.
They need breaking in
To achieve the best result possible, you shouldn't wash them for months
They can be uncomfortable and rough on the skin at first
Buying online can be tricky — the sizing is slightly different. You need to measure yourself
They leave an indigo dye behind on any surface they touch, like your hands
They are expensive
Think carefully before buying an expensive pair of raw denim jeans — it may not be the trend for you.
Raw denim isn't better than washed denim. Raw denim is only better if you want a unique fading pattern and are willing to spend months in relative discomfort to achieve it. Washed denim is better for anyone who wants faded jeans but doesn't want to spend months breaking them in.
How to Wear Raw Denim
This style of jeans is not appropriate for business settings, even if you work in a business casual office. It's far too casual for that.
You can wear raw denim in outfits ranging from casual to smart casual though. Wear it any way you're used to wearing jeans. Pair your jeans with a T-shirt and men's white sneakers, or wear them with a dress shirt, blazer and a pair of suede Chelsea boots.
They function as a statement piece, so keep the rest of your outfit subtle. Wearing them with a bunch of other loud patterns will be too much. Instead opt mostly for solid colored pieces. (Adding an accessory like a scarf with an edgier pattern is okay. Just don't overdo it. You don't want your outfit to appear too loud.)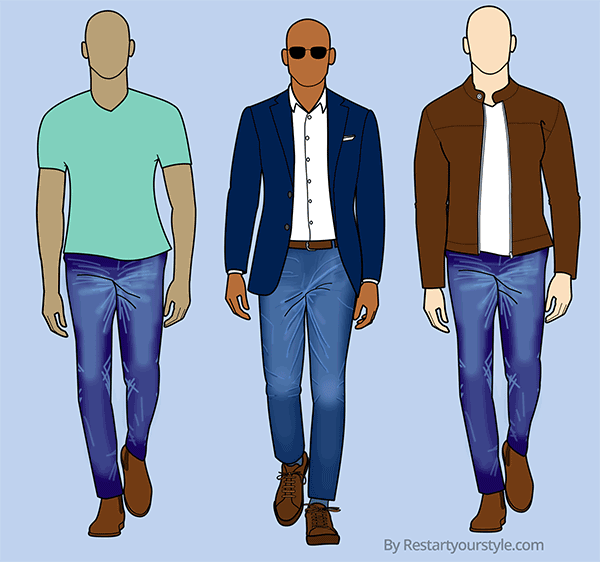 Breaking in Your Denim: What Size Is Right for You?
When you buy unwashed denim jeans, you have to spend time breaking them in. But what does that mean?
It means that you have to wear the stiff denim a lot to loosen it up and help it mold itself to your legs and movements.
Because you need to break in your jeans, you need a few additional considerations in terms of what size you buy.
Should You Buy Raw Denim Tight?
As a rule of thumb, you should buy raw denim tight, so the denim will stretch and shape itself to conform to the shape of your leg. This creates a stylish fitted look. However, you should check first whether the denim is sanforized or unsanforized.
Sanforized Vs Unsanforized Denim
Now what are these two unpronounceable words?
Sanforization is a process that stretches, fixes and shrinks the fabric in length at the mill. This reduces the amount of shrinkage you can achieve with washing. You can spot sanforized denim quite easily – they look smoother than the rougher unsanforized ones.
Unsanforized denim, also called "loomstate", or "shrink-to-fit", has not been through sanforization. This type of denim can shrink up to 10% after the first wash.
If you're buying sanforized denim, buy it snug. The trousers will adapt to your shape over time, without shrinking. If you're going for unsanforized denim, buy a size up, so when you wash them for the first time, they still fit.
Maintenance & Care: Should You Wash Raw Denim?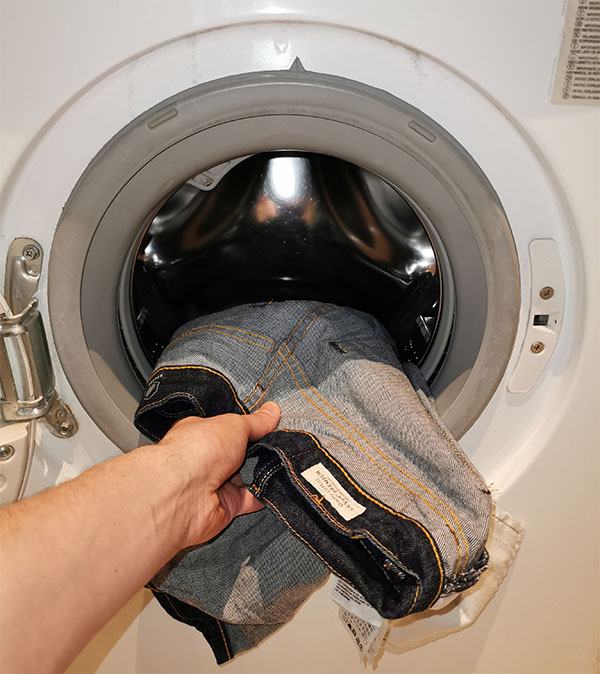 You should wash raw denim, but you should wait at least two months before doing so. Washing it earlier may limit the fading that you hope to achieve.
There are dozens of hardcore denim heads online who claim you have to wait at least a year to get the perfect fade; others swear that leaving your jeans in the freezer will get rid of any smells.
Don't worry; there's no need to go to such extremes. Raw jeans manufacturers say the difference in fade between waiting to wash it for two months and a year is insignificant.
Apparently, most of the indigo dye doesn't come off with washing, but through friction. So wearing your unwashed denim jeans regularly for two months should do the trick. Beware though: the longer you go without washing your denim, the less durable it will become.
What Happens If You Wash Raw Denim?
When you wash raw denim, the water strips out the indigo dye. The parts of your denim that endured more friction lose more of the indigo color than the parts that have endured less. This creates the fading effect.
Common friction points are where the thighs meet the pelvis (where the whiskers form), the knees and the ankles. Though, if you're in the habit of carrying things in your pockets, these might show up in the fading as well.
How to Wash Raw Denim Jeans
There's lots of quirky pictures on Instagram showing you how to properly wash your jeans — jump in the ocean, soak them in the bathtub, stand in the shower, or stick them in the freezer.
However, manufacturers advise not to fret about washing your jeans — just flip them inside out, throw them into the washing machine and pour in a mild detergent. They will take on that vintage look everyone is aiming for, if you wear them and wash them regularly — every month or two.
If you can, turn off the spin cycle when washing your jeans (or wash them with low spin cycle), and don't put any other clothes in the machine with them, as the indigo can rub off on them.
Remember that, as I mentioned before, denim becomes less durable the more you wear it without washing. If you don't wash your jeans for a year, you're damaging your jeans more than is necessary to get the effect you want..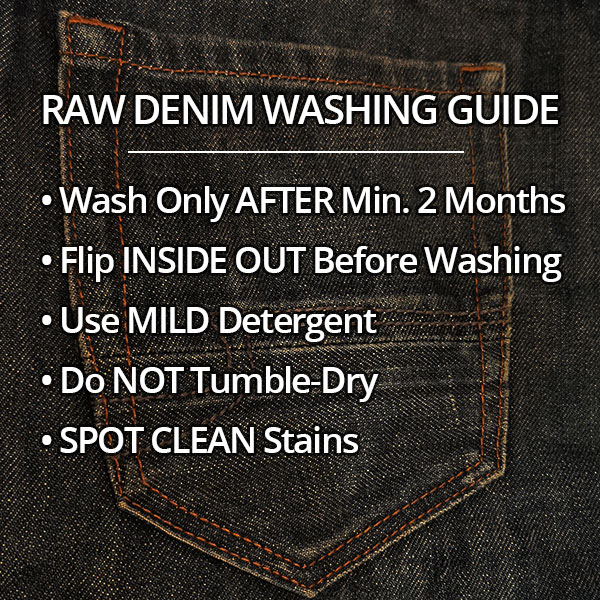 Putting them into the drier is a big no-no. The heat and tumbling can damage the fabric. Just hang them up to air dry, the old-fashioned way. It's as simple as that.
If you stain your jeans while breaking them in, but you want to wait to wash them, try spot cleaning. Be careful to hand wash gently with a mild detergent, so you don't scrape off any of the indigo dye by accident.
Got a hole in your unwashed jeans? The experts recommend darning, if possible. It's more comfortable than a patch. If the hole is big, you may need to add some reinforcement, but you'll almost always be able to fix them.
Does Raw Denim Shrink When Washed?
It depends. If you buy sanforized jeans, they won't shrink, so you need to buy them fairly snug and let them adjust to your body shape. If you buy unsanforized jeans, they will shrink by about 10%, so you'll need to buy a size up.
Where to Buy Raw Denim Jeans: The 10 Best Brands
Sp, are you interested in breaking in and developing over time your own unique pair of jeans? Then below are the 10 best raw denim brands to get you started: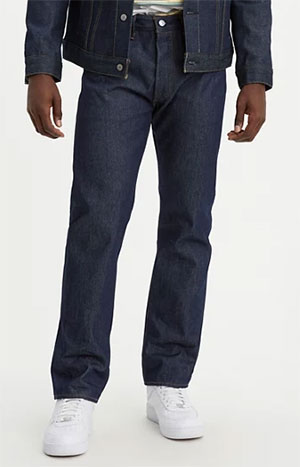 The original denim brand offers their most classic jeans in raw denim. (They call it "rigid".) Denim enthusiasts consider Levi's 501 original shrink-to-fit jeans a good pair for beginners to start your raw denim experience with. They also offer a Big and Tall version.
---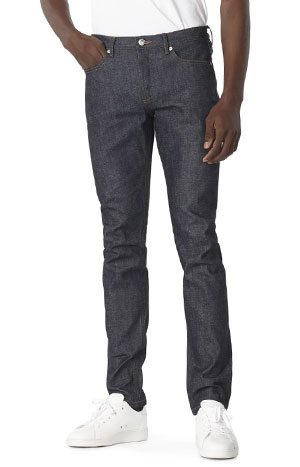 One of America's favorite manufacturers, A.P.C. offers various styles of raw denim jeans to suit your look. For many years, they were the go-to brand for anyone who wanted to fade their own jeans. They hand-pick the best Japanese denim for their jeans so you know you're buying quality. Their Petit New Standard is especially beloved.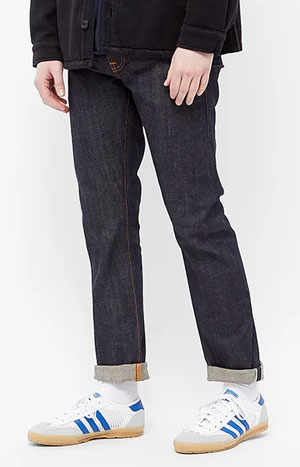 The Swedish designer, which has quickly become a sensation, stocks some "gritty" vintage-inspired raw selvedge denim that will easily stand out on the street. They label their jeans "dry denim" rather than raw, so make sure you select a pair with "Dry" in their description.
Check out their slip tapered Lean Dean jeans, or their slim straight Grim Tim. Alternatively, The Steady Eddie is your best option if you're need a pair of jeans for big thighs. They're all available in selvedge (better quality) and non-selvedge (more affordable).
This Canadian company is among the most popular denim designers these days, thanks to their passion and dedication to traditional manufacturing methods (and perhaps in some part, their quirky brand, poking fun at celebrity culture). Their quality speaks for itself though.
They don't use traditional fits, so you may have to get used to that. But essentially "Super Guy" is skinny fit, "Weird Guy" is slim fit. "Easy Guy" for a more laid back fit, and "Strong Guy" for a relaxed fit.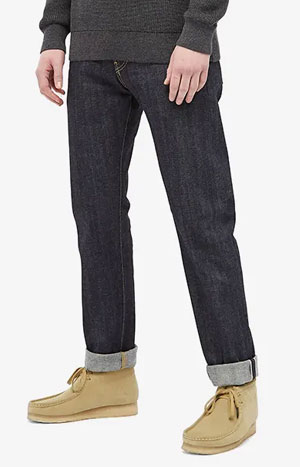 Edwin is a large scale b-corp denim factory, making it a sustainable choice, when it comes to men's fashion. They established themselves in Japan, a country long obsessed with raw denim, and have grown to be one of the most reliable brands when it comes to producing raw selvedge denim jeans.
For slim tapered jeans, get the ED-80 model. If you'd like a bit more room in your jeans, go for the ED-55 regular tapered jeans.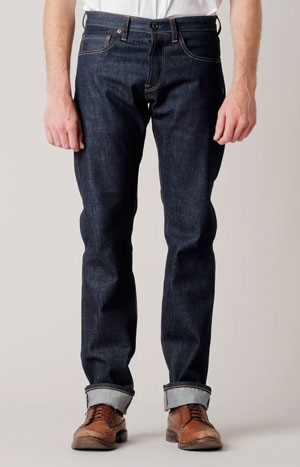 Handmade in Brooklyn, the jeans by this newer manufacturer are great quality. The best bit? They have a big section dedicated to raw denim only on their website, where they sell their own models but also some from other reputable brands.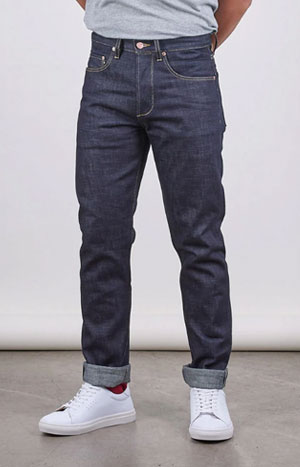 This contemporary London-based atelier specializes in durable selvedge raw denim jeans. Their collection is varied, offering great choices for your first pair of raw unwashed jeans.
Working with Kuraki Mills in Okayama, 3sixteen focuses mainly on denim. The SL-100x is one of their most sought-after pieces, and the very first they ever produced. Their ST-100x is their slim tapered version, which is another excellent option. Little has changed since the original design was created, as they are durable and tough, just like they were designed to be.
FAQ About Raw Denim
Still confused about raw unwashed denim? Here are some of the most common questions newbies ask.
Why Is Japanese Raw Denim so Popular?
Premium Japanese denim is considered the best, because it's woven using shuttle looms, natural dyes and high-end fabric. This old school process takes more time to complete, compared to that used by modern looms.
The heavier (higher quality) jeans usually come out of Japan. Finally, Japanese mills tend not to sanforize or singe denim, leaving it rough and unprocessed. This keeps the fabric pure.
Why Is Raw Denim So Expensive?
You'd think that untreated, unwashed denim would be less expensive, given that it requires less processing. So what's the deal?
Usually, if you're looking at a pair of very expensive raw denim jeans, it's because they are selvedge. In this case, the fabric is of better quality, due to the tighter weave. So the cost is higher.
However, if a pair of simple raw jeans is more expensive than a regular one, it's probably because they are more coveted and have the potential of becoming a unique fashion item.
Raw denim is expensive because it's trendy. It has become an Instagram phenomenon, with many influencers and denim heads showing off their perfect vintage fade in their favorite filter. So it's only natural that a product that only appeals to aficionados, riding on a trend, is more expensive.
How Long Does Raw Denim Last?
If you wear your pair of raw denim jeans 2-4 times a week, they will last about one and a half to two years.
But remember: the less you wash your jeans, the more they will wear and the less durable they become. The less active you are in your jeans (sitting at a desk, rather than walking around town), the longer they will last.
Does Raw Denim Get Softer?
Yes! Raw denim gets softer the more you wear it. The initial washes will get rid of the dyes and starches that make them so dark and stiff. If you'd like them to become soft faster, try soaking them in freshwater in a bathtub for a few hours.
Can You Iron Raw Denim?
Yes, you can iron raw denim, if you wish. The experts suggest ironing jeans inside out, after air drying them. You can iron raw jeans when the pockets are still wet.
Did You Find That Useful? Then Check This Out…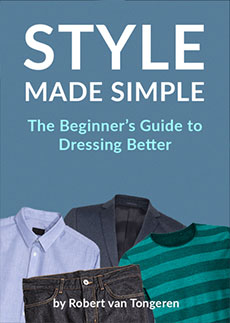 I wrote a men's style guide that simplifies the art of dressing well, focuses on what matters, and takes you through it one step at a time. Enter your e-mail below and you'll receive three free chapters, which will show you: