How to Wear a Denim Shirt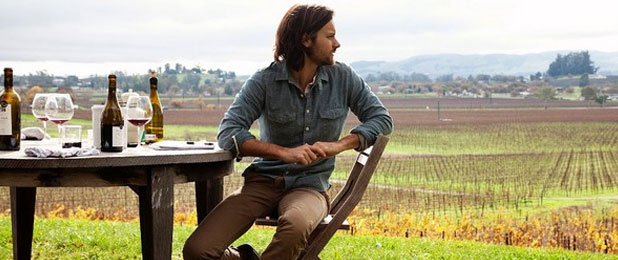 Denim shirts are back in style.
If you don't have one in your closet yet, it's a worthy investment. Other types of casual shirt are still quite similar in fabric and general aesthetics, but a denim shirt will bring something different to your wardrobe. It will add some variety.
Denim shirts still have the stigma of being primarily worn by people's dads, but a stylish man can wear items in ways that break their stigma. It's not the shirts themselves that give people the dad-look, it's the way some people wear them. To prevent you from looking like your old man, you need to understand how to wear a denim shirt fashionably.
I'll give you a few stylish ways to wear a denim shirt that are quite easy to pull off.
Look 1: Denim Shirt with Chinos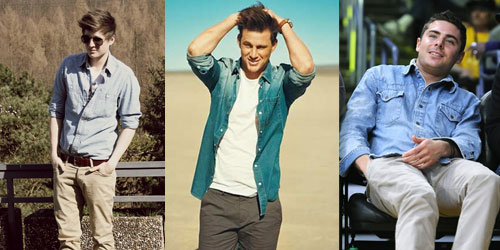 The easiest way to make a denim shirt work is to wear a pair of chino pants with them. Most people only wear denim on their lower half, so this is a great way to turn that look upside down. Seriously, this is a hard look to screw up.
Chinos in light shades of brown work especially well with denim shirts, just look at the images above. Also, the open denim shirt look in the middle is awesome for summer/spring.
Look 2: Denim Shirt with Jeans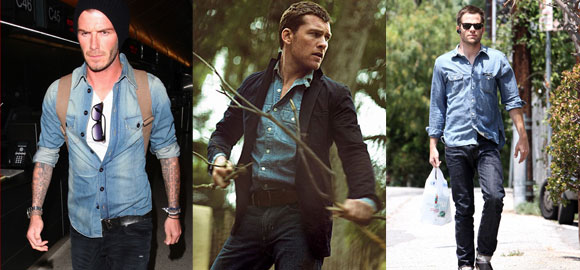 Wearing a denim shirt with jeans has become quite trendy lately. The double-denim look used to be the fashion faux pas that created the dad-look mentioned earlier. Now, fashion-forward people have made it work.
The trick with the double denim look is to make sure there is a contrast between the top and bottom piece. The only way this look works is when one piece is dark denim and the other is light. Personally, I like it best when the bottom half is the darker part of the ensemble, as shown above.
Look 3: Denim Shirt with Cardigan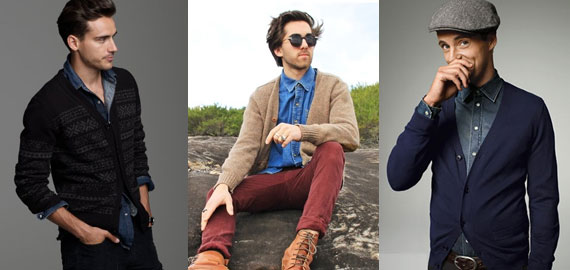 You can still rock your denim shirt in the colder months by adding a cardigan. This will keep you warm, and with the right cardigan, it can look amazing. The denim shirt is enough of a statement piece, so just wear it under a neutral cardigan, and you'll have an awesome look on your hands. Thick knit cardigans look especially manly with a denim shirt.
If you've read more of my articles, you may have noticed I love layering clothes. That's why this is my favorite look with a denim shirt.
Conclusion
These are not the only ways to pull off a denim shirt, but they are the easiest. If you're new to wearing denim shirts, just try these 3 looks first, then work yourself up to wearing them with a tie or blazer. Once you're comfortable with wearing denim shirts, you could even try wearing them with a suit. But that's a pretty advanced look, and I wouldn't recommend it to fashion newbies. Remember, just stick to the basics, and you'll do fine.
Did You Find That Useful? Then Check This Out…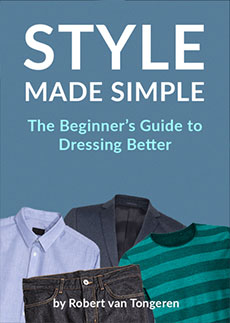 I wrote a men's style guide that simplifies the art of dressing well, focuses on what matters, and takes you through it one step at a time. Enter your e-mail below and you'll receive three free chapters, which will show you: