Slim Fit vs Skinny Jeans: What's the Difference?
Both slim fit and skinny jeans are meant to provide you with a slim appearance, but they're quite different in how they look.
The main difference between slim fit and skinny jeans is the tightness of the cut. Slim fit jeans fit snug around the thigh and seat but aren't skin-tight. Skinny jeans are almost like jeggings in that they sculpt themselves along the contours of your leg.
Settle in, because you're about to discover exactly how slim fit and skinny fit are different, so you can decide which are the best jeans for you to wear.
(Note: Most of the differences below apply to slim fit and skinny fit pants as well.)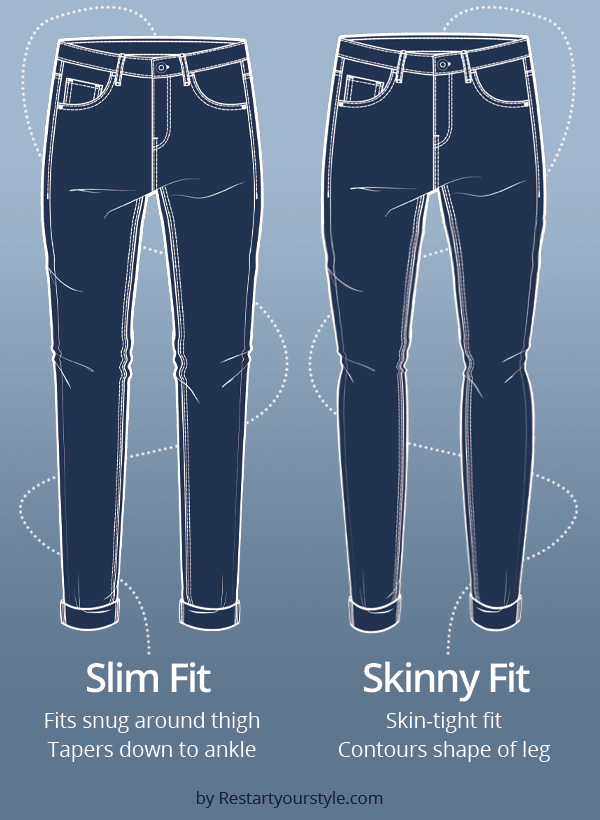 What Are Slim Fit Jeans?
Slim fit jeans are jeans that feel snug around the thighs and seat. The denim follows the shape of your legs from the waist down to the hem, without being skin-tight. They are a great choice for men of average and skinny body types.
Slim jeans come in two variations:
Slim tapered jeans — i.e. they taper down from thigh to ankle. (The more common option)
Slim straight jeans — i.e. they are cut straight from thigh to ankle. (Like straight fit jeans but slimmer)
Slim fit is a good option for most men's jeans as they accentuate the V-shape of the male body, which has a flattering effect.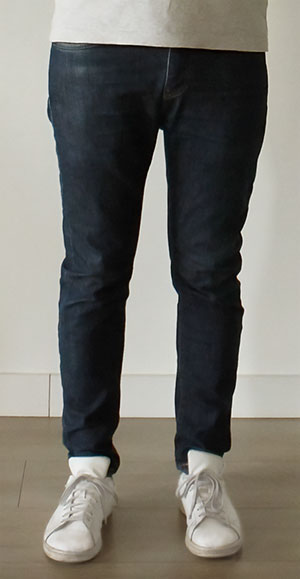 What Are Skinny Jeans?
Skinny jeans that sculpt themselves along the contours of your leg. They are skin-tight from the thighs to the calves and the ankle, and usually have a smaller leg opening.
These jeans are trendy, but they can limit movement and be hard to put on. You may find yourself pulling at the waistband trying to get the jeans over your thighs. They usually come in stretch denim to alleviate this problem.
Skinny fit jeans accentuate the thighs and calves, which tend to make them look more feminine. However, they tend to be popular in alternative subcultures of fashion (e.g. punk, emo, indie, etc.), so they can be a good option if that's what you're going for (and have the body to pull them off).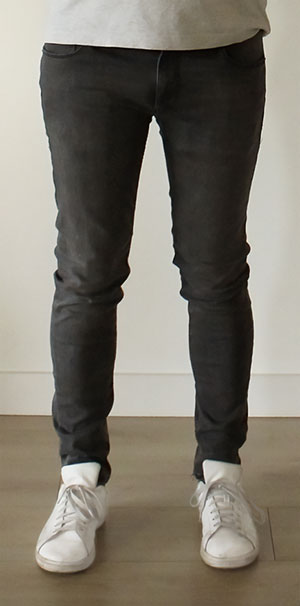 The Key Differences Between Slim Fit and Skinny Jeans
Cut: Slim fit jeans are cut close to the body but not as tightly as skinny jeans. They taper down from the thigh to the ankle. Skinny jeans are form-fitting and feel skin-tight from the waist down to the ankles.
Comfort: Slim cut jeans are generally more comfortable than skinny jeans because they have more room for movement and breathing. Skinny fit can feel restrictive and uncomfortable, especially if you're not used to wearing tight clothes.
Appearance: Slim fit jeans offer a slim appearance but still look masculine. Skinny jeans tend to give a more feminine appearance, but can look cool if you're going for a rock & roll or artsy aesthetic.
Versatility: Slim fit jeans are more versatile and work in a variety of outfits, whereas skinny jeans tend to work best in specific niche looks. Skinny jeans also aren't appropriate for the office, even if they have a casual dress-code.
Material: Skinny jeans are usually made with stretch fabric so they are easier to put on. Slim jeans can be made of this material, but also come in regular or raw denim.
You may also like: How Should Jeans Fit?
Comparing Skinny Fit with Slim Fit
Below you can see a close up photo of skinny jeans (left) and slim fit jeans (right), so you can visually compare the differences. As you can see, the differences are subtle.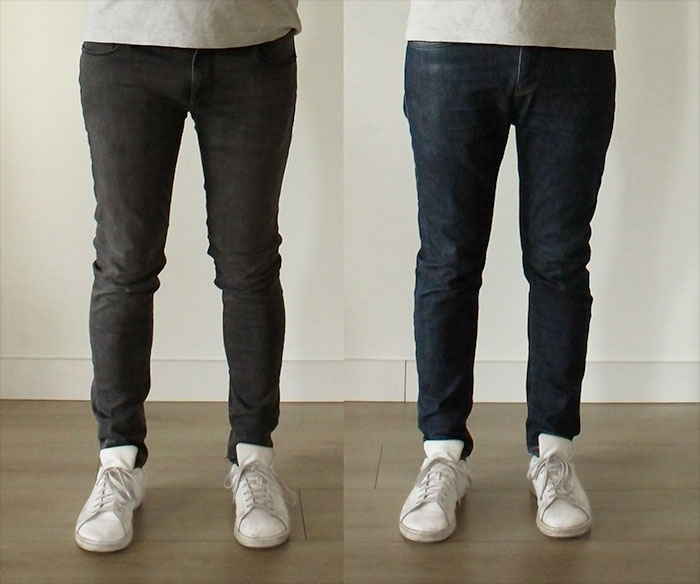 The thighs look similar (though, I can personally attest, the skinny jeans feel much tighter, especially when bending the knee.)
The differences are more clear around the calves and ankles. With the skinny jeans, you can easily make out the shape of the calves, while the slim jeans have straighter lines.
Another angle from the sides: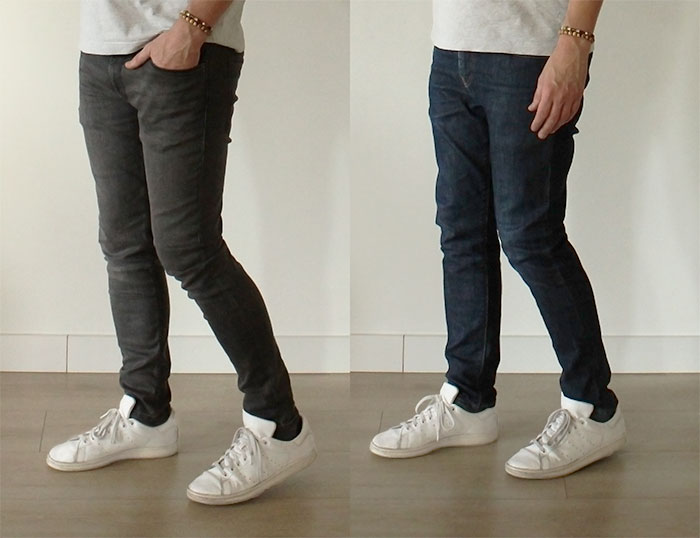 On the bended leg, you can see the fabric of the skinny jeans is stretching more than on the slim fit. On the straight leg, you can see even more clearly the shape of the thigh, calf and even the even the knee.
Slim Fit VS Skinny Jeans: Which Should You Choose?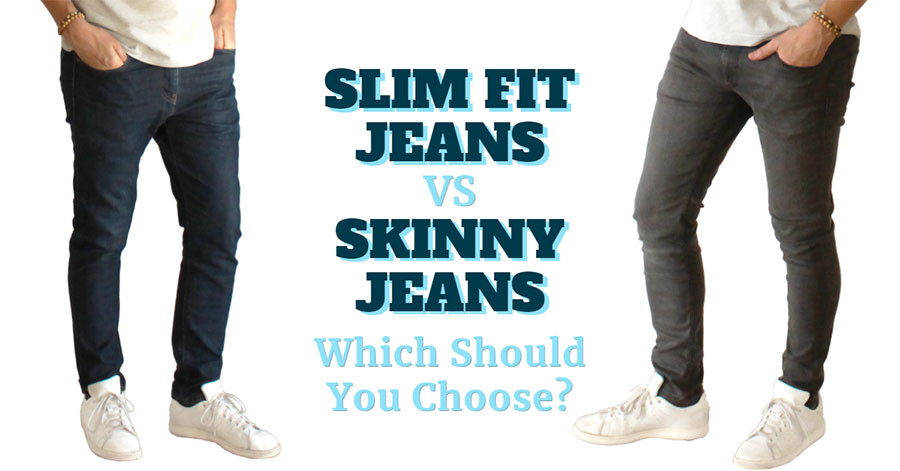 Most men should choose slim fit jeans and avoid skinny fit. Slim fit jeans are more comfortable to wear, offer more versatility and generally look more flattering than skinny jeans.
Only men going for a specific aesthetic with their clothes should opt for skinny jeans (and even then, they can usually still pull off the same look with slim fit as well).
With that said, you may also consider your body type when you choose which type of jeans to go with. Skinny fit tends to look better on slim or skinny body types than larger ones.
Note: While you're here, you may also want to read the difference between straight fit and regular fit.
FAQ about Slim Fit and Skinny Jeans
Are slim fit jeans supposed to feel tight?
If you're used to wearing more relaxed cuts of jeans, slim fit jeans may feel tighter than what you're used to. If you switch from relaxed fit jeans (or even regular fit jeans), you may need some time to adjust to the tighter feel around the thighs that comes with slim fit jeans.
However, slim fit jeans should not feel uncomfortable — especially in "that" area, if you know what I mean — nor should they restrict your movement. If they do, the pair you picked is probably too small or the denim jean material is too stiff. You should try a different size or a different brand.
Can bigger guys wear slim fit jeans?
If you're going for a tapered leg as someone with a bigger body shape, you might want to give athletic fit jeans a try. That said, slim fit jeans do come in larger sizes all the way up to 42W.
Bigger guys can wear slim jeans, but it's a matter of finding a pair that fits comfortably around the waist and avoids the muffin top effect. You'll also want to go for stretch denim, as it'll offer more flexibility to accommodate your bigger thighs.
When trying on slim fit jeans,you should move around and test their range of motion. Make sure they are not too restrictive (and you're not exposing anything you don't want to expose). Go out to a clothing store and avoid buying them online!
Are skinny jeans out of style in 2023?
First and foremost, you shouldn't concern yourself too much with what is in or out of style. Skinny fit jeans aren't as prevalent as they used to be, and relaxed fit jeans are on the rise. But if they suit the look you're going for, you shouldn't object to wearing them because they're not "in fashion". These days, everybody is free to express themselves as they want to.
Items being "in style" have always largely been a marketing gimmick anyway.
Should skinny guys wear skinny jeans?
It depends. If you want to accentuate your naturally skinny leg shape and you're shooting for a look as described above, go for skinny fit. On the other hand, if you feel self-conscious about your skinny legs, go for slim fit or straight fit instead.
What's the Difference between Slim Fit Jeans and Tapered Jeans?
Slim fit refers to refers to the tightness of the jeans, while tapered refers to how the legs of the jeans are cut. Slim fit jeans can be (and often are) tapered just like tapered jeans can be slim fit.
Tapared jeans are cut so the legs taper down from thigh to ankle, as opposed to straight leg jeans which are cut so the legs are straight.
Slim Fit VS. Skinny Jeans: It's a Matter of Preference
Ultimately, only you can decide whether you want to wear skinny jeans or slim fit jeans. I hope this article helps you make the choice which are the best jeans for you.
It also doesn't have to be one or the other. You can wear skinny jeans one day, and slim fit jeans the other. You may wear skinny jeans when you go to a rock concert with your friends, but slim fit jeans when you go to work.
While I personally think most men look better with slim fit, if you feel confident and cool wearing skinny fit jeans, go for it. When it comes to jeans, it's all a matter of preference.
Did You Find That Useful? Then Check This Out…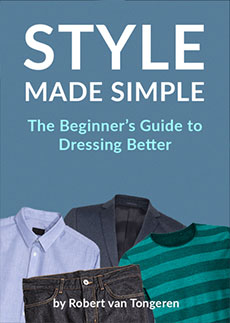 I wrote a men's style guide that simplifies the art of dressing well, focuses on what matters, and takes you through it one step at a time. Enter your e-mail below and you'll receive three free chapters, which will show you: