What Color Belt to Wear with White Shoes?
You may have heard that your belt should match your shoes in color. But the truth is, that rule only really applies to brown and black dress shoes when dressing formally.
White shoes, whether they're dress shoes or white sneakers, are meant for casual outfits. And the belt rules are different for casual wear.
So what color belt should you wear with white shoes?
You can generally wear a black or brown belt with white shoes, but you need to coordinate it with the rest of your outfit. The only acceptable type of white belts are canvas belts, but only for certain situations.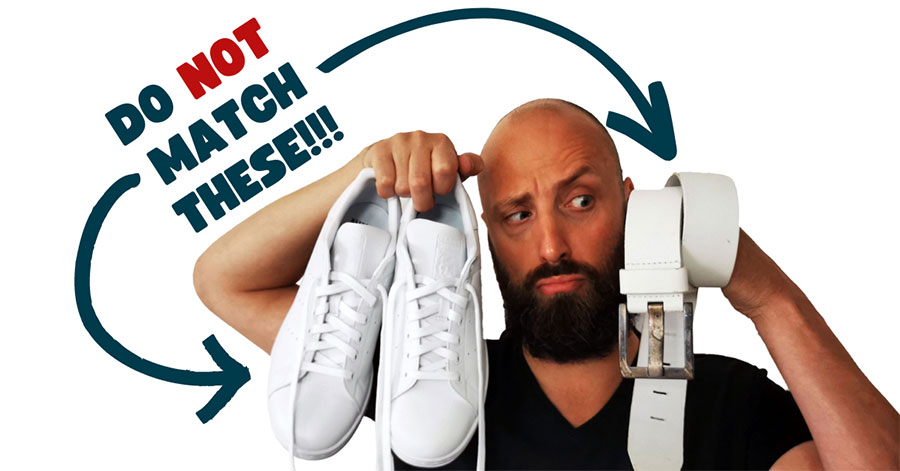 Note: This article may contain affiliate links. That means if you click a link and purchase something, I earn a small commission, at no additional cost to you. All opinions are my own.
Why You Shouldn't Match a White Leather Belt with White Shoes
Right, so we covered that you don't need to match your belt to your shoes when you dress casually.
But even if you don't need to, why not match your belt and shoes anyway?
Wouldn't it still look pleasing to the eye?
The problem is that white leather belts tend to look rather juvenile. As an adult man, you look like you haven't evolved your taste in clothes from your teenage years.
With almost any clothes you choose to wear, it tends to look goofy.
Coordinate Your Belt with Your Outfit Instead
Instead of matching your belt to your white shoes, you should consider the color scheme of your outfit.
For example:
If you're wearing a (mostly) monochromatic outfit, i.e. white, greys and black, then a black belt is the better choice.
If you're wearing warm and/or earthy tones, then a brown belt looks more aligned.
You can also consider the individual clothing items that appear around the belt. For example:
Charcoal pants :: Black belt
Khaki pants :: Brown belt
Light blue pants :: Tan belt
Yellow T-shirt :: Brown belt
Navy shirt :: Navy belt
Black jacket :: Black belt
Brown and black aren't your only options, but you'll likely already own a belt in these colors anyway. (And if you don't, you should!)
Let's go through a few different belt colors that you can wear with white shoes, depending on the rest of your outfit.
The Best Belt Colors to Wear with White Shoes
Black Belt
Black provides a stark contrast with white, but you can definitely wear a black belt with white sneakers or shoes.
The combination of white shoes with black belt works best with neutral pants, e.g. grey, black or charcoal pants.
If you're wearing a black t-shirt or black jacket, you should also go for a black belt.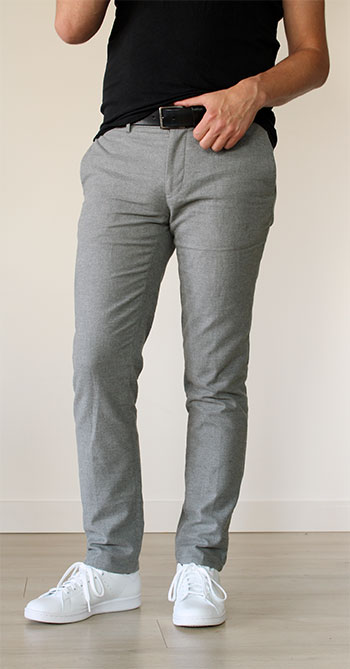 Brown Belt
You almost can't go wrong with pairing white shoes with a brown belt (unless you're wearing black pants, in which case, don't wear a brown belt!)
But a brown belt looks especially good with clothes in earthy tones (brown, green, navy) and vibrant colors (blue, orange, yellow).
If you're wearing brown pants, aim for a slight contrast between the belt and pants. I suggest a shade darker. You might wear a cognac belt with khakis, or a dark brown belt with darker shades of brown.
A tan belt is another great option, especially if you're mostly wearing light colors in your outfit.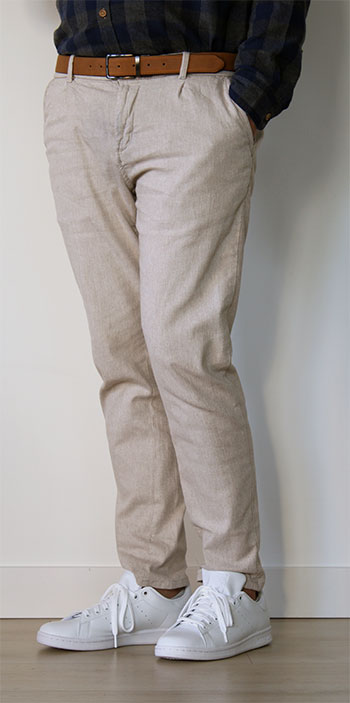 White Canvas Belt
While you shouldn't pair your white sneakers with a white leather belt, a canvas belt is fair game.
This pairing is mostly suitable for spring and summer looks. Wear it with colored chino pants or shorts, but not with jeans.
Grey Belt
They're less common, but a grey bet would make a fine addition to your wardrobe if you wear white shoes often.
A grey belt is only appropriate for casual affairs though, which is why I'd suggest a grey canvas or suede belt, rather than a leather one.
A grey suede belt can look really classy in a smart casual look, and it pairs quite easily with white shoes. It works well with grey pants (obviously), or if you're wearing more muted tones in your outfit.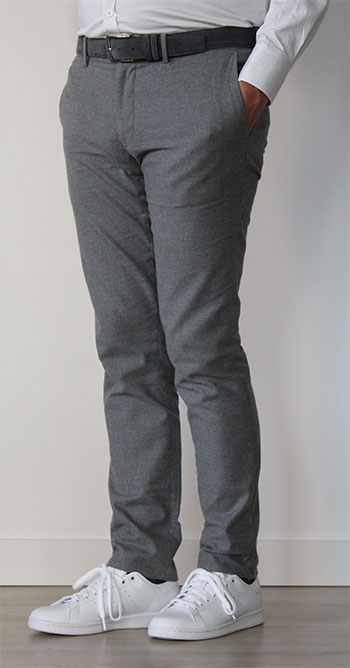 Navy Belts
Navy belts, whether canvas, leather or suede, are a suitable choice as well.
While navy itself is a versatile color though, I wouldn't suggest a navy belt with most other clothing pairings. In fact, you might only pair it with navy pants, a navy shirt or sweater, jeans or when you're wearing a blue-toned outfit.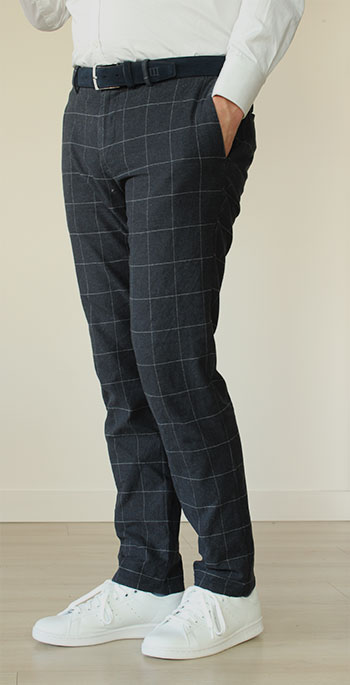 Colorful Canvas Belt
If you're going casual, you may also opt for something with a bit more personality, such as a colored, patterned, or printed canvas belt.
Just be careful that you don't overdo it with color and that the color goes with the other colors in your outfit.
To stay safe, you might match the color with one item, and keep the rest of the outfit muted and neutral. For example, you could wear a green belt with a green shirt, and keep everything else in grey tones.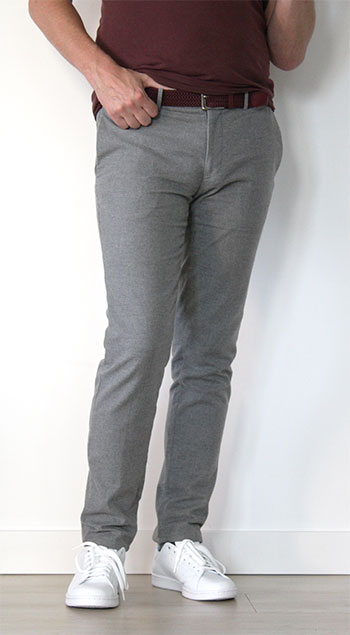 Alternatively, if you want to achieve pro-level, wear a patterned belt that matches two colors in your outfit, e.g. if you wear grey pants with a burgundy shirt, your belt could have hints of burgundy and grey.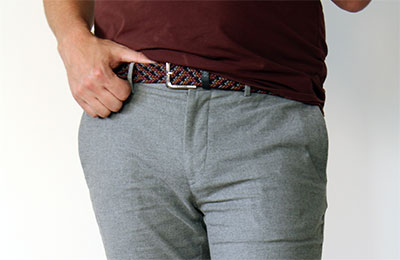 Pair the Right Belt with White Shoes
Now you have several belt colors to wear wth white shoes. You know the trick is to coordinate the belt with your outfit, instead of your shoes.
In most cases, a brown or black belt will look fine, but you can always choose the other option.
Take you pick, and feel confident strutting out the door rocking your white footwear.
Did You Find That Useful? Then Check This Out…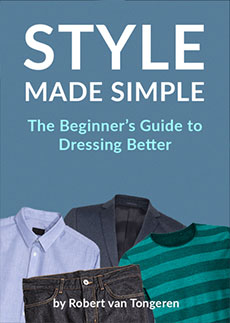 I wrote a men's style guide that simplifies the art of dressing well, focuses on what matters, and takes you through it one step at a time. Enter your e-mail below and you'll receive three free chapters, which will show you: