10 Types of Dress Shoes for Men (Ranked Formal to Casual)
When dressing up, you should wear an appropriate type of dress shoe to match your outfit. You have many footwear options to choose from, ranging from formal to business casual.
The different types of dress shoes are:
Oxford shoes
Wholecuts
Derbies
Bluchers
Brogues
Monk straps
Dress boots
Loafers
Chelsea boots
In this guide, we'll look into each of these types of men's dress shoes, what sets them apart, how formal they are, and how you recognize them. We'll also cover why chukka boots and dress sneakers are NOT dress shoes.
Note: This article may contain affiliate links. That means if you click a link and purchase something, I earn a small commission, at no additional cost to you. All opinions are my own.
1. Oxford Shoes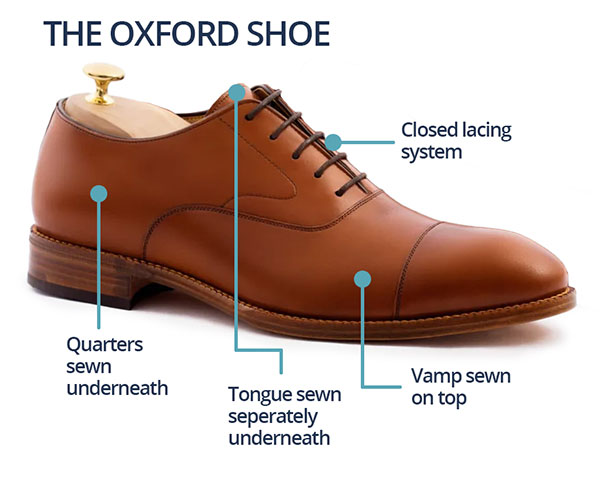 The oxford shoe is the quintessential dress shoe. Men have worn them to work and formal events for generations. You'll recognize an oxford shoe by its closed lacing system, which gives the shoe its clean and elegant look. The vamp (front part) of an oxford is sewn on top of the quarter (back part). This keeps the eyelet tabs closed, even when untied. The tongue is sewn separately underneath
How formal? Oxford shoes are the most formal type of men's shoes, especially in polished black leather. They're the ideal shoe for any formal or semi-formal event. Oxford shoes give your outfit a touch of class, whether you're dressed business casual or wearing a more formal suit.
Shop Oxfords at Beckett Simonon
2. Wholecuts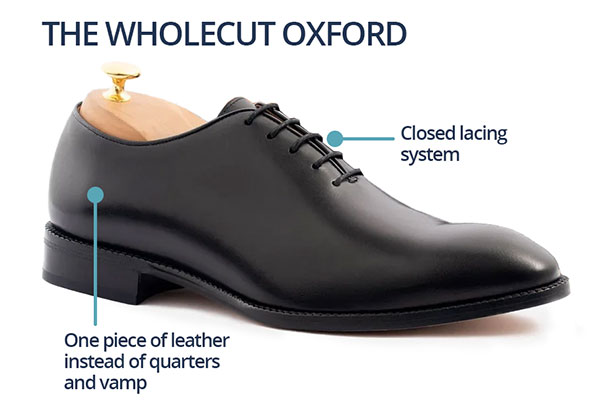 Wholecut oxfords are dress shoes made from one whole piece of leather, instead of having separate parts for the vamp and quarters. Their minimalist design give them an elegant appearance, and their lack of seams make them some of the most durable men's shoes to buy. They will last you a while.
On the other hand, you may have more difficulty maintaining a good shine on their toes than you would with a cap toe oxford. This dress shoe type needs some tender love and shoe care.
How formal? The lack of any adornation would put wholecuts above other oxfords in formality, but they don't have the same history and tradition behind them. You can find lively debates online about which are more formal shoes, but the difference is negligible. If you have to choose a formal shoe, go for an oxford, as they are a bit more versatile.
Shop Wholecuts at Beckett Simonon
3. Derby Shoes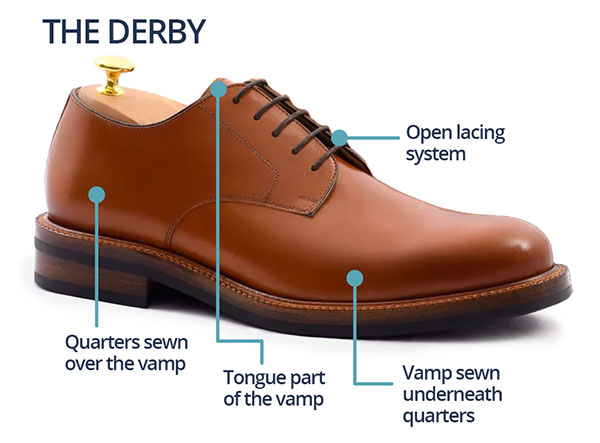 The derby shoe is very similar to an oxford dress shoe, but derbies have an open lacing system as opposed to the oxford's closed one. The eyelet tabs are not sewn into the leather at the bottom, and thus will be able to open when untied.
How formal? Derbies are a step down in formality from oxfords, but this also makes them more versatile. You shouldn't wear derbies to a black-tie event, but you can wear them with business attire, and they won't look out of place in a casual outfit.
Shop Derbies at Beckett Simonon
4. Bluchers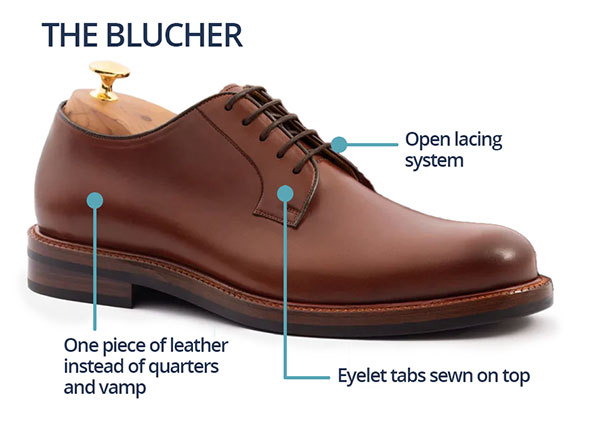 Bluchers are a similar type of dress shoe to the derby, as they also have an open lacing system. The difference is their construction. Derbies have a vamp and quarters, which are sewn together, while bluchers are made of a single cut of leather (like wholecuts) and have leather eyelet tabs sewn on top.
That difference is negligible for any layman though, which is why people often use their names interchangeably.
How formal? Bluchers are equal in formality to derbies and you can wear them the same way.
Shop Bluchers at Beckett Simonon
Closed Lacing VS Open Lacing: What's the Difference?
So, oxford shoes have closed lacing systems, while derbies and bluchers have open lacing system, but what is the difference exactly? The image below may show it more clearly. A closed lacing system has the two eyelet tabs touching each other and ending in a single point, while an open lacing system has the eyelet tabs separate.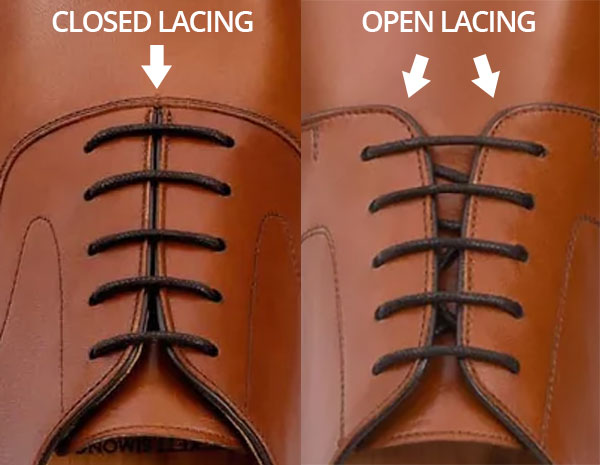 5. Brogues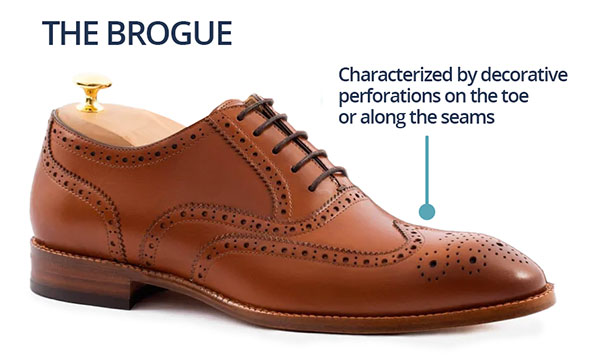 Brogues are oxfords or derbies that have decorative perforations or "broguing" on its leather. These perforations are what gives them their distinctive look. They look especially pleasing on brown dress shoes.
How formal? The perforations in brogues make the shoes look less formal, so they're not appropriate for a black-tie formal event, but brogues are otherwise quite versatile. They look great with a business suit, so feel free to wear them to work. But you can also pair them with jeans and dress up your casual wear.
Shop Brogue shoes at Beckett Simonon
6. Monk Strap Shoes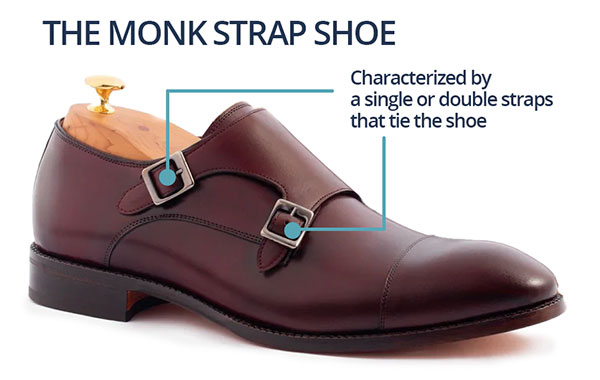 Monk strap shoes are a type of dress shoe that feature a strap across the top of the shoe and buckles into the other side.
There are two main types of monk strap shoe: Single monk straps and double monk straps. Single monk straps have one strap across the top of the foot, while double monk straps have two straps.
How formal? Monk strap shoes are casual shoes that you can wear with a suit, dress pants or chinos. They are a great option to wear as business casual shoes, or even to wear casually with jeans.
Shop Monk Strap Shoes at Beckett Simonon
7. Dress Boots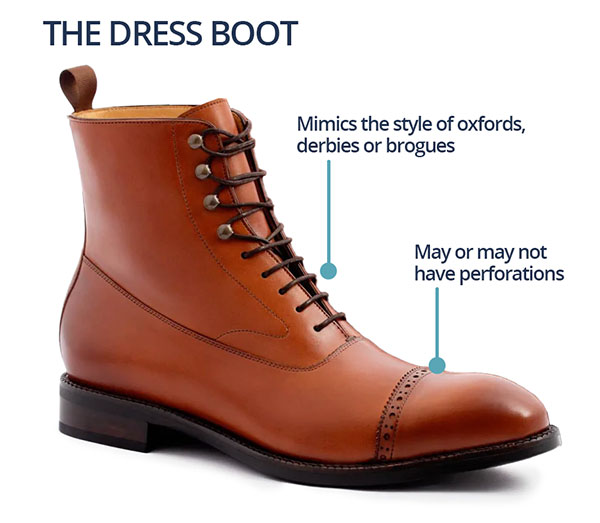 Dress boots mimic the style of other men's dress shoes, such as oxfords, derbies or brogues, but have higher ankles. A dress boot is typically made from higher quality leather than casual work boots, and they have a sleeker silhouette. They often feature a cap toe or wing tip with more sophisticated details, such as broguing or lacing.
You may want a pair of these in your wardrobe for the colder seasons.
How formal? Dress boots are fine to wear in a business professional ensemble, but are not a good match for a tuxedo. How formal they look depends on the boot's style. A polished black leather oxford boot looks dressier than a perforated brogue boot.
Shop Dress Boots at Beckett Simonon
8. Loafers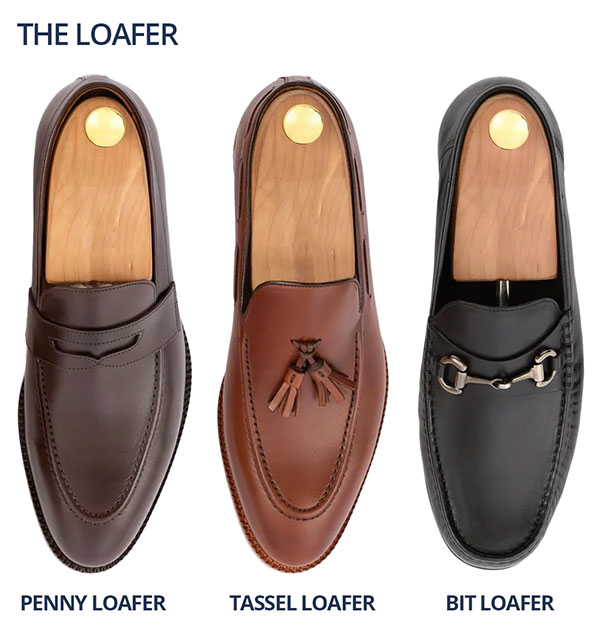 Loafers are slip-on dress shoes with no laces. As the name implies, these are a more casual type of dress shoes meant for loafing, or aimless wandering. They are typically the most comfortable dress shoe.
There are three main types of loafers: penny loafers, tassel loafers, and bit loafers.
Penny loafers have a leather strip across their vamp, which has a small cutout. Legend has it that men used to put pennies here for telephone calls.
Tassel loafers have non-functional laces that go around the shoes and are tied in a tassel on the front of the shoe.
Bit loafers have a piece of metal across their vamp. These are also known as Gucci loafers, because the luxury brand invented these.
How formal?  Loafers are shoes meant for casual dress. You can dress them up with a blazer or suit for a smart casual or business casual look, but they'd look out of place for anything more formal.
Shop Loafers at Beckett Simonon
9. Chelsea Boots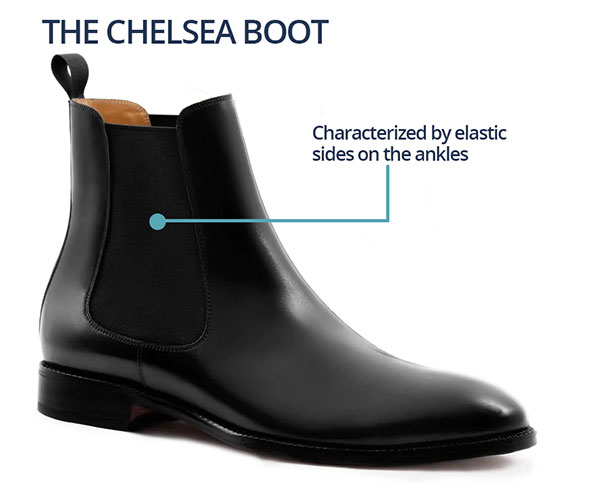 The Chelsea boot is a laceless boot characterized by the elastics on the ankles, which makes them easy to slip on. These are versatile shoes that you can easily dress up and down.
How formal? Chelsea boots are more casual, not appropriate for black-tie, but you can wear them with a business suit for work. They are also a good option to polish up your casual clothes.
Shop Chelsea Boots at Beckett Simonon
Special Mention: Opera Pumps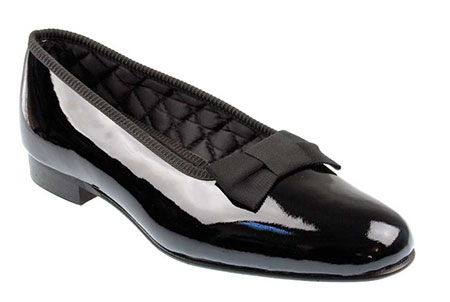 Opera pumps are black dress slippers made from patent leather or velvet, that sometimes have a silk bow on top. I didn't add them to the main list, because they are such a niche shoe, most men would have no need for a pair of shoes like this in their wardrobe.
How formal? These are the most formal dress shoes. They are only appropriate for white-tie or black-tie formal wear, and are typically worn with a tailcoat or tuxedo.
2 Shoes That Are NOT Dress Shoes (But Often Are Confused As Such)
The Chukka Boot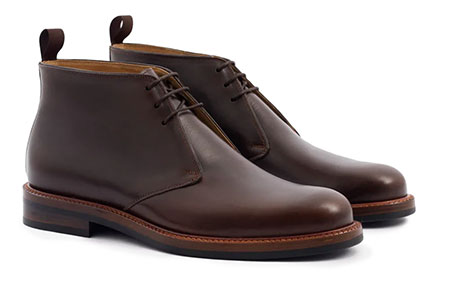 Chukka boots are a casual type of leather shoe not traditionally meant to be worn with a suit. You can see them more as an alternative to sneakers than an alternative to derbies. They are great to wear smart casual, but they are not dress shoes.
(The same goes for the desert boot, which is an even more casual shoe.)
While you can wear chukka boots (especially leather variants) with suits and other dressy outfits, these shoes are not dress shoes. You can wear sneakers with a suit these days and that doesn't make them dress shoes either.
The Dress Sneaker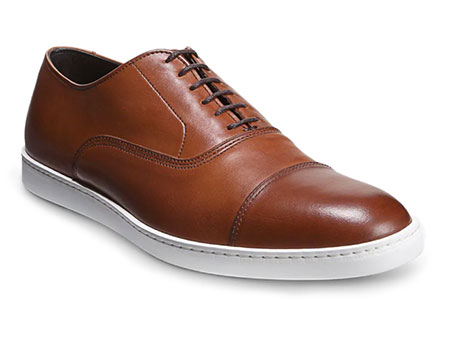 Dress sneakers are a type of sneaker made of leather or suede with a rubber sole. Sometimes, their uppers are styled like oxfords or derbies.
This shoe style is designed to look like dress shoes, but that doesn't make them dress shoes. You can dress them up with the right outfit, but the shoes themselves are too casual. 
5 Additional Factors That Determine the Formality of Dress Shoes
We have discussed and ranked the different types of dress shoes by formality, but you have additional factors to consider. While oxfords are the most formal shoe, a black leather derby shoe will look dressier than a wingtip oxford made from blue suede.
Here are a few:
Leather: The more sleek and shiny the leather dress shoe, the more formal it looks. The more rugged, the more casual. Suede is a more casual leather-type.
Details & perforation: The more details and perforation a shoe has, the less formal it looks.
Sole: The chunkier the sole, the more casual the shoe. Leather soles look more formal than rubber soles.
Color: Black, dark brown, oxblood and burgundy are more formal colors. Other colors and lighter tones are more casual. Black dress shoes are the most formal shoes.
Multi-Tones: When a shoe has multiple colors (even if it's just the sole that's a different color) they look more casual.
Types of Dress Shoe Toes: The Different Shapes and Styles
Lastly, we'll discuss a few of the different toe shapes and styles that men's dress shoes come in.
Toe Shapes:
Round toe dress shoes end in rounded shape, though, how rounded varies from shoe to shoe. They are typically a comfy fit as they provide ample space for your toes (though they come in narrow elongated styles as well).
Almond toe dress shoes have a longer shape that tapers towards the toes. They can have a rounded or chiseled end.
Pointed toe dress shoes have a rare toe style that elongates into a point.
Square toe dress shoes make you look like you got our toes cut off in a lawnmower accident. It is a clunky toe style that you want to avoid. Most people consider this toe to look ugly and it's most commonly found on cheaper shoes.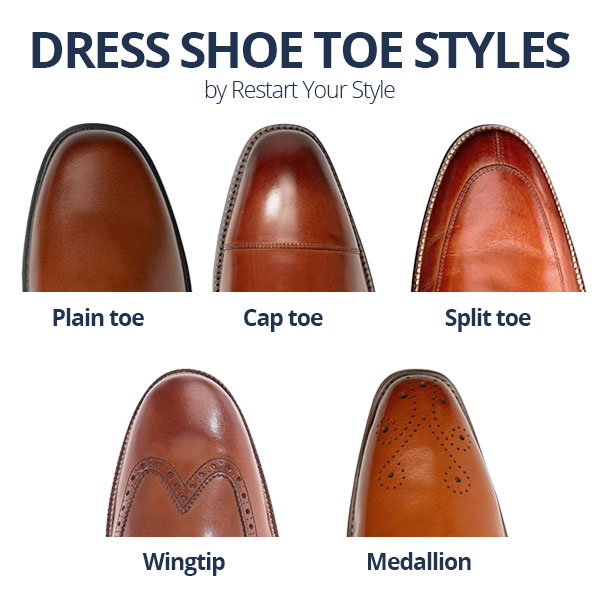 Toe Styles:
Plain toe dress shoes, as the name suggests, have no fancy detailing or embellishments on their toe. Plain toe shoes tend to look more formal.
Cap toe dress shoes have a small piece of leather "capping" the toe. These are often found on oxfords and derbies and tend to look more formal.
Split toe dress shoes have a seam that splits the toe area into two separate sections, which wrap around the sides. This toe style is more common on casual shoes.
Wingtip dress shoes have a cap on the toe in the shape of a wing. This cap has a point in the middle and extends to the sides. This style is often paired with perforation and seen on brogue shoes. While it can be dressed up, this is a more casual style of toe.
Medallion toe shoes have a plain toe, but with perforations. The look more casual but can be dressed up, depending on the material.
Find the Best Type of Dress Shoe for the Occasion
With this list, you should be able to find the right type of dress shoe that you need for any occasion. Whether you want the right shoe for the office, for a date, or for a black tie dinner, let this guide help you decide which shoes are appropriate and which aren't.
Did You Find That Useful? Then Check This Out…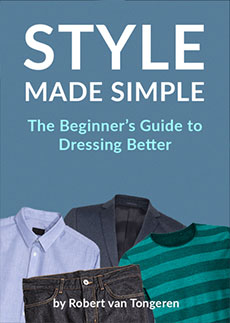 I wrote a men's style guide that simplifies the art of dressing well, focuses on what matters, and takes you through it one step at a time. Enter your e-mail below and you'll receive three free chapters, which will show you: