What Color Shoes to Wear with Khaki Pants?
Khaki pants are a men's wardrobe staple and an awesome casual alternative to jeans. But what color shoe can you wear with khakis?
While brown is the most flattering shoe color to wear with khakis, it's not your only option. Other great shoe colors to pair with khaki are burgundy, navy or white. You can also go with different colors of sneakers, since khaki is a neutral. On the other hand, black shoes shouldn't be your first choice.
Below, we'll discuss the best color shoes to wear with khaki pants, why they work so well, and anything you'd have to keep in mind when pairing the right shoes with your pants.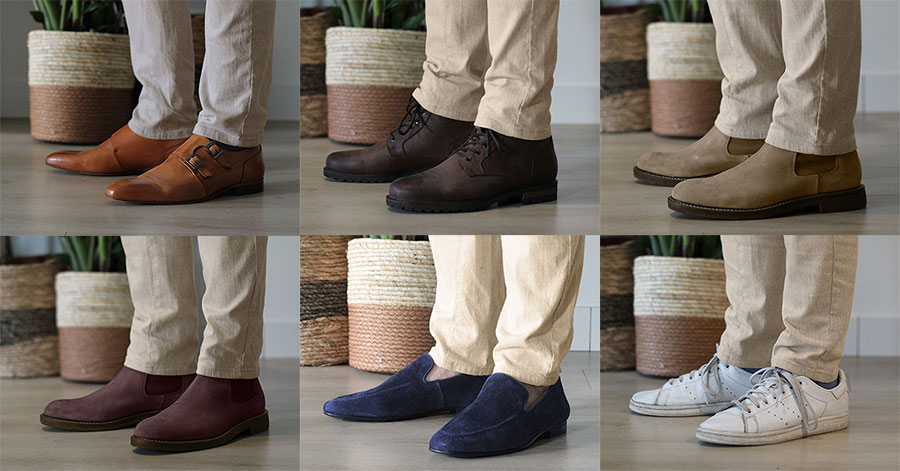 Note: This article may contain affiliate links. That means if you click a link and purchase something, I earn a small commission, at no additional cost to you. All opinions are my own.
The Best Combination: Brown Shoes with Khaki Pants
Your best bet is to wear brown shoes with khaki pants. Khaki is itself a light shade of brown, and the easiest way to match your shoes is to stay within the color family. It's not just the easiest combo, but also the most flattering.
Wearing a classy brown dress shoe with khaki pants creates a cohesive, intentional appearance. You look like you know what you're doing. (Whereas, pairing khaki pants with black shoes usually looks like a mistake. More on that later.)
Tip: Make sure that you match your brown shoes with brown belt!
Medium Brown Shoes with Khakis
One of my favorite combinations with khaki dress pants is leather cognac shoes, but other medium browns like chestnut or copper look just as great.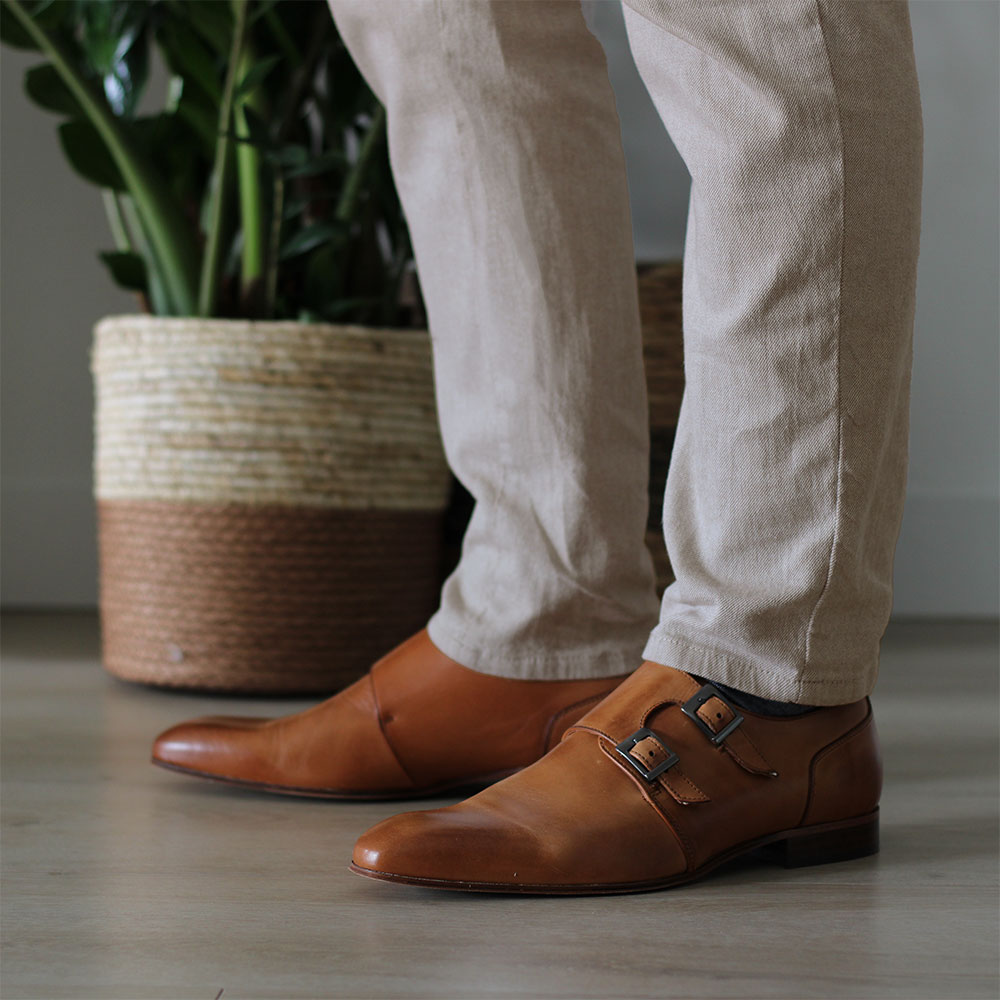 Dark Brown Shoes with Khakis
A deep chocolate brown creates an awesome contrast with your khaki pants. Whether you go with work boots or a classy pair of dress shoes, dark brown is an excellent choice.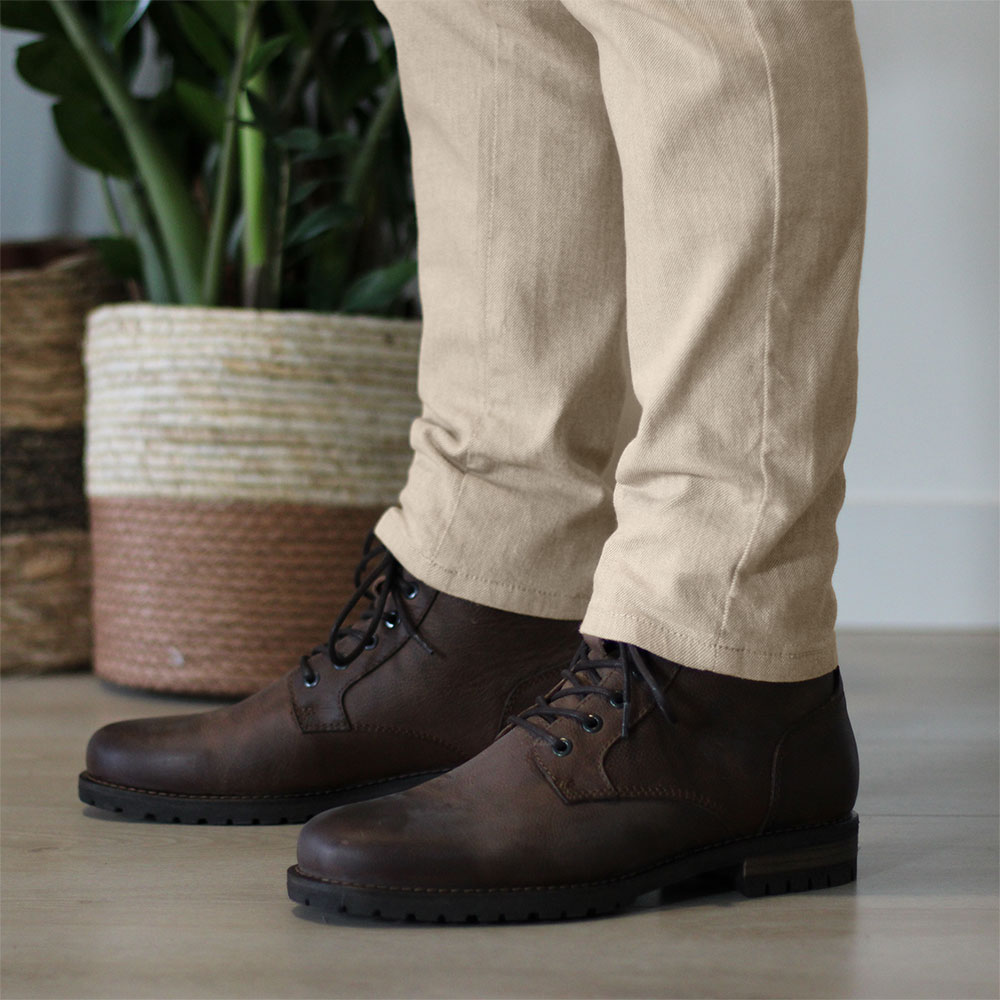 Light-Brown Shoes with Khakis
Beige shoes, tan shoes, or light taupe shoes can look good as well, as long as you have at least some contrast between the shoes and the pants. Otherwise, the leg will look like it lengthens into the foot.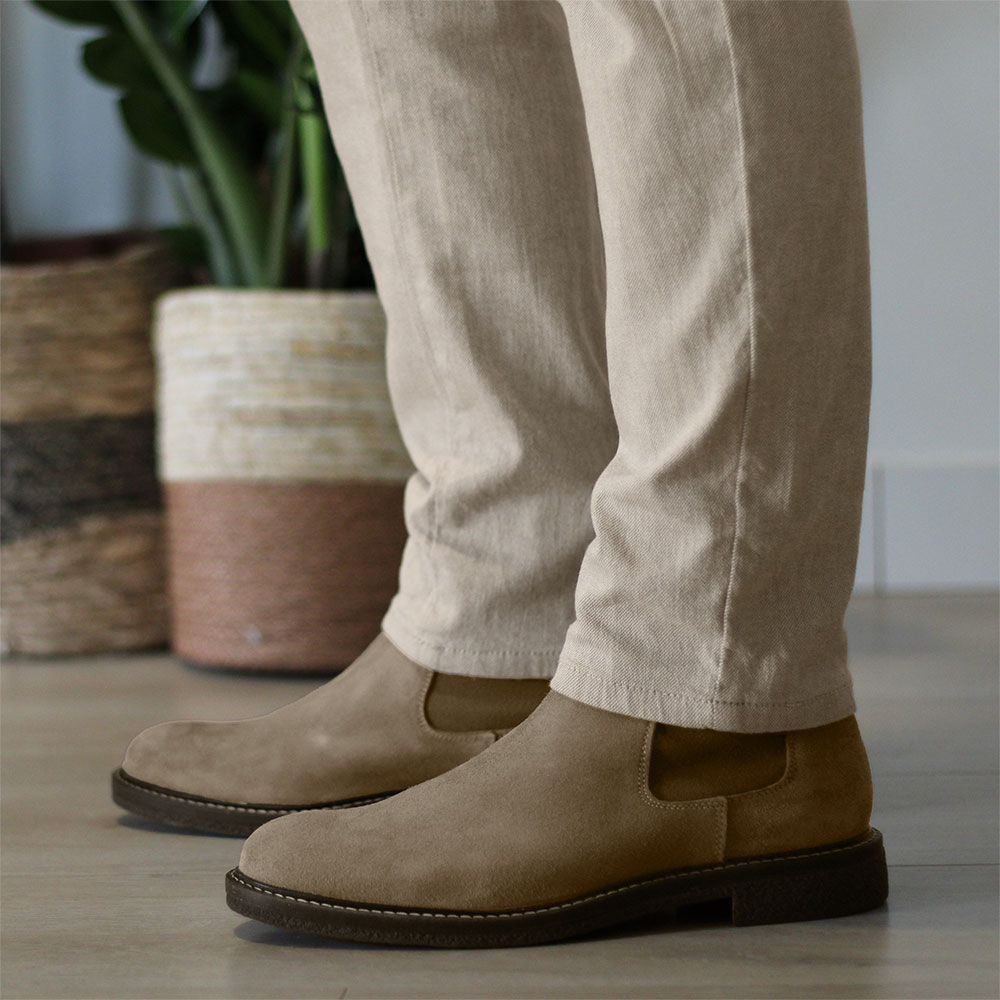 The Runners Up: Oxblood / Burgundy Shoes
It should come as no surprise that oxblood and burgundy are the next best shoes to wear with khaki trousers. They are brown's closest cousins!
They are both dark shades of red that pair exceptionally well with a light brown like khaki. They are often mistaken for each other, but they have key differences. Burgundy has more purple undertones (and is often described as a purplish red), whereas oxblood is generally darker and leans more towards brown on the color spectrum.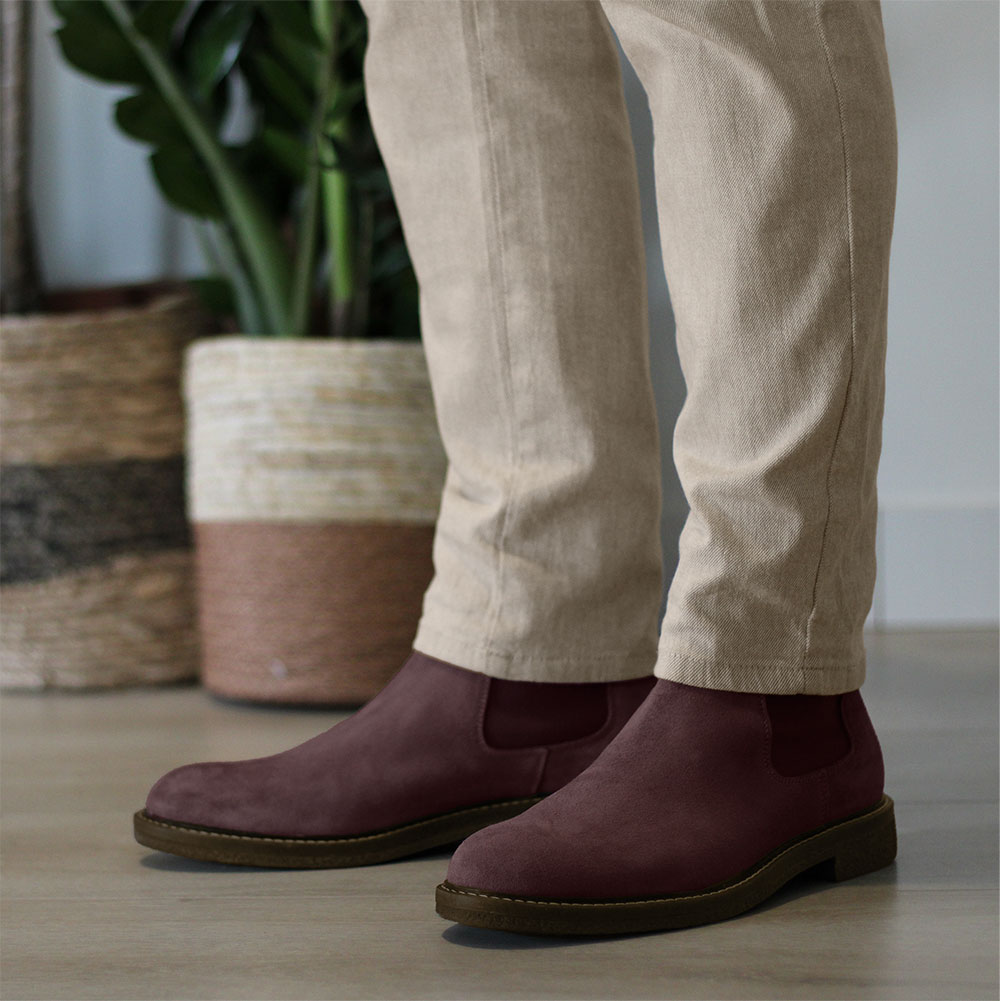 Navy Shoes with Khaki Pants
One of the biggest staples in men's style is to pair khaki pants with a navy blazer. Clearly, they would pair equally well with navy shoes — especially for casual wear.
Navy and khaki are complementary colors, which is why the colors go so well together. They provide a perfect appealing contrast.
Combine your khakis with a pair of navy suede loafers or boat shoes for a preppy look. Alternatively, wear navy plimsolls for something more casual.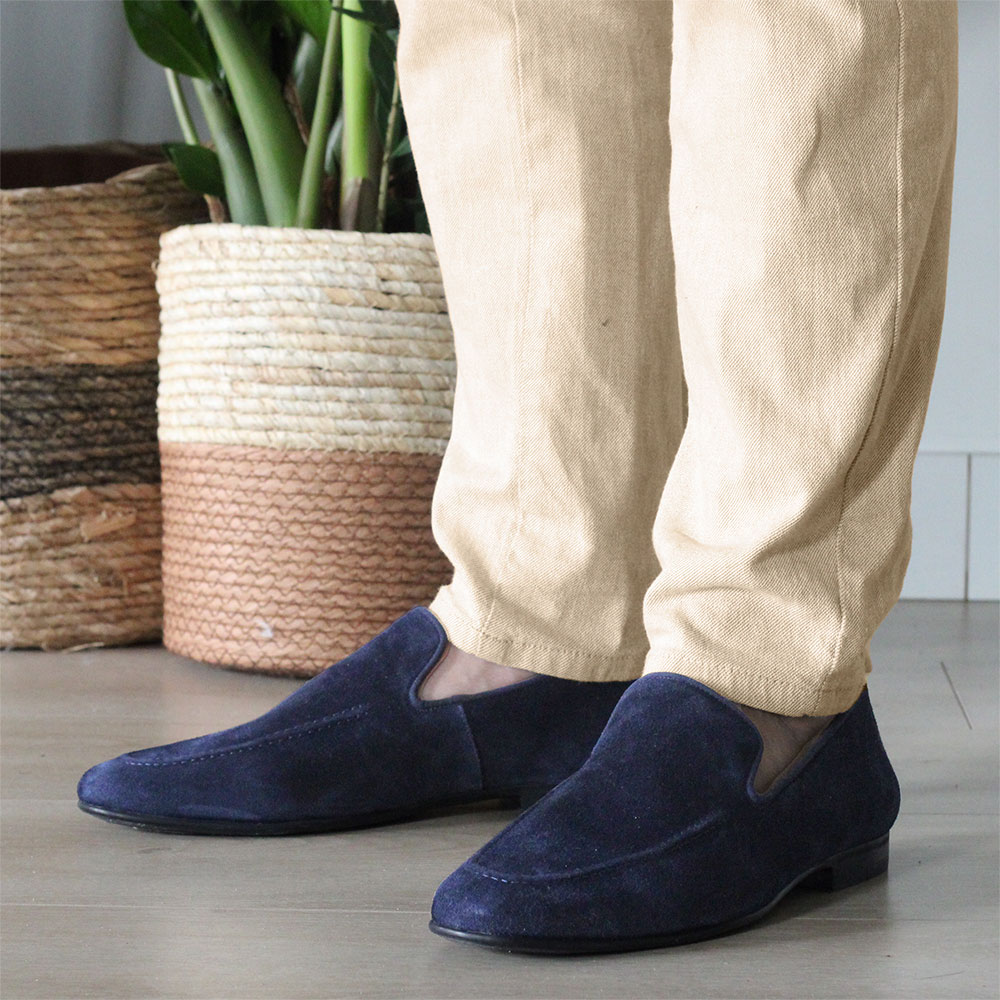 White Sneakers with Khaki Pants
Go ahead and wear your favorite white sneakers with khaki chino pants for a more casual outfit. Both white sneakers and khakis are among the most versatile wardrobe essentials that you can match with almost anything, including each other.
Bonus points if your white sneakers look a bit worn in (but not overly beat up).
Of course, you wouldn't wear this to the office (unless they have a casual dress code), but this is a good look for any casual occasion.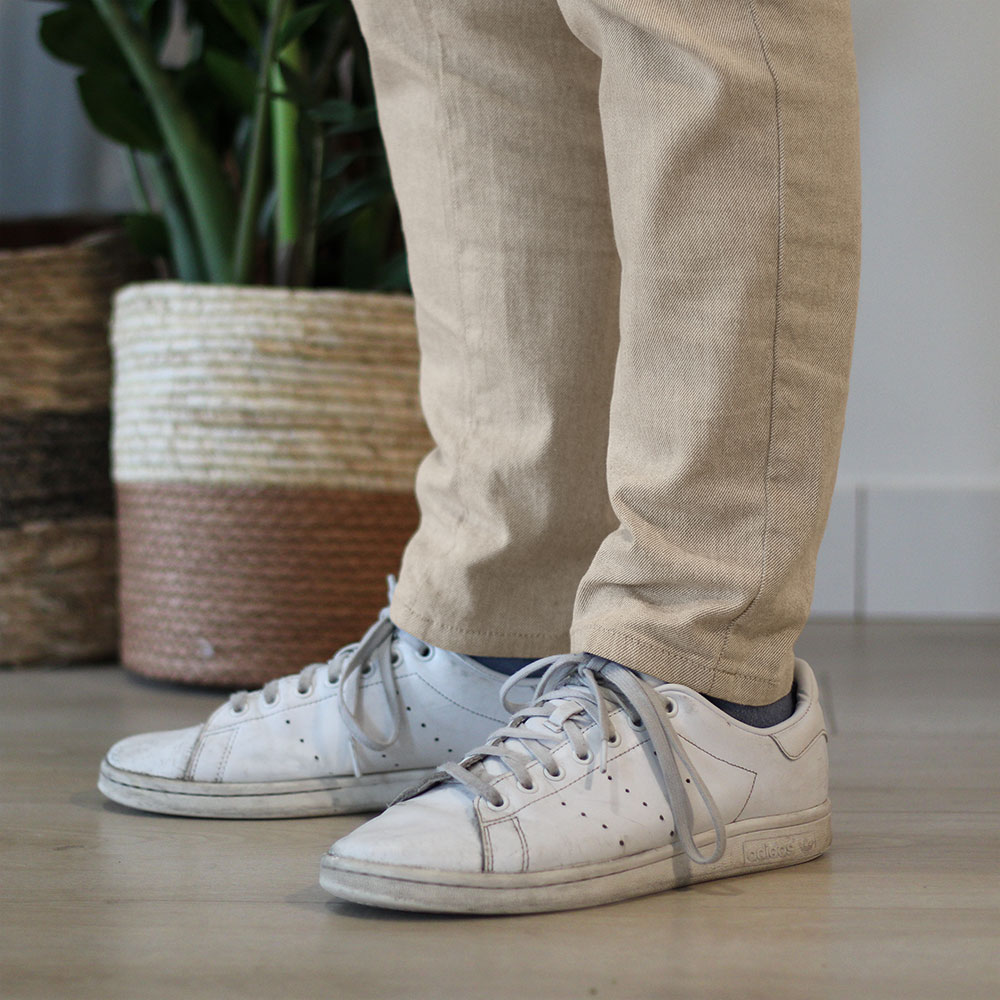 Note: When you wear white sneakers with khaki pants, you don't need to match the belt to your footwear. Rather, I suggest you opt for a brown belt that's slightly darker than the pants, or a canvas belt.
Colored Sneakers with Khaki Pants
You can also go with colored sneakers for a youthful casual look. Red, green and blue shoes can work especially well with khaki chinos. However, the shoe color needs to complement the rest of your outfit.
An easy way to wear colored sneakers with khakis?
Keep the rest of the outfit neutral. For example, if you wear red shoes with your khakis, you can wear a simple white shirt or grey t-shirt. Alternatively, wear another item in the same color family as your shoe, e.g. green shoe with a green t-shirt. (Though, don't obsess about being overly matchy-matchy.)
You might also like to know:
Should You Wear Black Shoes with Khaki Pants?
For ages, one of those unwritten style rules was not to wear khakis with black dress shoes. However, many of the old style rules have been rewritten or thrown in the trash.
So how about wearing black shoes with khaki pants?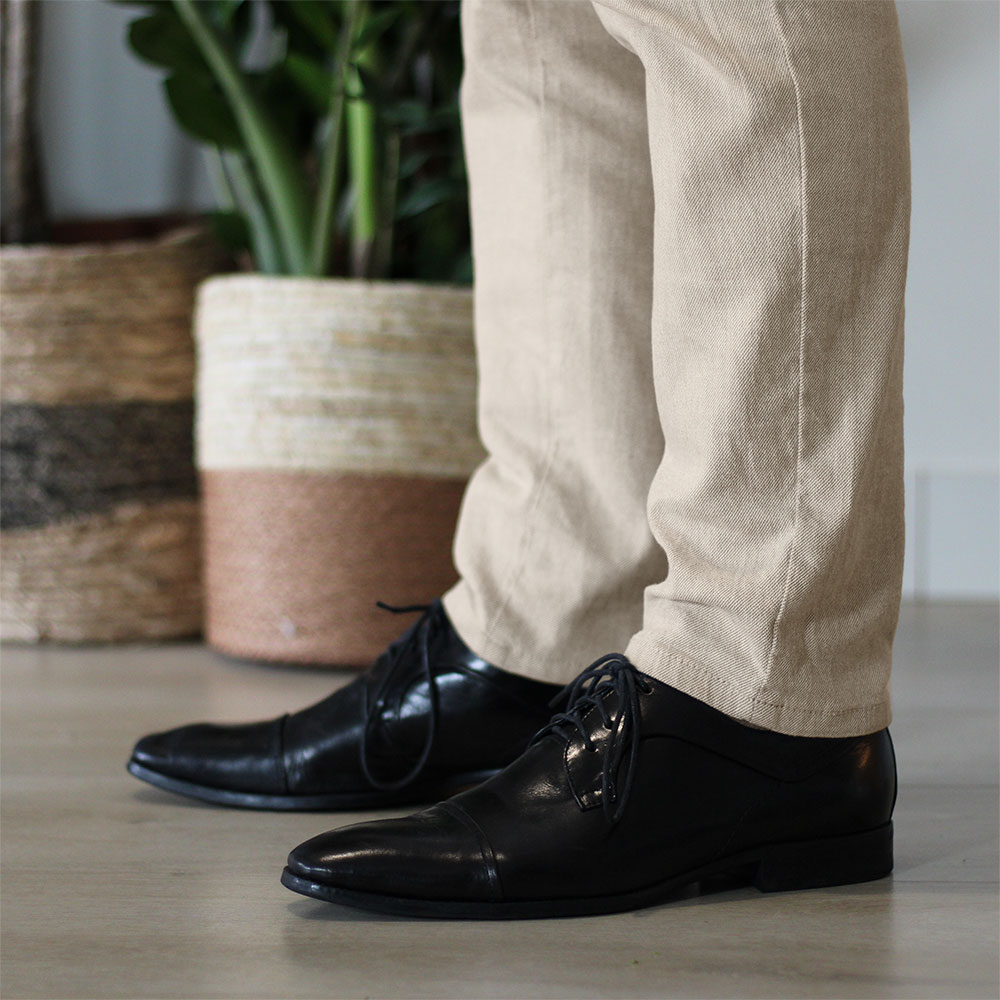 Well, most guys shouldn't try this combination. Theyre just not the best shoes to wear with khakis.
Unless your fashion eye is finer tuned than most, this combination is a likely recipe for disaster. The risk/reward ratio is heavily skewed towards risk here, fellas. Essentially, there's about a 99% chance that black shoes with khaki trousers will look awful. If you're one of the 1% who pulls it off, the outfit would still look better with brown shoes.
In fact, when you wear black leather shoes with khakis, you'll mostly look like you don't own a pair of brown shoes and are making do with what you have.
You've been warned, but if you want to try it anyway, keep the following tips in mind:
The pairing of black shoes with khakis is safer the more greyish the khakis look.
It works better with sleek shoes that are okay with being the center of attention.
Black shoes tends to work better with light rather than dark khaki pants. (Still not ideal though.)
Black loafers or moccasins are safer because your skin serves as a buffer between the shoes and the khaki pant leg. For the same reason, you could easily wear a black shoe with khaki shorts.
Black sneakers can be okay, especially when paired with a black shirt.
Don't wear black socks with khaki pants. Match your socks to your pants, not your shoes. A darker shade of brown would work better.
With that said, if you have any other shoe option from this list available, I'd highly suggest picking that instead. Your black shoes will look more flattering with black pants.
What Type of Shoes Should You Wear with Khakis?
The world is your oyster, my friend. Khakis work with just about any type of shoes. Some of the best combinations are with:
Brogues
Loafers
Chukka boots
Chelsea boots
Plimsolls
Monk strap shoes
Sneakers
What Socks Should You Wear with Khaki Pants?
You may have heard that you should match your socks to your pants and not your shoes. So does that mean you should wear khaki socks?
The truth is that your socks shouldn't exactly match your pants, but rather complement them. The standard is to go one shade darker than your pants, so you'd opt for a darker shade of brown in this case.
If you're wearing a navy, white or colored shoe, you might also opt for a patterned sock that combines both colors. This can look incredibly flattering. For example, if you wear white shoes, your sock might have a brown argyle pattern with streaks of white. If you wear navy shoes, your socks might have a navy-brown stripe pattern.
With that said, if you're wearing brown shoes with khakis, you can also have some fun with it and wear a contrasting color like olive, red or purple.
So… What Color Shoes with Khaki Pants?
Ultimately, the choice is yours. Brown is a safe and flattering options, but any of the other shoes on this list will make a great combination with your khaki pants.
Burgundy can give your look just a bit more panache than the usual brown though. Navy and khaki as a combination never lets you down. And don't be afraid to just slip on your favorite white or colored sneakers.
Khaki is versatile enough to go with just about anything (besides black).
Did You Find That Useful? Then Check This Out…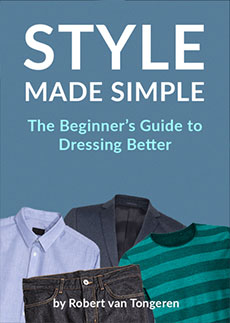 I wrote a men's style guide that simplifies the art of dressing well, focuses on what matters, and takes you through it one step at a time. Enter your e-mail below and you'll receive three free chapters, which will show you: