What Color Shirt Goes with Khaki Pants? The 7+ Best Matches
Khaki pants are a versatile fashion staple (and an awesome alternative to jeans) but what color shirt should you wear with them?
Khaki pants can go with almost any shirt color, but match especially well with light blue, navy, white and burgundy shirts. Other flattering shirt colors include pink, light green, salmon and lavender. For T-shirts, you can add red, yellow and brown to the list.
In this post, we'll explore several simple outfit ideas for you to try. We'll show you the most flattering khaki pants and shirt color combinations, why they work so well, and offer you some examples.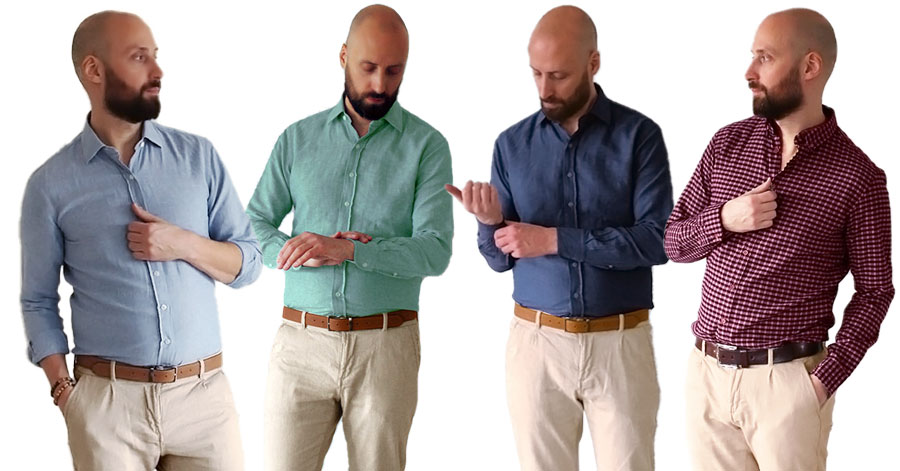 What Goes with Khaki Pants? The 7 Most Flattering Shirt Combinations
When you style khaki pants — whether it's shorts, dress pants, or khaki cargo pants — the color shirt you choose is essential to complete the look. A well-chosen shirt can enhance the overall outfit and make you stand out in the crowd. On the other hand, a poorly chosen shirt can ruin the entire ensemble. Therefore, it's essential to select the right color shirt that complements khaki trousers.
Read also: What Shoe Colors Go with Khaki Pants?
Khaki Pants with Light Blue Shirt
A light blue shirt is a versatile option that complements khaki pants. It's a classic pant color that never goes out of style. You can wear different styles of a light blue shirt for any occasion, be it a formal event or a casual day out.
For example, a light blue dress shirt looks great for smart casual and business casual attire, while a chambray shirt or denim shirt is an excellent option for a casual outfit. (Bonus tip: A denim jacket looks great with khakis as well!)
Khaki Pants with Navy Shirt
Navy and khaki are colors that go together like peanutbutter and jelly. These are perfect complementary colors on the color wheel and look outstanding when paired together. It's one of the best shirt colors for khaki pants.
Plus, navy complements almost every skin-tone, so you don't have to worry about wearing a color that doesn't suit you.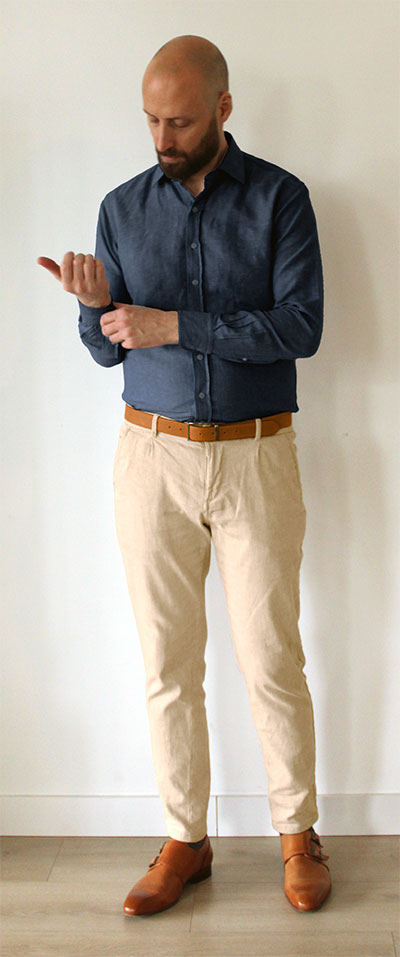 Khaki Pants with White Shirt
A white shirt is a timeless wardrobe staple that goes with anything. The combination with khaki dress pants or chinos is flattering, but can also look a bit dull.
The key to avoid looking like you're going for your first day at an office is a classy pair of dress shoes and/or a few additional accessories like a nice watch or bracelet. You can also roll up your sleeves for a less formal look.
Khaki Pants with Burgundy Shirt
I generally wouldn't recommend a bold red dress shirt, as it tends to look too try-hard. However, more toned down shades in the red color family look amazing with khaki. Burgundy is one that exudes luxury, and its rich hue is perfectly complemented by khaki trousers.

Khaki Pants with Pink Shirt
You should try to pair khaki pants with a pink shirt. You may be surprised how good it looks on you.
Pink a fresh and youthful choice that's perfect for spring and summer. Wear it with brown shoes and a brown leather belt for an eye-catching outfit.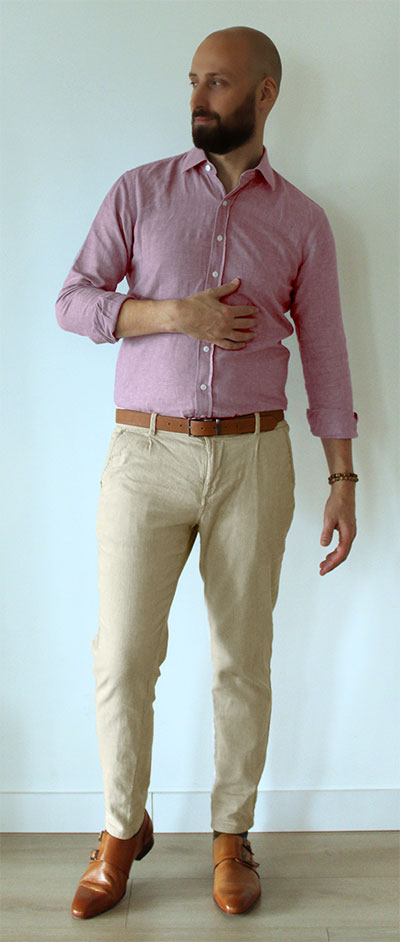 Khaki Pants with Light Green Shirt
Light green is a refreshing color that looks great with khaki chino pants. It's an excellent choice for a casual look.
Medium or dark greens can also be worn with khaki, but look better in the form of a T-shirt. Otherwise, you may give too much of a park ranger vibe. For a dress shirt, a lighter shade looks better.

Khaki Pants with Lavender Shirt
Lavender is a soft shirt color for khaki pants that you don't see a lot, which will give your outfit a touch that feels unique.
Since it's such a bold choice, it's wise to anchor the color with something more toned down. A neutral color of pants like khakis make the perfect companion.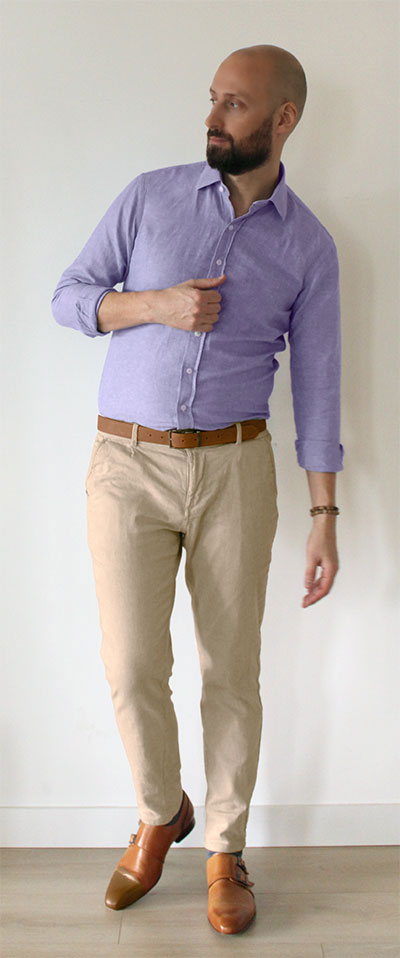 4 Additional T-Shirt Colors to Wear with Khaki Pants
Khaki is a neutral pant color that matches with almost any color, but some color don't work as well for button-up shirt as for t-shirts. Below we'll explore some additional t-shirt colors you can wear with khakis.
Khaki Pants with Red T-Shirt
A red shirt is a bold and eye-catching choice that can make you stand out. It's an excellent option for a night out or a party.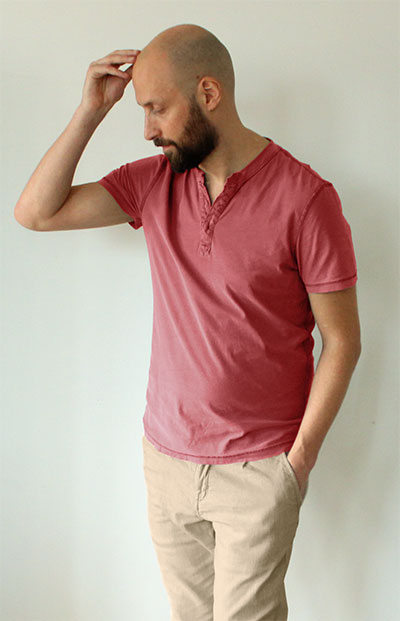 Khaki Pants with Yellow T-Shirt
Yellow is a bright and cheerful color that looks great with khaki pants. It's an excellent choice for a sunny day out.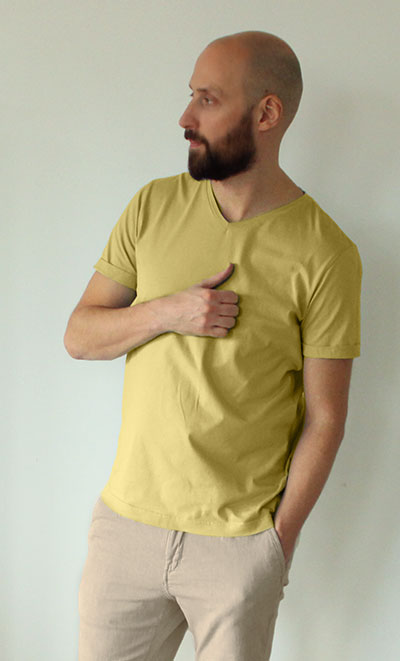 Khaki Pants with Dark Green T-Shirt
Colors that often appear together in nature tend to look pleasing to our eyes. So does pairing khaki pants with different shades of green.
Wearing a dark green polo shirt or dress shirt may give off the park ranger vibes mentioned earlier, but with a henley shirt or T-shirt you should be fine. And as you can see, the combo look awesome.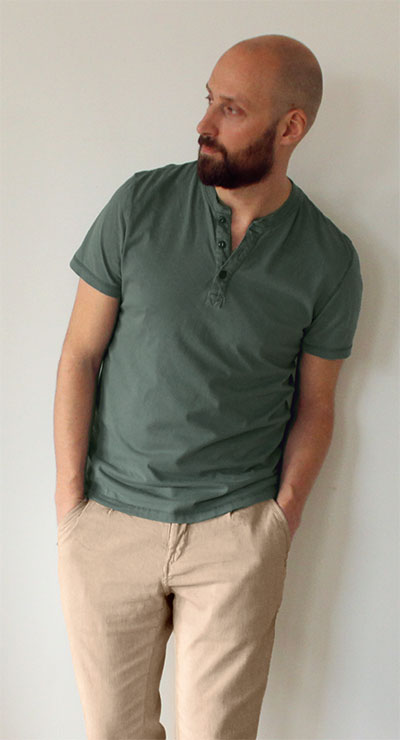 Khaki Pants with Brown T-Shirt
And of course, staying within the color family of brown is always an easy option. Wearing a dark brown T-shirt with khaki pants gives you a down-to-earth look (almost literally with its earthy tones).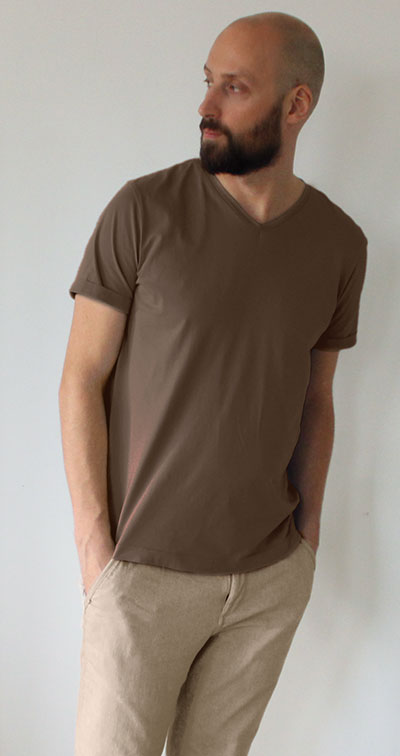 FAQ about Shirt Colors with Khaki Pants
Which Shirt Colors Work Best for Different Seasons?
Lighter shades like light blue, pink, salmon and light green are great choices for spring and summer, while darker colors like navy and burgundy are perfect for fall and winter.
With that said, there's no reason to limit yourself. You can absolutely wear a navy shirt with khaki shorts in the summer, especially during night time. And in winter, light color shirts make great layering pieces to wear with a sweater or blazer.
How to Match Different Shades of Khaki Pants
Khaki doesn't come in just one shade. You can find darker and lighter shades of khaki, so what should you keep in mind when pairing them?
Rule of thumb says that you want to create some level of contrast between the pants and shirt. However, it doesn't make that much difference when it comes to khaki. You shouldn't worry about it too much. All of the colors listed here should work with both light khaki pants and dark khaki pants.
Can You Wear a Black Shirt with Khaki Pants?
While you can wear a black shirt with khaki pants, the combination isn't usually the most flattering. It works better with a T-shirt than a dress shirt, but I'd still suggest any of the other colors listed here before going with black.
Which Color Shoes and Sock Should You Wear with Khaki Pants?
Brown is the most flattering shoe color to wear with khaki pants, but you can also opt for white sneakers or navy boat shoes. Any color mostly looks fine with khaki pants, but you should generally avoid wearing black shoes.
As for socks, you should aim to match the socks to your pants. Going with a darker shade of brown is a sure winner, but you can also opt for colorful socks that match your shirt.
You're Ready to Rock You Khaki Pants and Shirt Combinations
Khaki pants are a versatile staple because they can go with almost anything. However, now you have a list of some of the most flattering shirt colors to wear with khakis. You should have an outfit idea or two with shirts you probably already own.
Experiment with different shade and color combinations and find what works best for you and your skin tone.
Did You Find That Useful? Then Check This Out…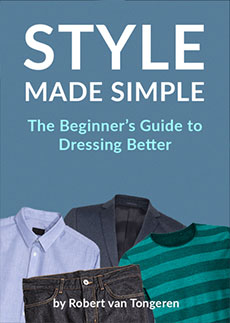 I wrote a men's style guide that simplifies the art of dressing well, focuses on what matters, and takes you through it one step at a time. Enter your e-mail below and you'll receive three free chapters, which will show you: