The 5 Best Jeans for Men with Big Thighs in 2022 (Athletic Fit)
When you have big thighs, finding jeans that fit well is hard. Most jeans are either too tight around the thighs, or they have too much space around the waist and/or ankles.
Athletic fit jeans are the exception you've been looking for. They are designed for muscular legs, but chubbier men often find they fit for them as well.
These are the best jeans for men with big thighs on the market today:
Read on to discover why you should give these jeans a try.
You are not doomed to wear baggy jeans that you have to scrunch together with your belt, just so you can fit them over your muscular thighs.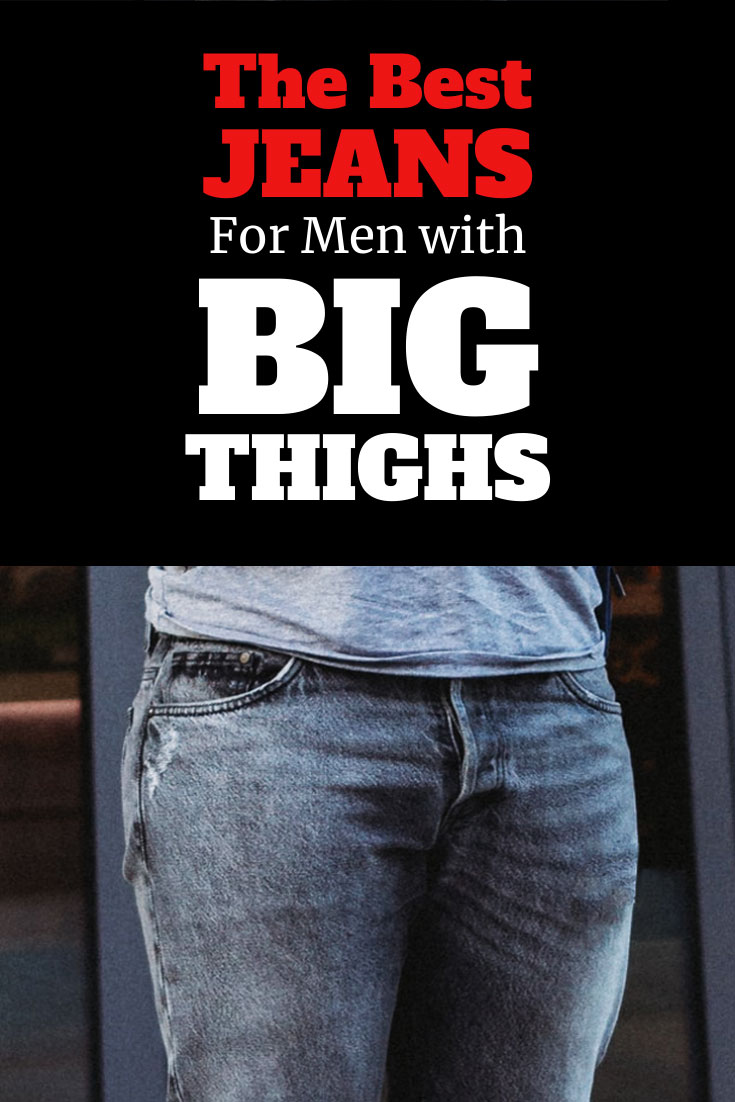 Note: This article may contain affiliate links. That means if you click a link and purchase something, I earn a small commission, at no additional cost to you. All opinions are my own.
What Are the Best Jeans for Men with Big Thighs?
Jeans made by athletic guys for athletic guys. After one of the most successful Kickstarter campaigns of all time, Barbell's designer jeans for big guys have become insanely popular in the weightlifting world.
Their vision was to create jeans for guys that lift that both fit comfortably and allow free movement without having to get tailors involved. And boy, they have succeeded.
The team behind this apparel company loves to hit the gym as much as you, and they care about their style, just like you. Their jeans come with a price-tag but they are durable, comfy and designed specifically with you in mind. Who knows, they might just be the best pair of jeans you'll ever buy.
Levi's 541 jeans are the OG of athletic fit jeans. Years after pioneering Athletic fit jeans, they still hold up as one of the best jeans for muscular thighs. Their longevity in the ever-changing fashion-world should speak for itself. Levi always offers quality.
With stretch denim and a tapered cut, these jeans provide a relaxed feel and a tailored look. These days, they come in various colors as well, so you have your pick.
Levi Strauss is widely recognized as one of the best denim manufacturers for a reason. These are definitely worth a try.
While costlier, you might find these jeans worth the price as these are considered by many among the comfiest pairs of jeans for men with thick thighs. Bonobos is well-known for their care for fit and quality and they don't disappoint with these. The fabric will stretch with your thighs without feeling tight, and the quality of these jeans is simply fantastic, from the fabric, to the stitching to every little detail.
Plus, they come in a variety of colors. (The grey looks excellent, but if you're going to splurge, you might get more bang for your buck for the more versatile dark wash.)
They might not be your first choice if you're on a budget, but if you can afford them, it might be worth splurging on at least one pair of these. You might find them to be perfect jeans for your muscular thighs.
Everlane's Athletic fit jeans offer another solid option for men looking for some extra room in the hip and thigh area. The legs are only slightly tapered, so if you're looking for something in between a straight fit and a tapered fit, these might be the jeans for you.
It's available in three colors, but it's hard to argue with this slick dark indigo pair of denim. It's good quality, especially for the price.
Gap is another go-to place if you want to score solid denim for a reasonable price.
Like most of the other jeans on this list, they offer extra room in the thigh area and a tapered leg that gives these jeans a relaxed feel but without looking baggy.
They're soft to the touch and solid quality, and with 2% elastane material, they provide a wonderful stretch.
None of These Fit? Consider Tailoring
If you tried all the jeans listed above and still can't find a pair that fits quite the way you want, you still have one other option: Tailoring.
Now, getting your jeans custom made from scratch will be expensive, and that's probably not in most of your budget. However, buying jeans off the rack and having them altered by a tailor is a good, more affordable alternative.
For example, you might find a pair of relaxed fit jeans that fit well in the waist, butt and thigh areas, but you don't like the bagginess of the straight leg cut, you can have the legs taken in and tapered.
With a good tailor, this can help you achieve a slim fit look, even if they were baggy originally.
Alternatively, you can go up a waist size or two with a straight fit or slim fit jeans, and then have the waist taken in. This is arguably a simpler procedure, but also can make the jeans look a bit wonky in the seat area if the waist is taken in too much. If you'd need to cut out more than one or two inches of denim, it's not worth it.
Best Material for Jeans for Large Thighs?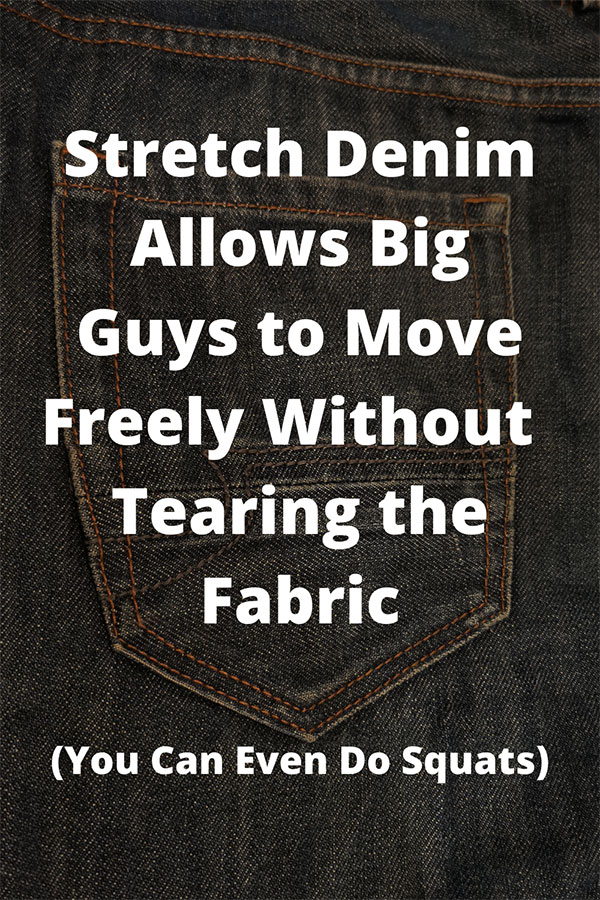 When looking for men's jeans for big thighs, the bets material you can get is stretch denim. When shopping, check the label of the jeans you plan to buy — or when online shopping, check the product description — to see that it has 1-2% of elastane (a.k.a. spandex).
Stretch denim has more flexibility than regular denim, which means you can move around freely without worrying about tearing the fabric. (Seriously, you can squat all the way down in stretch denim without any problem.)
You actually want to go for a tight fit — a bit tighter than you'd prefer — because the denim will stretch permanently as you wear and move around in it.
That means the jeans will shape themselves to the shape of your legs, which will make them look perfectly form-fitting on you.
What Is the Best Jeans Fit for Guys with Big Thighs?
Knowing how jeans should fit is a must, no matter whether you're a skinny, muscular or fat guy. These are some basic guidelines:
The waist of your jeans should neither be too tight or too loose. When it's too loose, you'll find yourself having to pull it together with a belt, which will give your jeans a fugly scrunched up look.
They shouldn't fall down when you wear the jeans around the waist without a belt, but they also shouldn't be pinching. When you walk around, it shouldn't feel like it's dropping. You should be able to put two fingers in the waist and move them side to side.
For the ultimate look, the jeans should feel a bit tight around your athletic thighs. As mentioned earlier, with stretch denim, the material will give to your thighs with wear quite quickly. Then, you want the jeans to taper down to your ankles. (Hence, why many of the jeans listed are called "Athletic taper jeans".)
As for length, if they're too long, you'll find that the jeans will bunch at the ankles. Instead, you want just a slight break. The fabric should end around halfway down the back of your shoe.
Can Guys with Big Thighs Wear Skinny Jeans?
You'll have a hard time finding well-fitting skinny jeans for muscular legs. You're better off trying for straight fit, slim fit or athletic fit jeans. These types of jeans are more suited to your build. Skinny jeans will feel too tight and you'll struggle to pull them over your big thighs.
Besides, if your jeans fit your legs well, you achieve a similar appearance as with skinny jeans.
What Color Jeans Should Big Guys Get?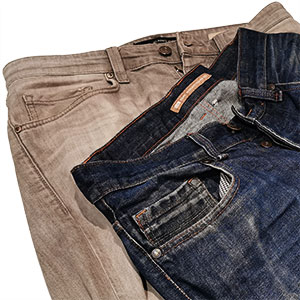 Now, when it comes to jeans for men with muscular thighs, you'll also find fewer options when it comes to color.
That's okay though. You don't need a pair of jeans in every color of the rainbow. In fact, I'd suggest you stick only to the basics:
Dark Navy / Dark Indigo
Black
Grey
These are the best jeans colors for men and will look good on anyone.
Go for a dark navy and black jeans can very easily be dressed up and down, making them incredibly versatile. You can wear them with business casual shoes, a dress shirt and blazer for a smart casual look, or with a T-shirt and white sneakers for a more casual look. Either way, they look great.
Grey jeans are more appropriate for casual outfits. You can still dress them up, but the outfit overall will look more casual than with navy or black jeans. Still, they are a good alternative for when you want to switch things up a little.
So what about light blue jeans?
Well, they can be pulled off well if you know what you're doing style-wise. Too often though, I see men wearing light-blue jeans that create that detested "dad jeans" look. That's why I would recommend to just avoid them altogether.
If you want to wear light blue legwear, you're better off trying to find some regular pants for guys with big thighs.
6 Men's Jeans You Should Never, Ever Wear
I've covered the best jeans for big men and what you should look out for when buying jeans, but let's also talk about what you should avoid buying (unless you want to make a fool of yourself).
The first type of jeans to avoid is:
1. Baggy Jeans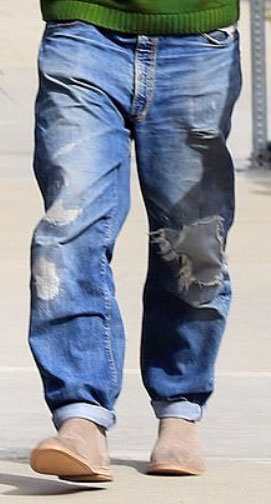 Since getting well-fitting jeans is hard for men with muscular legs, they often opt for baggy jeans because at least they provide enough room to move around in.
But baggy jeans are the most unflattering jeans you can wear. They will hide those glutes you worked so hard for and make your ass look soggy.
Wouldn't you rather wear a pair of tapered jeans that accentuate those muscular legs? Then don't wear baggy jeans.
2. Bootcut Jeans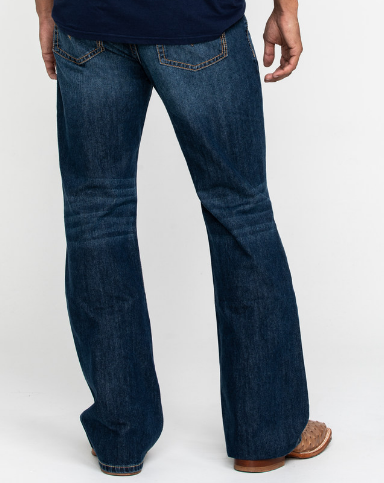 Bootcut jeans are also not a recommended style of jeans for men with big thighs (or any man for that matter).
These are jeans designed to enhance curves — meaning, they will make you look more feminine.
Did you spend so much sweat at the gym to develop more feminine legs? Your intention was to look more like a woman?
I doubt it. So don't wear bootcut jeans.
3. Acid Washed Jeans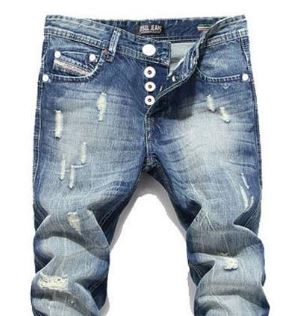 Acid wash jeans grab attention, and that's why many unfortunate men are so keen to grab these off the rack. But listen, my friend.
These jeans are far too loud to be worn by any respectable, stylish man. They're the kind of jeans a teenager wears who's desperate to get noticed.
However, these jeans will attract more ridicule than attention. The only thing they'll achieve is drawing attention away from the athletic body you built.
If you don't want to look try-hard, avoid acid-washed jeans.
4. Overly Faded Jeans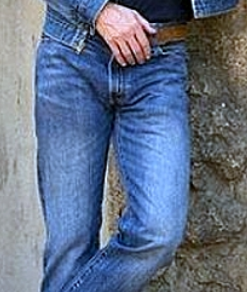 These are the slightly less egregious cousin of the acid washed jeans. Now, don't get me wrong. There's nothing wrong with a little fading, but when the fading contrasts so much it doesn't look natural anymore, it creates the same try-hard look as acid-wash.
That's a golden rule to keep in mind.
You don't want your jeans to look unnaturally altered. You want jeans that look like they were naturally faded.
In other words: faded jeans that look natural are fine.
5. Overly Ripped Jeans
These days I see men walking around with gaping holes in their jeans, to the point their entire knees are exposed.
Case in point:
Don't be tempted to follow this ridiculous trend, as it is just that: a trend. It will go away, and then you'll just be left with (half of) a pair of jeans that you can never wear. It's much better to stick with classic styles.
But even before this trend got out of hand, ripped jeans were a thing. And the same rule as above applies: Keep it looking natural.
Don't go for jeans with huge rips, but slightly distressed jeans are okay.
6. Embellished Jeans
If you ever find yourself holding a pair of embellished jeans in your hand and thinking about buying them, slap yourself in the face and vow to never entertain such reckless ideas again.
Embellished jeans are the worst of the worst. A one-stop ticket to style-prison.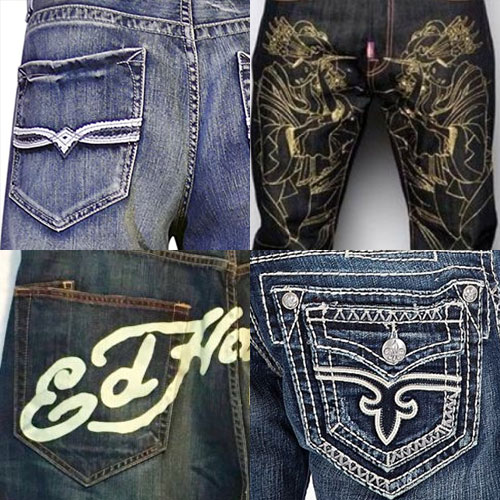 I'm talking about the jeans with embroidery, giant logos, overly contrasting stitches, or god-forbid, bedazzling.
Yes, guys are wearing rhinestones, for crying out loud.
No. Just say no.
Try Different Options to Find the Perfect Men's Jeans for Your Big Thighs
Finding a pair of good jeans may be harder for your athletic build, but it's not impossible.
It might take trying a few different options, but in the end, when you find that pair of jeans that's just right, it'll be well worth it.
I've given you the 5 best jeans for men with big thighs that are currently on the market. I hope one of them will give you the fit you're looking for. If not, I hope you'll give tailoring a try. It has helped plenty of other men (including myself) with hard-to-fit body-types.
You worked hard in the gym for those thighs and glutes. Take the time to find jeans that show them off a bit.
Did You Find That Useful? Then Check This Out…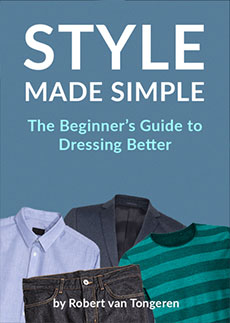 I wrote a men's style guide that simplifies the art of dressing well, focuses on what matters, and takes you through it one step at a time. Enter your e-mail below and you'll receive three free chapters, which will show you: