What Are Athletic Fit Jeans? (And How to Wear Them)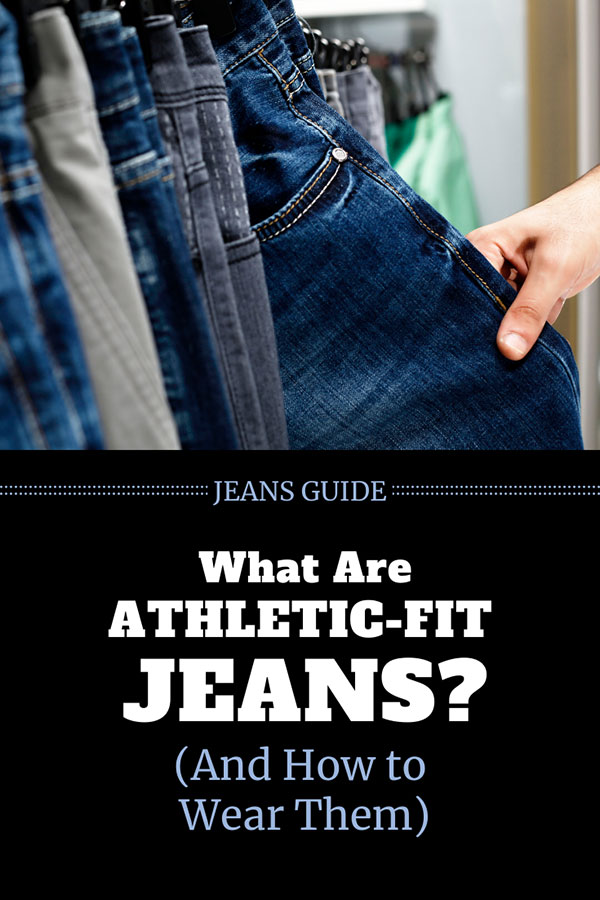 If you've been hitting the gym and building muscle, you may find that it's hard to find well-fitting jeans for your athletic legs.
They either fit too tight around the thigh, too loose around the waist, or they pool around your ankles.
Athletic fit jeans to the rescue!
Athletic fit jeans are designed to follow the natural shape of muscular legs. They provide a snug waist, extra room for big thighs and taper from knee to ankle. They flatter the athletic body-type, but many overweight men also find them comfortable to wear.
I will explain in more detail below. I'll also explain the differences between athletic fit and other styles of jeans, who should and shouldn't wear them, and how to wear them with style.
Note: This article may contain affiliate links. That means if you click a link and purchase something, I earn a small commission, at no additional cost to you. All opinions are my own.
What Are Athletic Fit Jeans?
Athletic fit jeans are the best jeans for men with big thighs. They have extra room in the seat and thigh for extra mobility, and they taper down from knee to ankle, giving a stylish, fitted look that follows the natural shape of your legs.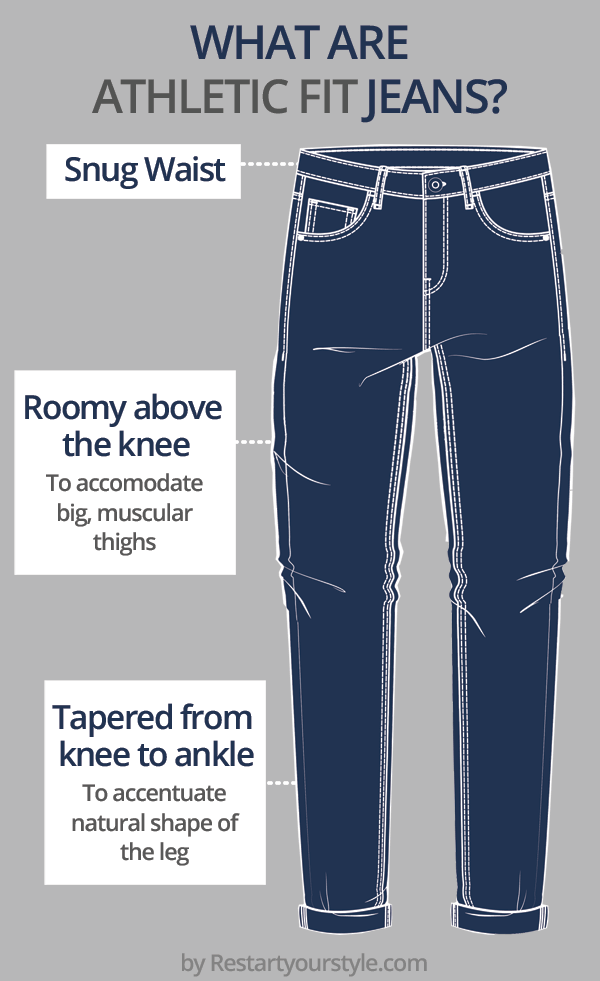 The problem athletic men have is that few off-the-rack jeans fit them properly. If they go for straight or slim types of jeans fits, their thighs feel like they want to bust out (or they might have an unfortunate accident in the back if they squat down). If they go for a relaxed fit, they have comfort around the thighs, but with bagginess around the ankles, and they may have to scrunch the waist together with a belt.
Athletic cut jeans solve this problem.
Muscular men no longer have to be punished for working out their bodies with having to wear baggy jeans (or paying extra to have them tailored).
They provide a tailored fit as they are.
How Should Athletic Jeans Fit?
Even though men's athletic fit jeans are cut to have more room in the thighs and seat, your jeans should fit these body-parts snugly. If you buy a pair that fits too loose, you defeat the purpose of buying one. The jeans will still look baggy.
The fabric should skim the natural shape of your leg without hugging it too tight. The only time you should feel the fabric stretching is when you squat down, and even then, it shouldn't stretch too much.
Most athletic fit jeans are made from stretch denim, which has elastic in the fabric, precisely to prevent the kind of unfortunate incidents I mentioned earlier. It allows more mobility so you don't have to worry about opening an unwanted ventilation hole in the back.
Your jeans should fit snug around the waist. You should be able to fit two fingers between your body and the waistband of the jeans.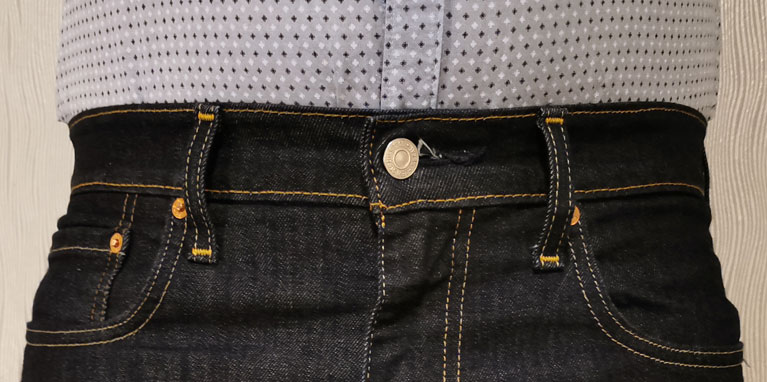 The waistband shouldn't pinch your skin. Nor should it make repeated escape attempts and slip away south.
You should use a belt, but it should only be an accessory. You shouldn't need it to keep the jeans up. If the waist is too loose, then it will form some unwanted scrunching. This is what you may have seen when buying relaxed fit jeans.
So keep the waist snug with room to groove around the seat, hamstring and thighs. It's this groove room that separates an athletic fit from all others,.
Since this section of the leg is larger than most, the jeans ought to compensate. But you still want the jeans to hug your legs.
You look most stylish and deliberate when your jeans accentuate your natural form.
As for length, you want to buy jeans at a length where the fabric doesn't pool around the ankles too much. You want either a slight break or no break.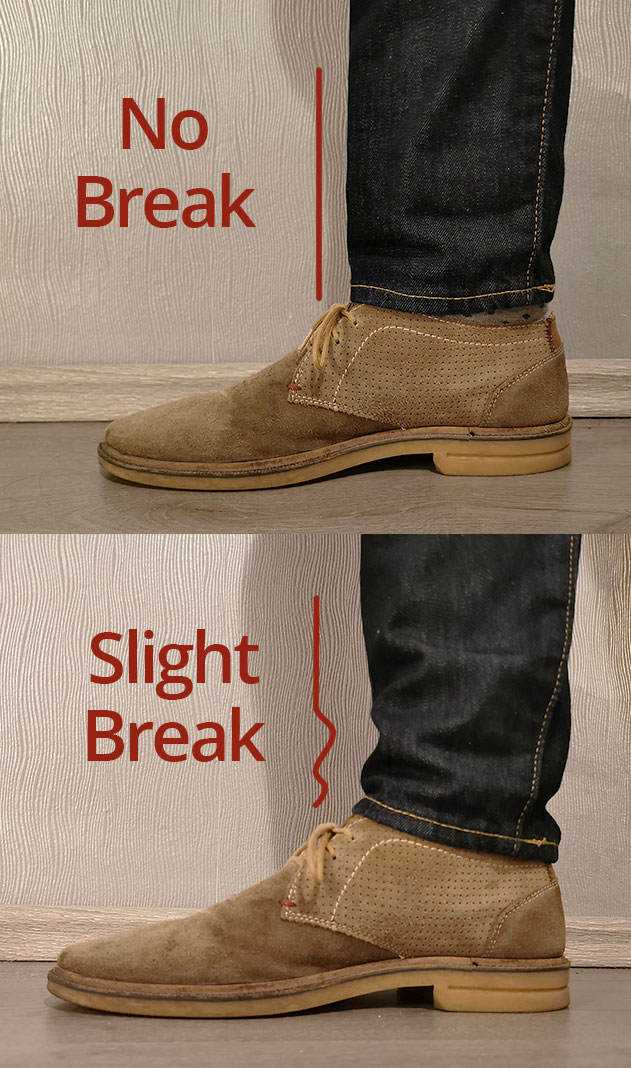 Athletic Fit VS. Slim Fit Jeans: What's the Difference?
The difference between slim fit jeans and athletic fit jeans is the forgiving room above the knee in the latter. Slim fit jeans follow the natural shape of the leg of someone with an average-to-slim body. Athletic fit jeans have the same intent, but for a more muscular leg shape.
You can think of an athletic fit as a more specialized slim fit.
With slim fit jeans, the fabric hugs the contours of your body from the waist down to the ankle, but they're not the best jeans for men with bigger thighs. They are too tight.
Likewise, athletic fit jeans won't look good on a person with average body shape because the thighs are too baggy.
You may also like to read: Slim Fit vs. Skinny Jeans
Athletic Fit Jeans VS. Straight Fit Jeans: What's the Difference?
The difference between straight fit jeans and athletic fit jeans is that straight fit jeans are cut so the width of the leg is the same from hip to ankle. Athletic fit jeans are cut to follow the shape of an athletic leg, wider in the thigh and narrowing toward the ankle.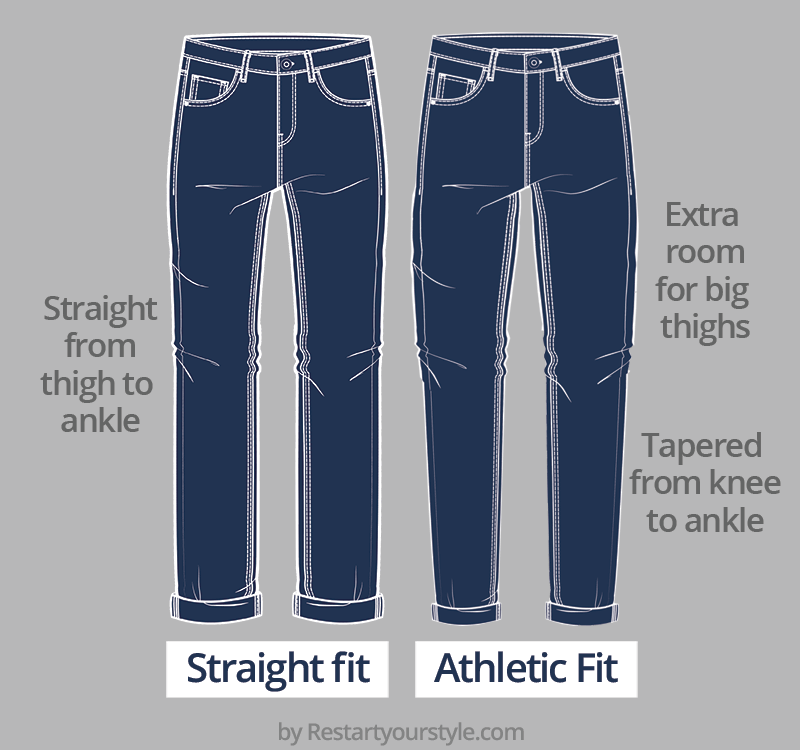 Straight fit jeans do look fine on most body-types, but they don't look as good as tapered jeans do. That's because they usually have more pooling of the fabric around the ankle.
For athletic men, straight fit jeans are not a great option, because to make them fit around their thighs, they would need to buy a larger size. Going up a size enlarges the jeans as a whole. The size of the waist also enlarges (meaning it would have to be scrunched up by a belt) and the legs would have more room from hip to ankle, making them look baggier and less sharp.
Athletic fit jeans have a tapered leg, which eliminates this problem.
Who Should Wear Athletic Fit Jeans?
Anyone with large thighs should try athletic fit. Even though they are designed as jeans for athletic build, heavier-set men should also give them a shot.
And if any ladies read this, athletic fit isn't a men's only fit. These jeans are cut for your body types, too. The same rules apply. If you have larger or more muscular thighs, then women's athletic fit jeans will suit your figure.
Just don't be that person who purchases the athletic fit to flaunt its name. They aren't made for people with skinny or average size thighs. You won't get more athletic-looking legs by wearing athletic fit jeans.
In fact, they'll only detract from your shape. The result is a bag of unwanted room between your waist and knees.
How to Wear Men's Athletic Fit Jeans
You can wear athletic fit jeans much in the same way you're used to wearing jeans. You can wear them in a casual outfit with a t-shirt and sneakers, or you can dress them up with some business casual shoes, a button-down shirt and a blazer.
Here are a few basic ideas for outfits that utilize basic wardrobe essentials.
For a casual spring/summer look:
Wear your athletic-fit jeans with…
Easy enough, right?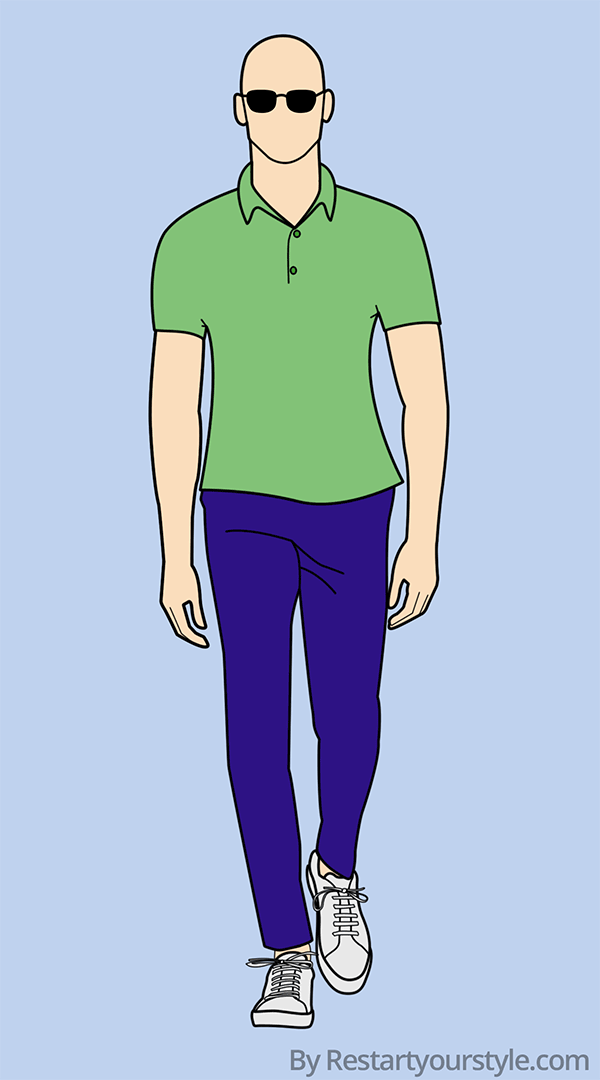 For a smart-casual spring/summer look:
Wear your athletic-fit jeans with…
Brown suede Chelsea boots or chukka boots and matching belt
A white shirt, tucked in.
A pair of sunglasses
A breezy light-blue blazer
For a casual fall/winter look:
Wear your athletic-fit jeans with…
Leather chelsea boots with matching belt
A grey sweater or cardigan
A plain t-shirt or button-down shirt underneath
A leather jacket or bomber jacket in fall (or any other men's fall jacket you like, except for a denim jacket)
Any casual winter coat in winter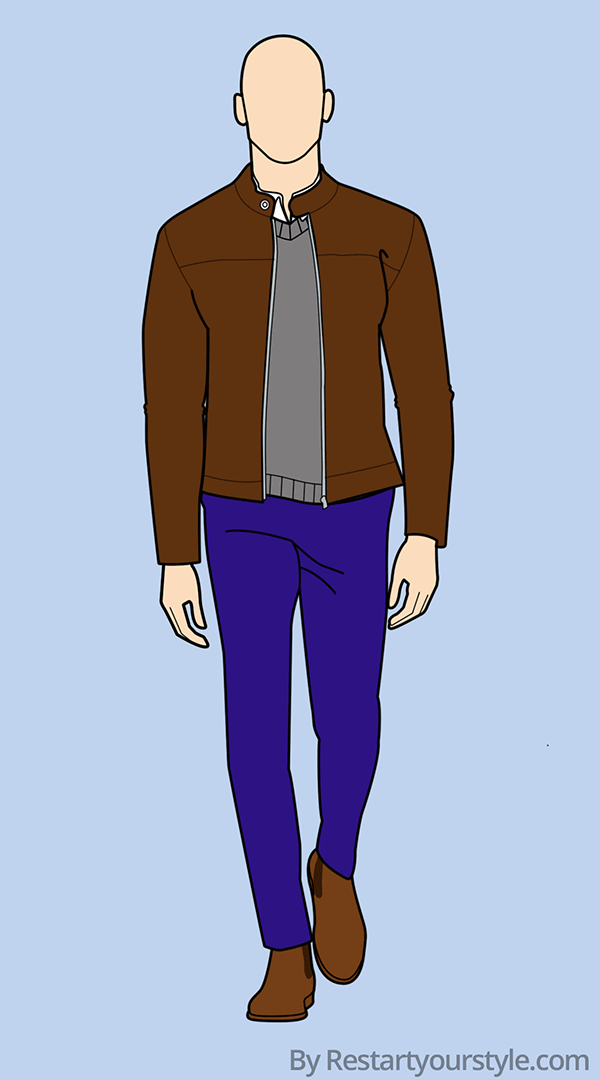 Wear your athletic-fit jeans with…
Leather chelsea boots or dress boots with matching belt
Navy of charcoal blazer or cardigan
White or light blue dress shirt
A trench coat, pea coat or wool overcoat
A scarf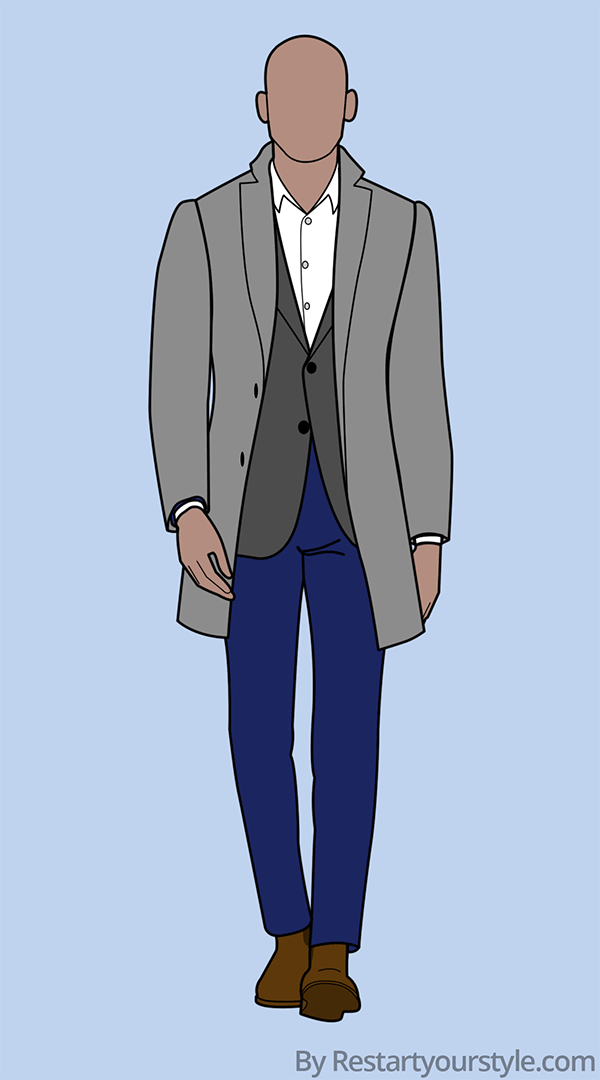 What Shoes Go with Athletic-Fit Jeans?
You can wear athletic fit jeans with almost any kind of shoes. They are as versatile as regular jeans.
For example, you can wear them with:
Sneakers
Desert boots
Loafers
Brogues
Derby shoes
Boots
Where to Buy the Best Athletic Fit Jeans?
Since mid-2010, retailers noticed the rising demand of jeans for men with bigger thighs. Now, you can find a list of labels that stock these types of jeans.
Below, you can find a few recommendations:
Levi's 541 jeans are the OG of athletic fit jeans. Years after pioneering them, they still hold up as one of the best jeans for muscular thighs. Their longevity in the ever-changing fashion-world should speak for itself. Levi always offers quality.
With stretch denim and a tapered cut, there are widely considered the best jeans for athletic build. They provide a relaxed feel and a tailored look, and they come in various colors so you have your pick.
While costlier, you might find these jeans worth the price as many consider these to be among the comfiest pairs of jeans for men with muscular thighs.
Bonobos is well-known for their care for fit and quality and they don't disappoint with these. The fabric will stretch with your thighs without feeling tight, and the quality of these jeans is simply fantastic, from the fabric, to the stitching to every little detail.
Jeans made by athletic guys for athletic guys. After one of the most successful Kickstarter campaigns of all time, Barbell's designer jeans for big guys have become insanely popular in the weightlifting world.
Their vision was to create jeans for guys that lift that both fit comfortably and allow free movement without having to get tailors involved. And boy, they have succeeded.
The team behind this apparel company loves to hit the gym as much as you, and they care about their style, just like you. Their jeans come with a price-tag but they are durable, comfy and designed specifically with you in mind. Who knows, they might just be the best pair of jeans you'll ever buy.
Everlane offers another solid option for men looking for some extra room in the hip and thigh area. The legs only have slight tapering, so if you're looking for something in between a straight fit and a tapered fit, these might be the jeans for you.
It's available in three denim colors, but it's hard to argue with this slick dark indigo pair of denim. It's good quality, especially for the price.
Gap is another go-to place if you want to score solid denim for a reasonable price.
Like most of the other jeans on this list, they offer extra room in the thigh area and a tapered leg that gives these jeans a relaxed feel but without looking baggy.
They're soft to the touch and solid quality, and with 2% elastane material, they provide a wonderful stretch.
Athletic Fit to the Rescue!
If you're someone with athletic thighs, let's face it, it can be hard to find a pair of jeans off the rack that fit you.
Never in your Goldilocks zone — the waist is too big, the thighs too tight, and never just right.
But you don't need to sacrifice your style and revert to baggy jeans. Now you know what are athletic fit jeans and whether they are right for you.
Use the tips from this post and visit one of the retailers listed above and find that cosy fit made just for you.
Did You Find That Useful? Then Check This Out…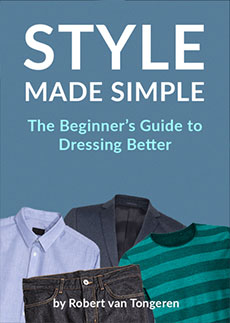 I wrote a men's style guide that simplifies the art of dressing well, focuses on what matters, and takes you through it one step at a time. Enter your e-mail below and you'll receive three free chapters, which will show you: