9 Basic Men's Wardrobe Essentials You Should Already Own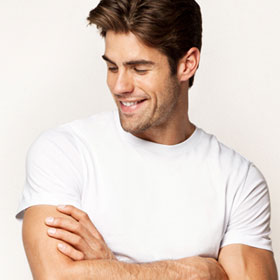 So you want to rebuild your wardrobe, but you just don't know where to begin?
This problem is common, and quite understandable.
You can find too much information these days, and you can quickly get overwhelmed.
One article says to buy one thing, and another says to buy another thing. And you just don't know what to invest in first.
When you're in the early stages of your style reinvention, you should just ignore all these confusing voices, and focus on getting your foundational items.
You should focus first on building your capsule wardrobe, compiled of these basic men's wardrobe essentials.
Note: This article may contain affiliate links. That means if you click a link and purchase something, I earn a small commission, at no additional cost to you. All opinions are my own.
Why Most Guys Lack a Good Foundation of Men's Wardrobe Essentials
Building a capsule wardrobe is a step that most guys skip, but it's essential to building a solid wardrobe.
It will make everything else a lot easier.
The idea behind a capsule wardrobe is that all (or almost all) items in your wardrobe can be put together. To make such a wardrobe happen, you need a solid foundation of understated and timeless wardrobe staples that are easy to mix and match. These clothes are not only easily matched to each other, but can also serve as the supporting pieces to your trendier, more eye-catching clothes. They are the bedrock of your clothing collection.
But when most men want to start dressing better, they think they need all their clothes to stand out. They look up all the latest trends or they start wearing all kinds of crazy colors.
And nothing is inherently wrong with that. But when every item in your outfit is trying to grab the eye's attention, then you only end up looking messy.
You need supporting pieces to keep these eye-catching clothes anchored.
With a foundation of basic wardrobe staples, you'll always have clothes to wear your trendier pieces with.
So why don't we all have such a foundation already?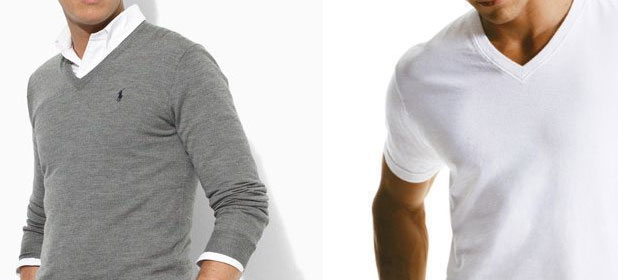 These Wardrobe Essentials Are Hardly Promoted
Fashion magazines, blogs and shops rarely promote these wardrobe staples to men. Their main focus is on promoting the latest styles and trends.
When you walk into a clothing store, you won't often see a mannequin wearing a plain white T-shirt. (The store would much rather have you buy something expensive.)
And the point of having mannequins is to draw your attention. Simple white T-shirts won't draw much of that.
But at the beginning of your wardrobe reboot, you shouldn't buy any of the clothes they do promote.
You need to collect your foundation of essential wardrobe items first.
Introducing the Restart Capsule: The Perfect Capsule Wardrobe for Beginners
I can almost hear you thinking, "What is the Restart Capsule?"
The Restart Capsule is a a selection of nine clothes that every man should have in his wardrobe. They'll make the perfect start for your capsule wardrobe.
What you'll notice about the clothes below is that they all look quite simple. That's exactly what make them so gosh-darn versatile. Combining them into a bad outfit is nearly impossible (unless you get the fit wrong, of course).
The clothes listed below should be your first investments.
So without further ado, these are the nine clothes that make up the Restart Capsule:
Solid white T-shirt
Solid white shirt
Dark blue jeans
Camel chinos
Grey V-neck sweater
Navy blazer
Brown leather loafers
Brown leather belt
Grown-up coat
I will give a short explanation why these items are essential for your wardrobe.
Wardrobe Essential #1: Solid White T-Shirt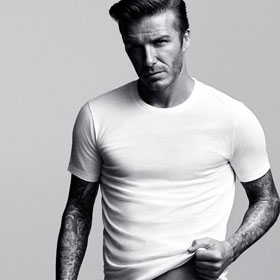 The solid white tee is one of the most versatile pieces you could own.
You can wear it with anything. It's like having a blank canvas to do with what you want. You can wear it on its own during summer, or layer it during fall and winter.It's super-simple and look much sharper than a graphic tee.
You should have a couple of these in your closet. Go for V-necks as well as crew necks for variety's sake.
Wardrobe Essential #2: Solid White Shirt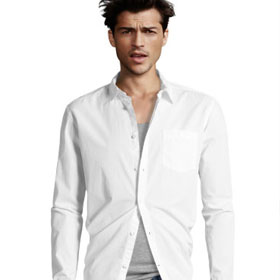 The solid white shirt is the ultimate menswear staple. No list of wardrobe essentials for men would be complete without it.
Like the previous item, you can wear it with anything, but you can also create new looks by playing around with the buttons and sleeves. Wear it buttoned up with a tie and blazer for a dressy look, or wear it unbuttoned over a T-shirt with the sleeves rolled up, and look super-casual .
It just doesn't get more versatile than a solid white shirt.
You'll need to know how a shirt should fit though. Too many men who want to step up their style move from wearing tees to wearing shirts, but their shirts are way too billowy.
Wardrobe Essential #3: Dark Blue Jeans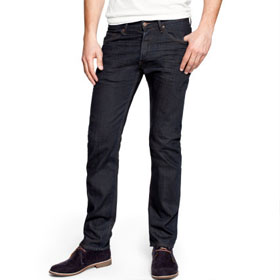 Know what? I'll just let my friend Barron tell you all the reasons you need a pair of dark blues.
It's the only pair of jeans you will ever need.
Wardrobe Essential #4: Camel Chinos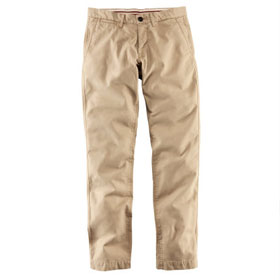 With only 1 pair of jeans in your closet, you'll need some alternative legwear. That's where chinos come in.
See, chinos give you a lot more variety than having a couple of jeans in different shades and washes. They create a much more different look.
If you don't have a pair already, make sure your first chino pants are camel.
Wardrobe Essential #5: Grey V-Neck Sweater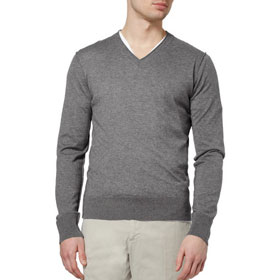 A grey V-neck sweater is an excellent layering piece.
Wear it over your shirts and T-shirt to stay warm during the winter months. You can also wear a blazer over it when it gets especially cold.
The grey sweater is very easy to pull off, as it's hard to find anything that clashes with it.
Wardrobe Essential #6: Navy Blazer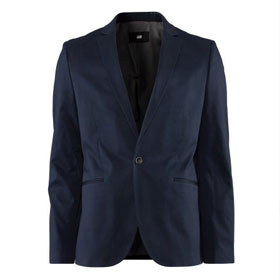 The easiest way to smarten up any outfit is to add a blazer. It just makes everything look better. I suggest you get one in navy.
A navy blazer is a classic choice that will never let you down. It will match especially well with the camel chinos mentioned above, and will also look great with your dark blue jeans.
Wardrobe Essential #7: Brown Leather Loafers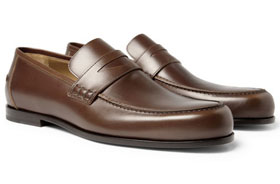 Brown leather loafers are a great choice of footwear.
They're a lot dressier than sneakers, but not dressy enough that you can't wear them with your casual wear. They actually look amazing under jeans.
If penny loafers seem like too big a step, try wearing a pair of venetian loafers first. They tend to have a bit less embellishment, which makes them look a tad more casual.
Wardrobe Essential #8: Brown Leather Belt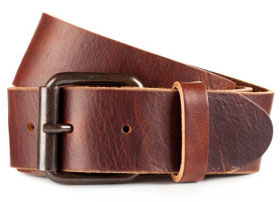 Your brown leather shoes need a brown leather belt to compliment them. Although, they don't have to be a complete match shade-wise. It's okay if there's a bit of difference.
Wardrobe Essential #9: Grown-up Coat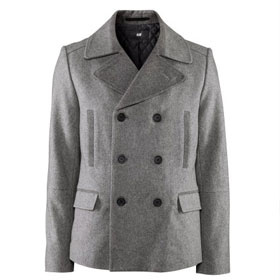 Now that you're improving your style, you will need a grown-up coat to top the look off, as it's often the first thing people see you in during colder times.
Personally, I'm a big fan of the pea coat, but something like an overcoat or duffle coat will work just as well.
I'll let you pick the color yourself, but make sure it's a neutral. That means either grey, navy or brown.
Action Step: Put the Restart Capsule on Your Shopping List
Put every item listed above (that you don't already own) on your shopping list. They're essential items for any man's wardrobe and should be the first investments you make. They will stay with you for a long time, if you take good care of them.
Get every item on the restart capsule, and then experiment to figure out how to put these clothes together into a good outfit.
Until you own the complete Restart Capsule, I don't want you spending your money on any other clothes.
Remember, you need to start investing in versatility! Don't get sidetracked by the attention-grabbing pieces on display.
Like I said, having a solid wardrobe foundation is crucial, so do not skip this step!
If you want more information like this, check out Style Made Simple: The Beginner's Guide to Dressing Better, or enter your e-mail below to get three free sample chapters.
Did You Find That Useful? Then Check This Out…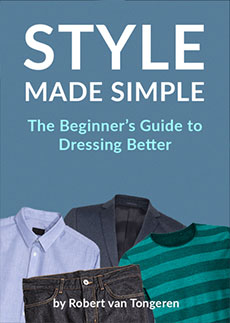 I wrote a men's style guide that simplifies the art of dressing well, focuses on what matters, and takes you through it one step at a time. Enter your e-mail below and you'll receive three free chapters, which will show you: