Are Chinos Business Casual? 9 Tips for Wearing Chinos to Work
The business casual dress code is confusing for many men. You may wonder: Are chinos business casual?
Chino pants are considered business casual in most office settings. Wear your chinos with a tucked-in dress shirt, leather dress shoes and a jacket for a classic outfit thats suitable for most business casual workplaces.
(You should wear wool dress slacks for more formal situations.)
But let's dig deeper into what makes chinos OK for business casual, and how to wear them to work to create a professional look.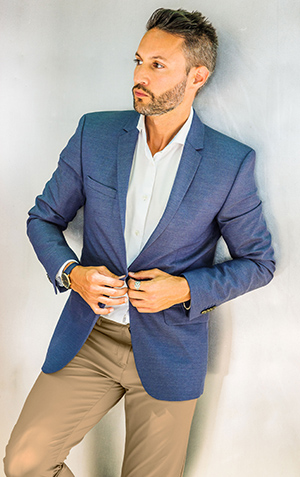 Note: This article may contain affiliate links. That means if you click a link and purchase something, I earn a small commission, at no additional cost to you. All opinions are my own.
Why Are Chinos Business Casual?
The idea behind business casual for men is to be the middle ground between business and casual wear.
Chino pants are great business casual pants because they are the middle ground between formal dress pants and casual jeans. Chinos are more casual dress than formal, but as long as you dress them up appropriately, they are a good option to wear to a business casual office.
Should You Wear Chinos at Work?
That always depends on your office setting. The definition of business casual is open for interpretation. For most offices, chinos are okay. Heck, in many offices today, even jeans are OK for business casual.
The best thing you can do, when in doubt, is look around the office to see what everybody else is wearing. My advice is to dress one notch up from your co-workers to stand out in a positive way.
For some situations, like important meetings, you may choose to wear dress pants instead, to put your best self forward.
How to Wear Chinos for Business Casual
Just because chinos are business casual, doesn't mean you can wear them with everything. There's a big gap between wearing chinos with a T-shirt and sneakers and wearing chinos with a dress shirt and leather dress shoes.
Below are some tips that will help you nail the look. (For outfit inspiration, check out my article that explains how to wear chinos with 53 outfit examples.)
1. Should You Dress Up or Down?
As mentioned in my article on the business casual vs. smart casual dress codes, you should aim to present a professional image with business casual. So you never want to dress down too much.
Since chinos are considered more casual style than formal, you should aim to dress them up rather than down. Pair them with more formal attire to elevate them into the business casual range.
It's better to be slightly overdressed than under-dressed.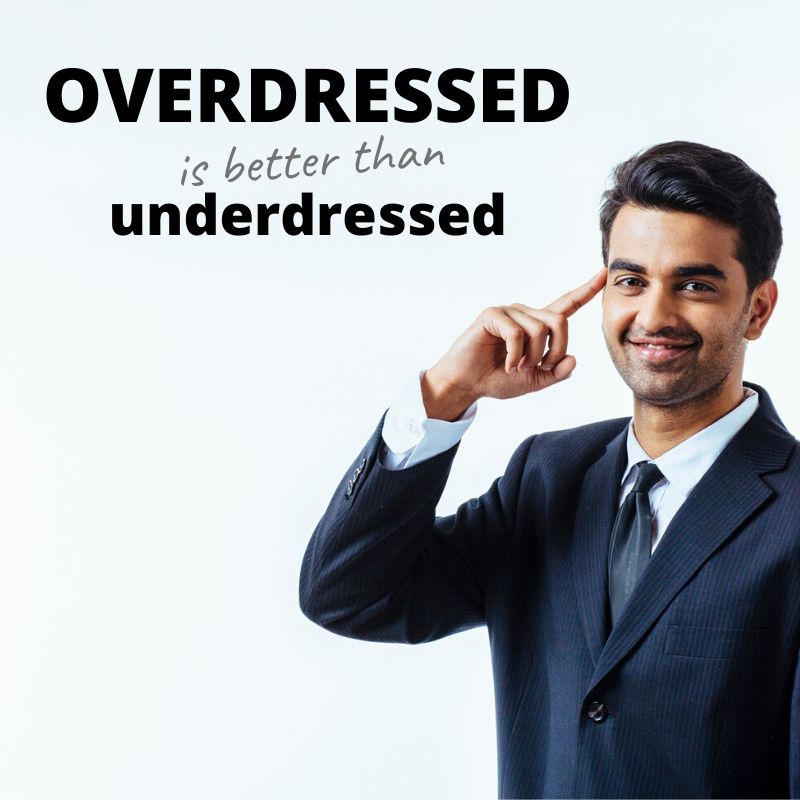 At least when you're overdressed, you still present yourself as a professional. When you're under-dressed though, your potential client or boss might just think you don't take your job seriously enough.
2. Which Color Chinos Should You Wear?
Chinos come in many different colors, and you want to make sure the colors you wear are work-appropriate. You should leave your fire-engine-red or canary yellow pair at home and opt for more traditional colors, like:
Black
Black chinos are great for business casual because people associate black with formal. They are the easiest chino pants to dress up, but make sure you wear them with black shoes and a black leather belt.
Gray
Gray chino pants are another good option for business casual because gray is an understated color that doesn't scream for attention. What makes gray a good choice is that you can wear them with either brown, black or burgundy shoes.
Khaki / Beige / Camel
The classic khaki was for a long time the most common type of chino, and with more modern cuts the color looks great combined with a navy jacket and crisp white shirt. Khakis also pair well with almost any shoe color, though we'd still recommend sticking with more classic styles.
Tip: Find out the best shoe colors for khaki pants.
Navy
Navy is the last of the more traditional office colors on this list. Navy chinos are great work pants, as they emulate the look of navy suit pants. Navy is an incredibly versatile color so you have many options when it comes to completing the rest of your outfit.
Burgundy
For a slightly more daring option, burgundy can make a great business casual chino color. It's a bit less common than the aforementioned traditional colors, but it's still understated enough that it doesn't look over the top. Burgundy is an underrated color when it comes to menswear.
Olive
Olive chinos would be the most casual-looking pants on this list, as the color is associated more with outdoors and military uniforms. However, olive is a versatile color. To make your olive chinos feel appropriate for business casual attire, you'll have to dress them up with a shit and jacket.
3. Where Can You Buy the Best Business Casual Chinos?
The best stores for purchasing business casual chinos are:
You can count on these stores to deliver good quality for price.
4. What Shirt Should You Wear with Chino Pants?
You should wear a dress shirt with your chinos if you're dressing business casual. Some offices may allow polo shirts, but since chino pants are already quite casual, you'll look sharper when you dress them up with a button-up dress shirt.
Check out my article on business casual shirts for recommendations.
5. Should Your Shirt Be Tucked or Untucked?
Your shirt should always be tucked when dressing business casual. Leaving your shirt untucked looks untidy, like you couldn't be bothered.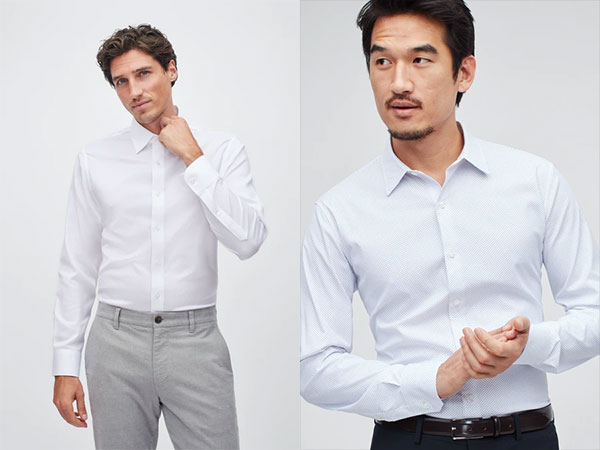 Remember that for business casual, you should still aim to project professional images. Speaking of which…
6. Should You Wear a Jacket with Your Chinos?
The best way to dress chino pants up to business casual is by wearing a nice jacket, like a blazer or sports coat. Wearing a jacket tells people you're ready to do business.
When temperatures are blazing, you can take it off when you sit down at your desk, because you do want to remain comfortable. (And nothing looks sloppier than melting into a sweaty puddle.)
7. Should You Wear a Tie?
If you're wearing your chinos with a nice dress shirt and jacket, you can include a tie, but it's optional. Ties are not required for business casual wear, but can be a nice addition to your outfit.
8. What Shoes to Wear with Chinos for Business Casual?
You should wear your chinos with a nice pair of business casual shoes, which include:
Oxfords
Derbies / Bluchers
Brogues / Wingtips
Monk Strap Shoes
Chelsea Boots
Dress Boots
Loafers
Avoid combining your chino pants with sneakers, as you will make the outfit look too casual. You should dress your chinos up with brown or black leather shoes.
Check out my article on business casual shoes for recommendations.
9. What Belt Should You Wear with Chinos?
You should wear your chinos with a leather belt that matches your shoes. That means if you're wearing brown shoes, your belt should be brown as well. If you're wearing black shoes, your belt should likewise be black.
Dress Pants VS Chino Pants for Business Casual
If you have to choose between dress pants and chinos for business casual, which should you choose?
Dress pants will display a more professional image, and you should at least have a pair to wear for those days when you have important meetings or presentations.
Chino pants dress will make your outfit look less formal. But a business casual office usually allows for that. They are fine to wear on regular days. Plus, you don't have to get chino pants just to wear to work, as you can easily pair them with casual clothes like sneakers and t-shirts as well (just not to the office.).
4 Examples of Business Casual Chino Outfits




FAQ About Wearing Chinos with Business Casual Attire
Can you wear a polo shirt with chinos for business casual?
Combining a polo shirt with chinos risks looking too casual for a business casual dress code. Wearing a jacket on top can re-balance the scales, but that might defeat the purpose of wearing a polo in the first place. If you do wear a polo, make sure that you tuck it in like you would a dress shirt.
My recommendation: If you see several co-workers wearing polos to work, go for it. If not, leave the polo at home. You don't want to be the most under-dressed guy in the office.
Are chinos OK for an interview?
Chinos are not OK for job interviews. You should dress up more for an interview than you might think necessary. If you know the office's dress code is business casual, the best outfit is a suit without a tie. Otherwise, wear dress pants with a dress shirt and jacket.
Even if the company you're applying for has a loose dress code, you will make a better first impression and show that you take the interview seriously. It also shows that you'll have a suit ready for occasions where you might need one.
Are chinos casual or formal?
Chinos are casual pants because they are not appropriate for formal attire. You can wear chinos business casual, but you should not wear chinos to formal events like a wedding, a business professional mixer, or a black-tie dinner.
What's the difference between chinos and khakis?
The difference between chinos and khakis is that chinos are typically lighter and more tapered than khakis, which are slightly thicker and have a straight cut. Khaki also refers to the light brownish color of the pants, while chinos come in different colors.
The difference is negligible though, since many pants manufacturers now use these terms interchangeably.
Are chino pants business professional?
Chino pants are not appropriate for business professional. The business professional dress code allows only formal business attire. You should wear a two-piece suit with a dress shirt and tie.
Are chino shorts business casual?
Chino shorts are not business casual. If it gets too hot, you're better off wearing a pair of linen pants to work than shorts, which never look professional.
Of course, if your office allows for them, and your co-workers wear them on the regular, go for it.
Did You Find That Useful? Then Check This Out…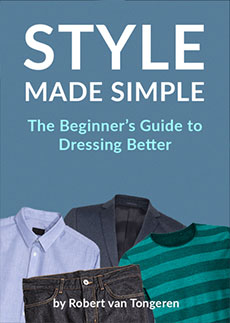 I wrote a men's style guide that simplifies the art of dressing well, focuses on what matters, and takes you through it one step at a time. Enter your e-mail below and you'll receive three free chapters, which will show you: