The 20 Best Suede Chelsea Boots (Black, Brown, Tan, Grey & Blue)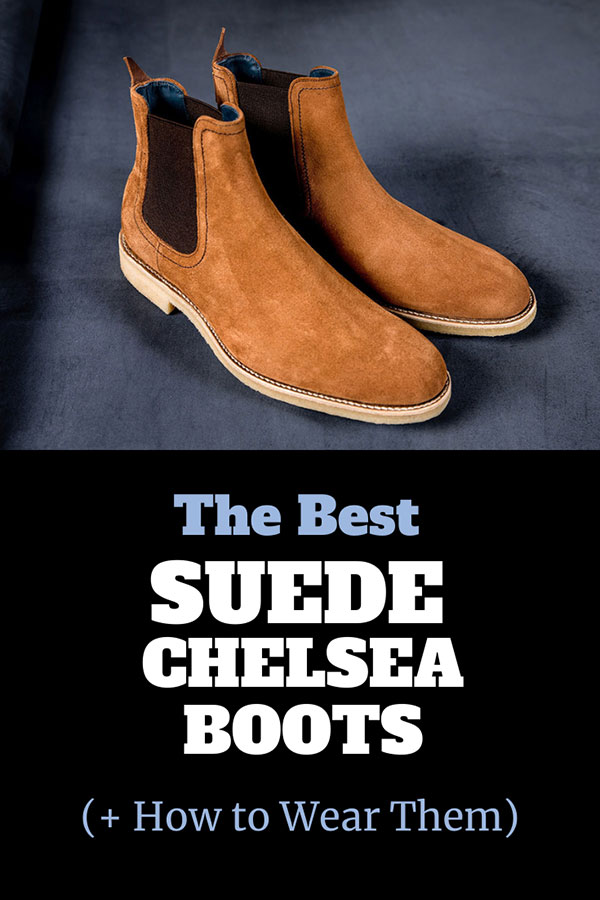 If you don't yet have a pair of suede Chelsea boots in your wardrobe, you're missing out on one of the most stylish footwear options around.
Originally designed by J. Sparks-Hall, Queen Victoria's personal shoemaker, Chelsea boots quickly became popular among horse riders, due to their durability and lack of pesky laces. Although Chelsea boots remained popular, it wasn't until the 1960s, when The Beatles and The Stones rocked Chelseas on stage, that this humble boot was launched into the stratosphere of cool.
So what's the big deal with suede Chelsea boots? In a word, versatility. Suede Chelsea boots have a sleek, classic silhouette, and work just as well with jeans and a t-shirt as they do with a suit. You'll have to take care of them — suede needs a little TLC — but wearing a pair of these looks and feels great.
Below you'll find a list of some of best suede Chelsea boots, organized by color. Later, we'll go over some tips on how to care for suede boots, and I'll give you some ideas on how and when to wear them. If you already know which color boots you want, you can click over to the section you need:
Note: This article may contain affiliate links. That means if you click a link and purchase something, I earn a small commission, at no additional cost to you. All opinions are my own.
Dark Brown Suede Chelsea Boots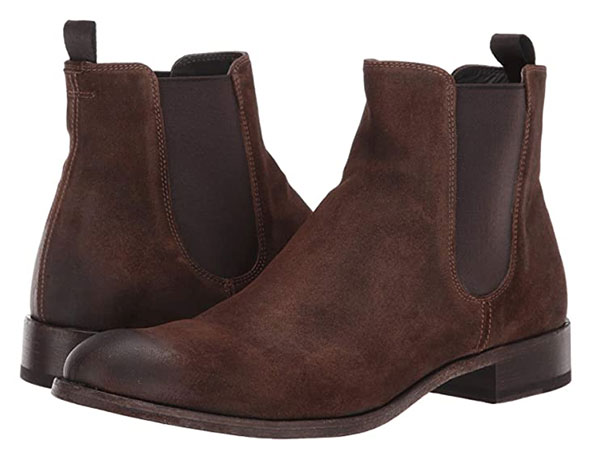 At the higher end, these dark brown suede Chelsea boots are an investment, but you'll definitely get what you pay for. The Adam Derrick-designed Bedell is handmade in Italy, and features a premium suede upper with an ever-so-slightly distressed toe. They have dual elasticated goring, leather lining, and a cushioned, leather-covered footbed, so you can be sure you'll walk in comfort.
With a stacked heel, pull tabs, and a durable rubber outsole, the Bedell has that classic Chelsea silhouette. The hand rubbed and waxed suede gives it a slightly rugged look — like a well-worn classic. This boot will stand the test of time and will only get better with age.
You can also find a mid-brown version on their website.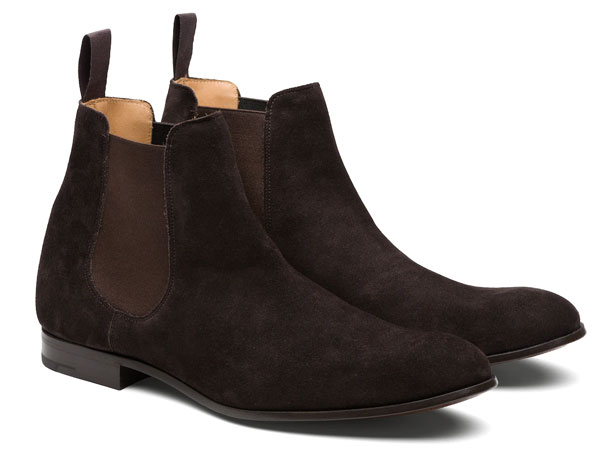 If you haven't heard of them, Church's is a classic British footwear company that's been making footwear since the 19th century. Their shoes are famous for their incredible quality.
The Dixton features a Superbuck suede upper, internal lining, and cotton pull-on tabs. And has a classic yet modern silhouette, thanks to its slim leather sole. This sleek-looking suede Chelsea boot is lightweight and comfortable, and looks great dressed up with a suit, or with jeans and a sweater.
They're the priciest boots on this list, but you're paying for expert craftsmanship. Church's makes some of the best shoes on the market, and they'll last you far longer than your average off the rack shoes.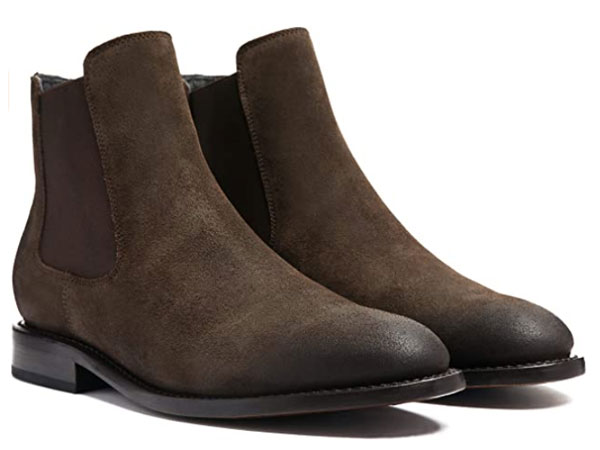 Along comes Thursday Boot Company to remind you that you can still get a good-quality pair of handcrafted suede Chelsea boots for under $200.
Featuring a Patented WeatherSafe upper, the Cavalier has a nicely finished look that only gets better with age. Plus, these suede Chelsea boots have glove leather interiors and cork-bed midsoles, so comfort is a non-issue.
The Cavalier has flexible elastic goring, and some guys will appreciate the absence of a pull-on tab. This boot has that timeless Chelsea silhouette, and looks great with jeans, chinos or a suit.
Medium & Light Brown Suede Chelsea Boots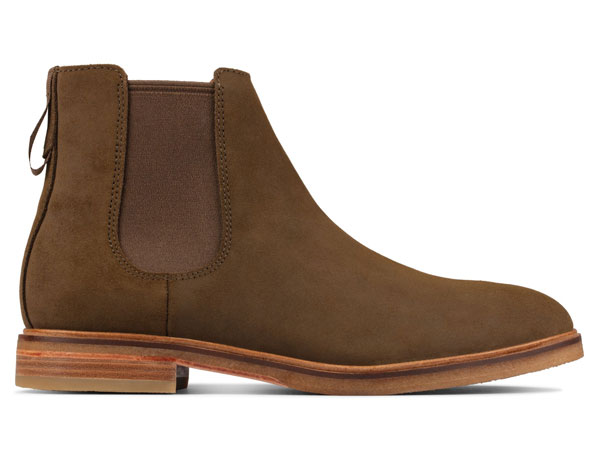 Clarks has been making footwear since 1825, so these guys know their stuff. They are most well known for their desert boots, but the Clarkdale Gobi features a classic Chelsea profile, with elasticated gussets and heel loop tabs. The low heel adds to the timeless silhouette, and the lighter-colored outsole provides a cool-looking contrast to the olive suede upper.
With a leather sock and crepe soles these brown suede Chelsea boots are famously comfortable, and look great with jeans or slim-fitting chinos. Just be aware that these boots run pretty large, so you should get them a half-size down from your normal shoe size.
Price: $170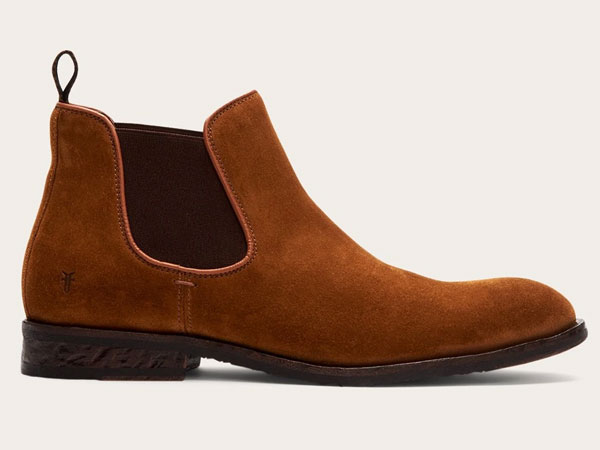 Frye has been making boots and shoes since 1863, and claims to be the oldest continuously operated American shoe company. Whether or not that's true, all that matters is these guys make high-quality boots that'll be part of your wardrobe for years.
The Grant medium brown Chelsea boot features a shorter shaft style, and nicely rounded toes, so these boots look great with jeans or chinos. As you'd expect from Frye, these Chelsea boots are fully leather-lined, and have a contoured foot-bed for maximum-comfort.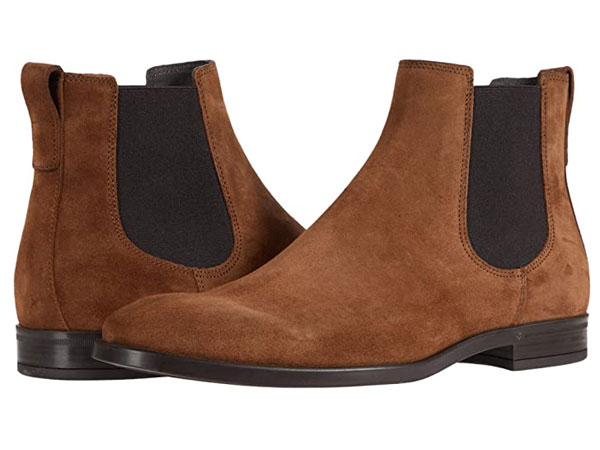 The second time To Boot New york Shows its face on this list. Their Kappa boot is a medium brown suede Chelsea boot with a shorter shaft and rounded toe, so it'll look really good with casual attire.
The Kappa features a supple Italian suede upper, dual elastic goring, and low-profile attached pull tabs. The soft leather lining and leather-covered footbed make for a suede Chelsea boot that'll be comfortable all day, but be aware that these boots run a half size large.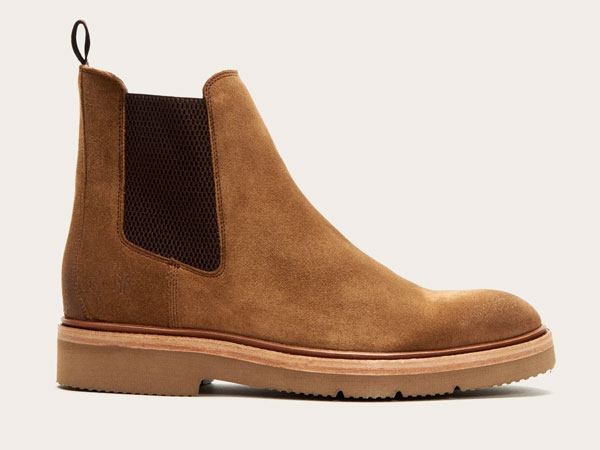 If you aren't a fan of pointed toes, the casual Bowery Light might just float your boat. These lightweight Chelsea boots are artisan-crafted, using supple oiled suede for the uppers.
The unlined interior features "PORON" footbeds for cushioning which is, in case you're" wondering, a high-tech foam that's used in the Hubble Telescope. If it's good enough for space, it's good enough for your boots.
While you might have a hard time pairing these light brown Chelsea boots with a suit, they're versatile enough to elevate any men's casual outfit at any time of year.
Price: $298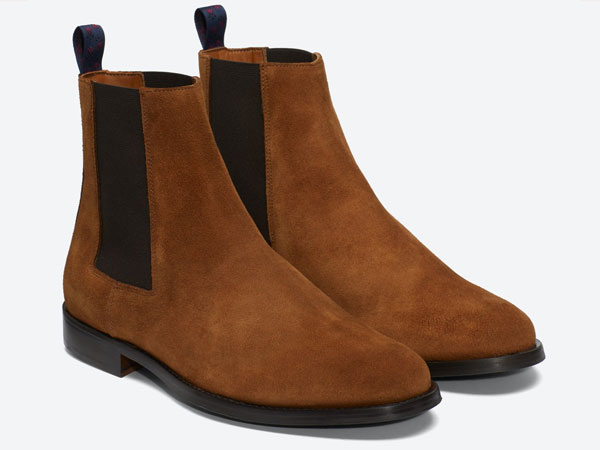 The Alpern has that classic profile that's kept suede Chelsea boots on the radar for so long. The dark brown, angular goring is larger than most, enhancing the boot's sharp look and contrasting nicely with the medium brown Italian suede upper.
These suede Chelsea boots feature cushioning at the collar and the heel, as well as a molded footbed insert and rubber grip tread on the outsole. The rubber stacked heel adds to the sharp silhouette, and a signature woven pull tab adds a nice little flourish. All in all, a pretty sweet deal for just $148.
Price: $148
Tan Suede Chelsea Boots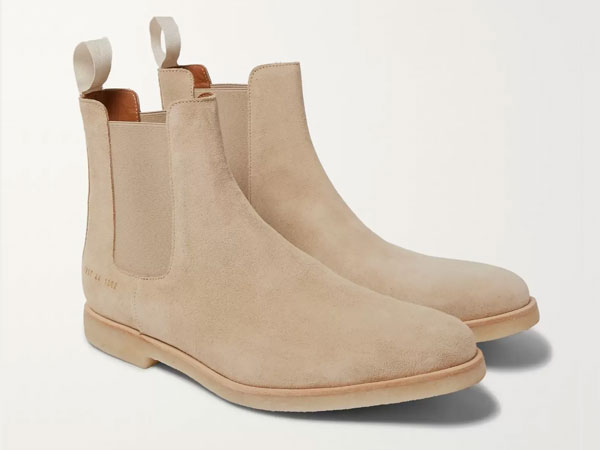 With its famous men's white sneakers, Common Projects has proven itself as a specialist in elegant minimalist design. True to form, these suede Chelsea boots are a masterclass in understated cool and obvious quality.
A lot of thought has gone into the color palette, with cream-colored coton pull tabs, cushioned rubber-crepe soles in a tonal hue, and darker brown leather lining. These suede Chelsea boots are minimal and functional, and everything is 'just so'. You'll have a hard time finding a more versatile pair of suede Chelsea boots, and if you can afford them, don't think twice.
Price: $525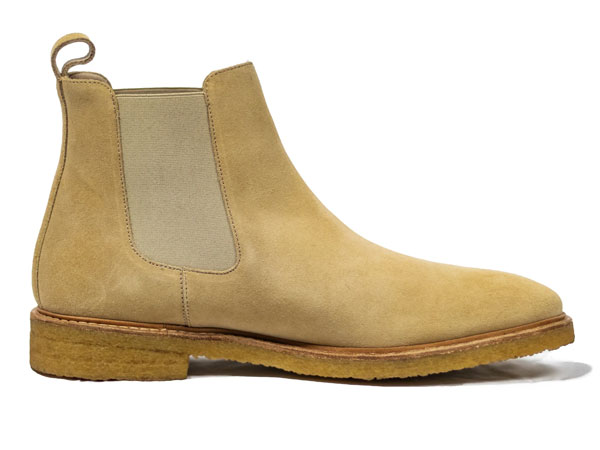 If the Common Projects suede Chelsea boots make you drool but you just can't swallow the price tag, the Harvey might just be the answer. Idrese is a lesser-known brand that's quietly been putting out some pretty cool boots. Its Harvey suede Chelsea boot has a classic crepe-soled look.
The Harvey is handmade in Spain, and features an Italian lamb suede upper. The organic crepe sole has a stacked heel, and the Spanish blake stitch construction means this suede Chelsea boot is lightweight and durable.
Price: $275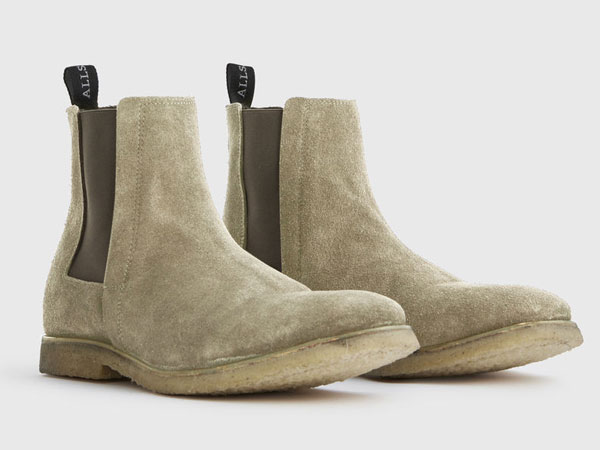 AllSaints is a label best known for its edgy biker-style clothing. The Rhett boot is styled with a classic silhouette, and features subtle touches that set it apart from the competition. Made in Portugal, this tan suede Chelsea boot has a 100 percent cow suede upper, a goat leather sock and lining, and a crepe rubber sole.
With its rounded toe and dark brown, angular goring, the Rhett boot looks rugged and stylish, and will pair really well with slim jeans and a leather jacket.
Price: $248
Black Suede Chelsea Boots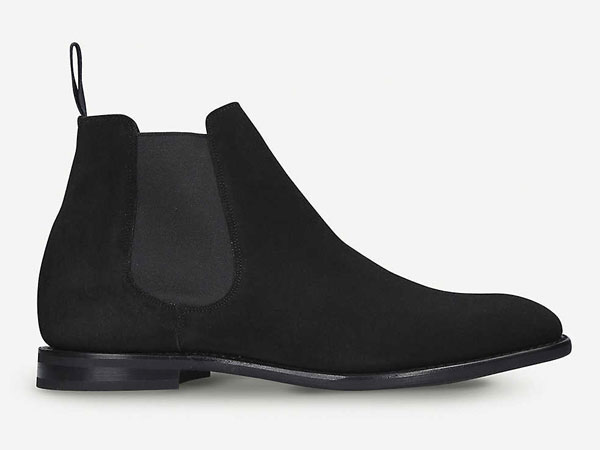 I've already sung Church's praises before in this list. Remember, they make some of the best shoes on the market and this one doesn't disappoint. The Prenton does everything it can to support the hypothesis that suede Chelsea boots look best in black. The Prenton offers the quintessential 60s Mod look, and could be used to elevate a casual outfit or dress down a suit.
This sleek suede Chelsea boot features a soft suede upper and a rubber-capped outsole that provides grip without sacrificing the clean aesthetic. The Prenton's toe is on the pointier side, and the stitching, goring, and pull tabs are all black, adding to the sharp outline of this classic Chelsea.
Price: $345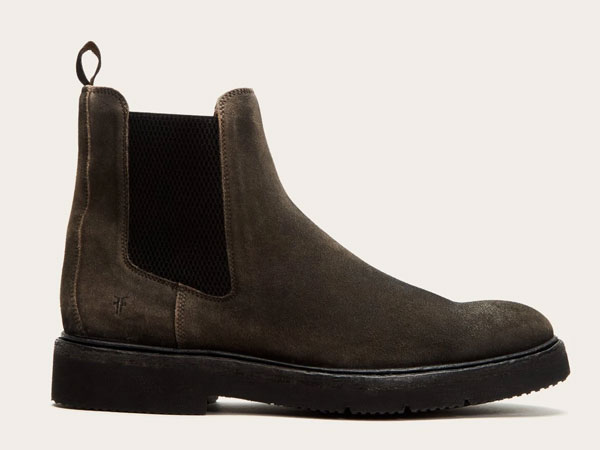 If you're looking for a black suede Chelsea boot that's a bit more substantial, the Bowery Light could be worth checking out. This suede Chelsea boot is on the chunkier side, and its distressed oil suede gives it an edge. You probably won't want to rock the Bowery Light with a suit, but the tough, biker boot aesthetic will definitely work with any style of jeans.
The black version of the Bowery Light has a textured waffle goring that contrasts nicely with the faded black suede, and a leather storm welt and midsole. These boots are made to last, and at under $300, they're an excellent deal.
Price: $298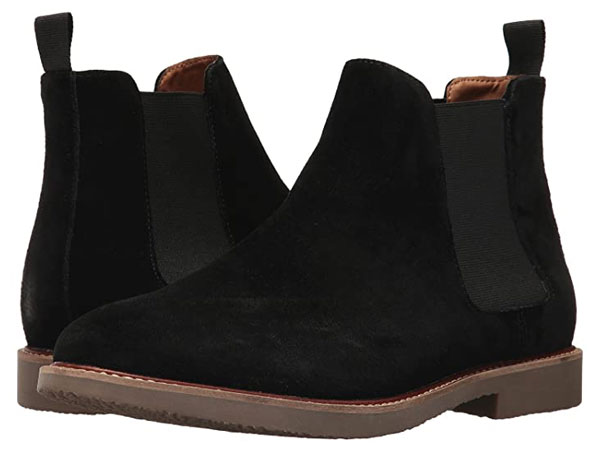 Steve Madden has come a long way since the 90s, when he first rose to prominence as a designer of chunky women's platform shoes. Today, steve Madden is a mega-popular brand that's known for producing affordable and solid-quality footwear.
Their Highline is a casual Chelsea boot that maintains a casual edge. The black suede upper is clean and sharp, while the brown rubber sole and lighter Goodyear
Welt stitching provides a bit of contrast, preventing the Highline from being too formal, making them less versatile than other shoes on this list. But they'll look great in a casual outfit. And you just can't argue with that price tag.
Price: $100
Grey Suede Chelsea Boots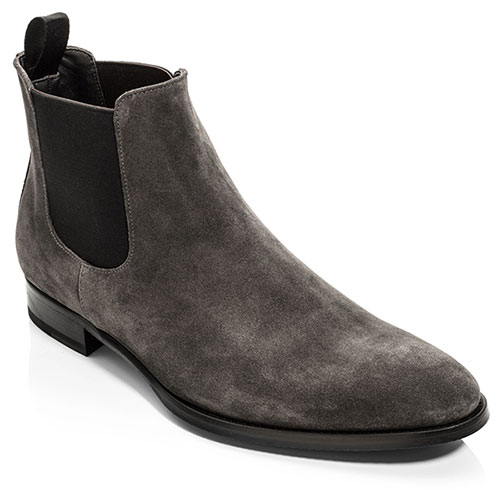 This grey Chelsea boot has an "almond toe profile", which means it lies between a pointed and a rounded toe. That makes it a great shoe for anyone who wants to walk the line between casual and dressy.
It may look too casual for formal settings, but will look good with a suit and can definitely dress up more casual outfits.
Featuring plush Italian grey suede and darker elastic goring, the Shelby Grey also has a Blake-stitched leather and rubber sole, making this a durable and flexible suede Chelsea boot that's stylish and versatile.
Price: $398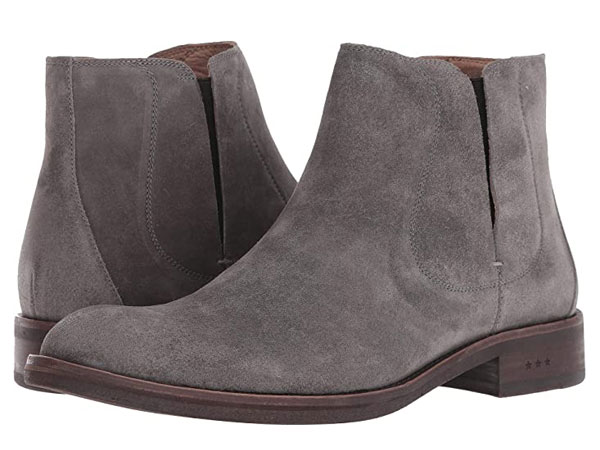 Since 2000, John Varvatos has been producing clothing and footwear that blends old world craftsmanship with modern techniques, adding a sprinkling of rock 'n roll for good measure.
The Waverly Covered Chelsea subverts the classic design ever-so-slightly, with a moderately rounded toe, hidden gussets, and no pull tab. The upper is made from distressed suede for that edgy look, while creative stitching and a dark brown midsole elevate this suede Chelsea boot to a sleek, stylish choice for smart or casual outfits.
Price: $298
Blue Suede Chelsea Boots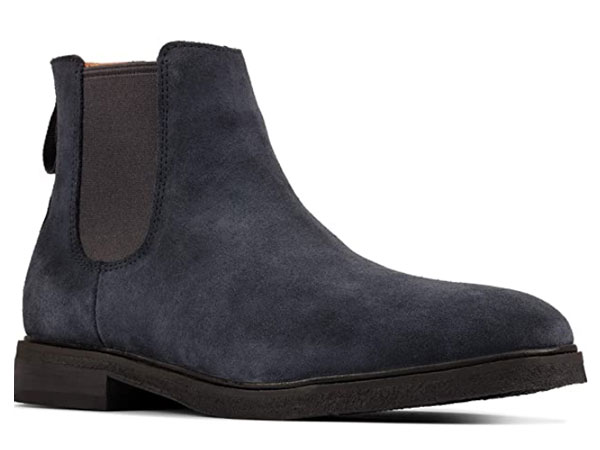 As already mentioned, Clarks is an excellent shoe brand that you can rely on for good quality for price. Their blue suede chelsea boot is comfy and looks great for anyone who wants a color that's a bit less common.
These are more appropriate for casual wear, but won't look out of place in a smart-casual outfit either.
Price: $170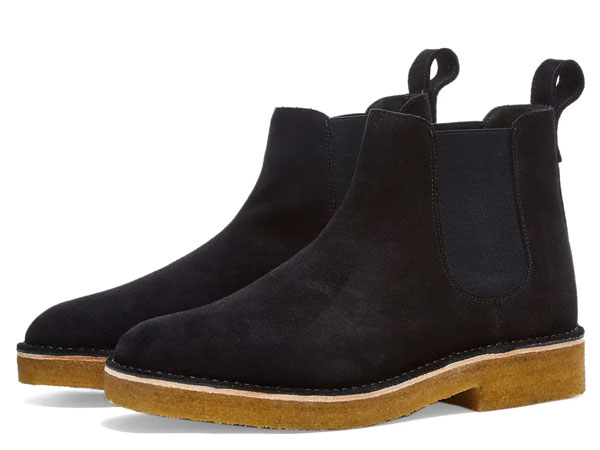 The iconic Desert Boot is one of Clarks' most famous creations, and has long been a cult favorite. This Desert Chelsea is the latest rendition of this enduring classic, and looks great in navy suede. This Chelsea boot feels like walking on clouds, thanks to its cushioned insole, and features a burly pull tab and leather lining.
If you're a fan of chunky soles, this could be the Chelsea boot you've been looking for. The crepe outsole is on the thicker side, and its light tan color gives a bold contrast to the navy suede upper.
This one doesn't pair well with a suit, but if you're looking for a more casual shoe, this unusual pair could be just what you're looking for.
Price: $209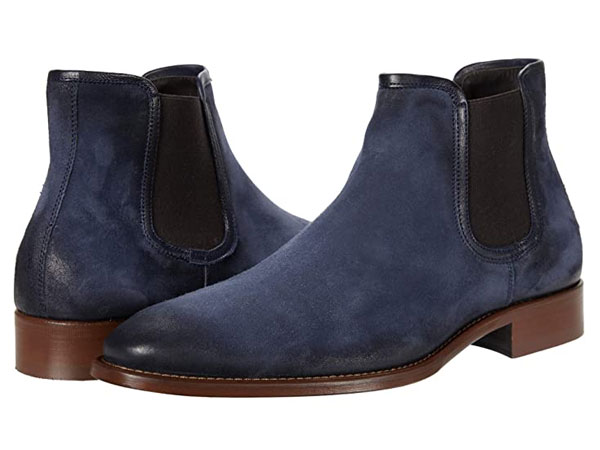 Based in Nashville, Tennessee, Johnston & Murphy have been making high-quality, durable footwear since the 1800s. The Cormac is a classy blue suede Chelsea boot that features hand finished leather and a more formal-looking pointed toe.
Made in Italy, the Cormac Chelsea Boot has soft leather and textile linings and a cushioned footbed. The leather outsole is injected with rubber to enhance flexibility, so you know this is going to be a boot you can wear all day.
The color may be too outside the norm to wear in more formal settings, but these certainly wouldn't feel out of place as a pair of business casual shoes.
Price: $225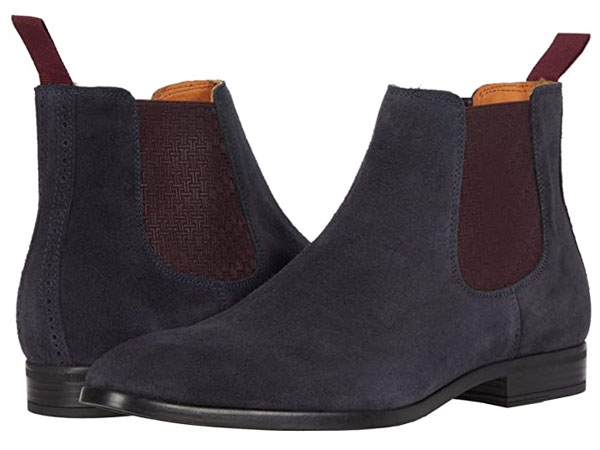 You can always rely on Ted Baker to produce something a little different, and the Roplet is no exception. This boot has a classic Chelsea profile, but some unique flourishes — like dark maroon patterned gorings and pull tabs, contrasted against the dark blue suede.
The Roplet has a breathable leather lining and a padded footbed, as well as a stacked heel that's on the lower side. All in all, this is a stylish, classic suede Chelsea boot that'll look great with jeans, chino pants, or a suit.
This is a boot that will certainly make you stand out.
Price: $250
Affordable Chelsea Boots for Men on a Budget
Let's face it. There's a good chance you won't have an extra few hundred bucks that you can justify spending on a pair of Chelsea boots. Never fear, though. If you're building your wardrobe on a budget, you can find plenty of affordable suede Chelsea boots out there.
Below you'll find a few examples:
---
How to Care for Suede Chelsea Boots
Rumors go around that suede is impossible to keep looking good, but that's just not true. You do have to put in a little effort to keep your suede Chelseas looking their best.
For general cleaning, use a suede brush. You'll be able to remove mud and scuff marks by lightly brushing your boot, with small, circular motions. Brush against the nap if necessary, but always finish in the direction of the grain to keep things looking smooth.
For tough stains, you're gonna need a special suede cleaner. Brush the boots, sponge them with a slightly damp cloth, then spray them with the cleaner. Use your trusty suede brush to gently rub the product in, then wipe the boots with a cloth again. When they're dry, brush 'em down in the direction of the grain.
Protecting your suede Chelsea boots can be as easy as not wearing them in the rain or out to bars and clubs, where they're likely to get either stepped or spilled on.
You should use a waterproof suede protector, and when you aren't wearing them, use wooden shoe trees. These will absorb excess moisture and odor as well as maintaining the shape of the boots.
How to Wear Suede Chelsea Boots
Thanks to their versatility, suede Chelsea boots can complement a range of outfits without clashing or looking uncoordinated. They're an excellent option for any man who wants to dress better.
Suede Chelsea boots can be a stylish alternative to sneakers, as part of a casual outfit. Any color can work, but brown Chelseas, in particular, look great with slim-fitting tapered jeans and a white T-shirt for a simple-yet-effective weekend outfit. If you're going for a smart-casual look, try them with a pair of jeans, t-shirt and blazer.
Suede Chelsea boots can work for business casual men, too. Worn with chinos, an Oxford shirt, and a blazer, the right pair of suede Chelseas will give you a casual yet office-appropriate look. Just avoid the more chunky soles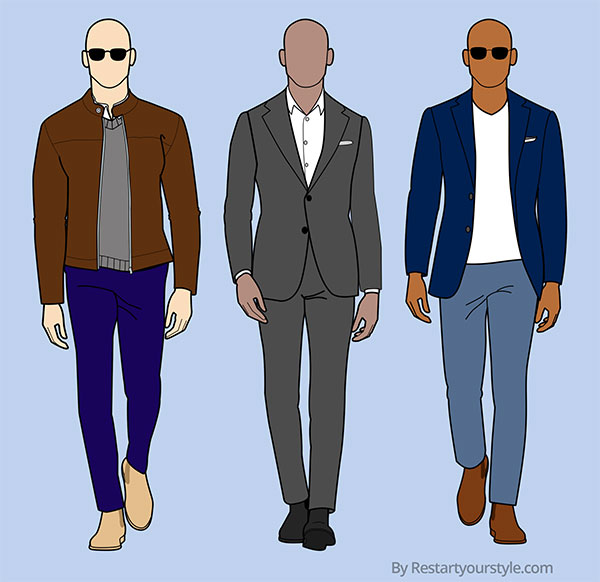 For a more formal look, suede Chelsea boots can definitely be worn with a suit, but you'll have to be more careful. I'd recommend black Chelseas with a gray or black suit, or a medium-light brown with a navy or brown suit. Blue, grey and tan are off limits for more formal occasions though. Also, avoid the chunky, contrasting soles. Shoot for sleeker designs.
FAQ About Suede Chelsea Boots
Can You Wear Suede Chelsea Boots in summer?
Summer is one of the best times to wear suede Chelsea boots. They look great as part of a dressier warm weather outfit, and you won't have to worry as much about mud or rain damaging the suede. They don't pair too well with shorts, so when you're dressing for summer, wear them with linen pants instead.
Can You Wear Suede Chelsea Boots With a Suit?
You can certainly wear Suede Chelsea with a suit as part of a business casual outfit, but not for more formal events. When wearing your chelsea boots with a suit, ensure that the color of the boots is appropriate to the color of the suit and that the trousers fall neatly over the top of the boot.
Can You Wear Suede Chelsea Boots in the Rain?
You should try to avoid wearing your suede Chelsea boots in the rain. Suede is more sensitive to developing spots from rain, so don't wear them when it's pouring (or going to pour) outside.
That said, don't panic if you get caught in a summer shower — just make sure to treat your suede boots once you get home. It's best to keep them stored when you're dressing for winter and fall.
Can Suede Be Waterproofed?
You can use a waterproof suede protector on your Chelsea boots, and that'll provide quite a bit of protection. However, even treated suede can become damaged by sustained contact with water, so you shouldn't wear your suede Chelsea boots during the rainy seasons.
Are Chelsea Boots Still in Style?
Chelsea boots are in style and aren't going out of style anytime soon. They're a timeless style icon. Chelsea boots have been popular for decades, thanks to their sleek minimalist look that can be dressed up or down. They will be popular for decades more.
Did You Find That Useful? Then Check This Out…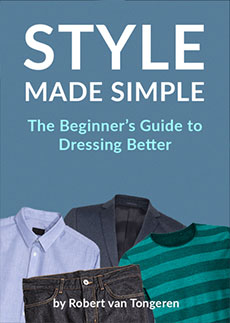 I wrote a men's style guide that simplifies the art of dressing well, focuses on what matters, and takes you through it one step at a time. Enter your e-mail below and you'll receive three free chapters, which will show you: