The 7 Best Business Casual Shoes for Men in 2023
When dressing business casual for the office, you may wonder which shoes are and aren't appropriate.
These are the best business casual shoes for men:
Oxfords
Derbies / Bluchers
Brogues / Wingtips
Monk Strap Shoes
Chelsea Boots
Dress Boots
Loafers
Which one is right for you depends on your outfit, the occasion, and how formal you want the shoes to look.
You may note that sneakers are not included on that list. Keep reading to find out why. But first, let's cover what makes these seven shoes the best business casual shoes for men.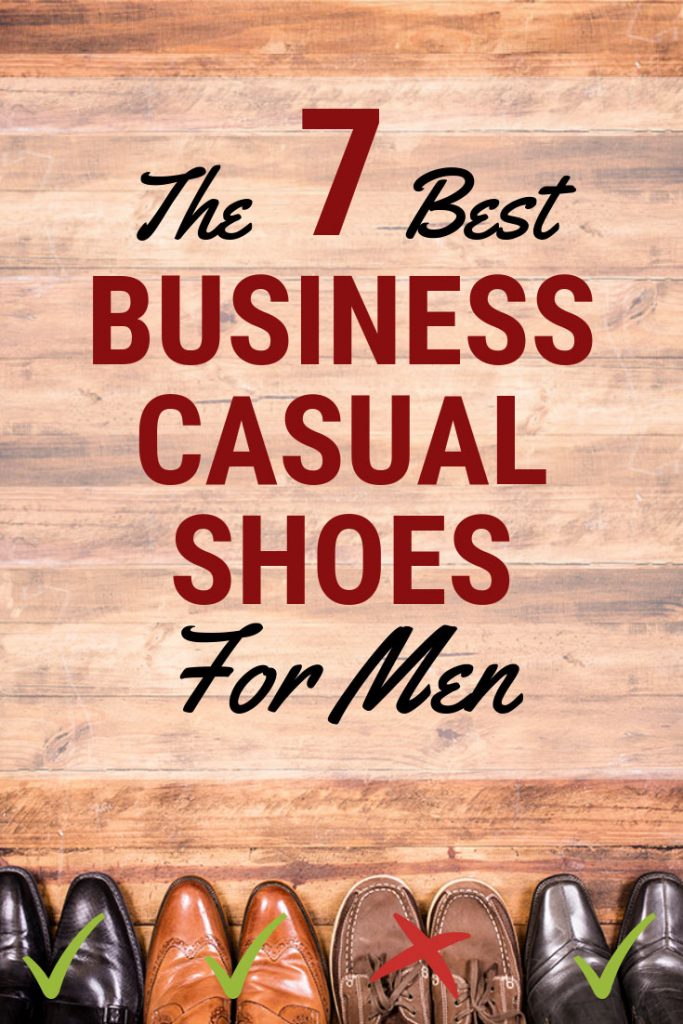 Note: This article may contain affiliate links. That means if you click a link and purchase something, I earn a small commission, at no additional cost to you. All opinions are my own.
What Shoes Should You Wear for Business Casual?
Business casual shoes should look neat and work-appropriate. In truth, the standards of what is work-appropriate are set by your employer. But even if they have a more casual view of business casual, portraying a professional image is in your best interest. That's why you should wear leather shoes.
Each of these shoes work best with different outfits, as each type has a different level of formality. Some go better with more casual dress, while others are better worn with more formal outfits.
The following guide will tell you everything you need to know about each shoe style.
#1: Oxfords
Level of formality: High
Are oxfords business casual?
Oxfords are definitely considered formal shoes, but you can absolutely wear them in business casual outfits. They are a great option to wear with suit pants, but it doesn't much matter what you pair those with. You can easily wear them with a suit jacket, cardigan, or just a dress shirt.
Oxford shoes have a "closed lacing system" which provides for a streamlined look that's very clean and gentlemanly. You can recognize a closed lacing system by the eyelet tabs — i.e. the tabs on either side of the shoe through which the laces go.
In a closed lacing system, these will be sewn into the leather at the bottom, which keeps them closed, even when untied.
These are the most formal shoes on this list, so if you want to make a great impression, then these are the shoes for you.
Please note though, these are too formal to wear in any outfit with chinos.
---
#2: Derbies / Bluchers
Level of formality: High
The derby is a versatile shoes that can be worn with any formal outfit, but still doesn't look out of place in a more casual outfit. You can even wear them with business casual jeans.
This makes the derby a wiser investment for many men than the oxford, simply because you can wear them in any almost kind of outfit.
So what sets them apart exactly?
The shoes are very similar to oxfords, but derbies have an "open lacing system" as opposed to the oxford's closed one. You'll note that the derbies pictured are not sewn into the leather at the bottom, and thus will be able to open when untied.
Like I said, the versatility makes them a solid option for any business casual outfit, whether you're wearing business casual chinos, dress pants, or a suit.
---
#3: Brogues / Wingtips
Level of formality: Medium-High
Brogues are oxfords (or derbies) that have perforations or detailing on the cap of the shoe. That perforation makes this shoe slightly less formal.
But that doesn't mean you can't wear them in the more formal outfits, as they pair quite well with a suit as well.
Like derbies, brogues are quite versatile and you can wear them with all business casual outfits.
---
#4: Monk Straps
Level of formality: Medium-high
Monk straps have become wildly popular within the last decade. The straps are a detail that implies slightly less formality. But these shoes are sophisticated enough to wear with suit pants.
Monk strap shoes have a strap that goes across the vamp of the shoe and buckles into the other side.
Like derbies and brogues, you can wear these with any business casual outfit you choose, no matter which type of pants you're wearing.
---
#5: Chelsea Boots
Level of formality: Medium
Chelsea boots are laceless boots with elastics on the side which makes them easy to slip on.
While traditionally they're considered on the casual side, these versatile slip on shoes can be paired both with a suit and chinos. Suede Chelsea boots are more casual than leather ones.
Just a tip though – make sure your pants are tailored well to fit around these business casual boots rather than pooling up on top of it, making for a sloppy lack of attention to detail that can ruin your entire look.
---
#6: Dress Boots
Level of formality: Medium-High
Boots typically imply less formal, but dress boots can look as formal as oxfords, derbies, or brogues, depending on the style of the boot.
These aren't recommended for tropical climates, but if you deal with heavy winters, you might consider having a pair in your wardrobe, as they'll keep you warmer than the aforementioned shoes during the chilly season.
Similar to Chelsea boots (or any footwear actually), they shouldn't pool over your ankle – it bears repeating due to how tacky it is.
---
#7: Loafers
Level of formality: Medium
On the opposite end of the business casual spectrum is the loafer. The name implies it all – these are comfortable casual shoes meant for loafing, or aimless wandering. Does that sound very formal to you?
I didn't think so.
However, you can wear these business casual slip-on shoes with suit pants or chinos, but just know the vibe you're giving off is more casual and lax, especially if you opt for the sockless or 'no-show' sock trend. Obviously if you're exposing your bare ankles, then you're wandering into casual territory.
---
Can You Wear Sneakers with Business Casual?
Some offices and events may accept white sneakers for men as part of their business casual attire, but you should still wear a pair of leather dress shoes instead. White sneakers are too casual to fit in a business outfit, and even if they're allowed, you'll look more professional going for a different style of shoes.
Even if the dress code rules are more lax in your office and all your co-workers wear sneakers, you should still aspire to be the best-dressed guy in the room. That means you step it up a notch from what they're dong. That means you go with a professional-looking pair of shoes.
Sneakers are great for a smart casual look though. If you want to learn more about that, check out my post about business casual vs. smart casual.
Why Every Guy Needs a Pair (or Two) of Business Casual Shoes
Even if you work in a casual office where T-shirts and jeans are the go-to attire, you should still own a pair of nice shoes.
You want to make a strong impression and let everyone know you mean business, so keep the sneakers for off-duty style.
Besides, when you have a big presentation, or a meeting with an important client or your boss, you want to put your best foot forward. And you'll make a better impression if that foot is wearing something classy and not your beat down Nikes.
Now, if you work in a business-casual office, you likely already have a pair of business casual shoes… At least, I hope. But if your pair is on the less formal side of the spectrum, you may consider adding a more formal pair for occasions like the ones mentioned above.
Can You Wear Business Casual Shoes with Jeans?
The beauty of business casual shoes is that you can wear them even in casual outfits. That makes them such a good investment. Not only will you take your office look up a notch, but you can do the same for your casual look.
You can wear business casual shoes with jeans, especially if you opt for less formal shoes that aren't overly shiny. More rugged leather shoes make a great combination with jeans.
Speaking of which…
Determining the Formality of Business Casual Shoes
So how do you determine the formality of a shoe?
Well, certain styles are traditionally more formal than others, but these are certain characteristics you can look at to determine the formality yourself.
Here are a few:
Details & perforation: The more details and perforation a shoe has, the less formal it looks.
Multi-Tones: When a shoe has multiple colors (even if it's just the sole that's a different color) they look more casual.
Sole: The chunkier the sole, the more casual the shoe.
Color: Black, brown and burgundy are more formal colors and are your best bet for men's business casual shoes. Other colors are considered more casual. (Note: lighter shades of brown are also considered more casual than darker ones.
Leather: The more sleek and shiny the leather, the more formal it looks. The more rugged, the more casual. Suede is a more casual leather-type.
Alright, now that you know what to look for in terms of formality, let's dive into the various shoe types…
Pairing the Right Shoes with the Right Outfit
In my guide to business casual for men, I gave you four types of business casual outfits. Let's go over each one and see which shoes you should wear with them.
1: The Suit Sans Tie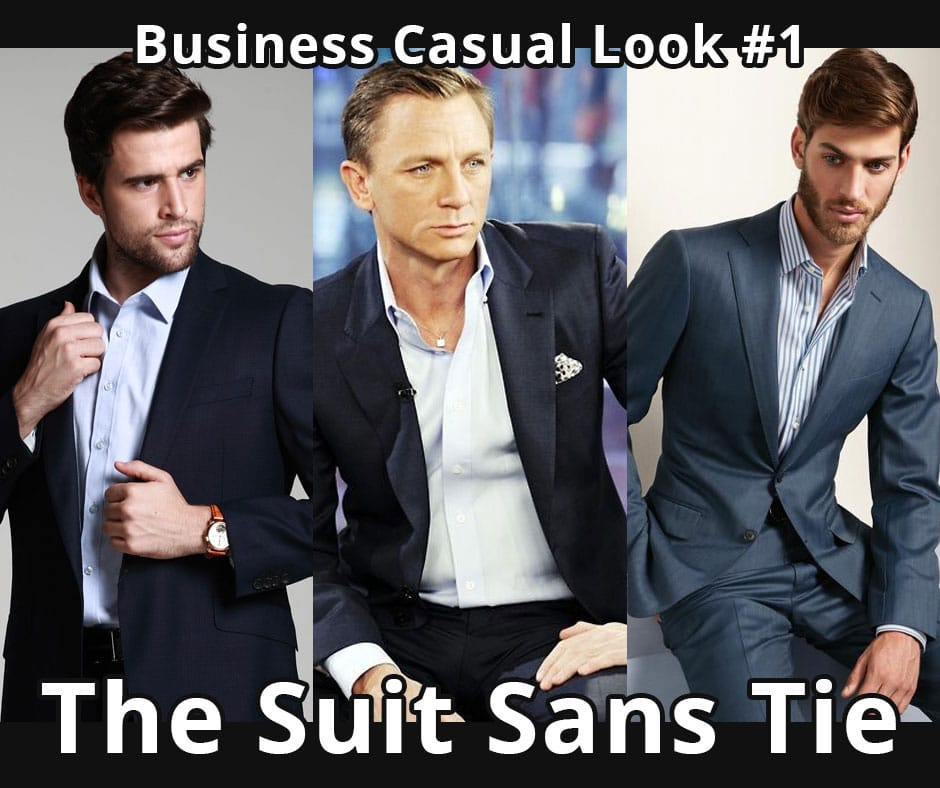 This look is as close you can get to formal without crossing that line, so you'll want your shoes to complement that look. While all the shoes listed below can technically be worn with a suit, for a work-setting, I'd recommend completing the look with a more formal option.
2: The Odd Jacket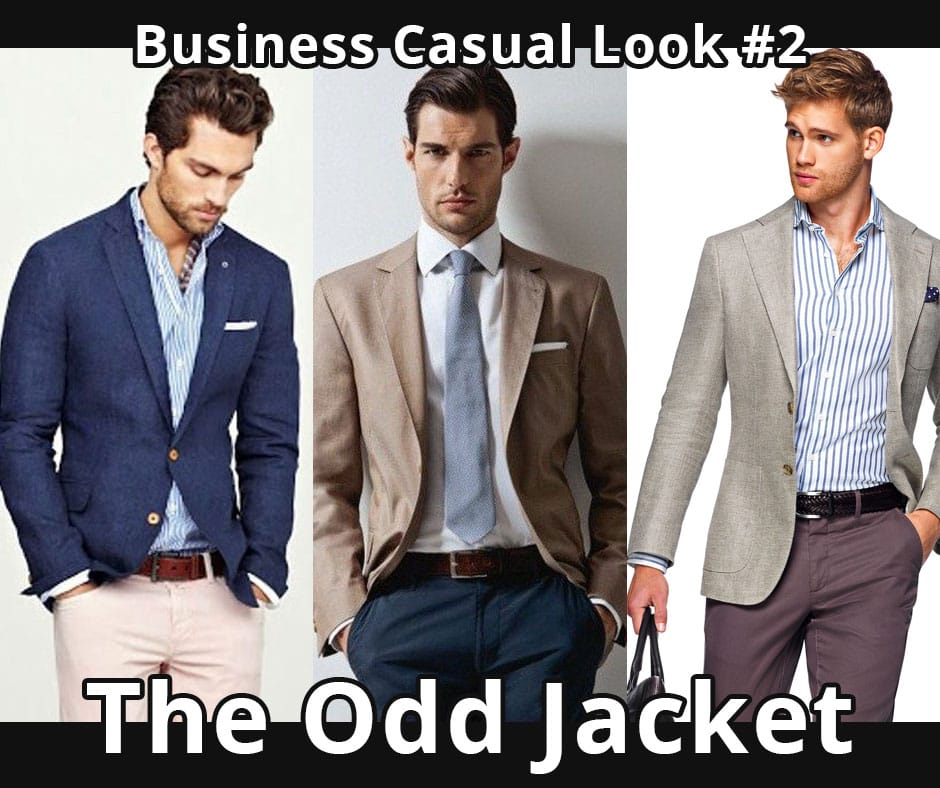 This look can range from formal to informal just based on whether you're pairing your jacket with dress pants or chinos. You should coordinate your shoes accordingly. If you wear dress pants, go with something more formal. If you're wearing chinos, go for a more casual option.
3: The Dressed-Up Knit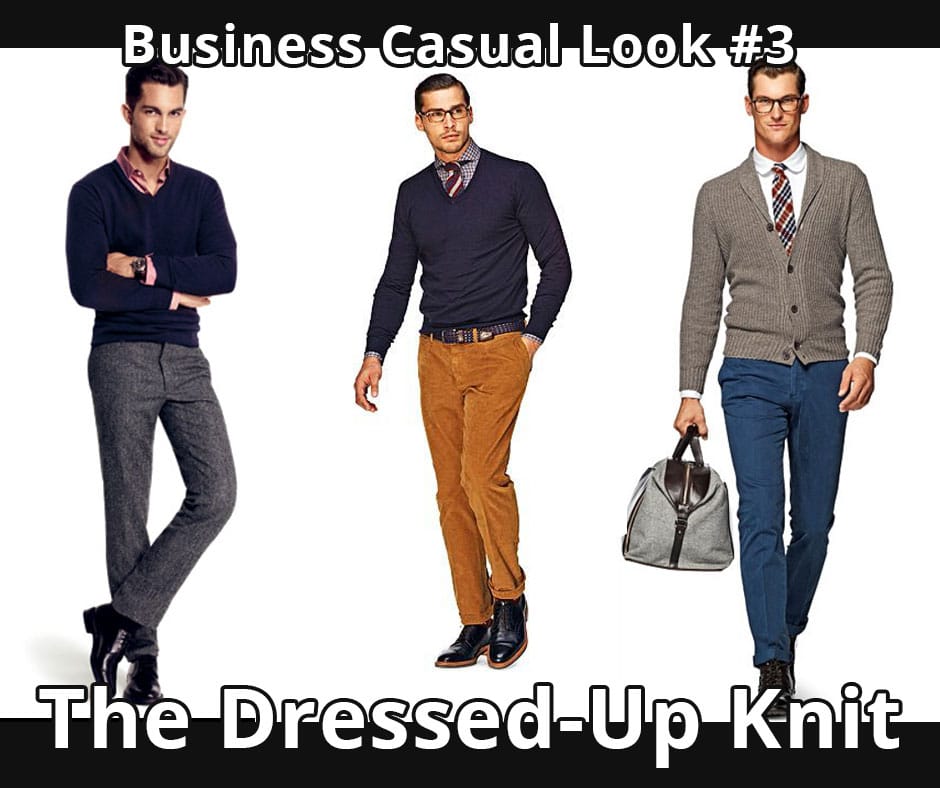 This look replaces your suit jacket with either a sweater or cardigan. Optionally, it may include a tie as well. You can truly go either way here with your shoe options.
4: The Shirt and Slacks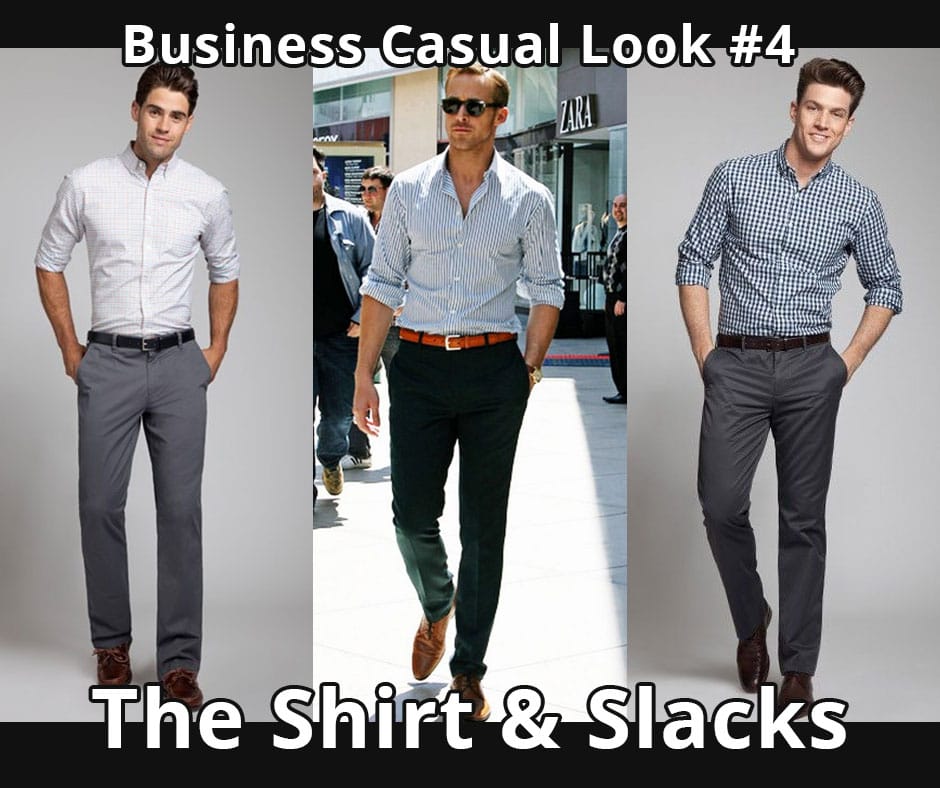 This is the most casual look out of the four, including only a business casual shirt, belt and dress pants. Now, you might think that means you should go for a more casual shoe. You can, but I'd actually suggest going for a medium-to-high formality. Because the rest of the outfit is already quite dressed down, adding a more formal shoe brings it back up a bit.
Of course, it's not just about the outfit. You must also consider how formal an event or work environment is when deciding which shoes to select. (Then again, I'd hope you already calibrated your outfit to the formality of the event as well!)
Now You Know What the Best Business Casual Shoes for Men Are
Pairing the right shoes with the right outfit is more of an art than a science. As you can probably tell, there are no strict rules, and for any business casual outfit, you have several options.
It all depends on how formal (or casual) you want your overall look to be.
Ideally, you should have one formal pair and one less-formal pair, so you can switch it up. If you only have a casual pair of shoes though, you should start with a more formal pair. (This creates a more versatile wardrobe overall.)
You just learned about seven business casual shoes for men, which all make good options.
So take your pick!
Did You Find That Useful? Then Check This Out…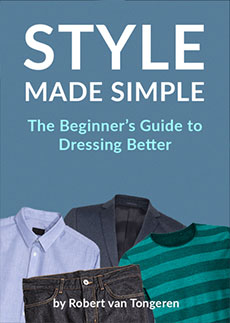 I wrote a men's style guide that simplifies the art of dressing well, focuses on what matters, and takes you through it one step at a time. Enter your e-mail below and you'll receive three free chapters, which will show you: