Casual Dress Code Guide for Men (for Work, Wedding & Events)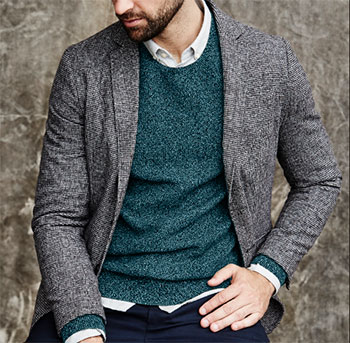 What exactly can you wear for a casual dress code?
A casual dress code typically means you can dress in informal clothes that you feel relaxed and comfortable in, but you can't just wear whatever you want. You should look presentable and appropriate for the situation.
Casual attire for work or a wedding should look different than the casual style you wear to your local pub or barbecue.
In this article, you'll discover which clothes are and aren't appropriate for a casual dress code. You'll also get some ideas of what to wear, whether you're dressing for the office, a wedding or a networking event.
Note: This article may contain affiliate links. That means if you click a link and purchase something, I earn a small commission, at no additional cost to you. All opinions are my own.
What Clothes Can You Wear for a Casual Dress Code?
With the casual dress code, you're almost free to wear what you like. But if you want to make a good impression, you'll want to think about how far you'll stretch that freedom.
Casual Tops:
Plain T-shirt
Polo shirt
Henley shirt
Casual shirt
Button-down shirt
Denim shirt
Dress shirt
Tip: Wear simple tops in solid colors or patterns. No graphics or giant logos.
Casual Layers:
Sweater
Blazer
Sport coat
Cardigan
Hoodie (maybe)
Tip: Most men feel more comfortable in a simple sweater, but consider a blazer or sport coat to set yourself apart.
Casual Bottoms:
Jeans
Chinos
Khaki pants
Dress pants
Tip: Just because you're dressing casually doesn't mean you have to default to jeans. Chinos and dress pants don't just look good, but they're comfy and help you change things up.
Casual Shoes:
Sneakers
Chukka boots
Brogues
Monk strap shoes
Chelsea boots
Work boots
Loafers
Suede shoes
Tip: Wear clean shoes, rather than your battered sneakers. Consider a nice leather shoe, because it looks classier. If you do go with sneakers, choose a simple design like solid white sneakers, rather than over the top baseball shoes.
Casual Accessories:
Leather belt
Canvas belt
Watch
Bracelet
Tip: If you wear leather shoes, match your belt and the strap of your watch to the leather. If you wear sneakers, consider a canvas belt. Rejoice! You can leave your tie at home.
Casual Coats & Jackets:
Leather jacket
Bomber jacket
Parka
Pea coat
Chore coat
Blouson
Tip: Leather jackets are a must-have for a man. They instantly raise your cool factor. A Pea coat is a great casual winter coat.
What to Wear for a Casual Dress Code at Work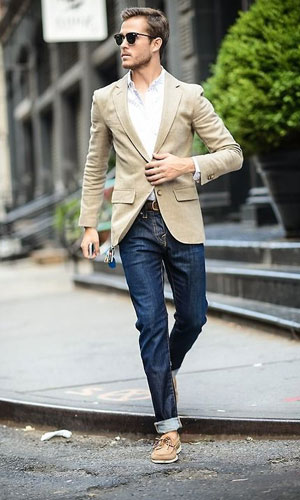 Different workplaces have different standards when it comes to the casual dress code, so you'll have to figure out what is and isn't appropriate. With any luck, they'll send you a detailed dress code policy.
Generally, this means their dress code is relaxed and you can wear the kinds of clothes you feel most comfortable in outside of work, but you still want to look work-appropriate.
Even if your office has a casual dress code, dress in smart casual attire. Wear a collared shirt with dark wash jeans, chinos or dress pants and nice leather shoes. Add a blazer or sport coat and you'll probably be the best-dressed guy at work.
Rules for a Casual Dress Code at Work:
You can't wear athleisure, so leave your joggers at home. You should also stay away from graphic tees, baseball caps and flip flops.
Jeans are usually okay to wear for a casual dress code at work. Usually, you can wear light and dark wash jeans, but avoid jeans that are overly faded, distressed or ripped.
Hoodies may be allowed, but aren't your best option if you are about making a professional impression.
Whether you can wear shorts depends on the workplace. If your office doesn't allow them, ust wear a nice pair of linen pants.
Casual Work Outfit Examples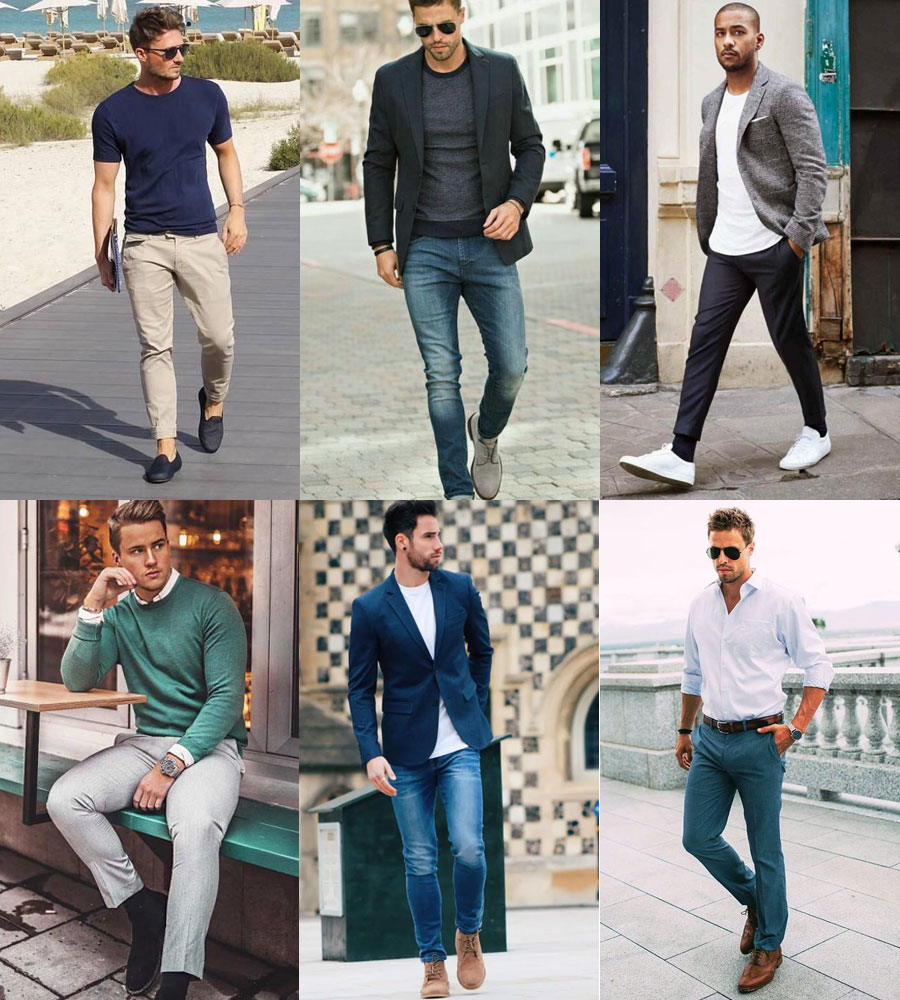 What to Wear for a Casual Wedding
When you receive a wedding invitation that says the dress code is "come as you are", don't take it literally.
"Come as you are" means the couple doesn't want their wedding party to be too stuffy, but you should still make an effort to look presentable. They'll want an event that feels laid-back, but you can expect that most people will still wear their best casual clothes.
For a casual wedding, your best option is to wear dress pants with a blazer, a collared shirt and a pair of casual leather shoes.
Rules for a Casual Wedding Dress Code:
Jeans will likely be acceptable, but if you go with jeans, go with dark wash jeans free of rips and fading.
For a summer wedding, wear linen pants rather than shorts. You may see some guys wearing shorts at the wedding, but take pleasure in knowing you're outdressing them.
Sneakers may be okay, but consider chukka boots or loafers as a step up. Definitely don't wear your ratty sneakers that you've worn for the last five years.
If you wear a T-shirt, add a blazer.
No sneakers or sandals.
No athleisure, obviously!
You might wear a casual suit, but be wary that you don't outdress the groom.
Casual Wedding Attire Examples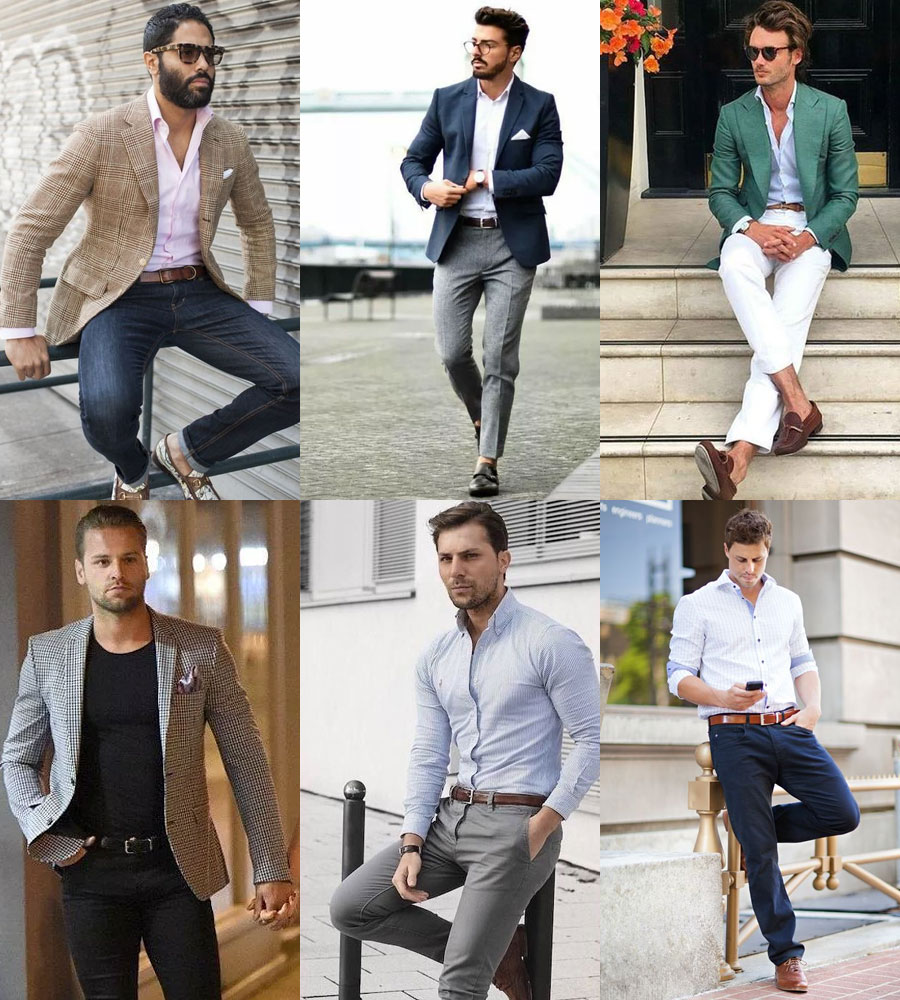 What to Wear for an Event with a Casual Dress Code
When you're going to a business or networking event that has a casual dress code, consider what impression you want to make on the people you meet there. Sure, you can arrive in your everyday t-shirt and jeans, but will that leave the best impression?
Treat it like you're going to meet a client, and dress yourself up a bit more. Instead of jeans, wear wool slacks. Instead of a T-shirt, go for a dress shirt. Instead of a sweater, wear a blazer.
Business casual attire is your best option. I'd suggest dress pants with a dress shirt and a blazer.
Rules for Business Events with a Casual Dress Code:
You can wear a suit, but don't go for a full power suit. Rather, consider a suit with a more casual color or pattern.
You might bring a tie, but it's probably overkill. Check out the scene, and if you're the only one wearing one, you can easily take it off.
Even if it's a casual event, it's still better to wear nice leather shoes instead of sneakers. Consider a pair of loafers, brogues or suede Chelsea boots
Business Casual Outfit Examples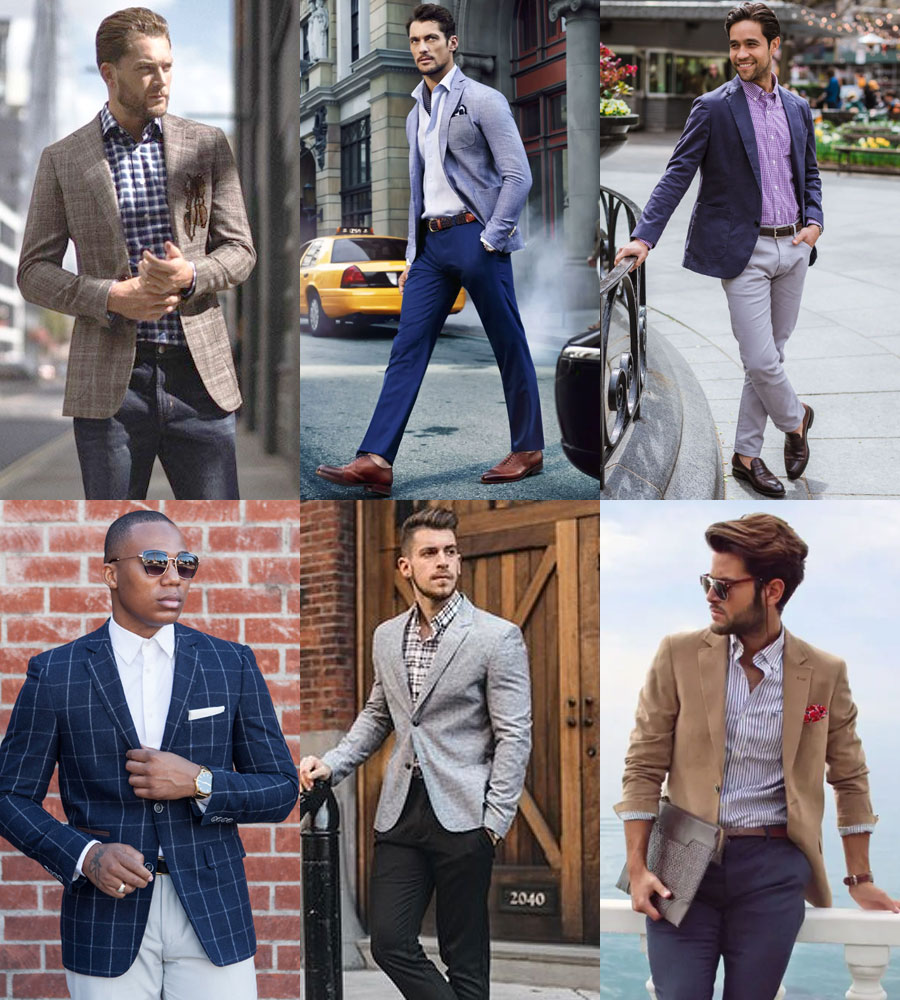 5 Casual Style Tips for Men
1. Pay Attention to Fit
If you want to make a good impression on people, ensure that your clothes fit properly. That means your clothes should neither be too large nor too tight.
Tops should drape over your torso without too much billowing or stretching, and the shoulder seams should end exactly at the shoulder. Your jeans or pants should be long enough to show a slight break in the fabric at the ankles, but the fabric shouldn't crease excessively.
2. Iron Your Clothes
If you want to look presentable, your clothes should be clean and wrinkle-free. Don't wear your clothes straight out of the wash, but iron them before heading out. It's a small task that'll make you look so much better.
3. Take a Cue from Your Co-Workers
If your workplace has a casual dress code, the best way to gauge what is and isn't appropriate is to look at what your co-workers are wearing. If they're wearing hoodies, you can wear them as well. If they're wearing shorts in summer, you can as well.
4. Take it Up a Notch
Though you can look at your co-workers to see what clothes are okay and which aren't, always aim to dress up a little more than them. This shouldn't be hard if, like many workplaces, they're all dressed like slobs.
The question you should ask yourself is, even if a hoodie is allowed, should I wear one? If everybody's wearing hoodies, wearing something slightly more upscale is an easy way to stand out from the pack.
5. Avoid Clunky Logos and Loud Graphics
Don't show up at a wedding or at work wearing jeans with a giant logo on your ass. Don't wear a T-shirt that spells out Versace all over your chest, or one with a giant skull on your belly. Consider what you'd wear if you'd be expected to dress "nice".
Tip: Check out my other casual style tips to look good on your day-to-day.
FAQ about Casual Dress Codes
Can you wear jeans for casual dress code?
You can usually wear jeans at a workplace or wedding with a casual dress code. Your safest option is a pair of dark wash jeans that's not distressed or faded.
How should you dress for a casual job interview?
Overdressed is better than underdressed — for most occasions. With a job interview, many will say you can never go wrong with a suit, as it shows you take the job seriously. It may also make the interviewer feel that you might not fit with the company culture.
I'd suggest going with a business casual outfit, rather than a full suit. If you want to be extra-safe, you might call ahead and chat with the receptionist and get a feel for the place.
Can you wear shorts for a casual dress code?
Some events or offices with a casual dress code allow for shorts, but others don't. If you're not sure, stay on the side of caution and wear linen pants instead. They look nicer anyway.
What is a smart casual dress code?
The smart casual dress code suggests that you dress up your casual clothes. It can mean pairing a blazer with jeans, or wearing a dress shirt with chinos. The key is to mix and match different pieces to create an outfit that looks elegant and put-together, but is still comfortable and relaxed.
What is a summer casual dress code?
If you receive an invitation that specifies a summer casual dress code, you can usually dress in more summer-appropriate clothes like shorts and short-sleeve shirts. You should still stick to clothes with solid color or simple patterns, and avoid flip flops.
Look Sharp for Every Occasion
You don't want to be the guy that shows up to work or a wedding and realize they're underdressed. You definitely don't want to be the guy who is underdressed and doesn't even realize it.
Now you know everything about the casual dress code you need to dress sharp. Use this advice, and you'll look appropriate no matter what occasion you're dressing for.
Did You Find That Useful? Then Check This Out…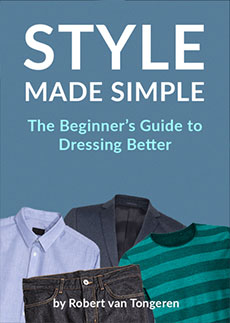 I wrote a men's style guide that simplifies the art of dressing well, focuses on what matters, and takes you through it one step at a time. Enter your e-mail below and you'll receive three free chapters, which will show you: