Smart Casual for Men: A Dress Code Guide (+ Examples)
What exactly is smart casual?
Smart casual means dressing up your casual clothes to look sharper. The goal is to give your casual clothes a polish by pairing them with more elegant pieces.
For men, smart casual can mean pairing a blazer with jeans, or wearing a dress shirt with chino pants. The key is to mix and match different pieces to create an outfit that looks elegant and put-together, but is still comfortable and relaxed. 
Not sure what to wear? This guide will help you nail the smart casual look.
Note: This article may contain affiliate links. That means if you click a link and purchase something, I earn a small commission, at no additional cost to you. All opinions are my own.
What Is Smart Casual?
Smart casual is a dress style that allows you to show class in your everyday life. It's a perfect look for days when you don't need to be dressed up, but you still want to put your best self forward. And you can easily achieve it by mixing and matching casual clothes with more elegant attire.
For example, you can pair your favorite jeans with a blazer and button-down shirt, or combine a pair of chinos with a dress shirt and suede Chelsea boots.
When dressing smart casual, pay attention to the details. Make sure your clothes are well-fitted and wrinkle-free, and that your shoes look clean and polished. Add in a few accessories, such as a watch or pocket square, to finish off your look.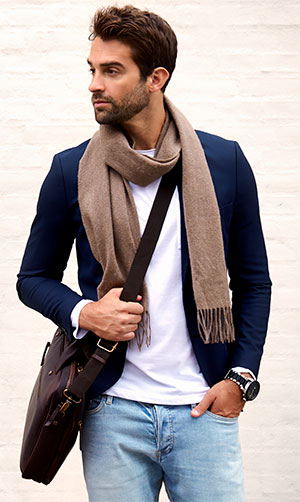 What to Wear for a Smart Casual Dress Code
There's a difference between dressing smart casual in your everyday life and attending an event or restaurant with a smart casual dress code. For the latter, you are likely expected to dress up a bit more.
When attending a smart casual event or restaurant, you should err on the side of caution and choose an outfit that leans to the dressier side of the dress code. For example, a blazer with a pair of chinos, dress shoes and a dress shirt.
This will prevent you from appearing under-dressed.
Smart Casual Clothes for Men: Mix it Up!
Smart casual attire can include a range of clothes between formal and casual items. It's all about how you mix them together.
You can make a smart casual outfit by mixing the following clothes:
Dress shirts
Polo shirts
T-shirts
Blazers or sports jackets
Sweaters or cardigans
Dress pants
Chinos
Jeans
Leather dress shoes
Casual leather shoes
Boots
Sneakers
Accessories such as ties, pocket squares and watches
You probably already have several of these items in your wardrobe, but there are a few specific items you'll want to invest in if you want to dress smart casual:
1. Shirts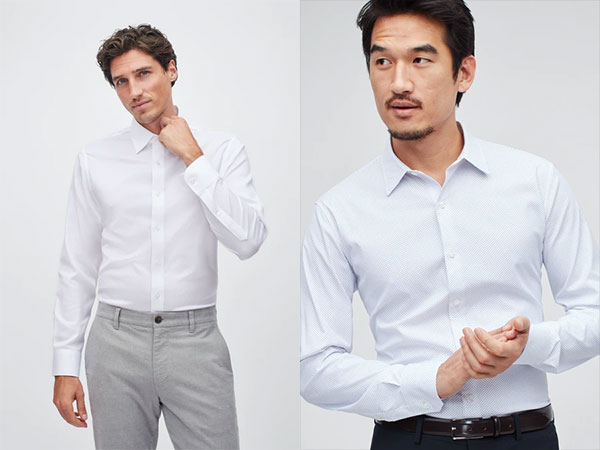 For dressing smart casual, you can wear a T-shirt, polo shirt or dress shirt. If you want to master the smart casual look though, you should definitely have some dress shirts in your wardrobe — because you can use these to dress up your more casual clothes.
For smart casual, you can also wear a T-shirt, if you dress it up with a blazer, chinos and/or leather shoes. Just keep in mind that this is more appropriate for casual situations than events.
2. Pants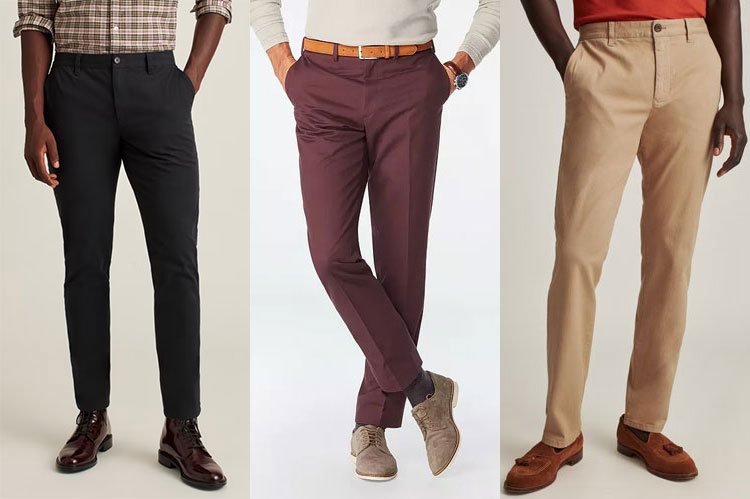 Your smart casual wardrobe should include chino pants and dress pants. Chino pants are casual dress, but look a bit more polished than your everyday jeans. Dress pants are the dressiest pants you can wear outside of suit pants.
You can wear jeans with smart casual, but you'll have to dress them up with a blazer, dress shirt and/or nice shoes.
3. Shoes
When it comes to shoes to wear to smart casual, your best options are:
Oxfords
Derbies
Brogues
Monk straps
Loafers
Dress boots
Chelsea boots
Your smart casual attire will always look a bit more polished when you wear clear leather shoes. Suede shoes are also an option, but will look slightly more casual.
You can wear a pair of white sneakers for smart casual, provided they don't look beat up. Just keep in mind that your overall look will lean more toward casual than smart.
4. Jacket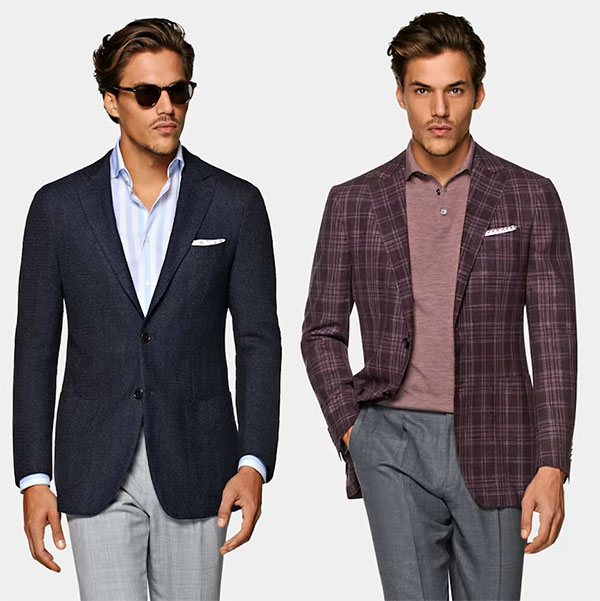 One of the best investments you can make as a guy is a blazer or sport coat. These jackets will upgrade any casual look to smart casual.
You can wear a blazer with jeans and a T-shirt if you want to keep the overall look more casual, or pair one with dress pants and a dress shirt, if you want to appear more dressed up.
How to Start Dressing Smart Casual
You can start dressing smart casual with any casual clothes you have in your wardrobe right now. Just think of ways you can dress them up a little.
For example, if you start with the typical T-shirt, jeans and sneakers, you can:
Add a blazer
Replace the T-shirt with a shirt
Replace the jeans with chinos
Replace the sneakers with leather shoes
Do all of the above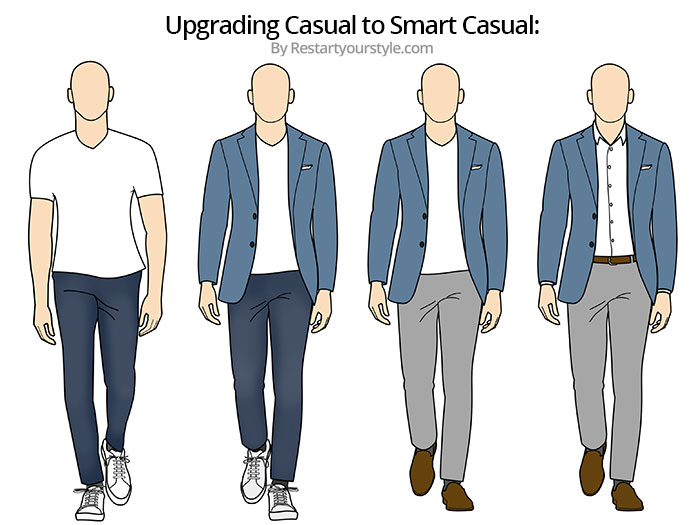 Smart casual doesn't have any hard and fast rules. Just start with a casual style that you like and then add in some more polished items. Experiment with different combinations until you find an outfit that feels right for you.
Examples of Men's Smart Casual Outfits
Smart casual outfits can range from leaning more casual to leaning more to the dressier side. Below are some examples of both:
A blazer with a T-shirt, jeans and sneakers
A blazer with a polo shirt, chinos and sneakers
A button-up shirt with jeans and casual leather shoes
A fitter sweater with jeans, a shirt and casual leather shoes
A blazer with a dress shirt, dress pants and dress shoes
A dress shirt with dress pants and dress shoes
A blazer with a sweater, dress shirt, chino pants and dress shoes
What Is The Difference Between Business Casual and Smart Casual?
The difference is that business casual is a dress code for the office, and smart casual is for casual wear. Business casual is dressing down from a business suit and tie, but outfits should remain professional and work-appropriate. Smart casual is dressing up from your T-shirt and jeans, and allows for less formal clothes.
Check out my article on business casual vs. smart casual for more details.
What Is the Difference Between Casual and Smart Casual?
The difference is that smart casual adds a polish to your everyday casual look. Whereas casual is all about comfort, smart casual combines comfort with looking put-together. 
What Is the Difference Between Smart Casual and Business Professional?
A business professional dress code requires you to wear a classic suit and tie to work. A smart casual dress code allows casual clothes, provided that you dress them up. The aim for both is to look sharp, but smart casual is a more laid-back style.
The Do's and Don'ts of Smart Casual for Men
Now that you know the basics of what to wear, here are a few important dos and don'ts to keep in mind when you dress smart casual:
Do:
Make sure your clothes are well-fitted. Ill-fitting clothes will always look sloppy, no matter how smart they are.
Pay attention to the details. Small details, such as a well-polished pair of shoes or a pocket square, can make a big difference.
Wear a blazer. It is not required, but it's one of the easiest ways to smarten up your casual look.
Accessorize. A few simple accessories, such as a watch or scarf, can add personality to your outfit.
Don't:
Overdo it on the casual front. Avoid looking sloppy. No baggy jeans, oversized T-shirts or beat-up sneakers.
Neglect the basics. A clean and well-pressed shirt always looks better than a wrinkled one. A solid T-Shirt is easier to dress up than a graphic tee.
FAQ About Smart Casual
Is Wearing a T-Shirt and Jeans Smart Casual?
Wearing a T-shirt and jeans by themselves is just casual. To wear them smart casual, you'd have to pair them with a blazer or sports coat.
Can You Wear Shorts for Smart Casual?
In summer, you can wear high quality chino shorts in a smart casual manner, by pairing them with a dress shirt and dress shoes. Board shorts or cargo shorts would be too casual.
Can You Wear a Suit for Smart Casual?
You can wear a suit for smart casual by pairing it with a T-shirt or polo shirt. You can also wear it with a dress shirt, but it'll look more business casual.
Does Smart Casual Require a Tie?
Smart casual doesn't require a tie, as it doesn't even require a collar. Most smart casual attire doesn't include a tie.
Are Hoodies Okay for Smart Casual?
Hoodies aren't what people would consider smart casual, but you can certainly dress them up as long as the hoodie is fitted and has a solid color or simple pattern.
Now You Know Everything You Need to Nail the Smart Casual Look
So now you know all the ins and outs of smart casual for men. With this dress style, you can enjoy the best of both worlds — the comfort of casual clothes with the polish of more formal attire. Just start with your usual casual pieces and add in some smarter items, while paying attention to fit and details. As long as you keep these tips in mind, you'll dress smarter in no time.
Did You Find That Useful? Then Check This Out…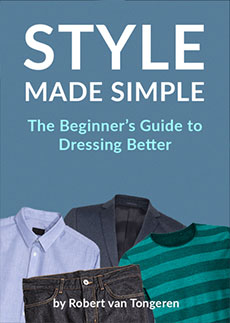 I wrote a men's style guide that simplifies the art of dressing well, focuses on what matters, and takes you through it one step at a time. Enter your e-mail below and you'll receive three free chapters, which will show you: