How to Dress Business Casual on a Budget (Men's Guide)
You have to dress business casual for the new job, but don't have a lot of cash in the bank to buy new work clothes?
Don't worry, I've got you covered.
Building a business casual wardrobe on a budget comes down to three things:
I'll cover all of this, give you some outfits ideas along the way, and share some additional cost-saving tips before you leave.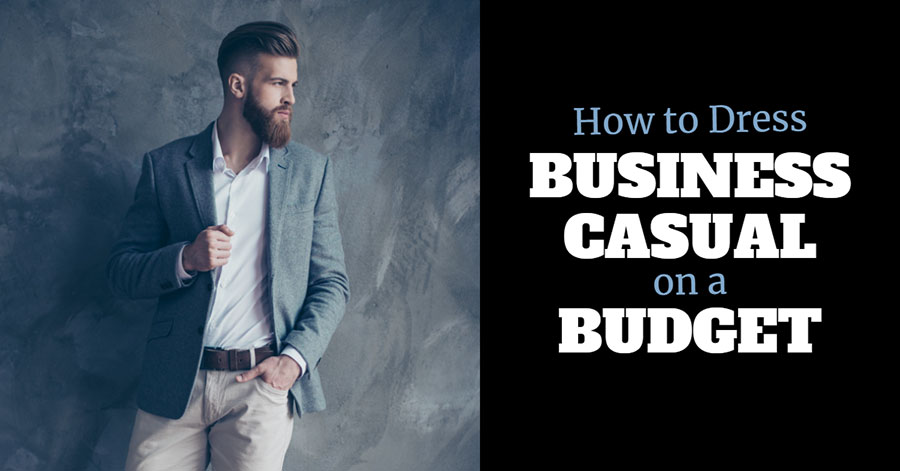 Note: This article may contain affiliate links. That means if you click a link and purchase something, I earn a small commission, at no additional cost to you. All opinions are my own.
How to Build a Business Casual Wardrobe on a Budget
Most people are not smart shoppers when it comes to their clothes. Whether it's their casual wear or their work clothes, they often invest way more than they need.
The trick is to build an interchangeable wardrobe of versatile clothes and not spending too much on any individual piece.
In other words: Fewer clothes and cheaper clothes.
But when it comes to dressing business casual, you need to ask an additional question:
What Does Business Casual Look Like Where You Work?
Business casual attire can typically include the following work clothes:
Dress shirt
Blazer or sports jacket
Suit
Dress pants
Chinos
Sweater or cardigan
Accessories such as a tie, pocket square and a watch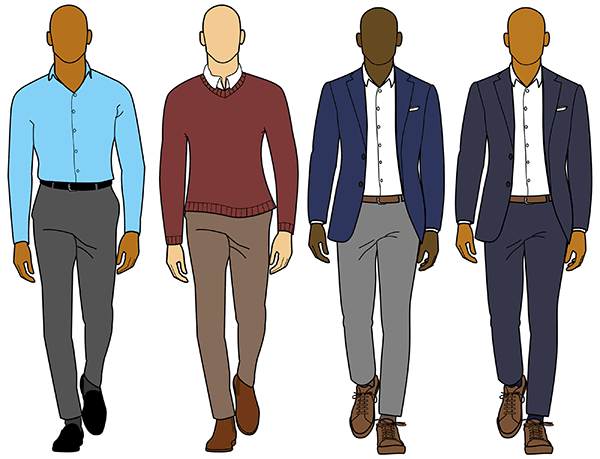 But rules differ from one workplace to another. Some offices may require your business casual outfit to include a jacket, while others are happy if you just wear a collared shirt and some nice trousers.
Some workplaces just want you to look tidy and may even allow jeans with business casual — though, not your bleached jeans that are full of rips and holes. Others may allow a polo shirt on Casual Fridays, but expect a shirt and jacket for the rest of the week.
The point is, different workplaces have different rules when it comes to this dress code.
And some items are bigger investments than others, so if you're on a budget, it's wise to check if you really need them. (For example, if you don't need to wear a jacket, maybe you shouldn't put it at the top of your shopping list.)
If you have a job interview and you're not sure what's appropriate, wearing a jacket is recommended to be on the safe side. If you want to make sure before investing in one though, call ahead and ask the HR department what you'd be expected to wear.
Building a Minimal Capsule Wardrobe
One of the biggest misconceptions people have around their wardrobe is about how many clothes they need.
When you invest in versatile clothes, you build a capsule wardrobe— a carefully curated collection of interchangeable clothes that you can mix and match to create a variety of outfits..
The most versatile work clothes are typical office staples in solid and neutral colors — e.g. white, black, grey, brown and navy — as these colors go with everything. They make the easiest clothing combinations.
How Does a Capsule Wardrobe Work?
You want to make sure that most of your clothes are neutral and can be easily matched.
For example: Let's say your office's business casual dress code requires you to wear dress pants with a dress shirt and a blazer.
Your minimal wardrobe can look like:
3 dress shirts (white, light blue and pink)
2 pairs of dress pants (grey and navy)
1 blazer (dark grey)
1 pair of dress shoes and a belt
This allows you to create six distinct office outfits, so you're covered for every day of the workweek, plus one extra. (And if you wash often, and don't care about being seen in the same clothes day to day, you may get away with just two dress shirts and one pair of pants.)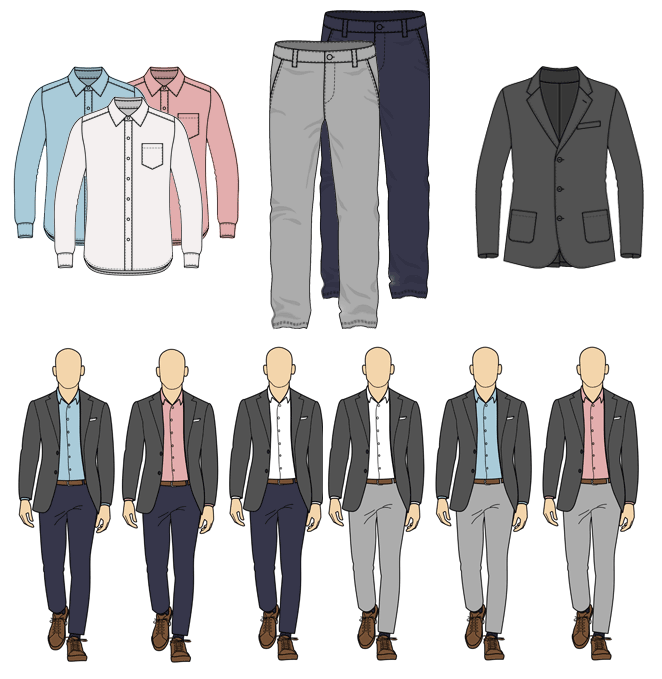 If they also allow sweaters, you might add two sweaters to your wardrobe, and this will bring your outfit options up to 18 possible combinations. (12 outfits with a sweater + 6 outfits without.)
If the office doesn't require a blazer, you don't need to purchase one right away, and just stick to your shirts and sweaters.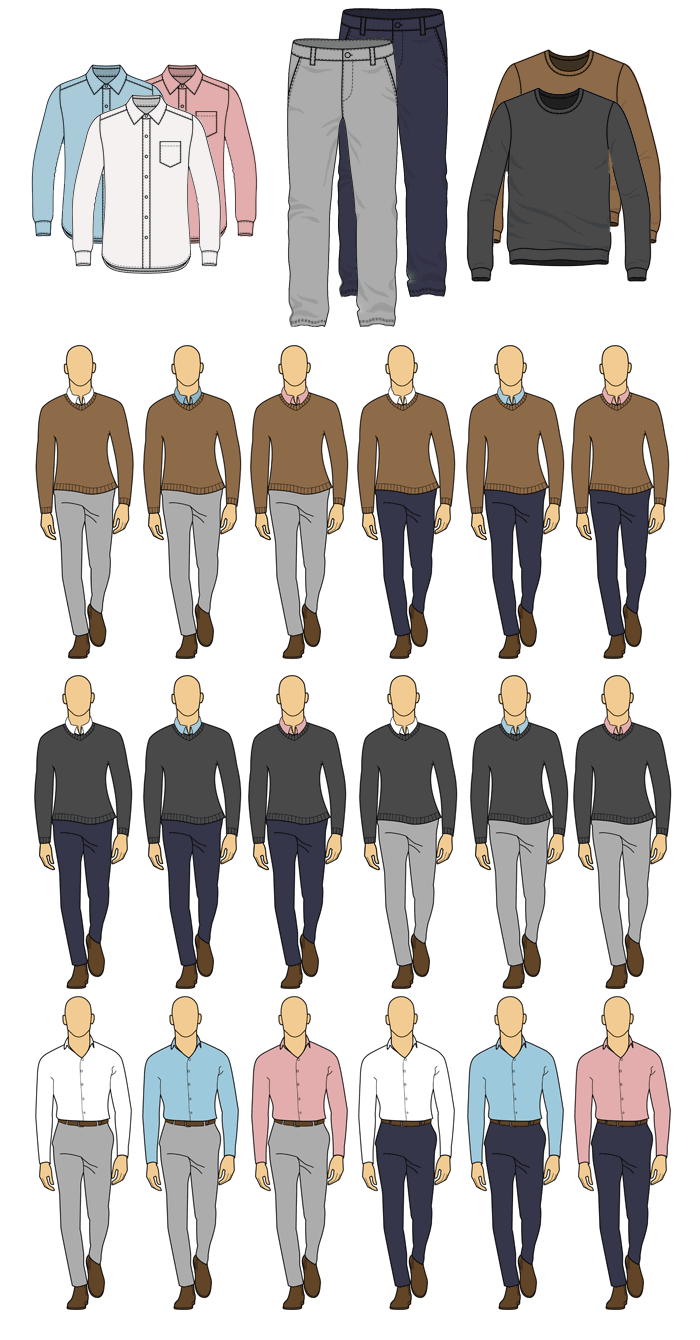 This way, you've purchased only 6-7 clothes and you can easily wear a different work outfit every day you go to the office.
The Best Wardrobe Staples for Your Business Casual Wardrobe
As explained, you mainly want to invest in wardrobe staples that you can easily interchange. Below, I'll explain your best options:
Dress Shirts
When it comes to busines casual shirts, I recommend getting at least one white dress shirt and one light blue shirt. These are the most versatile shirt colors for men.
Your third shirt could either be another color or a shirt with a subtle pattern.
Blazer / Sport Coat
If your office requires a jacket, get either a grey or navy blazer or sport coat. These are the most versatile jacket colors you can get and will pair well with any shirt color.
Avoid black jackets as they look more formal than you want for the office.
Chino Pants or Dress Pants
If your office allows chino pants, they may be a wiser investment, as they can pull double duty as casual wear. Whether you get chinos or dress pants though, go for grey, brown, khaki, or navy.
If you wear black shoes, you can also get your pants in black.
Belt and Shoes
When it comes to business casual shoes, you have plenty of options. My advice: Get a pair black or brown leather dress shoes and a matching belt. These will serve as the finishing touches to your work wardrobe.
The Best Stores for Affordable Business Casual Clothes
When it comes to dressing business casual on a budget, knowing where to shop for affordable work wear is key. You want to avoid shopping at higher-end stores like Ted Baker or Brooks Brothers. You can find decent-quality professional clothing at more affordable rates in other places..
You'll find a list of such stores below:
Another great choice is thrift stores. You may be surprised at the amount of professional attire you can find at a thrift store. The good ones will have sections devoted to business attire, and you can often find a quality blazer or dress pants for a fraction of the cost.
Additional Tips for Dressing Business Casual Without Breaking the Bank
You now have a good strategy for building your business casual wardrobe on a budget. But here are a few additional ideas you may use:
Buy in bulk: The kind of wardrobe staples that I mentioned before are often available in package deals, which are usually more affordable. Instead of buying three individual shirts, you may be able to buy a three-pack for less money.
Start small, then expand: You don't need a lot of business casual clothing to get started. Don't feel pressured to build your entire work wardrobe within a week. Get a few key pieces that you need, and then build outward if you want more versatility.
Keep it simple: The simpler you keep your professional wardrobe, the better. You can add different colors and patterns to your wardrobe as you build it out, but most of it should always be neutral and solid.
Sell old clothes: You may have an abundance of casual clothes that you can't use in your business casual wardrobe. Consider selling a few pieces to offset your costs. And selling clothes has never been easier now that you can do it online.
You Now Have All You Need to Dress Business Casual on a Budget
Dressing business casual on a budget doesn't have to be difficult. You can look professional and respectable without breaking the bank, as long as you invest in the right pieces, build a minimal wardrobe and shop at the right stores..
With a little bit of effort, you can create a polished look that'll make you look like a million bucks.
Did You Find That Useful? Then Check This Out…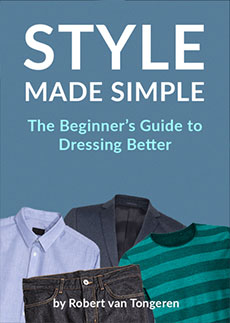 I wrote a men's style guide that simplifies the art of dressing well, focuses on what matters, and takes you through it one step at a time. Enter your e-mail below and you'll receive three free chapters, which will show you: