The Best Business Casual Shirts for Men in 2023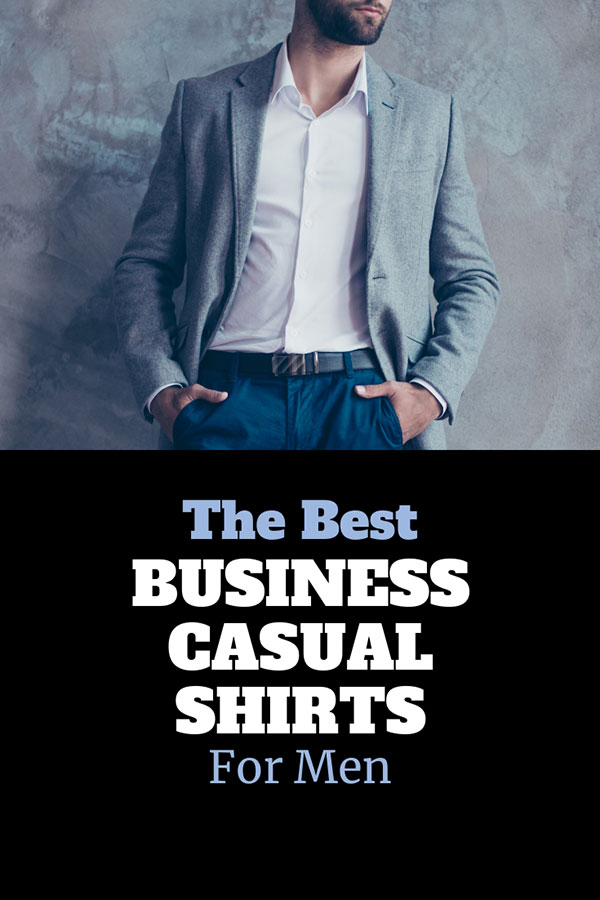 So you need to add some business casual shirts to your wardrobe but aren't sure where to look or what to look for?
What shirts are considered business casual?
The best shirts to wear as part of business casual attire are dress shirts that you would wear with a professional suit and tie. However, you're not restricted to only the most formal fabrics and styles.
How informal you can go with your shirts depends from office to office. But you should generally err on the more formal side before you start wearing polo shirts to work.
We'll go into more detail on what to look, but first, let's see which stores have the best business casual dress shirts for your needs and budget.
Note: This article may contain affiliate links. That means if you click a link and purchase something, I earn a small commission, at no additional cost to you. All opinions are my own.
Where to Buy the Best Business Casual Shirts for Men
Below is a list of some of the best stores for men's business casual shirts. We'll start with some of the pricier options for those who can afford to invest in higher quality, but we'll also cover some budget options down below.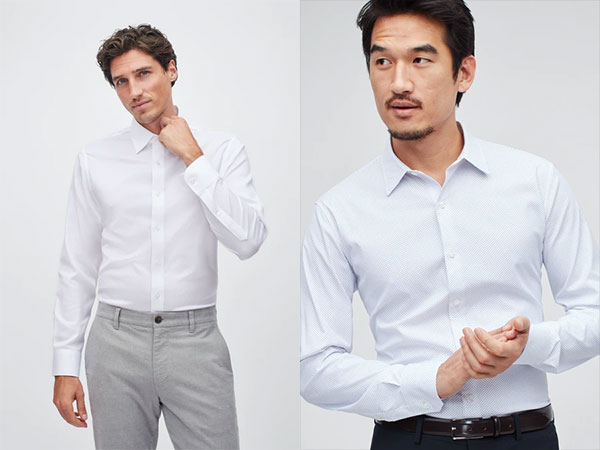 Bonobos is one of my favorite business casual stores and it boasts a wide range of excellent shirts which are available with free shipping.
The shirt collection has around 39 different design options. You can customize and personalize with many different fabrics, fit options, length, color, and button down/non-button down options.
If you find a shirt style that suits you exactly right, they usually offer the same shirt in a wide variety of colors and/or patterns. So they make it super-easy to add a variety of business casual shirts to your wardrobe.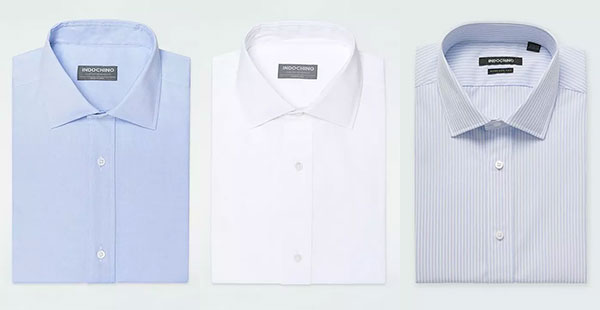 Indochino is another excellent source for business casual shirts. The thing I love about Indochino is that you can tailor the shirt exactly for you. They offer even more customization options than Bonobos. You can even customize the collar and cuffs to just the way you like.
You can submit your exact measurements on their website and tailor their shirts to you. If you don't know how to take your measurements, they have a handy video guide to show you. A well-fitted shirt is one of the key tenets of good style so this is a great feature.
And for all this customization, their shirts have a very reasonable price.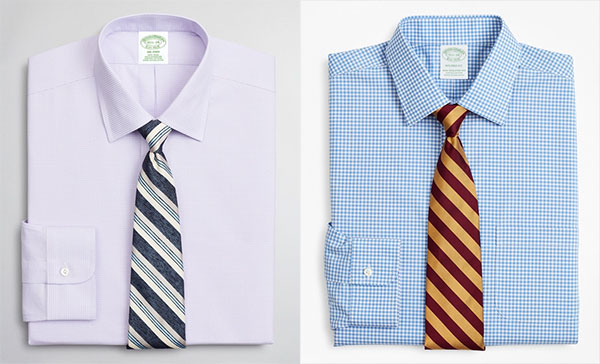 Ahh… Good ol' Brooks Bros. Another great shopping stop for your business casual shirt hunt. They have an enormous selection of quality shirts ranging from extra slim fit to big and tall.
Their shirts are made of quality cotton, and their awesome filtering system will help you get their offerings down to a manageable number of shopping selections (if you have an idea of what you're looking for). If you're looking for a specific style, good chance that Brooks brothers have it available.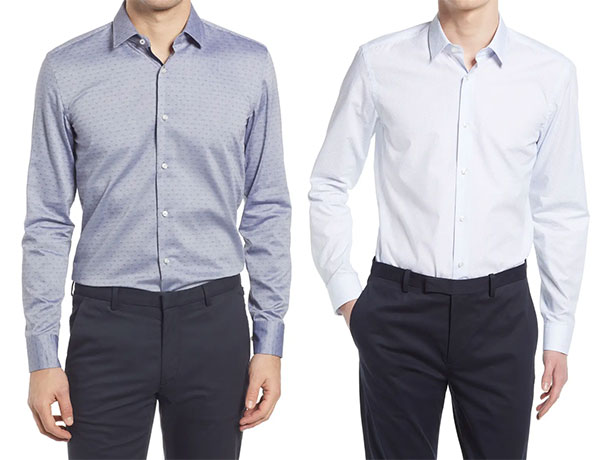 The reputation of Nordstrom precedes itself. The company offers a massive selection of shirts of nearly 3000 items — which you can filter by brand, function, color, etc. to narrow down your choice.
It is one of the most extensive filters online and free shipping is the standard, no matter how much you buy. They also offer alterations and tailoring in store, which is a huge plus. Let's face it, most of the time, your shirt will need a little work. This will save you some money on the tailor.
This is a solid and dependable choice and you will find great pricing here with many shirts under 50 dollars and other great deals.
When you are looking for something high-end and you want to indulge in some of the most luxurious brands like Loro Piana, Alexander Mcqueen, Paul Smith and Hugo Boss then look no further than Mr. Porter.
Just be careful with anything too fancy or loud in terms of design as the business casual dress code does not stretch that far (unless perhaps you work in fashion).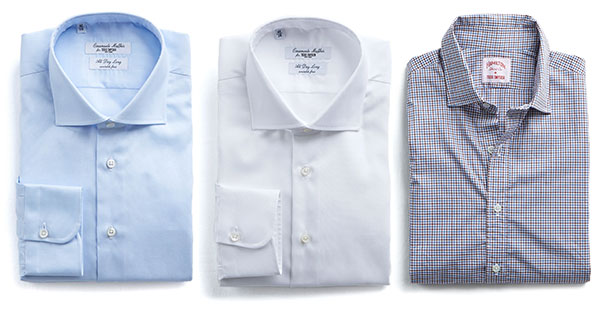 Todd Snyder is a luxury brand that offers great quality in return for those willing to splurge on a good shirt.
The prices come in high at an average of over $200. (You might sign up for their newsletter and wait for a sale if you're inclined.)
Express has a wide collection of shirts, but their 1MX dress shirts in particular is an excellent option. They're moisture-wicking, breathable, easy-care and come in a multitude of colors and patterns.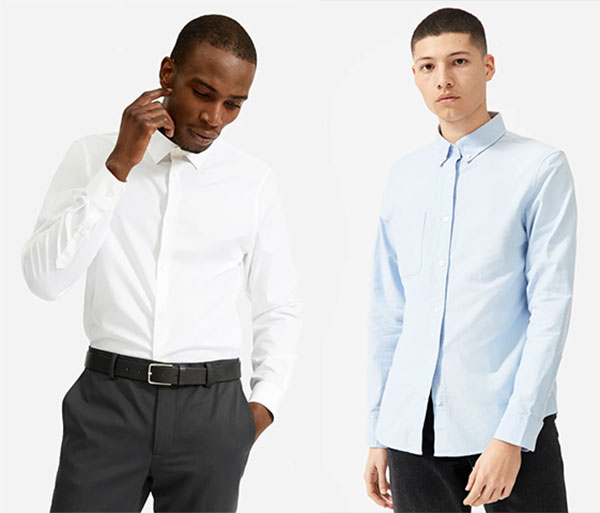 Everlane is a generally a more casual brand, but their white and light blue slim fit japanese oxford shirts would make a good start for a man's business casual wardrobe.
You might also check out their performance shirts, which have a host of high-tech features from stain and wrinkle resistance to quick-dry and anti-odor.
If you only need a shirt for the occasional meeting, you might just go with one of Everlane's.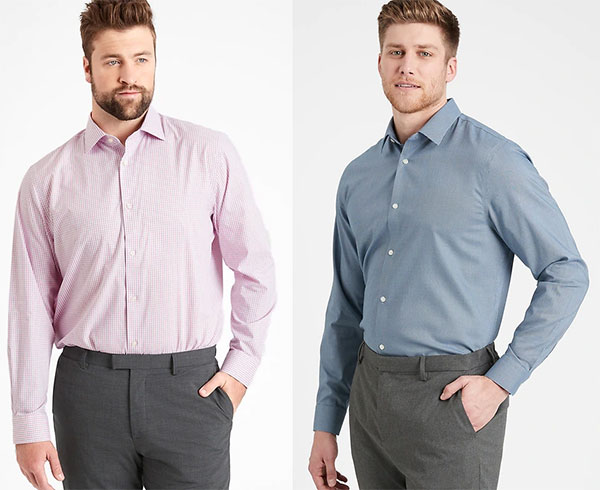 Banana Republic is another of my favorite (more budget friendly) stores that has a great selection of shirts. They are searchable across category, size, color and price, but they show the most business-casual appropriate colors and patterns at the top anyway.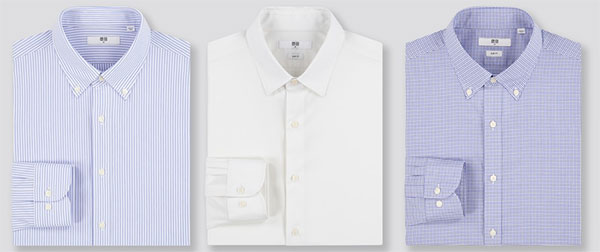 Uniqlo is my recommendation for anyone who needs to dress business casual on a tight budget. Okay, they don't have the finest quality out there, but you are always going to find the best prices here.
You may need to take your shirt to a tailor to get some adjustments done, but you'll still come out below the price of shirts from the stores above. Considering they range from $20-$30, the quality isn't half-bad either.
What Is The Business Casual Dress Code?
The business casual dress code is one step down from business professional. In such, the idea behind it is that you dress down from a business formal outfit. Business casual is not meant to be casual dress. It's a look meant for business purposes.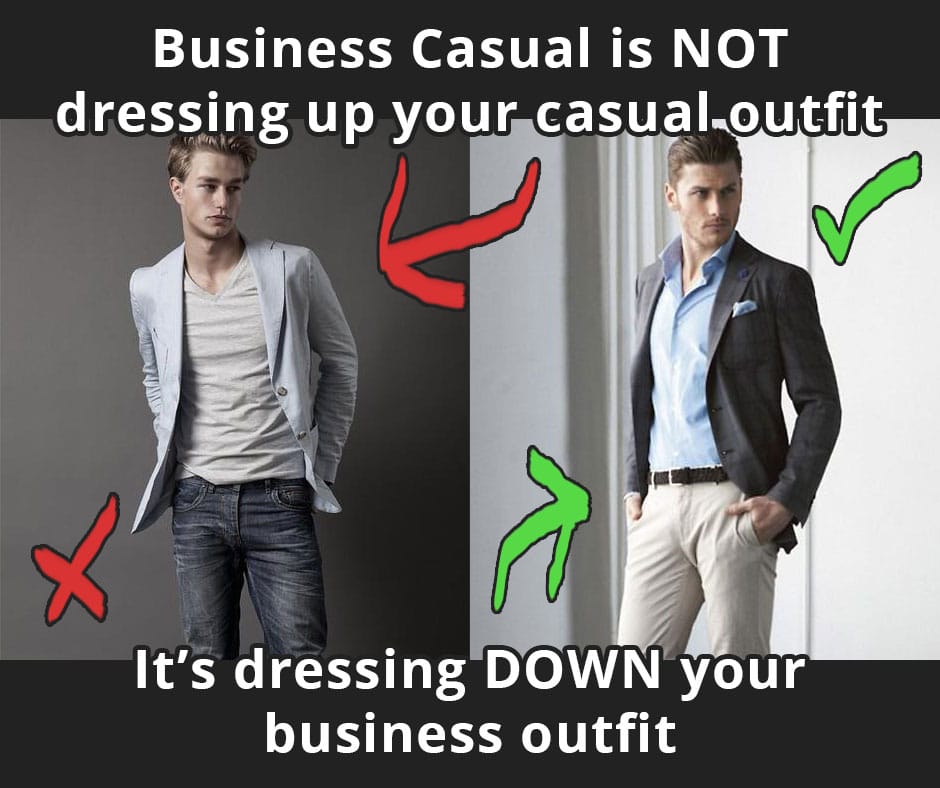 The business casual look usually includes the following items:
Suit (worn without tie)
Blazer/sport coat
Dress shirt
Dress pants
Chino pants
Sweater/ Cardigan
Polo shirt (sometimes)
You don't always have to skip the tie for business casual. If you're already dressing down, wearing a tie can bring the outfit back up again a bit. (For example, when you wear a blazer with business casual chinos and a dress shirt.)
What Shirts Are Business Casual?
Any dress shirt that you would wear with your suit and tie for a business formal occasion is also appropriate for business casual. However, you're more free to wear comfier fabrics like oxford, linen or twill.
In fact, if you're building your business casual wardrobe from scratch, a white oxford shirt is a great start.
Just avoid wearing sport shirts or flannel shirts, and avoid any shirts with loud patterns or bright bold colors. Keep your shirt subtle and understated.
How Should Your Dress Shirt Fit?
Use these guidelines to check whether your shirt fits correctly:
The shoulder seams rest on the edge of your shoulders; not on top of them and not over them.
The cuffs of your shirt end at the dimple of your wrist.
The fabric doesn't stretch around the chest or the buttons.
The fabric fits close to the body and doesn't billow when you tuck it in.
You can lift your arms without your shirt coming untucked.
You can fit two fingers between the collar and your neck; no more and no less.
Want a more detailed guide? Check out my article: How Should a Dress Shirt Fit.
What Color Dress Shirts Are Best for Business Casual?
Business casual shirts should have light, subtle colors and avoid bold colors that stand out too much. The best colors to get first are white and light blue, as they are the most versatile and will go with almost any outfit. But you are also free to wear colors like lavender, mint-green, light-pink, etc.
You can also wear subtle patterns like a light check or stripe.
How to Wear Men's Business Casual Shirts
You can make any type of outfit with the items listed above.
Below are some examples of business casual outfits you might try:
A suit and dress shirt without a tie.
A blazer with dress pants and a dress shirt (and a tie)
A sport coat with chino pants and a dress shirt (and a tie)
A sweater with a dress shirt and dress pants (and a tie)
A dress shirt with dress pants (and a tie)
Of course, you should always pair your outfit with a leather belt and some business casual shoes.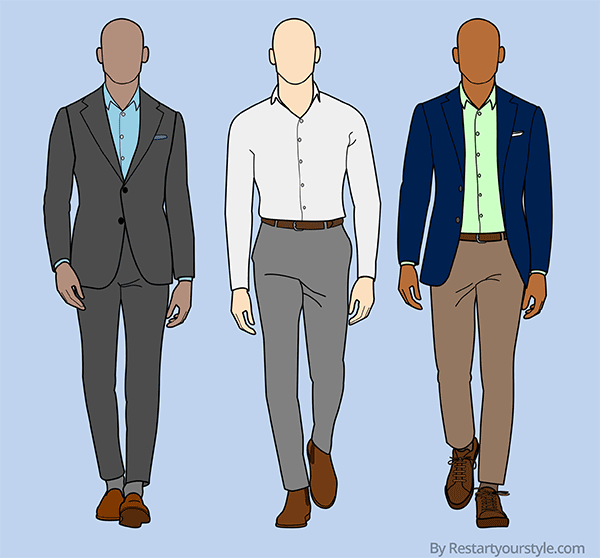 FAQ about Business Casual Shirts for Men
What is the difference between an oxford shirt and a regular dress shirt?
The main difference between oxford shirt and other dress shirts is the fabric — oxford shirts are made from a heavier woven fabric giving them a more casual feel and more comfort. Oxford shirts will also have button down collars. Regular dress shirts usually have a lighter, thinner material.
Is an oxford shirt business casual?
The oxford shirt is a great choice for creating a business casual look. It subtly reduces the formality of an outfit with its more casual fabric and has a button down collar, which tends to replace the tie.
How many shirts do you need in a business casual wardrobe?
How many shirts you need depends on your situation and how often you do the laundry. Some men who only need a shirt for the occasional meeting may be fine owning only one. Men who need one every day should have a minimum of two. Men who don't do laundry often may need three or four dress shirts in their wardrobe,
Are polo shirts business casual?
Polo shirts can be business casual, depending on the office, climate, and/or situation. Some business casual offices allow a polo shirt on summer days, but you should check before you wear one or you might appear under-dressed.
They need to look polished and clean – not washed 100 times, misshapen, stained and they need to be an acceptable color.
Can you wear a T-shirt for business casual?
You shouldn't wear a T-shirt as part of business casual attire, as T-shirts are casual fashion. A T-shirt will take your look from business casual to smart casual. Business casual shirts should always at least have a collar.
Are short sleeve shirts business casual?
Like polo shirts, whether short-sleeve shirts are appropriate for business casual depends from office to office. You should check with your co-worker or manager before wearing one. Short-sleeve shirts are considered more casual than long-sleeve shirts.
Did You Find That Useful? Then Check This Out…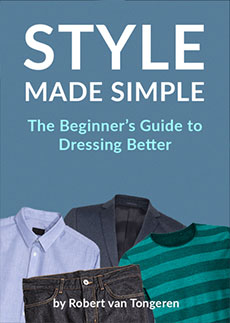 I wrote a men's style guide that simplifies the art of dressing well, focuses on what matters, and takes you through it one step at a time. Enter your e-mail below and you'll receive three free chapters, which will show you: