Business Professional Attire for Men: The 2023 Dress Code Guide
What exactly is business professional attire for men and how do you nail the look?
The business professional dress code is the traditional standard for office dress that requires men to wear a suit, dress shirt and tie, as well as polished dress shoes.
While many modern businesses are adopting business casual or even smart casual dress codes, the traditional standard is still prevalent in law firms, finance companies or government agencies.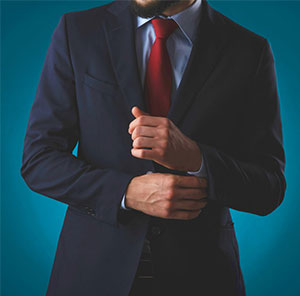 Whether you're just interviewing for your first job and have never worn business attire before, or you're just looking to take your work clothes up a notch, this guide will tell you everything you need to know. 
Note: This article may contain affiliate links. That means if you click a link and purchase something, I earn a small commission, at no additional cost to you. All opinions are my own.
What Is Business Professional Attire for Men?
Business professional attire typically includes a dark business suit, a light-colored dress shirt, a necktie, a leather belt and dress shoes. You can also wear accessories like a watch, a pocket square and/or a tie bar.
Compared to business casual and smart casual, this dress code is much more straightforward as the rules are quite clear-cut. Compared to black tie and white tie, business professional is less formal and allows for a bit more personal expression.
Let's cover the most important ground rules first before we get into more detail:
Your suit should have a conservative color like navy, charcoal or grey. It should be regularly dry-cleaned and be free of wrinkles.
Your shirt should have a light color, stiff collar, and be long enough to tuck into your pants (which you should always do.) White, light blue or light pink are your first go-to colors.
Your tie should be a darker color than your shirt and reach the top of your belt buckle when tied. You can show more personality with bolder colors and patterns, but don't go overboard. Keep it professional.
Your dress shoes should be made from black or brown leather and always look clean and polished. Oxford shoes, derbies, bluchers and (sometimes) brogues are the only acceptable options.
Your belt should always match your shoes. Black shoes require a black belt. Brown shoes require a brown belt. Brown shoes don't have to match exactly with the belt, but they should look similar.
Your accessories should be harmonized with your outfit. A pocket square should complement your shirt and tie. Your dress socks should match your pants.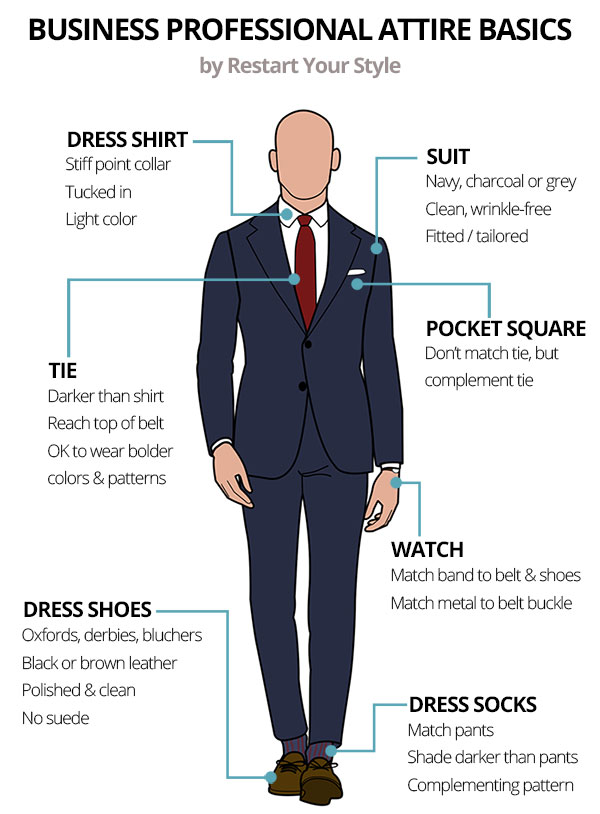 Those are the most important guidelines, but they don't tell you everything. Now, let's dig deeper into what is and isn't allowed, what colors to wear, which styles to look for and more. 
While you're here, you might also like these additional dress code guides:
Suits
The business professional dress code requires men to wear a business suit. You can't get away with wearing separate dress slacks and a blazer. Your suit should be well-fitted and have a neutral color like navy, charcoal, or grey, because those look most professional.
Most men won't find a suit off the rack that looks good on them. When you're trying on suits, you may feel that you look stuffy or old fashioned. Off-the-rack suits are usually cut in a way to accommodate various body-types which makes them easier to sell, but this also makes them look frumpy on most men.
When you go out to buy a suit, expect that you should have it tailored. Make sure it fits in the shoulders and chest, but you may need to have the waist taken in or the sleeves shortened.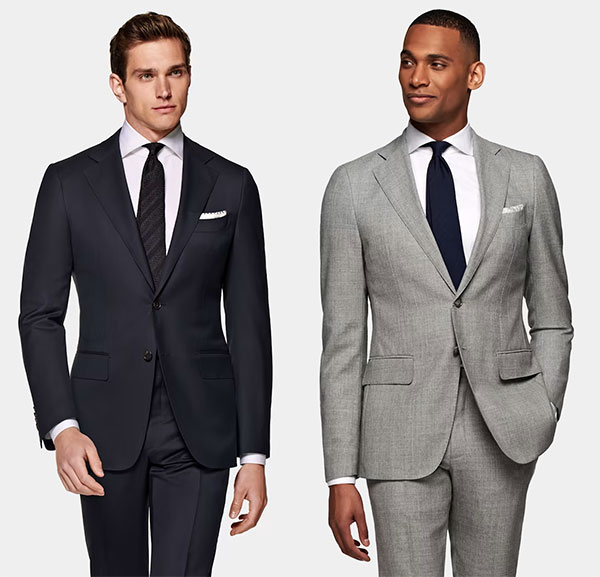 Can You Wear a Black Suit to Work?
A black suit is too formal to wear to work. You should only wear one to funerals, weddings or formal events. It's not appropriate for the business professional dress code, and wearing one will make you look out of your depth, like you have no clue what you're doing.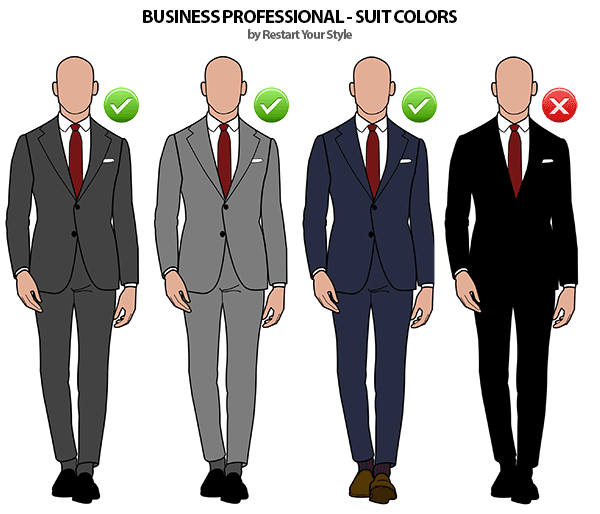 What Suit Patterns Can You Wear?
Stick mostly to solid suits with no patterns.
A pinstripe suit is the only acceptable pattern for professional attire, but this shouldn't be at the top of your shopping list if you're building your professional wardrobe from scratch. You should invest in a few solid suits first as you can wear them multiple days in a row without the suits calling attention to themselves.
Avoid checked suits, as they are meant for casual wear.
Dress Shirts
The business professional dress code requires you to wear a tucked-in formal dress shirt. That means a long-sleeved button-up shirt with a stiff collar and made of high-quality cotton. Your safest option is a dress shirt with a classic point collar, barrel cuffs, and a light color such as white, light blue or light pink.
You want to ensure that the collared shirt is of quality material. You shouldn't wear your everyday flannel or oxford shirt, as they are too casual.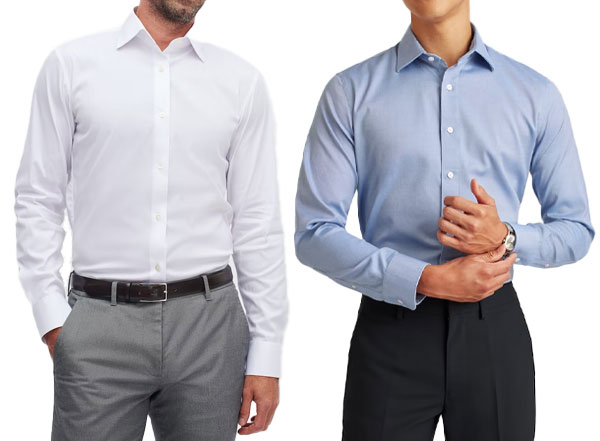 It should also go without saying that a polo shirt or T-shirt are a no-go.
You can wear a shirt with French cuffs, but a regular barrel cuff is fine for most occasions except for business events where you're expected to dress in more formal attire.
A Guide to Dress Shirt Collars: Which Are Appropriate?
The classic point collar is your best bet. It's a timeless collar style that looks good on everyone, and appropriate for most levels of formality.
The spread collar is a good choice because they look great with or without a tie (which makes it a great option for regular work days as well as casual Fridays). You will need a wider tie knot to fill the gaps when wearing this collar.
The cutaway collar is a modern style but is more suited for casual wear than professional because it doesn't look attractive when combined with a tie.
The button-down collar is another classic collar style that is considered to be more suited for casual wear. You'll see these often on oxford shirts. Because of their casual nature, they don't really belong in a business professional outfit.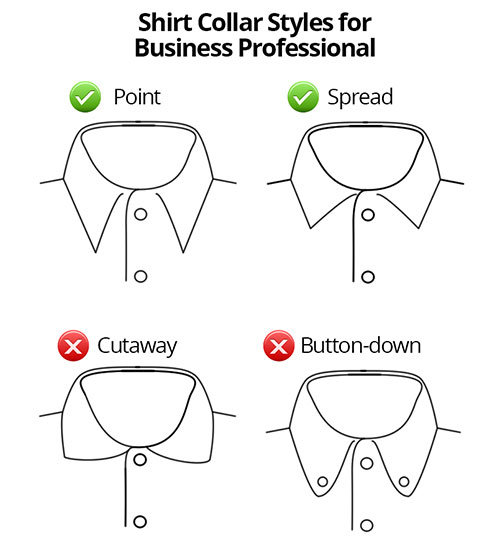 Dress Shirt Colors and Patterns
Your business professional dress shirt should always have a light color. Every man should have a white and light blue dress shirt in his professional wardrobe as these are the most versatile (and most traditional) dress shirt colors you can own. A good third option is light pink.
Avoid dark or bold colors, and avoid eye-catching patterns or prints.
Patterned shirts are less formal than solid dress shirts, but a subtle stripe or check pattern is okay in most offices. Just keep in mind that your shirt should be understated, and that patterned shirts shouldn't be your first purchase.
Again, you should prioritize adding a few solid shirts to your wardrobe, if you don't have them already. Polka dots are too casual.
Ties
Business professional requires men to wear a tie. Your necktie should be a darker color than your collared shirt and have a little sheen. As far as materials go, you can't go wrong with a silk tie. You can have more fun with colors and patterns, but how much depends on your office culture.
Avoid knitted ties. The more heavy the texture, the more casual the tie looks.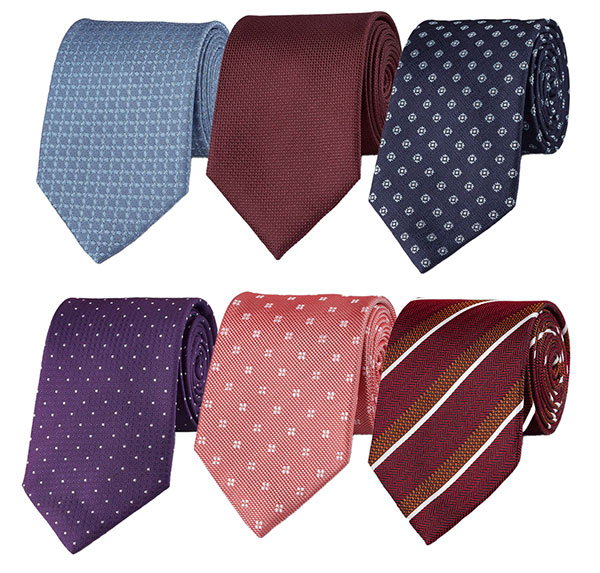 Tie Colors and Patterns
A simple black tie can look great, especially with a grey suit and white shirt, but why not take this opportunity to add a pop of color to your outfit? You can wear ties with bolder colors like red, green or yellow. You're also not limited to only solids and pinstripes. Your tie may have bolder stripes, pin dots or glen checks.
Depending on your office culture, you may also go with paisley, tartan, argyle, windowpane or floral motifs for your tie. That said, stay on the conservative side for your first days until you are sure these are accepted in your workplace.
Absolutely. No. Novelty ties.
You can have some fun with your tie, as long as you don't go too crazy.
How to Match Your Tie to Your Shirt
If you're wearing a white shirt, you can wear about any tie you want, but if you wear a colored shirt, you'll need to consider the color of your tie.
The easiest way to match your tie is to keep it in the same color family as your shirt, but make it a darker shade. So you might pair a pink shirt with a burgundy tie, or a light blue shirt with a navy tie.
The next safest option is to wear analogous colors, i.e. colors that are similar, like a blue-green tie with a blue shirt, or a purple tie with a pink shirt.
And for the bolder gents, you may go with contrasting colors, like a light blue shirt with a red tie, or a pink shirt with a navy tie.
You can also match a color from the pattern in your tie to the color of the shirt.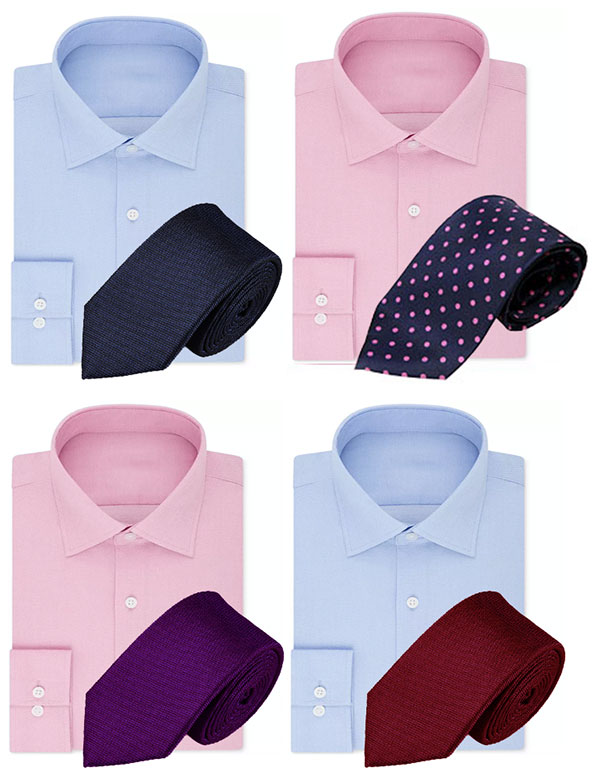 How about Bow Ties?
If you're wondering whether you can wear bow ties to work, the real question is whether you should.
Bow ties are traditionally allowed in the business professional dress code, but in today's age are usually reserved for more formal attire. Most men should avoid wearing a bow tie to work unless you want to be known as the "bow tie guy."
Assuming you want to be known for your work and not for what you wear around your neck, go with a regular necktie instead.
How to Tie a Business Professional Tie
You can tie your tie in many ways, but for the business professional dress code, you should use the classic full-Windsor knot. You can see below how to tie it.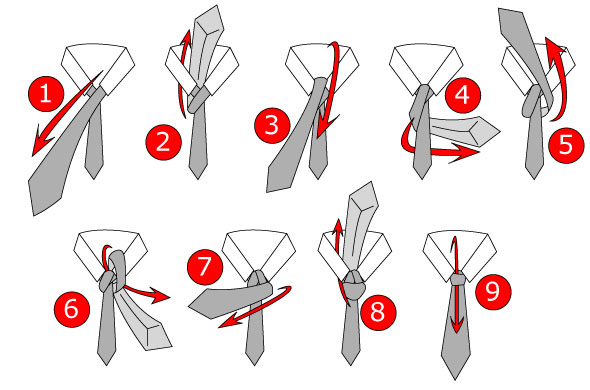 Dress Shoes
The only types of dress shoes you can wear are oxfords, derbies, bluchers and brogues. They should always be clean and polished without any scuff marks or soles coming off.
A few considerations:
Leather: Your dress shoes should be made from sleek and shiny leather. Matte leather or suede can work for business casual attire, but they're too casual for the business professional dress code.
Soles: Your soles should be made from leather like the upper. Avoid chunky or rubber soles.
Color: Keep the colors conservative. Your best bets are black or brown. Oxblood or burgundy are sometimes acceptable but they shouldn't be your first choice. Avoid dress shoes with multiple colors.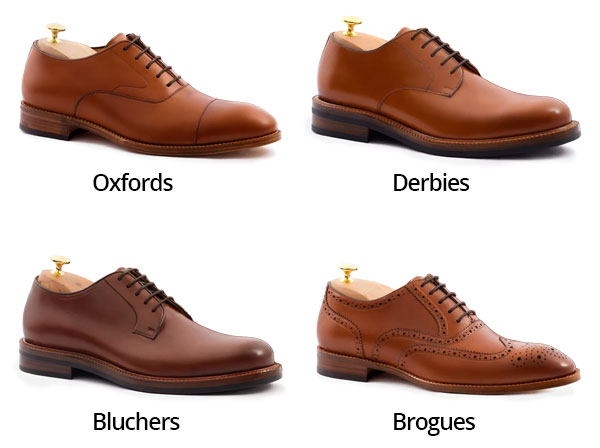 Belt
You can go with a flat belt or braided belt, but flat belts are more traditional and should be your go-to. The belt shouldn't be too wide, not the buckle too large. The buckle should be made from metal, silver or bronze.
Always match your belt to your shoes. Black with black, and brown with brown. Slight variations in shade are okay (because they'll likely go unnoticed), but try and get the shades as close to each other as you can, if not matching exactly.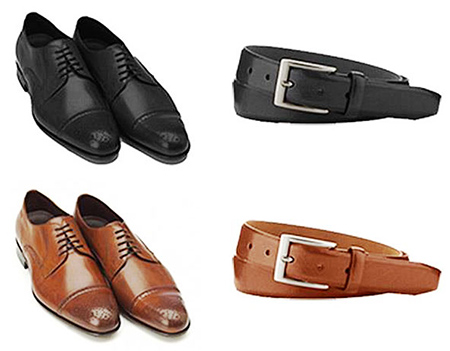 Your belt shouldn't just match the color of the belt, but the shine and texture as well. Don't wear a matte leather belt if your shoes are shiny.
Pocket Squares
Wearing a pocket square can often set you apart from many men in your office. It's a small touch that shows you pay attention to detail.
Your pocket square should complement your tie but not match it exactly. You can repeat the color of the tie in the pattern of the pocket square (or vice versa), but they should never be the same color AND the same pattern.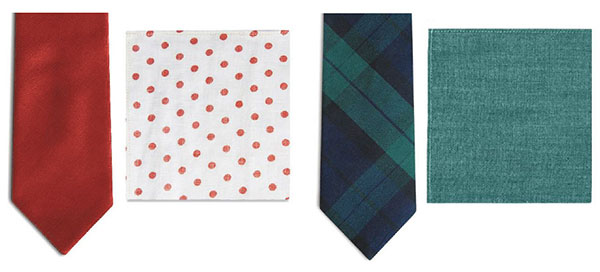 Many men make the mistake of wearing matching ties and pocket squares because they are sold together, but it looks lazy, and anyone in the know will snicker behind your back.
Shop for a white pocket square first, as you can wear this with any outfit. It comes in handy whenever you lack a pocket square that you can match to your tie.
Dress Socks
You can't just throw on your white tennis socks when dressing business professional. Dress socks are a must.
The fine material of a dress sock looks more elegant than regular socks. You want the sock to be long enough to keep from exposing your ankle. Consider wearing over-the-calf socks. (They may take some getting used to.)
How to Match Your Socks
The classic rule is to match your dress socks with your suit pants, e.g. if you're wearing a charcoal suit, you should wear charcoal socks. However, this is tricky to implement, as you often can't find socks that match your suit trousers exactly, and the almost-but-not-quite match will never look right.
The second rule is to wear dark socks — ideally a shade darker than your pants, and this is a much easier rule to follow, as long as your suit has a light enough color.
Another option is to wear socks with a contrasting color or with a pattern. If you're wearing a contrasting color, coordinate it with your outfit. You may match it to your tie, pocket square or shirt (unless they're white, because you should never wear white socks with a suit.)
Patterned socks look great with solid pants, especially if one of the colors in the pattern matches the pants. You can then match the other color in the pattern to the color of your dress shoe, shirt or tie.
Other Accessories
You may opt to wear additional accessories to liven up your business professional outfit. Below you'll find some quick guidelines:
Watch: Avoid clunky watches with a lot of details. Your watch should have a minimalist analog face and a subtle metal band or a black or brown leather strap (depending on your shoes and belt).
Tie bar/ tie clip: Tie bars are great accessories that clip your tie to your shirt to keep it in place and prevent it from swinging around.
Cufflinks: If you're wearing a shirt with French cuffs, you'll need a pair of elegant cufflinks. These can make a suit look even more elegant but aren't necessary.
Lapel pin: If you choose to wear a lapel pin, keep it subtle and unobtrusive. Lapel pins may feel out of place in some situations.
General rule: When you're wearing multiple of these accessories, make sure the metals are coordinated with each other and your belt buckle. In other words, don't wear a silver watch with gold cufflinks.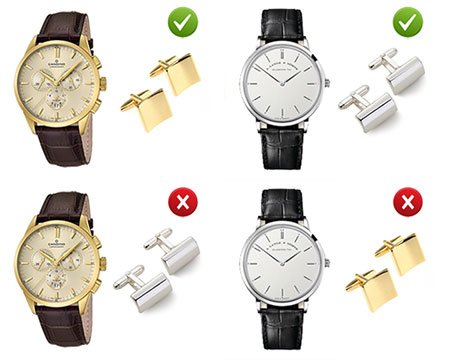 What Coats to Wear with Business Attire
The only two coats you should wear with business attire are overcoats (a.k.a. topcoats) and trench coats. Your coat should be long enough to cover your suit jacket and roomy enough to fit comfortably over it. Neutral colors like gray and navy are your best option, though brown or camel works as well.
Wear your suit out when you go shopping for a coat to wear with it. You want to ensure the coat fits over the jacket and allows you to move freely.
Peacoats can look good with a suit but are often too short to cover your suit jacket, and are considered more suited for casual wear. Go with an overcoat for chillier temperatures and a trench coat for fall.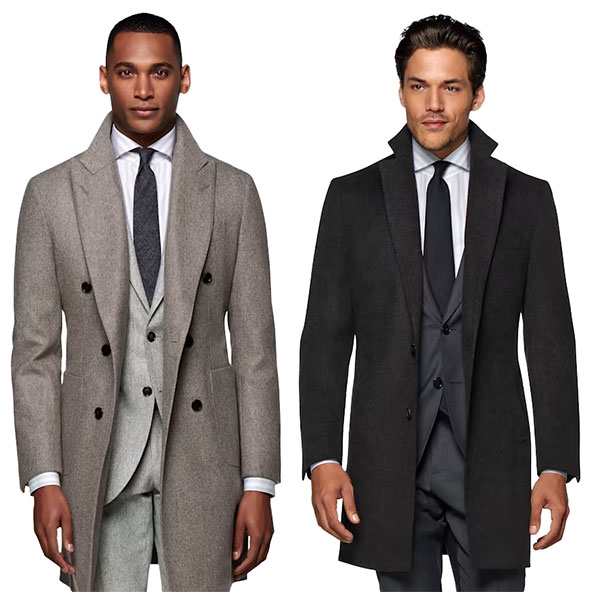 FAQ about the Business Professional Dress Code
What's the difference between business professional and business casual attire?
Business professional is a dress code that requires men to wear a business suit and tie. Business casual allows men to dress down from professional attire, which could mean wearing a suit without a tie, or changing the suit for dress pants and a blazer. You can also be more playful with colors and patterns.
What's the difference between business professional and business formal?
Business formal and business professional are often used interchangeably, but a business formal dress code may imply you're expected to dress more conservatively.
If your office has a business formal dress code, chances are they mean business professional. If your office is hosting a business formal event, they may expect you to dress up a bit more than usual and stick to more traditional clothes. You can wear a black suit to a business formal event.
Is a blazer business professional?
A blazer is suitable for business casual clothing, but not for the business professional dress code. Since the latter requires a suit, you should always wear a suit jacket.
Are khaki pants business professional?
Khaki pants are for casual wear and you shouldn't wear them for a business professional dress code. It requires you to wear suit pants that match your suit jacket.
Do you have to wear a jacket for business professional?
Business professional requires a suit jacket, but you can take it off while at work, if your workplace allows for it.
What is considered business professional for an interview?
When you have a job interview with a business professional dress code, you'll want to wear a suit, dress shirt and tie, but err on the more conservative side. Wear a dark suit with a white shirt and a solid-colored tie.
Do you have to wear a tie for business professional?
Yes, the business professional dress code requires men to wear a tie. If you leave the tie off, your outfit looks business casual. You may be allowed to leave the tie if your office has Casual Fridays.
Summary: The Do's and Don'ts of Business Professional Attire
Do's:
Wear a business suit, dress shirt and tie.
Wear oxfords, derbies, bluchers or brogues in black or brown.
Ensure that your clothes are well-fitted, clean and wrinkle-free and that your shoes look polished.
Match your belt to your shoes, both in color and in shine and texture.
Wear a dark suit and a light-colored or white shirt.
Play around with colors and patterns in your tie and pocket square.
Match your tie with your shirt and pocket square.
Wear socks that match or complement your pants.
Don'ts:
Don't wear separates. You can't wear a blazer with dress pants.
Don't wear your tie too long or too short. It should end at the top of your belt buckle.
Don't wear shoes made from suede or matte leather. They should have some shine.
Don't wear an oxford shirt with a button-down collar.
Don't wear a short-sleeved shirt, polo shirt or T-shirt.
Don't wear a suit or shirt with bold colors or patterns.
Don't wear a black suit, because it looks too formal.
Don't wear a coat that's shorter than your suit jacket.
Don't match your socks to your shoes.
Don't mix metals. Avoid gold and silver accessory sin the same outfit.
Don't wear a bow tie.
Don't wear a tuxedo.
DO NOT wear novelty ties or socks
You're Ready to Rock Your Business Professional Attire
Dressing business professional isn't rocket science, but it does take care and attention. As long as you wear the right clothes and color, make sure everything fits and look tidy, you'll go a long way though.
Follow these tips, and your business professional attire will make a great impression on your co-workers and your boss.
Did You Find That Useful? Then Check This Out…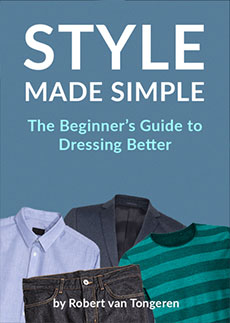 I wrote a men's style guide that simplifies the art of dressing well, focuses on what matters, and takes you through it one step at a time. Enter your e-mail below and you'll receive three free chapters, which will show you: